August 9, 2016 Tony Turnbull
Massimo Bottura is no ordinary chef. As anyone who has watched him tell scared-looking contestants on MasterChef that he wants "to eat their emotions on a plate" will know, he approaches things differently. Over the course of an exhausting hour with the fast-talking Italian, our conversation constantly swoops off at tangents, taking in socio-political theory, fast cars, Bob Dylan and the redemptive nature of art. The one thing we don't talk much about is food.
It doesn't matter too much because we already know he can cook, as attested by the three Michelin stars held by his Osteria Francescana in Modena as well the latest honour, scooping the number one spot at the World's 50 Best Restaurants this past June (becoming the first Italian restaurant to do so). Even his dishes have taken on a celebrity status. 'Memory of a mortadella sandwich' took four years to perfect, the sausage meat transformed into a foam and served with a flat bread made with powdered crackling in place of flour. 'Caesar salad' is composed of 21 different salad leaves and takes two days to assemble. 'The crunchy part of the lasagne' is just that – the bits every child tries to steal when their mother puts the dish on the table.
Bottura presents each with the pride of a conceptual artist explaining his latest creation. Which, to him, is exactly what he is. "We don't cook to create great food," he says. "We cook to give messages. What I want to convey is that if you focus too much on everyday life, on your obligations, on the things you do to pay the bills, you will be lost. But if you can leave open a little space in your life for poetry, it will change your life."
This, he says, was the message behind his most famous creation, 'Oops! I dropped the lemon tart'. What looks like – and indeed came about from – an accident in the pastry section is now, in his eyes, a door to an imaginary world. "One day we were plating two lemon tarts to finish the service and Taka [his sous chef] dropped one, so he was ready to commit hara-kiri. 'No, don't kill yourself,' I said. 'This is beautiful: we've found poetry in imperfection, and it's only through imperfection that you can transfer emotion.' "
Am I getting this right? It's a kind of surrealist pudding? A lemon-flavoured cipher for the unknowable?
"Almost. Like living in a dream. It makes the visible invisible."
It's hard to imagine anyone being able to intellectualise a pudding but whether it's the Italian accent or the zeal of the delivery, Bottura gets away with it.
His cookbook, 'Never Trust a Skinny Italian Chef', is equally left-field. Explanations of dishes are interspersed with pictures of albums by Thelonious Monk, Lou Reed or Bob Dylan, and favourite books such as Jack Kerouac's 'On the Road'. The recipes themselves appear almost an afterthought, relegated to the back. "Oh, they are irrelevant," says Bottura. "It's about the chaos of my mind. I wanted to call it 'No Recipes' but the publishers weren't sure it was a good idea for a recipe book." The cover is deliberately plain. "It's timeless," he says, "like a Holy Bible. The message is we don't want people to think this is a trendy book. It's all about stories."
Given Bottura's slender frame, the title makes clear he is an unreliable narrator. "I'm saying, 'Don't take life too seriously.' At the end of the day, we are chefs, working and serving food." And in many eyes he really isn't to be trusted. He is known as the chef who dared to deconstruct Italian classics. "In Italy there are three things that can never be messed with: the Pope, football and your grandmother's recipes."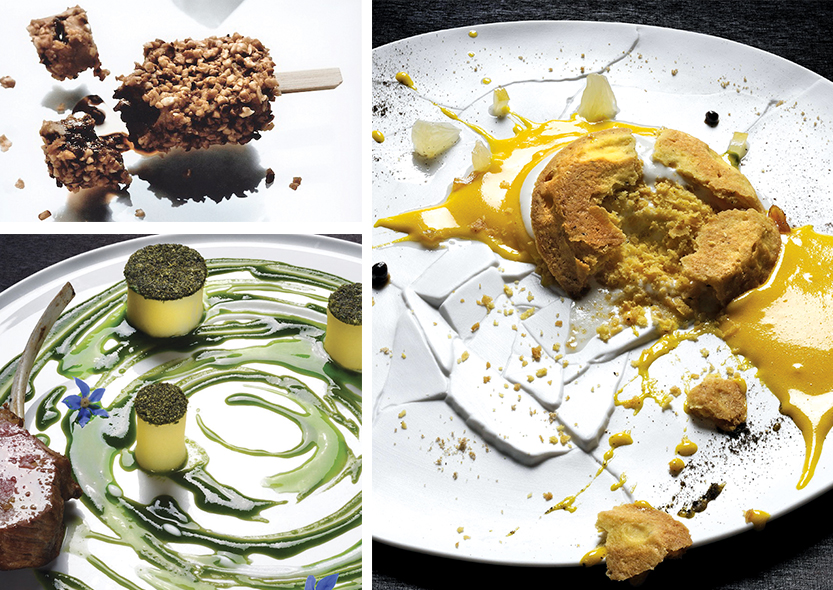 It wasn't always that way. When he first started cooking, at a roadside trattoria outside Modena, he focused on traditional dishes from the region, with a heavy emphasis on pasta. After a while, he felt trapped, and fled to New York where he met his wife, Lara. It was she who introduced him to contemporary art, "which is all about the message, not about what you see. It's all about the transference of emotion." He'd returned to Modena with the intention of closing the trattoria when Alain Ducasse came in for lunch. By the end of the meal, the world's most decorated chef had offered Bottura a job in Monaco at the Hôtel de Paris, and Bottura didn't hesitate.
A few years later, he decided to go it alone again and returned to Modena to open Osteria Francescana in 1995. An osteria is even lower down the pecking order than a trattoria, but the cooking was anything but. Soon, inspired by art, he was experimenting with deconstructed parmesan soufflés and a geometric zuppa inglese. Life was hard, though, and for years it was a struggle to keep things going, with Bottura even selling his car and beloved Harley-Davidson to keep the osteria afloat.
Then, in 2001, by chance an influential critic got stuck in gridlock on the road from Milan to Bologna and turned off the motorway to have lunch. He raved about it, and by the year's end Bottura won his first star. "That changed everything. I started to feel comfortable with myself."
Comfortable, but still the outsider; the Italian chef who seldom serves pasta "because guests feel cheated as it's so commonplace", or who will make a risotto by cooking it in parmesan milk rather than adding it at the end.
He tells the story of an artist who, when asked to paint a portrait, "painted a spot of paint in the middle of the canvas. 'This is your portrait from ten kilometres away.'"
This, Bottura says, is the perfect metaphor for what he is trying to achieve in his own restaurant, to paint a portrait of the Italian kitchen from ten kilometres away. "We have stretched our culinary traditions so much we think they've almost disappeared, but out of the distortion there is always a return to order."
Crikey. And your diners are getting all that when eating?
what's nearby