October 24, 2018 Marwan Naaman
Saudi Arabia's capital city has become a hub for the nation's most visually pleasing new architectural landmarks. There's the Kingdom Centre with its majestic skybridge, the King Fahad National Library and its lozenge-shaped textile awnings and stately Al Faisaliah Tower, featuring a round sphere at the very top.
The most talked about, however, is the latest addition, the King Abdullah Petroleum Studies and Research Centre (KAPSARC). Designed by Zaha Hadid Architects (ZHA) and completed in 2017, the building is the firm's first LEED Platinum certified project, and it stretches over 70,000 square metres of grounds. "The KAPSARC campus incorporates five buildings: the Energy Knowledge Centre, the Energy Computer Centre, a Conference Centre with an exhibition hall and 300-seat auditorium, a Research Library with archives for 100,000 volumes and the Musalla, an inspirational place for prayer within the campus," explains Tariq Khayyat, head of the Middle East Region for ZHA.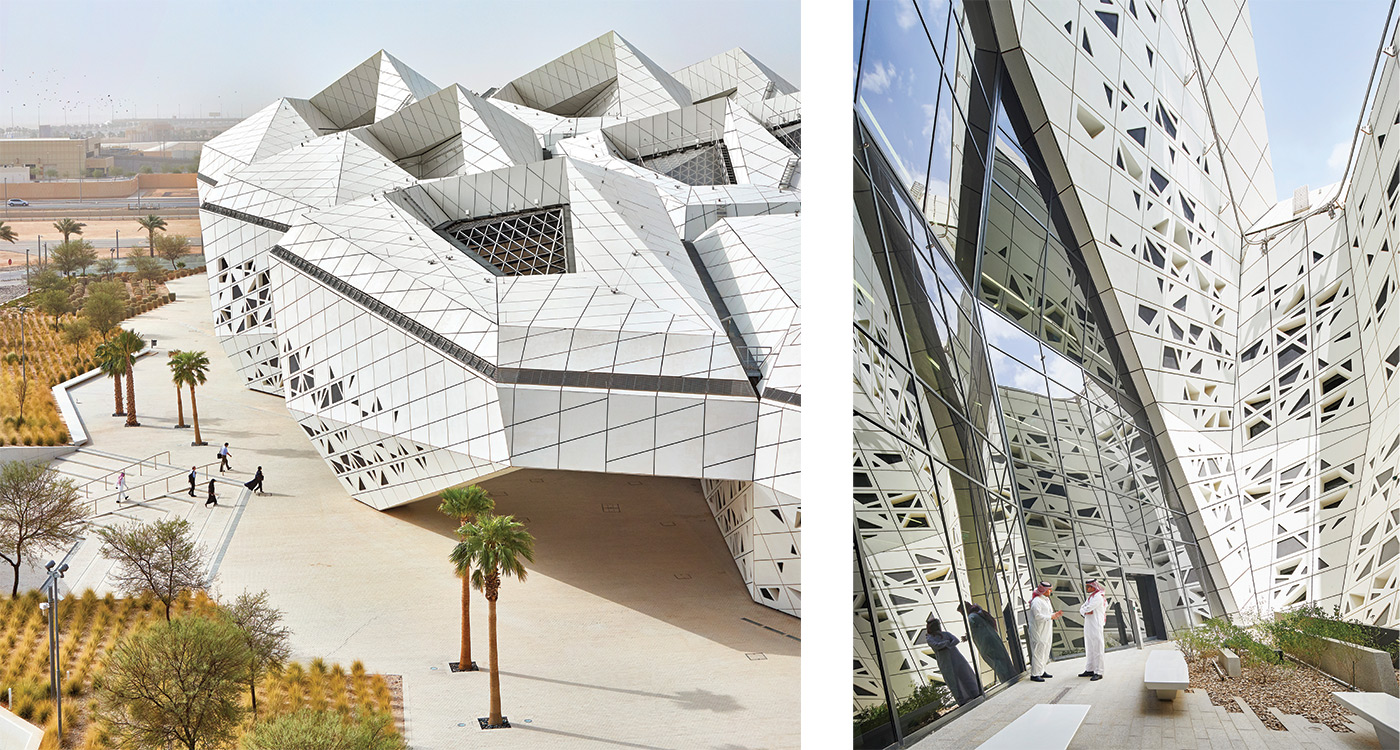 KAPSARC's architecture promotes transparency and encourages an active exchange
KAPSARC is a non-profit institution founded in 2010 that conducts technological and environmental research, with a specific focus on energy efficiency as oil prices continue to fluctuate. As such, it's quite fitting for the new structure housing KAPSARC to include various passive and active eco-friendly features. "All KAPSARC's potable water is recycled and reused on site, and 100 per cent of irrigation water is from non-potable sources," says Khayyat. In addition "40 per cent of KAPSARC's construction materials have been sourced from within 800 kilometres, and 30 per cent of materials made with recycled content."
A visually splendid structure, KAPSARC is built to both withstand and enhance the surrounding Saudi desert. "With its strong, protective shell on the exterior that shields from the extremes in weather, KAPSARC's architecture is porous within," says Khayyat. "Specific hexagonal cells strategically located within each building are left open to create a series of sheltered courtyards that bring softly controlled daylight into the interior."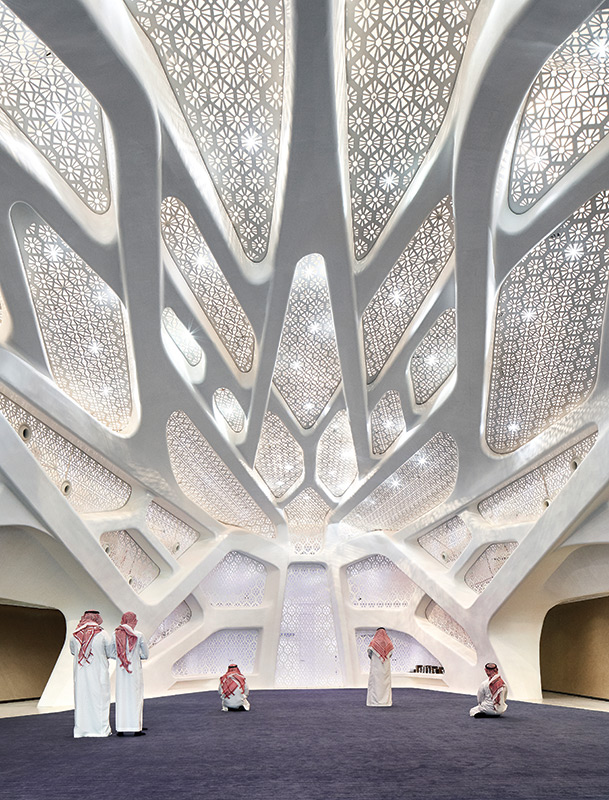 As in many ZHA projects, KAPSARC espouses a clear conceptual vision. "The primary organising strategy of the design is a cellular, partially modular system that integrates different departmental buildings as a single ensemble with interconnecting public spaces," says Khayyat.
Keeping in mind the possibility of future expansion plans, ZHA ensured that the structure would be malleable enough to change and adapt. "Additional cells can readily be introduced by extending KAPSARC's honeycomb grid for future expansion of the research campus."
The five buildings of the KAPSARC campus surround a shaded central courtyard that also serves to interconnect the distinctive structures. "The KAPSARC campus opens to north and west, encouraging prevailing winds from the north to cool the courtyard during temperate months," the architect continues. There's also an underground link that connects the buildings and that's intended for use during the hottest months of the year, when the scorching desert sun prevents outdoor strolls. The courtyard also offers easy pedestrian access to each of the five buildings, offering primacy for people over machines and ensuring that the entire project retains its human element.
"KAPSARC's architecture promotes transparency and encourages an active exchange between researchers and visitors," says Khayyat. "By strategically off-setting floor plates, spatial layering effects are created throughout the centre to provide views to the floors above and below, offering transparency between floors in public areas that are designed as collective zones for researchers to meet informally and exchange ideas."
The Centre is in fact a laboratory for Mohammad bin Salman bin Abdulaziz Al-Saud's Vision 2030, in which he promises to shift the kingdom's main economic driver to something broader. "We will transform Aramco from an oil producing company into a global industrial conglomerate," he affirms. Indeed, this Zaha Hadid project may turn out to be more than merely awe-inspiring architecture.
what's nearby