December 31, 2017 Nadia Michel
Tapping into a universal desire for comfortable, worn in and great fitting jeans, Re/Done has come up with a flawless formula. The clincher? They're recycled. Don't let the concept fool you, though. These are designer jeans with the price tag to prove it. Sure, they may be made from vintage, aged Levi's jeans bought in bulk from secret sources, but the idea behind it is a newfangled one.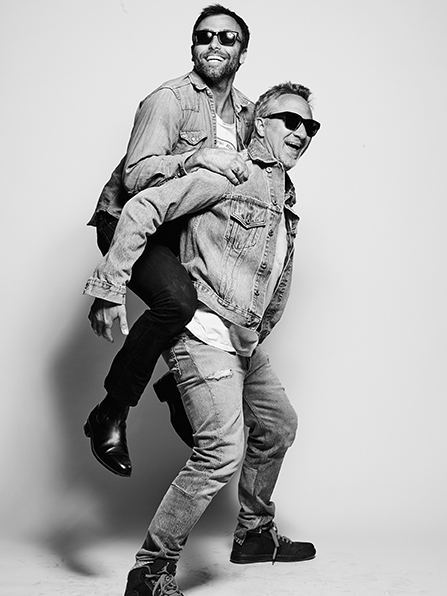 "We initially set up to build a community, not just a brand. When you figure out what's important to people, you can talk to them not just about jeans, but about things like sustainability, American heritage and manufacturing practices," says Sean Barron, who co-founded Re/Done with Alessandra Ambrosio's husband, Jamie Mazur.
Speaking from Los Angeles, where Re/Done is based, Baron explains why he thinks his products are so popular. "We gave them something they couldn't get before, which is individuality. Each pair of jeans is different." That's because, though the cuts are standardised, each one has a story to tell through its fabric, like perhaps even that of a long-distance truck driver.
In fact, consumer demand for vintage styles is on the rise, and up-cycling old Levi's denim – a brand with a 164-year heritage – is part of a broader revival in 1990s-style fashion and nostalgic sentiment. As a result, Levi's has seen a surge in licensing agreements
with premium brands.
But back to Re/Done, a label that's been somewhat spearheading the way. With its novel approach to community marketing and its mastery of e-commerce, it has now diversified its production by adding Re/Done Originals (made with new denim, not just to create volume, but because they wanted to infuse stretch into the Levi's fabric), leather jackets and a t-shirt collaboration with Hanes. "We looked at shapes from their archives and remade the shapes with a more modern intention."
There's also the recent blockbuster collaboration with Cindy Crawford. "I saw a post of her on Instagram, a photograph of her from the 1990s wearing Levi's – that said 'Rocking Re/Done before Re/Done was born'. We decided to work together, and after six or seven months we came up with this design." The fit Crawford brought in from the nineties was ultimately altered with a looser leg and a mid-rise instead of a high rise. The style has sold out many times over since it came out in August.
In fact, what started off as a locally minded project is now a major retail brand making its way into more than 300 stores across 26 countries. And with a hush-hush collaboration in the offing with a major American shoe brand coming up next Spring, we're betting jeans are just the beginning for this American success story.