December 31, 2017 Dejan Jovanovich
It took more than 50 years of the wrong idea to get it oh-so right. The new rear-engined, two-wheel drive Porsche 911 GT2 RS applies 700 horsepower to the 325-wide Michelins and laughs at the rules, snickers at suspicion and dismisses doubt around the outside of turn 15 at Algarve International Circuit.
I guarantee you the GT2 is too much car for most of us, yet in this case, too much feels just right. Now, supercars have been on the path of refinement for a while, getting ever more powerful, and accessible, in equal measure thanks to some rapid innovation in electronics. In fact, we've reached the point that anyone can take a deep breath, tuck their fat belly in and clamber into a Ferrari, sliding it around the Scuderia's figure eight Fiorano test track like his name was Giancarlo. I know, because I've done it.
The GT2 RS has limits of course, but they're really just theoretical ones because most of us will never push it that far. The limits you do reach however, every time you plant the throttle, every time the turbos spool up and spit you down another straight and your body springs into survival mode from the shock of this level of acceleration, are of the moral kind. This car questions not only the laws of physics, but your social responsibility. How much of a delinquent do you want to be? You'll answer that question by simply adjusting the throttle as needed.
Bespoke's day with Porsche's fastest, wildest 911 wasn't limited to a track either, as we slipped off to sample southern Portugal's winding roads, past shuttered houses at siesta time. Talk about a power nap! The real limit to this car it turns out, depends on your feelings about humankind, and your regard for society.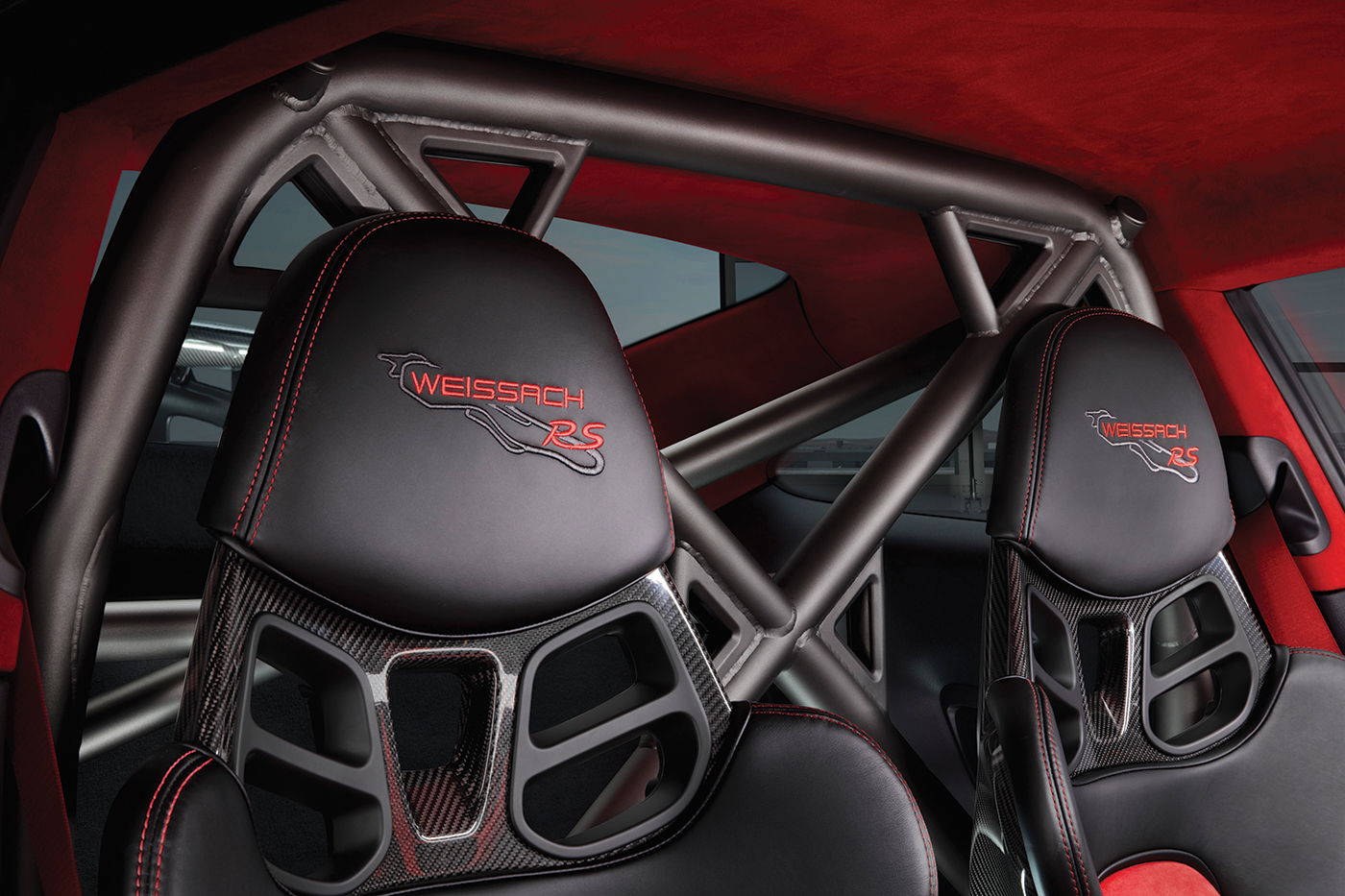 The new GT2 RS is the most advanced 911 Porsche has ever built, in the 54 years of advancing the 911. That RS tag means it's coming at you next year from 259,000 USD straight outta Weissach, Porsche's Rennsport racing department, with one simple target: be the fastest car in the world. Yeah, not so simple now…
Porsche has done it with a road-legal monster that spurts wings, spoilers, NACA ducts (that's the precursor to NASA that invented low-drag aerodynamic aids), diffusers, and of course vents for cooling the beast, while keeping it hunkered to the road with hundreds of kilos of downforce at v-max. That, by the way has been limited to 340km/h, even though the GT2 RS can technically do 370km/h, and they did that for the sake of tyre preservation and a focus on cornering grip rather than high-speed heat efficiency. You know, lap times. Or rather, one very specific lap time: Last summer, Porsche booked two days at the Nürburgring Nordschleife in the Eifel mountains where factory test driver Lars Kern put in a new official record with a lap time of 6:47.3.
"This record will stand for a while," company motorsport boss Frank-Steffen Walliser boldly told me in Portugal. His conviction stems from the fact the GT2 RS smashed the previous ring record by a whopping five seconds. It went around the 20km-long track, notoriously called Green Hell, ten seconds quicker than the nearly 900-horsepower 918 Spyder. And compared to the previous generation, the new GT2 RS went around a ridiculous 28 seconds faster. That kind of evolution in one generational step is unheard of. It would be akin to your kid growing wings.
In order to beat challengers of the likes of Lamborghini, Ferrari, McLaren, and its very own million-dollar 918 Spyder hypercar to that 'Ring record, Weissach let loose on the public roads a 911 with a suspension set-up that's pretty much that of the company's 911 Cup race car, and then they dumped a turbocharged engine in the back, but left out the all-wheel drive gubbins that normally comes with such power unit. That's right, every one of the GT2 RS's 700 horses goes exclusively to the two rear 325-wide Michelin Pilot Cup 2's, which are basically cut slicks, and the finest rubber available.
With something like 150kg less weight than a 911 Turbo S and a nearly 100-horsepower advantage, the GT2 RS sprints from zero to 100km/h in 2.8 seconds, which actually seems almost conservatively quoted by Porsche. All that power and torque, with the rush for the rev limiter at over 7000rpm in every single gear, and with barely enough road available anywhere for the GT2 RS to even call on sixth, let alone top, it's just crazy that that almighty engine (bigger turbos, new cooling system, new pistons and internals, charge-air cooler with a five-litre water tank in the front, and way more than we can go through here) is even overshadowed by this car's chassis.
You'd have to push the engine way, way past illegal speeds to feel like the GT2 RS is even trying, while you're sweating at the prospect of the wheel yanking itself out of your hands each time the red needle in that big central gauge starts frantically sweeping across the face of the dial.
The steering and the handling are so precise and consistent that the GT2 RS almost seems to give false pretence. But the ugly truth never shows up. This car is just that good, and you need not use more than a quarter of the throttle pedal travel to bomb down every road at your nearest mountain pass. With racing-derived uniball joints in the suspension and dampers about twice as stiff as a GT3's; plus four-wheel steering and a 30,000 USD Weissach package that sheds another 30 kilos through a titanium roll-cage and extreme weight saving measures such as Gorilla glass windows (-3.5g), carbon fibre door hinges (-0.8kg), carbon fibre roof (-0.5kg), carbon fibre suspension (-5.3kg), lightweight carpet (-0.2kg) and Porsche crest stickers instead of enamel badges, the GT2 RS obsesses over every little detail to absolutely shake that infamous nickname that's trailed the nameplate since 1993 – the Widowmaker.
Be careful though. If you switch all the stability aids off, you'll find the label still holds true, but in normal driving modes the liberal electronics let you feel like a hero in this thing: never have 700 horses been so accessible in a supercar. Stability is incredible, and even over the bumps and badly cambered roads of the Algarve, the GT2 manages to find grip everywhere.
The brakes too need mention, because they somewhat dictate the relentless pace. You can depend on them, and you feel like nothing can surprise you with that kind of stopping power at your disposal. Even under hard driving you don't need to stomp on the pedal. Just a little squeeze is more than enough and if you get the ABS pulsing through the pedal – that's your reminder to tone things down a notch. On the race track, 12 hard laps of trying to stick to the back of driving legend Walter Röhrl did nothing to unsettle the 410mm carbon ceramic discs or generate even the slightest brake fade.
The GT2 RS is a loud brazen masterpiece that can be driven around town like a Golf and it's so right it humbles. You know, I once visited the Grand Canyon. I had been driving east through Arizona towards New York with no plans to stop, but then figured what the hell, I may as well buy the t-shirt. And once I stepped towards the edge and the Earth opened up in front of me, the feeling was incredible. If you ever want to learn your true worth, if you want to feel really small, try to take on nature. Or the GT2 RS.