February 19, 2020 Nicolas Shammas
The Cayenne Coupé is just like the Cayenne you know and love – but with a dropped roofline and a perky rear end. And thanks to those changes as well as a few subtle engineering tweaks, you won't need to buy the Turbo model to have an Ultimate SUV.
Given that the SUV has become the world's most popular vehicle and Porsche was the first brand to put the S in SUV, it's quite surprising it took the carmaker eleven years to get into the SUV-Coupé game – or should we say the Sports Activity Coupé game (as these cars obviously have less utility). It was BMW who pioneered the segment in 2008 with its extraordinarily popular X6, a design that has somewhat devolved into questionable styling that has been shown up by a far more handsome Mercedes-Benz GLE Coupé. The good news for Porsche enthusiasts is that the engineers at Stuttgart haven't exactly been sitting around on their hands all this time, for they have managed to work out ways to avoid many of the compromises associated with SACs. As a result, the new Porsche Cayenne Coupé is not just an attractive proposition; it's our 2019/20 Ultimate SUV.
We spent a day testing this new model in the South of France, along a route that started in Saint Jean Cap Ferrat and went deep into the Verdon and back. Having clocked up almost 300 kilometres in a single day at the wheel of both the 75,000 USD V6 base Cayenne Coupé and the 130,000 USD V8 Cayenne Coupé Turbo, it's remarkably the base model that we were most impressed by. Not in terms of outright performance mind you, because that's obviously the Turbo's domain, but in terms of the one we'd actually spend our hard earned cash on. (The saving isn't quite 55,000 USD though once you factor in the necessary options, but more on that later.)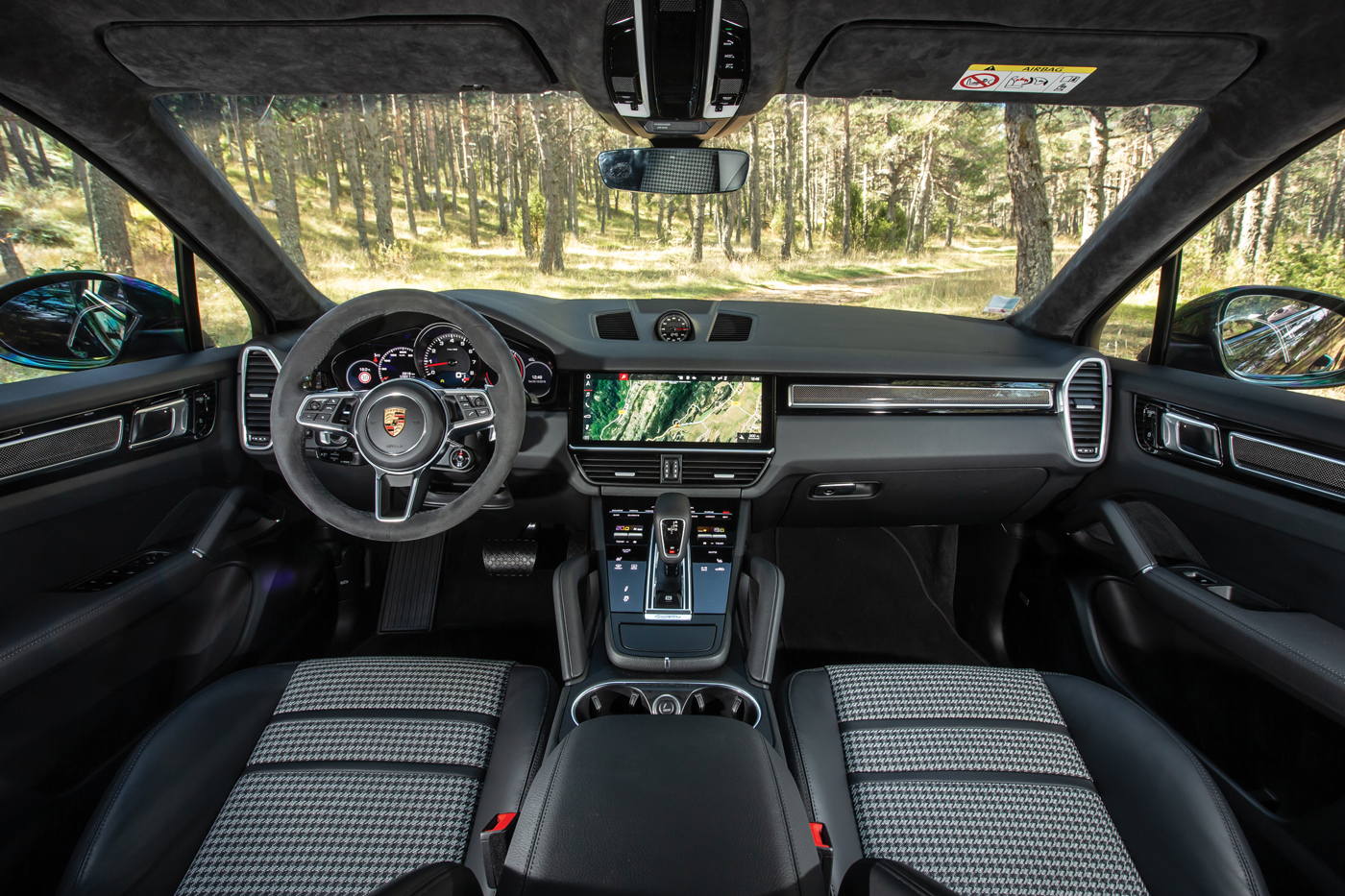 WHAT ALL THESE DESIGN TWEAKS EFFECTIVELY DO IS HELP MAKE THE CAYENNE COUPÉ LOOK TIGHTER. IN MANY WAYS, YOU COULD SAY IT'S A SCALED-UP MACAN.
Let's start with a little metaphor. You know when you tell your partner they look good and they then express gratitude that you noticed their haircut? Well, obviously you hadn't noticed the haircut or you'd have commented on it in the first place; all you knew is that they looked good, right? Well the new Cayenne Coupé is the same. The vast majority of people won't know it's not a normal Cayenne. What they will appreciate though is that this is a good-looking SUV. The main difference between the regular Cayenne and the Coupé is a 911-esque sloping roofline that chops off around 20mm from the regular SUV's height. Other (far less noticeable) changes include a more raked windscreen, a few extra millimetres of length and a wider chassis, body and track. What all these tweaks effectively do is help make the Cayenne look tighter, creating an impression of reduced bulkiness. In many ways, you could say the Cayenne Coupé is a scaled-up Macan.
From the inside, the Coupé is very much a standard Cayenne except for a fantastic standard glass panoramic roof and a pair of sculpted sports seats in the rear (don't worry a three-seat bench is a no-cost option). From a dynamic perspective, the slightly wider track and lower centre of gravity certainly help although it's hard to appreciate any difference unless you're driving like a lunatic. It's worth pointing out though that the Coupé weighs a little more than the regularly roofed Cayenne, so it is technically a smidgen slower, but we're talking irrelevantly microscopic differences here. That being said, unlike with the regular Cayenne, you get the Sport Chrono Package with PSM Sport as standard. On top of that we'd recommend you spec a handful of (quite expensive) options including the 3,590 USD dynamic chassis control (PDCC) with its adjustable anti-roll bars and the 4,160 USD adaptive air suspension (PASM), which do a phenomenal job of making your big Cayenne handle like Porsche should. Then we'd add the 1,200 USD Park Assist that gives you a 360-degree surround view camera, and we are suckers for soft-close doors, which set you back 780 USD. Do keep the standard black surrounds around the wheel arches and at the bottom of the doors mind you, as they make the car look way lighter, and go with a classy colour scheme like Moonlight Blue on the outside, and graphite blue with crayon leather on the inside. Finally go for some pimp wheels like the 21-inch exclusive design ones and you have an absolute winner for less than 85,000 USD.
Not only is that an attractive price, your car won't be shabby in terms of performance either, thanks to a 335bhp engine that'll hit 100km/h in 6.0 seconds and a top speed of 243 km/h. What's more, you'll never need worry about the roofline eating into the rear passenger space, as Porsche cleverly lowered the rear seats by 30mm (even though the roof's only dropped 20mm). Finally, your choice of the Coupé has given you a Cayenne that hugs the road better than the standard model thanks to a lower centre of gravity as well as two active rear spoilers (a new one on the tailgate, and the usual one on the roof). Honestly speaking, this one's a no-brainer.