April 14, 2017 Michael Verdon
With competition in luxury vehicle sales growing ever more intense, Lexus is aiming to differentiate itself by allowing people to experience the brand beyond its cars.
Lexus showcased a new tagline during its last Super Bowl ad in the US, announcing a younger, more agile brand that's ready to mix it up with the millennials. In fact, 'Experience Amazing' is a fresh take on a very traditional approach for the once-conservative luxury automaker.
The ad featured street dancer Charles 'Lil Buck' Riley, aka 'the Baryshnikov of jookin' as the New York Times once referred to him, busting moves in front of the new 2018 LC500 coupé and redesigned Lexus LS500 to singer Sia's rendition of 'Move Your Body'. The pulsing, well-crafted message, far different from the typical Lexus commercial where smartly dressed, middle-aged actors drive their new Lexus into the sunset, reached an estimated 110 million viewers. Dropping its former product oriented tagline 'The Pursuit of Perfection', in favour of a more lifestyle-oriented theme, is part of the company's new approach.
"What you've seen is that our brand language has become bolder and more dynamic since the start of this decade," says Spiros Fotinos, Global Head of Brand Management for Lexus International. "The luxury consumer has evolved in the post-crisis era. We know they want to connect in a more meaningful way. We're trying to provide an amazing experience. We look at everything we do and ask: is it ordinary or extraordinary? The 'Experience Amazing' tagline," adds Fotinos, "is a rally cry that everyone in the organisation understands."
The rebranding exercise comes at a time when Lexus and other luxury car manufacturers are facing new challenges in trying to attract new or future owners in a fast-changing market, especially with the introduction of innovative competitors, like Tesla, and products, like self-driving cars.
THE 'EXPERIENCE AMAZING' TAGLINE IS A RALLY CRY THAT EVERYONE IN THE ORGANISATION UNDERSTANDS.
"Consumers are rethinking their love affair with car brands and viewing cars as simply transportation machines," stated a recent automotive report by Price Waterhouse Coopers (PWC). The report goes on to say that buyers now expect high-end features to be standard and prefer to do their research online, rather than at a dealership. "Faced with these powerful new forces, auto brands have their work cut out for them. That includes revamping the showroom experience – with an emphasis on experience."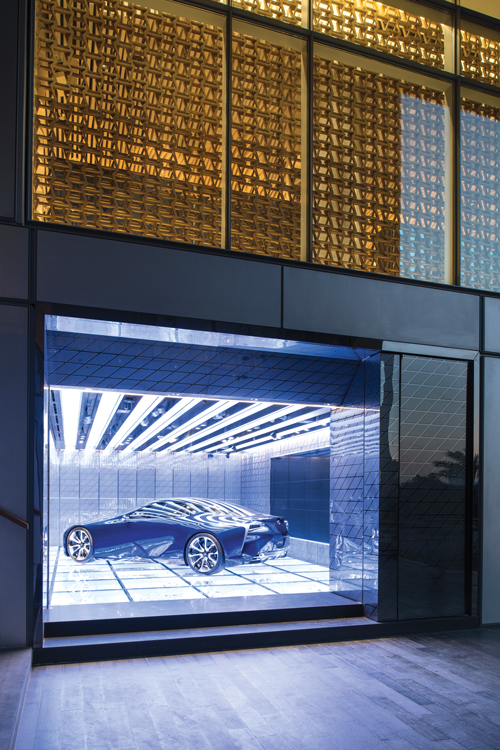 Lexus has risen to that challenge – arguably with a more thought-out range of responses than any other car manufacturer – by moving beyond the car world to show its design chops. In early January, the company showcased a new 42-foot (12.8-metre) motorboat that it had designed. The Lexus Sport Yacht had non-traditional yachting features like all-carbon-fibre construction, twin 5.0-litre V8 engines from the Lexus RC F performance coupé, and an interior that is more socially oriented, and swanky, than you'll find in any traditional day-boat's cabin.
Also at the Miami event were a Lexus-designed carbon-fibre bicycle, the Slide hoverboard it launched last year, and the Lexus Skyjet, a futuristic vehicle designed exclusively for the Luc Besson-directed film 'Valerian and the City of a Thousand Planets'.
"We're not planning to enter the boating or bicycle business," affirms Fotinos. "But these concepts show consumers that we have a point of view beyond the products you expect from an automotive company. We consider ourselves on the path to becoming a true luxury lifestyle brand."
While the Lil Buck ad generated traction for Lexus in the U.S. market, the company is using far more subtle, and clearly more Japanese, ways to market its brand without all the noise and street dancing. One way is catering to its clients' interests beyond cars, with projects like Intersect by Lexus, which opened its first location in Tokyo in 2013, followed by Dubai last year. A Manhattan venue is scheduled to open later this year.
The concept is an interesting one, about as far away from a car dealership as an auto brand can go to promote itself. "Intersect is not a shop, it's not a restaurant, and it's not just for car-lovers," says designer Masamichi Katayama, who created all three Intersect locations. "It's a new category of space."
"We consider it a third place, somewhere between home and work, where people can meet," adds Benjamin Nicholas, general manager of the Dubai location. "We're not trying to sell cars. We're showcasing creativity in the cuisine we offer, the events we host and even with some of the concept cars in our garage."
Katayama designed the Intersect space as an antithesis to a typical luxury car showroom, with a café, library with books, and a herringbone-style wooden floor. "He designed parts of the building almost as if it were Mr. Toyoda's living room," says Nicholas, referring to Toyota CEO Akio Toyoda. "There is a modern feel, but it's also homey, with an authentic sense of omotenashi," adds Nicholas using a term that Lexus executives consider a cultural cornerstone of the brand, one that has helped distinguish Lexus among its European competitors. Loosely defined, it refers to selfless hospitality. The idea is to welcome guests into a home or establishment, and anticipate their every need. In Japan, the concept is regarded with the utmost reverence.
"For us, it's an obsession," adds Fotinos. "The idea is not to just treat VIP guests with honour in our home, but everyone entering the home. This concept has remained the same since we started the company. But as consumer needs change, how we deliver omotenashi has also changed."
Nicholas sees Intersect as a "bridge" to the millennial generation because it offers a range of activities, including food and beverages, but also cultural events. It is almost like an extremely well-designed cultural centre in the heart of Dubai's financial district. "The idea of Intersect is not to sell cars, but to attract like-minded people who can have a meal or cup of coffee and discuss things that aren't necessarily auto-related," says Fotinos. "It's a place where people can hang out. While it has some iconic Lexus elements, nothing is overly branded."
Lexus seems well ahead of its competitors in terms of moving the brand to an experience, rather than a product. Intersect has to be one of the most exciting new brand activations in the automotive world. Sure, a food-and-beverage approach has been adopted by others before, like Bentley and Kawasaki for example, both of which opened cafés in the U.A.E, according to Nicholas. However, the other brands sell vehicles or accessories, so it's still just an add-on to their product line. Lexus is going for a subtler message that extends into its clients' lives.
Whether this approach ultimately helps create stronger brand loyalty remains to be seen. Yet, there's no doubt the company is at the forefront of a movement where automotive manufacturers are reinventing themselves as luxury labels in the hope they can stand apart in an increasingly crowded market.