October 6, 2016 Nadia Michel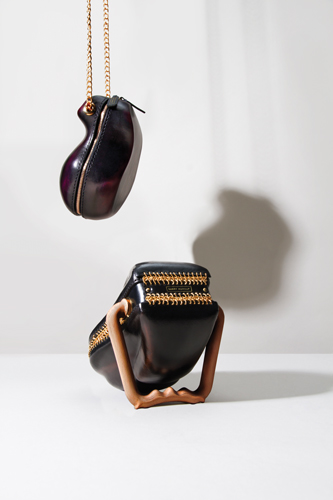 Sabry Marouf, the fashion accessories brand created by Egyptian designers Ahmed Sabry and Daki Marouf in Cairo in 2012, has recently been relaunched in London. Delving initially into progressive jewellery collections that aimed to reinterpret Egyptian heritage in contemporary ways using modern materials, the duo recently expanded their product offering with a handbag collection – Amarna – named after the ancient capital built by the Pharaoh Akhenaten. The founders say this line of luxury clutches and minaudieres took inspiration from the work of Akhenaten's official court sculptor, Thutmose, who most notably created the bust of Queen Nefertiti that's now displayed at the Neues Museum in Berlin. Yet the collection is undeniably modern, drawing on the power of 3D printing and modelling before being brought to life through meticulous handcrafting by a team of artisans using leather, brass and wood from select sources.
Applying the same passion and perfectionism that came to define their jewellery collections, Amarna is actually the result of a postgraduate stint that the label's founders completed at the London College of Fashion. Working with a team of tutors, including the contemporary jewellery designer and teacher Naomi Filmer – whose past successes include standout catwalk accessories for Hussein Chalayan and Alexander McQueen – they came up with streamlined designs that seamlessly combine cultural references with contemporary aesthetics.
"It's really nice to see something that's almost perfect," explains Marouf, who credits merging the know-how of traditional craftsmanship with the latest tech for having achieved the result they had envisioned. And the results haven't gone unnoticed, catching the attention of a number of industry players. Most notably, Sabry Marouf was chosen by Sara Maino of Vogue Italia to be among the select few showcased at Super Talents, the special area of emerging designers at Super, the international fashion fair organised by Pitti Immagine and Fiera Milano.
IT DOESN'T HAVE TO BE AN EXPENSIVE METAL OR A PRECIOUS STONE IN ORDER TO BE CONSIDERED A LUXURY PRODUCT.
Both Sabry and Marouf believe the forethought that goes into a design along with a carefully planned production process help create a product that ultimately transcends physical matter. "It doesn't have to be an expensive metal or a precious stone in order to be considered a luxury product. You could use a recycled material to make couture. It all depends on the treatment," says Marouf. This is precisely the conscientious approach that makes Sabry Marouf a brand to watch.