April 18, 2017 Michael Verdon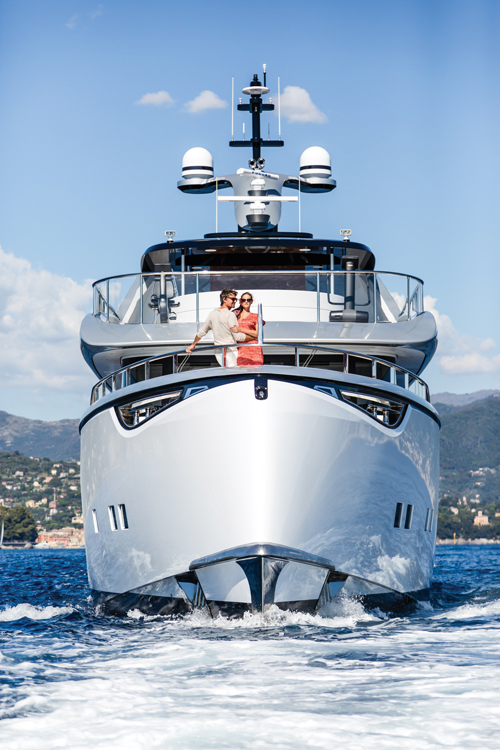 Dynamiq has propelled the superyacht industry forward with an online configurator that allows potential owners to tailor their boats to their wishes while immediately knowing the final price and delivery date.
Ordering a 40-metre superyacht via an online configurator might sound counterintuitive, especially when the price can top 24 million USD. Dynamiq, however, is breaking all the traditional rules of yacht-buying with a web-based configurator that lets potential owners design their dreamboats on bedynamiq.com. The Monaco-based firm, offering three new forward-thinking superyacht designs, wants to become the indispensable supplier for those who want yachting to reflect how they purchase other high-end items in their lives, be it luxury automobiles or even private jets.
In less than an hour, clients can choose among three yachts, the D4, S4, and D4L, changing the number of staterooms or replacing windows with doors, while adding interior design packages from Trussardi Casa, Bannenberg & Rowell and Sabrina Monaco, along with dozens of other options. As soon as you push 'complete', the configurator computes the price and a fixed delivery date. It's nothing short of a revolution really, as typically, this process can take weeks, if not months, of back and forth between clients, yacht designers and the shipyard.
The transparent buying process could have seemed like a gimmick if Dynamiq's new yachts weren't so compelling. Its first D4, named Jetsetter, launched at the last Monaco Yacht Show and it gained rave reviews for the innovative hull design and smart use of space. The Fast Displacement yacht is the first of Dynamiq's Gran Turismo Transatlantic (GTT) series, which delivers a top end of 21 knots and range of 3,000 nautical miles at 10 knots.
The super-efficient and fast running surface is only part of the story. The exterior sundeck, as Dynamiq's founder loves to note, is the same size as a 55-metre Amels 180. "It has a total length of 20 metres and is divided into five separate zones for an incredible amount of possibilities," says Sergei Dobroserdov, who founded the company as recently as 2015. "Owners and guests can relax, dine, enjoy cocktails in the bar, spend time in the spa, watch the 72-inch television or work out in the gym." The aft section is even protected from the wind by two sliding doors, with infrared heaters that let guests enjoy outdoor areas on windy, off-season days. Designers at Azure Marine made sure to make best use of every centimetre, from the bow section to the beach club, to maximize the exterior's different possibilities. "This yacht is all about maximizing comfort," says Erik Spek, a director with the Dutch design firm.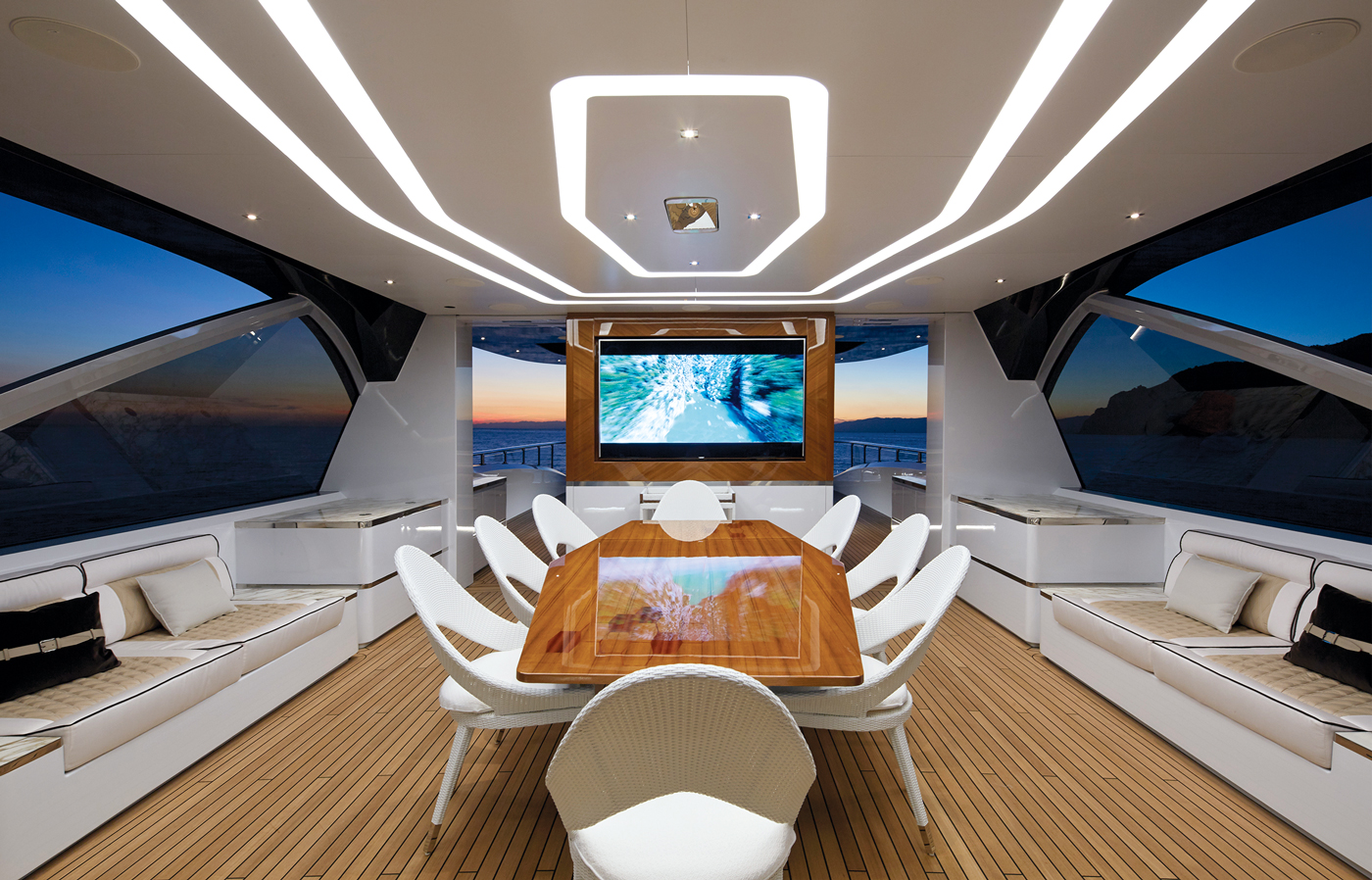 This smart use of space, along with other critical features more commonly found on a 60-metre than a 40-metre yacht, is what sets Dynamiq apart from its competitors. Dobroserdov, who trained as a maritime lawyer in Moscow and now has a design studio in Monaco, is the glue that binds the different elements of the new boatbuilding venture. An experienced yacht broker and designer, Dobroserdov saw an opportunity in the 40-metre sector. "There's a clear lack of demand in the 50-metre-plus segment as lots of superyacht owners are looking for smaller, more manageable vessels," he says. "At the same time, they don't want to compromise on quality. Dynamiq was created for those who have experienced much larger vessels but who want to downsize. We're also for first-time buyers dedicated to the highest quality and comfort."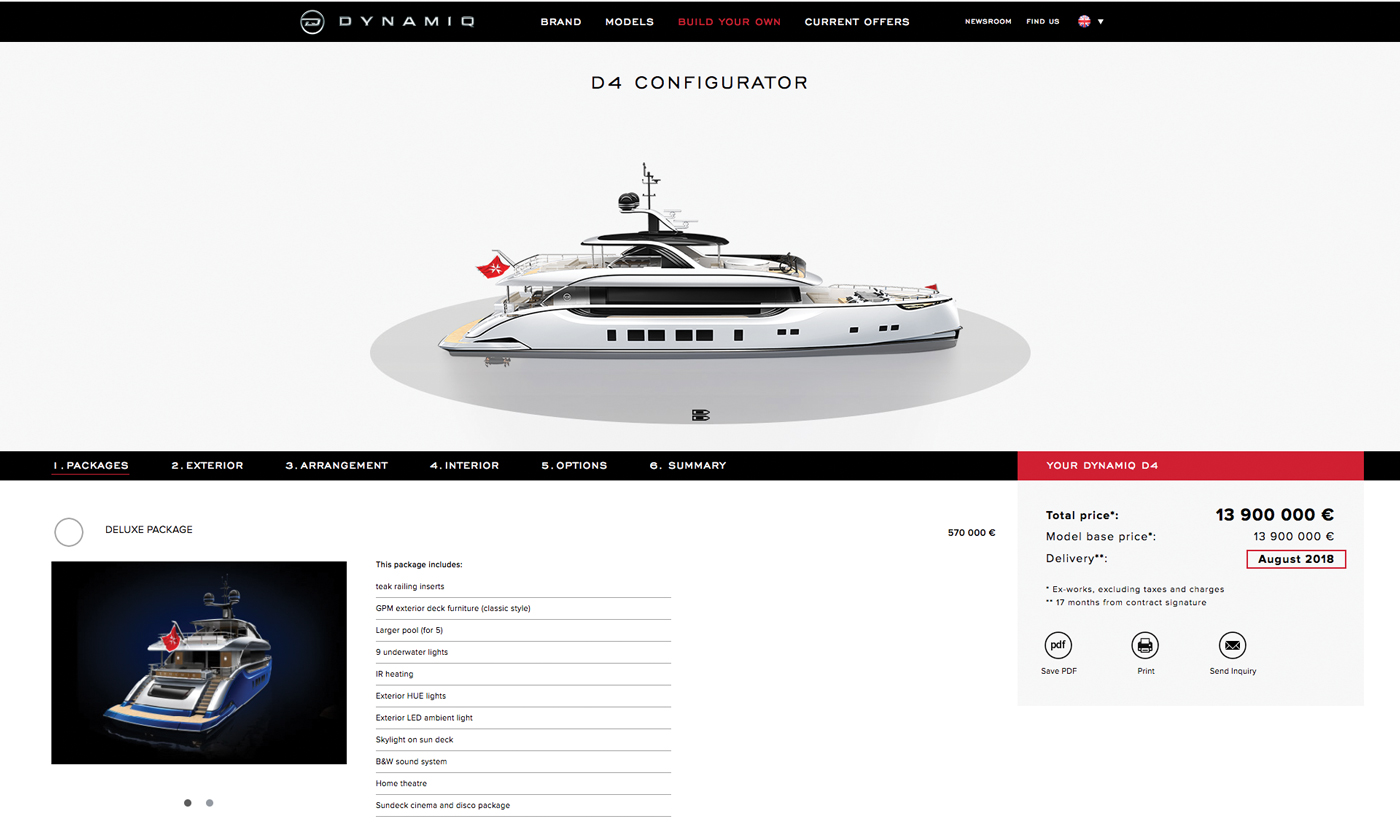 Certainly, the configurator will draw in first-time buyers who can play with dozens of hull colours (that run the gamut from standard white to metallic pink), interior décor options, water toys (from scuba equipment to a Riviera pool) and get a price and launch date, before even making contact with the company. Younger clients will especially appreciate the soft sales approach and transparency Dynamiq's unique business model brings to the yacht-buying experience.
Dobroserdov is employing years of knowledge as a broker to design a yacht that he is certain buyers will want. After years of servicing charter guests, he knows exactly how people use yachts, rather than imposing a top-down brief, as a shipyard might, as to how clients should use their yachts. "If you're smart with priorities, you can achieve the same 60-metre experience on a much smaller yacht," he says. "It is all about making the right choices."
"Choices," in the case of the D4 Jetsetter, do not mean trying to shove a 60-metre interior into a 39-metre hull. Jetsetter isn't crammed with five staterooms and two salons (though the configurator does have a five-stateroom option). Instead, it maximizes space with 2.2 metres of headroom across both the lower and upper decks, floor-to-ceiling windows in the salon, opening portholes that are more than 30 cm in diameter in the lower staterooms, an unusually large master suite for a boat its size (which is even larger and more stately on its D4L model), beautiful décor and top-quality equipment.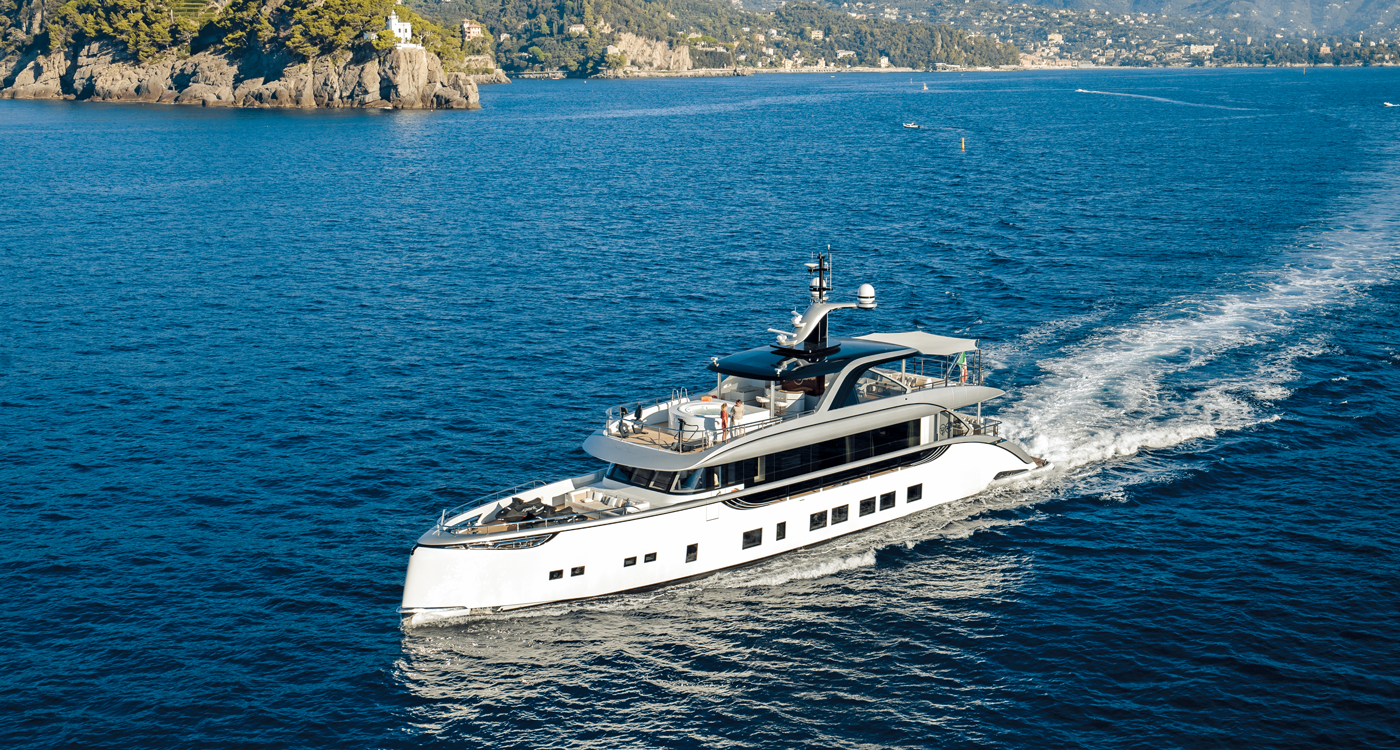 London-based Bannenberg & Rowell designed Jetsetter's interior. "The brief for the interior was to be luxurious, and at the same time, highly flexible and customizable," says Dobroserdov. "Therefore, almost all furniture is loose and can be changed, according to the owner's wishes. At the same time, wall and floor colours are calm and neutral."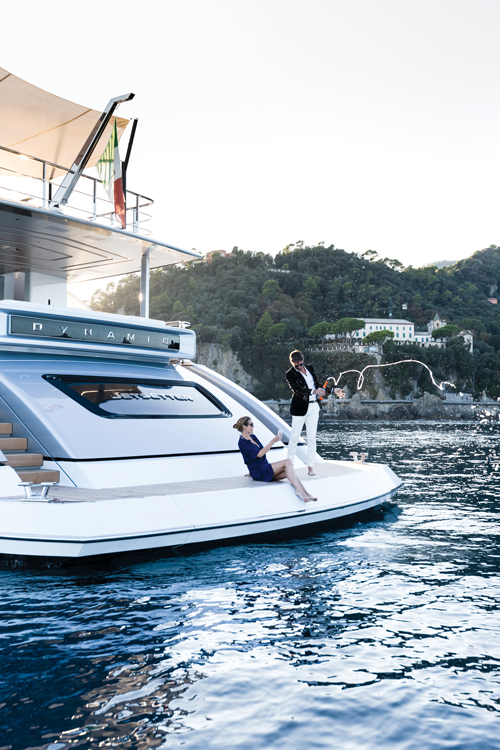 The white leather walls, dark walnut floors and soft elegant sofas of the salon, along with dual wine refrigerators that separate the living and dining areas, do give a sense of tranquillity, bolstered by Bannenberg's tasteful modern design. It is a space that provides a sanctuary for a couple on a cruise or a memorable dinner party for eight. Dobroserdov also made sure other areas on Jetsetter were of world-class caliber. The marble in the master head comes from the same marble supplier as the 180-metre Lürssen megayacht, Azzam, the world's largest privately owned yacht.
Dobroserdov signed agreements with 36 luxury brands, including the well known Bowers and Wilkins (audio), Technogym (fitness), and Pratesi (fine linens) and Castoldi and Humphree, which are well-known in the yachting industry. Most of the brands are represented in the three optional interior packages, which provide a soup-to-nuts approach for customizing each build. The 'Trussardi for Dynamiq' package (384,000 USD) is a complete package of décor, ranging from large furniture to small accessories like Trussardi parfums and Murano vases, that owners choose in consultation with Trussardi Casa designers. 'London Chic' by Bannenberg & Rowell (432,000 USD) features a more low-key, but no less stylish metro designer look. The Sabrina Monaco for Dynamiq package (396,000 USD), inspired by a "refined Monte-Carlo lifestyle," includes an entire suite of elegant décor, from the furniture to tableware. Working with a Sabrina designer, owners visit Sabrina showrooms to select specific décor, all the way down to choosing between leather, fabric or alligator pillows for the salon. "The idea is to offer the client many options in order to customise their yachts," says Dobroserdov.
Dynamiq's configurator does an excellent job of moving between the smaller interior accessories to other components that are yachting-specific. The options range from signature details like the colour of HUE lights on the upper deck that pulse in time with the onboard music system, to Humphree stabilizer systems that minimize roll while the yacht is under way. The company has even borrowed items from luxury automotive to promote on-board comfort, like high-tech XIR glass that allows natural light to enter the salon while blocking harmful UV rays and heat from the sun.
Beyond the niceties, the real foundation of this yacht is its running surface, which provides speed, efficiency and seakeeping. Azure Marine and Van Oossanen Naval Architects in The Netherlands developed the hull, a breakthrough for a yacht under 40 metres. "It's a fact that no yacht this size has the same performance," says Dobroserdov. "At 10 knots fuel consumption is less than 90 litres per hour. That's truly remarkable for a yacht this size." Jetsetter's efficiency comes from combining four features: a rounded bilge hull, vertical bow, propulsion pods and full aluminium construction. Spek said the hull was calibrated to ensure maximum comfort at rest and at sea.
Because the three new yachts are designed around a common platform, build time is only 17 months, about half the time of a new custom yacht. Jetsetter was built at the Nuovi Cantieri Apuania shipyard in Carrara, Italy, but the company has since acquired a site in Viareggio, the superyacht-building capital of Italy. The next model, the Dynamiq G3, was designed by Porsche Studio. Studio Vripack, one of the best-known Dutch design firms, is also partnering on future builds.
Dobroserdov is bullish about Dynamiq's future. "No other yacht builder has what we offer, with our sales office in Monaco, naval architects in Holland and yacht building in Viareggio," he says. "That's an edge we have over everyone else, not to mention our new designs. And, of course, no other builder is as transparent. We see ourselves as the future of yachting."