July 12, 2023 Alia Fawaz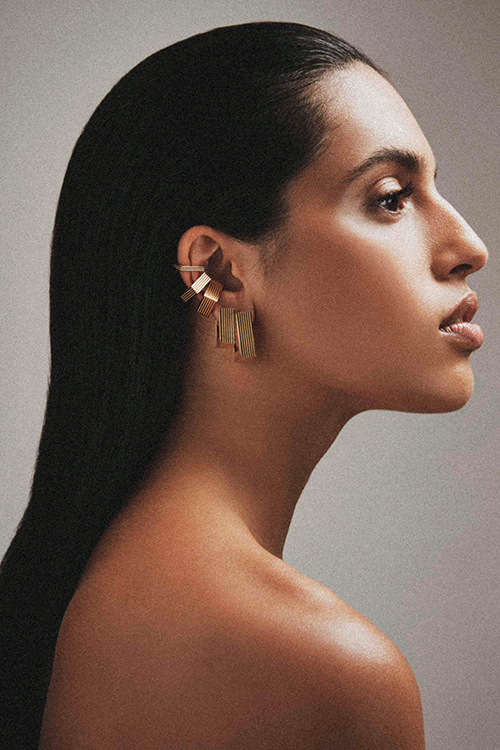 Understanding the difference between fashion jewellery and fine jewellery is simple enough: it all comes down to the materials that the jewellery is made with. Fine jewellery describes jewellery made of solid gold, sterling silver, or platinum in combination with genuine precious gemstones like diamonds, rubies, or sapphires. Fashion jewellery on the other hand typically uses a base metal of brass, copper, or aluminium, which is then plated with a precious metal like gold or silver. If it contains stones, then they're usually simulated ones.
What often confuses matters though is the concept of everyday jewellery – those pieces of jewellery that are so versatile that you can wear them with anything, and so precious that you never want to take them off. What Ivi Kyratzi, an up-and-coming jewellery designer based in Los Angeles realised was that there was a sizable gap in the market for functional passe-partout pieces of high quality. Consequently, she decided to fill the void with her own eponymous brand, IVI. Explaining how uncommon affordable high-end jewellery is, she told us, via Zoom, "It's either a case of the quality not meeting the price, or the price being prohibitive. While the 'high-end' jewellery space is extremely clustered, I wanted to give focus to the uncharted space of combining high-quality with accessible pricing."
Still, Kyratzi's road to success has not been a linear one. It turns out, she's the daughter of one of Cyprus' leading families of retail – they're the exclusive importers and distributors of Bottega Veneta, Saint Laurent, Chloe, Stella McCartney and Zegna among brands. And, quite logically, she imagined her future lay in fashion, so she pursued a degree in fashion design at Parsons in New York City but, after graduating, she found herself attracted to the art of jewellery. "Initially, in Los Angeles I started dabbling in jewellery – making mostly chains – as a hobby really, but then so many of my friends wanted one that I started selling them on the side. Then, one day I met an Italian from the jewellery industry, I guess he saw something in me because he asked me to travel with him to Arezzo, as he wanted to introduce me to someone. That someone was Gabriele Vereni," explains Kyratzi.
Veneri turned out to be one of the industry's most prolific manufacturers (Gabriele's father Carlo Veneri was one of the central figures in the development of the luxury metal industry of Arezzo). "I remember that first trip like it was yesterday," she continues. "I was supposed to stay for just a week, but I ended up staying for three months. I would go to the factory every day and stay there from 9am to 7pm. My focus was creating, working directly with the craftsmen, and learning the process. I didn't speak a word of Italian but somehow, we managed to create the first small collection, which was the Slot collection." Remarkably, Slot has remained IVI's best-selling range to this day.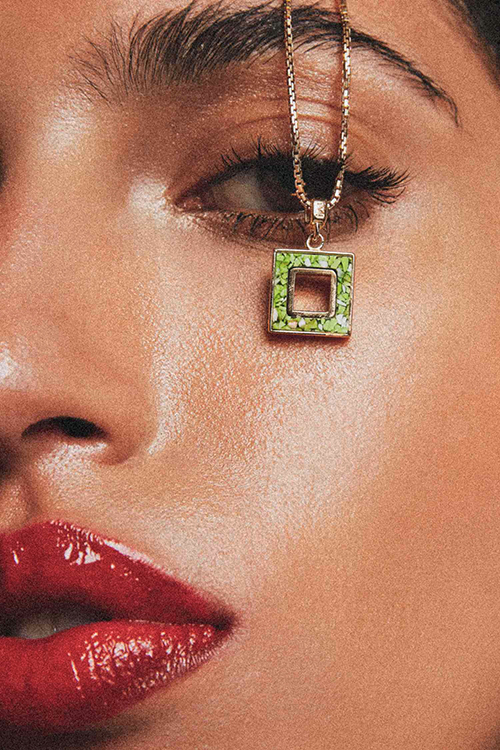 "Gabriele Veneri was the first one who believed in me as a creative and he provided me with the resources to express myself through jewellery," says the 34-year-old designer. "We bonded instantly over a strong synergy and a shared mission to create a contemporary jewellery brand with a relentless drive to be at the forefront of not just quality and creativity, but also sustainability." The latter is a particularly interesting point, as it seems that, nowadays, customers are just as engaged with where jewellery comes from as how it is composed, and the fact that every IVI piece comes with a guarantee that its materials have been ethically and sustainably sourced is a huge boon. So too, of course, is the fact that IVI jewellery has a wide range of price points, for there are pure 18-karat gold pieces, there are fashion collections with gemstones and gold vermeil (925 sterling silver plated with 2.5 to 5 microns of pure gold) and there are pieces that are plated but in a distinguished way (925 sterling silver plated with 1 to 2 microns of pure gold). There are even some sterling silver pieces, which have been plated in rhodium – a member of the platinum group of metals – to enhance the metal's appearance and longevity.
Clearly, IVI is far more than a purveyor of good-looking accessories, it's a brand that embodies bold innovation, especially in its ability to bridge the worlds of fine and fashion jewellery. Marked by a soft and considered simplicity, IVI pieces are gorgeous and work effortlessly with just about any outfit, day or night. And no matter whether you're accessorising with IVI's gold chains, glass stone-flecked chokers, geometric statement earrings or hoops enhanced with howlite, lapis or pink opal, you will cherish how cool, yet also timeless such jewellery is. You'll also appreciate how well made it is and that's really down to IVI's rigorous twelve step process, which essentially means every piece of jewellery goes through the hands of literally a dozen individuals, each specialised in a specific craft, by the time of its completion.
With jewellers like Jacquie Aiche and Maria Tash becoming fairly ubiquitous it's great to find a new brand that will help you stand out from the crowd – at least for now. For although IVI has but one standalone store, in Kyratzi's hometown of Nicosia, it's already gaining global distribution through such top tier shops as Le Bon Marché and Monnier (in Paris), Neiman Marcus, Saks Fifth Avenue, Kirna Zabête, and The Webster (all in the US), plus Moda Operandi,and Farfetch (globally online), and this is only the beginning. Watch this space.