June 20, 2007 admin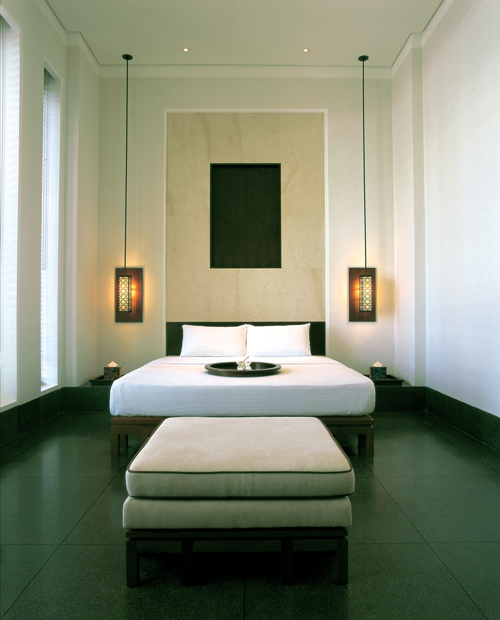 Simple elegance meets local charm at The Chedi Hotel in Oman. Located along the clear waters of the Boushar beachfront, this 115-room hotel is the perfect Middle Eastern getaway from which to discover underwater wildlife, relax at the spa or simply unwind, reveals Myrna Ayad.
Large terracotta pots line the short white walls leading to the entrance of the Chedi hotel in Muscat. Two men dressed in the traditional Omani garb of dishdash and colourful turbans are all smiles as they greet guests. Other staff members escort you to the spacious lobby painted in earthy hues with its magnificent chandelier of brown, red and orange lanterns that dangle over a huge square sofa. As with other hotels run by GHM, the architecture and décor capture the spirit of the hotel's environs while offering twenty-first century luxury in a compelling and stylish manner. First impressions are good to say the least.
As you wait to be checked into your room, you'll notice that despite the lack of music that usually fills the corners of many a lobby, newly arrived guests speak in hushed tones. It's all about peace and quiet here. A waiter promptly brings me fresh lemonade with shredded mint and cold towels to freshen up. I notice that none of the staff wear nametags, this tactic is aimed at promoting a more intimate experience because guests must engage the employees in conversation to discover their names.
Following the bellhop to the room, you realise that you have to get outdoors in order to get indoors. The Chedi Hotel was designed this way in order to give you a foretaste of its extensive grounds. There are areas of plush green grass, beautifully designed water ponds and vast spaces decorated with large brass pots – a quirky archetypal touch specific to the Chedi. A lot of natural light wafts in and out, accentuating the whiteness of the hotel's structure. I stayed in the three-storey Serai wing, but you can also choose the slightly larger Deluxe rooms in the two storey Chedi wing or the Chedi Club suites, luxurious bungalows dotted throughout the estate. Naturally the bungalow is the best option with assured views over the tranquil ponds, a spacious sitting room, a single bedroom and a wonderful bathroom with a sunken terrazzo bathtub.
But for me the regular, 415 USD a night, room in the Serai wing with its open plan bathroom was just perfect. The toiletries come courtesy of designer Etienne Aigner and a full mini-bar is also stocked with Evian facial spray and a rejuvenating eye-mask. The technology in the room is not as elaborate as at its sister hotel, Miami's Setai (Bespoke, issue 3), as you only get regular internet access and satellite TV but, of course, you're not really here to lounge around in the room. My tip is to request a room with a view – from my particular window I could spot the Serai Pool and the enticing private beachfront.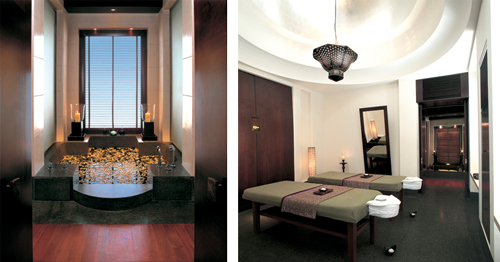 The following morning, breakfast was the first order of the day at the Restaurant where Nitesh, the hotel's jovial F&B manager, gave me a tour of the buffet area. The spread featured four open display kitchens, magnificent crystal chandeliers that added to the modern-meets-classic décor and every conceivable food item you could think of for breakfast – including the impressive array of homemade jams.
Having filled up on the morning meal, task number two was tanning. Getting to the Chedi Pool, exclusively for adults over 16-years-old, is a bit of a trek from the main premises but certainly worth the extra legwork. Queen-sized beds adorn the pool to your sun-basking delight and waiters take your drink orders and serve them from the pool's bar, the Chedi Poolside Cabana. Unfortunately, the Chedi Pool was packed even though I arrived relatively early. Although I cringed at the thought of being surrounded by loud children at the black-tiled Serai Pool, I continued there anyway across the highly manicured grass. However, to my delight and relief, it was very quiet and encircled by king-sized and single-sized sun-beds. As a resort, the Chedi seems to be better equipped for couples than for families anyway. Maher, the attentive Omani waiter, immediately served me cold water and took my drinks order enabling me to relax to the sound of the soft wind breeze and the sea.
The Chedi, as with most five-star GHM-managed hotels, is home to an award-winning spa specialising in Balinese therapies. You're advised to book well in advance, but even if you can just manage a 30-minute slot, you will emerge refreshed and rejuvenated. In a beautifully decorated room scented with lavender, I took a sigh of relief and sipped from my complimentary glass of cold water tinged with lemon and orange slices while my feet soaked in warm water. If GHM does one thing better than its competition, it is the spa treatments.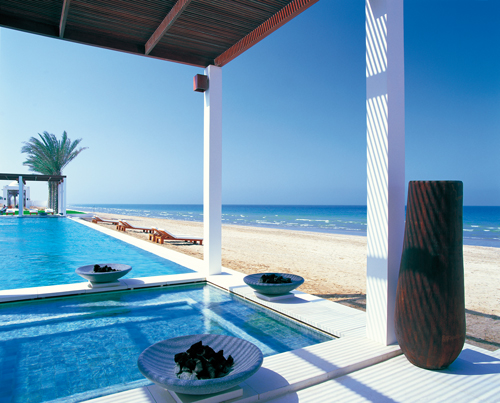 Scented candles and burning incense sticks create a soothing aroma all around the massage room. My Balinese masseuse, Supadi, explained to me the benefits of this specific type of Balinese massage and regularly asked me if the pressure she was applying was to my liking. Towards the end of my treatment, she used scented oil, noting that it keeps the skin supple, smooth and promotes anti-ageing. Green tea brought the experience to a close and I headed back to the pool for further self-indulgence before the evening festivities of jazz under the stars.
Night time at the Chedi is breathtaking as the dimly lit resort provides an ambience second to none. Hotel staff light floating candles in the ponds and fires burn in the grounds. The buffet at the event was also impressive – fresh oysters, carpaccio, caprese salad, shrimp cocktail and so much more to feast on. When in Oman, I tend to forgo red meat altogether as Omani lobster is succulent and easily the best course on the menu.
No stay in Oman would be complete without some dolphin watching. The Chedi subcontracts this experience to one of the best tour operators in town. A short mini bus ride to the marina and I was on board Skipper Abu Hmeid's boat. Cool drinks were offered as well as a one-page brochure detailing marine life in Oman. I was surprised to find Omani waters are home to orcas, various species of dolphins, barracudas, tuna, swordfish, sailfish, sharks and many more of the sea's creatures including 22 types of whales. Diving in to swim with the dolphins is prohibited because you could become lunch for the sharks. We sailed out and soon were treated to the sight of a large number of Spinner dolphins, doing exactly as their name suggests: spinning. These acrobatic movements entail frolics and performing somersaults in the air for memorable Kodak moments.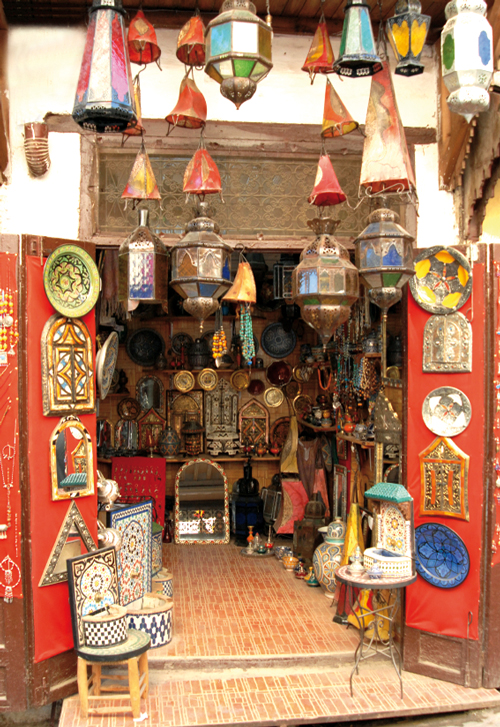 Back to the Chedi for the check-out and a sense of sadness takes over me – there is never enough time to fully enjoy its serenity. As I waited in the lobby ready to head out, I could see Nitesh gently teasing a new guest, who was by now distraught and red-faced, that there were no bathrooms at The Chedi, "Madam, the architect forgot to put them in his original design, but you don't need to worry because our neighbouring hotel allows our guests to use their restrooms," he joked. He glanced over at me with a Cheshire cat-like grin on his face. I smiled back, knowing full well that my memories here would lure me back and possibly even sooner than I think.
CONCIERGE PATRICK'S MUSCAT GUIDE
The Chedi's concierge Patrick recommends the Old Muttrah Souk. "You'll find a lot of junk and antiques there. Whatever price they give you, make sure you bargain for 50 per cent and don't go more than 30 per cent above that," he says. Only a 20-minute drive away, the hustle and bustle of Oman's oldest souk is framed by an arched entrance and roofed with palm fronds. Right by the port is the Muttrah Fort, one of 13 forts in the area; three of Oman's museums are close by – Bait al Falaj, Bait al Zubair and the National Museum. Frankincense is the dominant scent at the souk – don't leave Oman without buying some.
Numerous little shops owned or run by old Omani men sell antique jewellery made of coral, amber and amethysts. Pashminas are abundant, as are shops that sell traditional Omani sweets, frankincense and souvenirs. Oman's national symbol is the khanjar – a silver-cased dagger which is available in various sizes and models. Most of the khanjars – which are part of the traditional outfit, are made in India or Pakistan so try finding an Omani merchant to purchase an authentic one.
what's nearby