October 9, 2019 Nadia Michel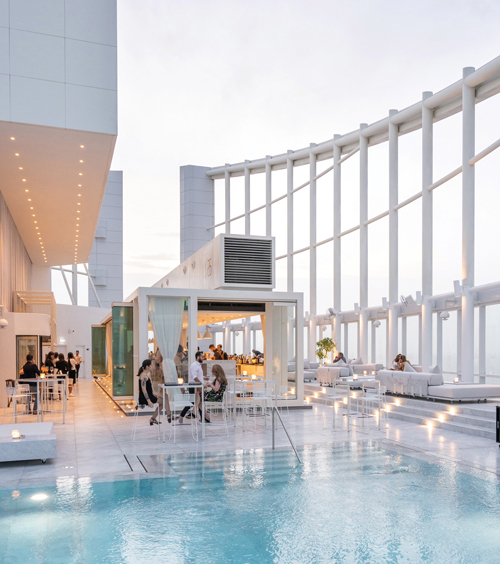 The Four Seasons Hotel Beirut has a new rooftop playground. The best part is it's open year round, so you can keep that summer feeling going even when the clouds roll in.
Just because autumn is rolling in doesn't mean you have to concede summer's over. The pool, bar and lounge atop Beirut's Four Seasons has undergone a radical makeover (completed in June) that will have you covered year round, courtesy of Bernard Khoury.
Khoury – the dark knight of Middle Eastern architecture – broke from typecast to reimagine the space as a kind of functional fantasy using an all-white palette. Then, he devised a way to make the centrally located bar a year-round hotspot.
"The bar's glass façade retracts to connect with the exterior and remaining lounge area, giving guests the feeling that they are inside but also outside at the same time. All elements of the rooftop, from the floors to the pool and even the furniture pieces, are draped in marble, reflecting the sky in all its states," he explains. Set almost 100 metres above ground level in Beirut's 15th tallest building, Level 26 offers up never-ending views of the Mediterranean and Lebanese mountains with shareable plates such as shrimp tempura bao buns and black cod miso. If that doesn't hit the spot then perhaps an exotic-yet-familiar handcrafted cocktail might do the trick. The Nashi, a Japanese whiskey-based concoction flavoured with pear caramel, lavender and umeshu, is as close to perfection in a glass as it gets.
what's nearby