December 5, 2014 Nadine Khalil
Even if it's just an hour and a half's drive from Zürich, or two from Milan, Andermatt used to somewhere where you'd think time had stopped. Not anymore. Egyptian developer Samih Sawiris is turning it into a high-end global village, set to rival Europe's best ski resorts. And it all began with a Chedi.
Why would anyone go to the Alps and spend most of their time indoors? Honestly, there can only be two reasons. One, they just aren't that into skiing. Two, the hotel is that spectacular. In my case, both are true. But there's also something else. I'm terrified of falling from high places. Think treacherous cliffs, precarious lifts, and dodgily fenced slopes and you begin to get the idea.
I don't know if it's down to some unrecognised childhood trauma but when I was first asked to go and review the then-new Chedi Andermatt, in the Swiss Alps, it almost felt like a cruel joke. Almost – but not quite. I may have been anxious but the serene drive from Zürich took me through the petrol-blue mountain lakes, blinding white peaks, deep canyons and rugged edges of the Alps. The remote beauty of it all may have been forbidding but it was also so captivatingly stunning that I was able to put aside my fears for a while.
The hotel itself looks more like an oversized Swiss chalet, or rather four of them, centred around a courtyard. The exposed wooden beams and gabled snow roofs echo the architectural vernacular of the surrounding buildings but on a much larger scale. The kind of scale needed to house all 105 rooms and suites, 55 of which are individually designed residences for private ownership.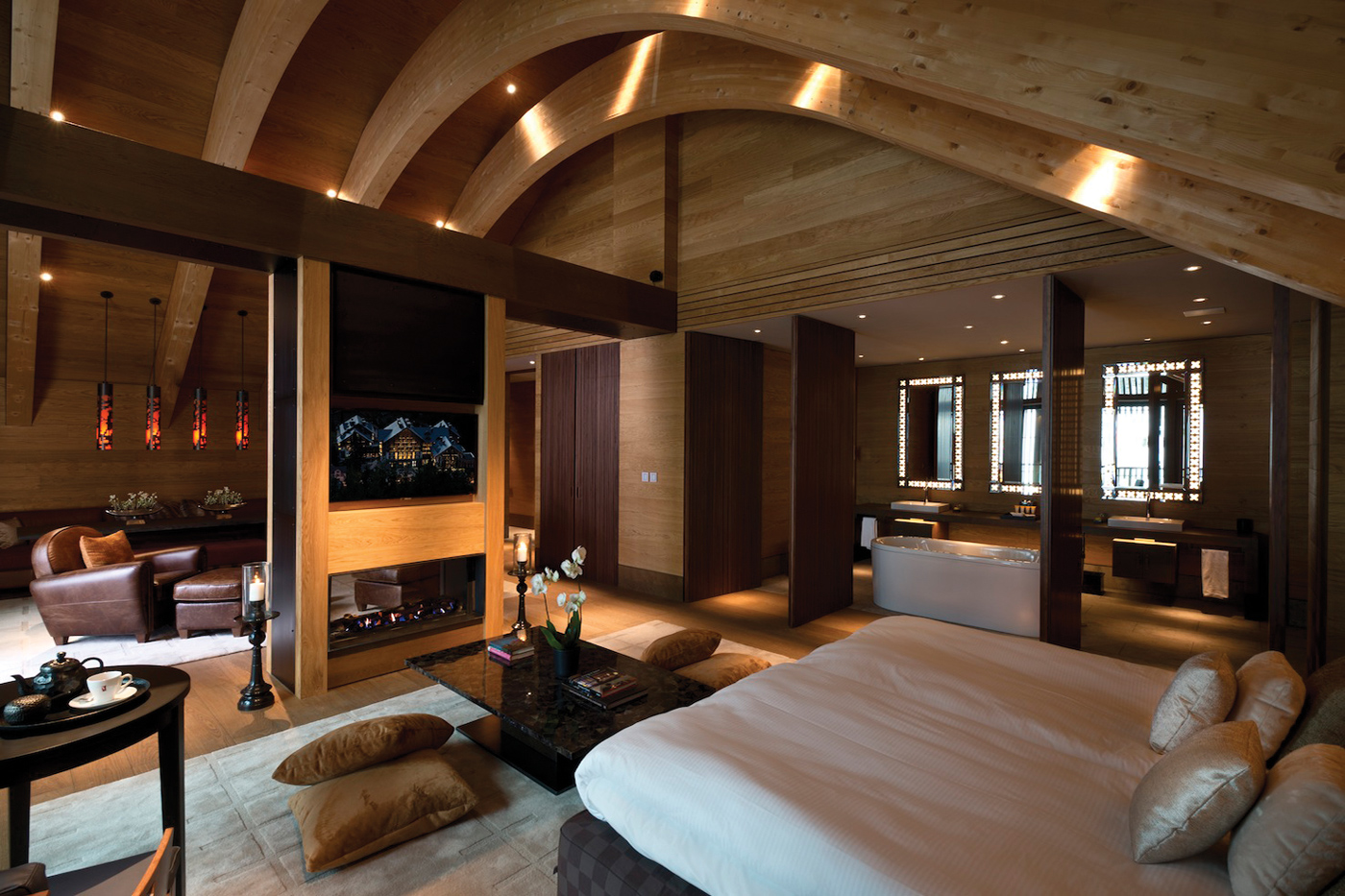 THE CHEDI ANDERMATT IS THE FIRST CHEDI IN EUROPE AND BOY DOES IT FEEL SPECIAL, ALBEIT ALIEN AND NOT JUST BECAUSE OF ITS ASIAN INFLUENCES.
My own suite was L-shaped and massive, with chocolate brown wood accents and elaborate ambient lighting that almost implores you to stay in, sheltered from the cold, frosty winter wonderland outside. To the far end was a mahogany dining area, a reading corner with soft leather armchairs, furry rugs and a very large, very comfortable bed that faces an iPad-controlled gas fireplace. Then there was the bathroom. Marble-lined and bigger even than the bedroom, it is here that I found one of my favourite spots – the freestanding bathtub, from where I could literally soak in the marvellous views.
If I had to find fault, it's that more is not always more. Of course, space is a luxury but at the Chedi it almost verges on the unnecessary. To understand you'll need to bear with me. Take a look out of the window, you'll see the twinkling flakes and the seemingly insurmountable Gemmstock mountain, rising 3,000 metres above the scope of vision and realise that here, tucked away in the heart of Urseren Valley, relativity of scale matters. It gives you perspective.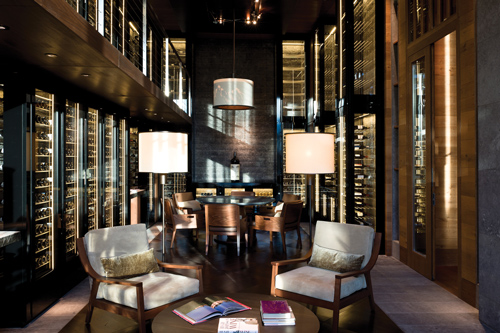 Some may disagree but luckily it's not everywhere in the Chedi that such an extravagance of space can be construed as a negative. Acclaimed Aman designer, Jean-Michel Gathy, got it right in the remarkable ground floor dining area, The Restaurant, with its wraparound floor-to-ceiling windows and open kitchen concept that encompasses four kitchens in one (Indian, International-Asian, Swiss-European and Japanese), alongside a magnificent five-metre high walk-in fromagerie.
The hotel group behind the Chedi is Singapore-based GHM, and they're best known for their many properties in Bali, as well as in Vietnam and Oman. The Chedi Andermatt is their first in Europe and it does feel somewhat out of place, not just because of the Asian influences but also because of its location. After all, Andermatt is a sleepy village of only 1,500 people and you'd probably never have heard of if you haven't seen the James Bond car chase in 'Goldfinger.'
A century ago, Andermatt was the well-kept secret of serious skiers looking for off-piste adventures. It was even frequented by German romantics like Goethe, who claimed it was the most beautiful place he had ever seen. But what stifled its potential was the military for it is at the crossroads of three mountain passes. And it's the tactical place for an essential North to South crossing through the Gotthard Pass. So in the 1940s, during World War II, the Swiss Armed Forces set up a base in Andermatt, effectively putting paid to any ambitions the townspeople might have had to lure high-end tourists.
So why would a luxury hotel chain embark upon a project here of all places? The answer is Samih Sawiris. In 2005, the Egyptian billionaire behind the corporation Orascom Development was officially invited by the Swiss government to visit the town. Struggling to keep its residents from leaving after the military withdrawal a couple of years earlier, Andermatt was badly in need of a new direction.
"When Sawiris flew over the valley in a helicopter, he knew he wanted to do something," Alain Bachmann, the hotel's general manager, tells me on day two, as we tuck in to a sumptuous lunch prepared by double Michelin-starred German-Iranian chef, Mansour Memarian. "I think if he hadn't, this place would have been empty within 10 years."
The developer, known for creating hotspots out of unusual places, such as the integrated resort town of El Gouna on Egypt's Red Sea, decided to take on the challenge of turning Andermatt around and put together an investment package of 2 billion USD. The Andermatt Swiss Alps (ASA) masterplan will transform1.5 million square metres of land into over 500 apartments and villas ranging from a million to 64 million USD – half of which have already been sold – a golf course, a commercial centre and an underground parking structure for 1,900 cars, in addition to five more hotels. Chedi became the centrepiece of the entire project.
Sawiris' first step was a shrewd one: he charmed the Swiss government into exempting him from the legislation that limits non-Swiss residents from owning property, an unusual exception made in the name of economic development.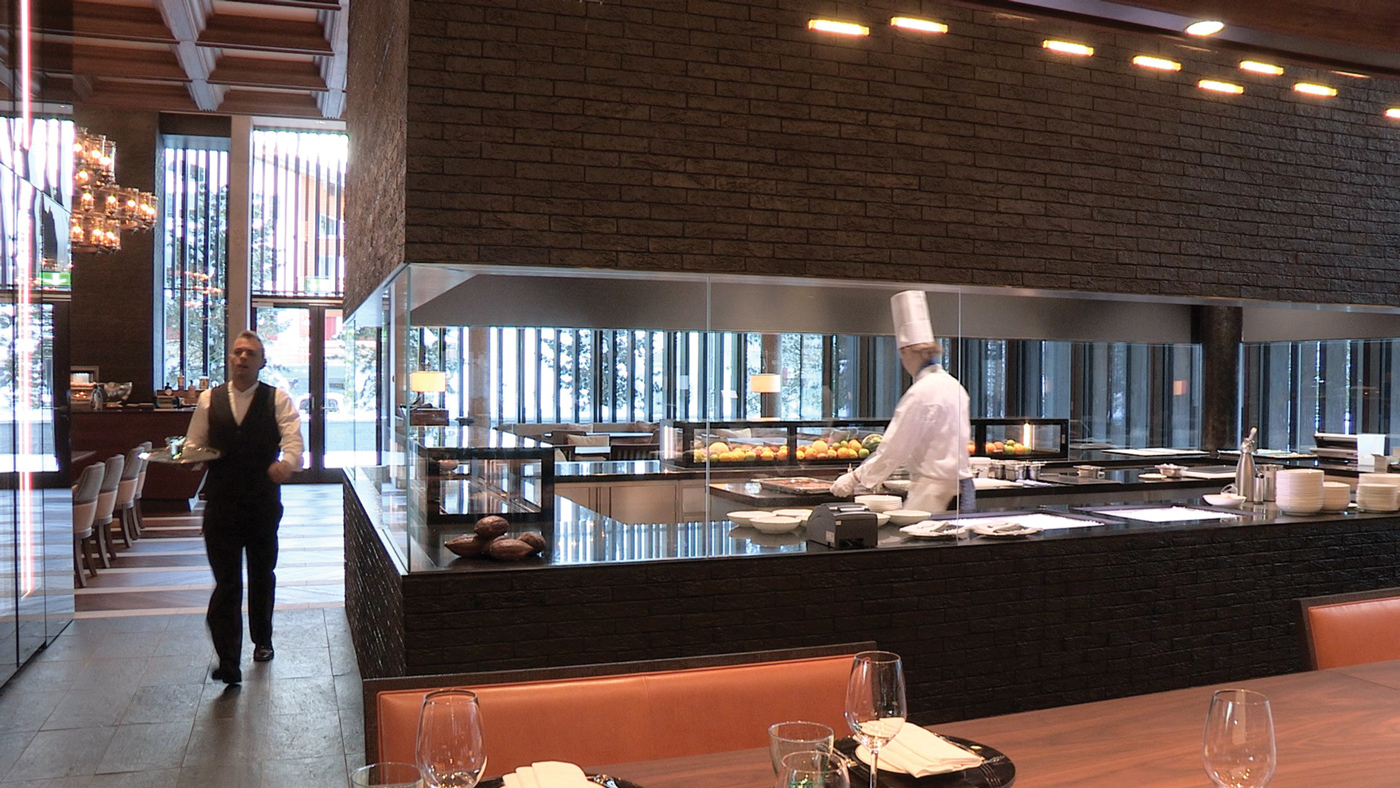 As we bite into crunchy samosas with tamarind chutney and exquisite dim sum pieces, topped with ossetra caviar, Bachmann explains that move further. "Sawiris did a clever thing and brought in the local authorities and environmental parties first, telling them: this is what I want to do. What do you need from me? This way, he got all the requirements clarified and the consensus reached beforehand – you know this is how Switzerland operates. He was able to get permits in 2 months because no one objected."
"There are also only 9 work permits for foreigners in the whole of Uri, it's a small canton, and we have 5 of them," Bachmann continues, referring to the fact that Chedi also has a Thai chef, an Indian in addition to two Japanese Masters in charge of The Japanese Restaurant, a 46-seat sushi, sashimi and tempura experience. Although the Chedi is very proud of its Asian cuisine, I have to say, what I still find myself craving is the local stuff. I would happily trade the memories I have of the fancy smoked salmon cannelloni with almond mousse and truffle cream-stuffed brioche with another indulgence of saucy Zürich-style veal served with crispy-on-the-outside, soft-on-the-inside potato rösti, and Spätzle dumplings.
In any case, I can understand why Chedi is capitalising on their food offerings. I mean, there's just one high-end restaurant in Andermatt, Bären, where you won't pay less than 300 USD a head (and where goose liver in passion fruit wine cream or veal brain in porcini mushroom crust never looked, and tasted, so good). Then again, even in the most traditional place in the village, Gasthaus Ochsen, which feels more like a barn than a restaurant, you can get the local speciality of cheese fondue with speck. Which is why, Sawiris asked the place not to change a thing in order to keep the village feel. As Bachmann says, "He wanted to create something new, especially when people have seen it all already, something that wasn't pretentious but with a top-notch level of quality and service."
Barbara Stiemerling, the then-director of sales and marketing, explained the vision a bit further during our meeting on day three as we sat around the wonderfully open log-fire in the lounge area between the wine cellar and the cigar library. "The idea was not to become a second Gstaad, St. Moritz or Davos. It's more about authenticity and discreet luxury for mountaineering nature lovers."
The curious downside of this strategy is that you'll find many local villagers popping by the Chedi to come and have an ogle. Yet the well-to-do ski couples around me didn't appear to mind, or notice. When I mentioned this to Stiemerling, she wryly says, "I'm German you know, we are very hierarchical but the Swiss are innately egalitarian so for now, the hotel is open to the public."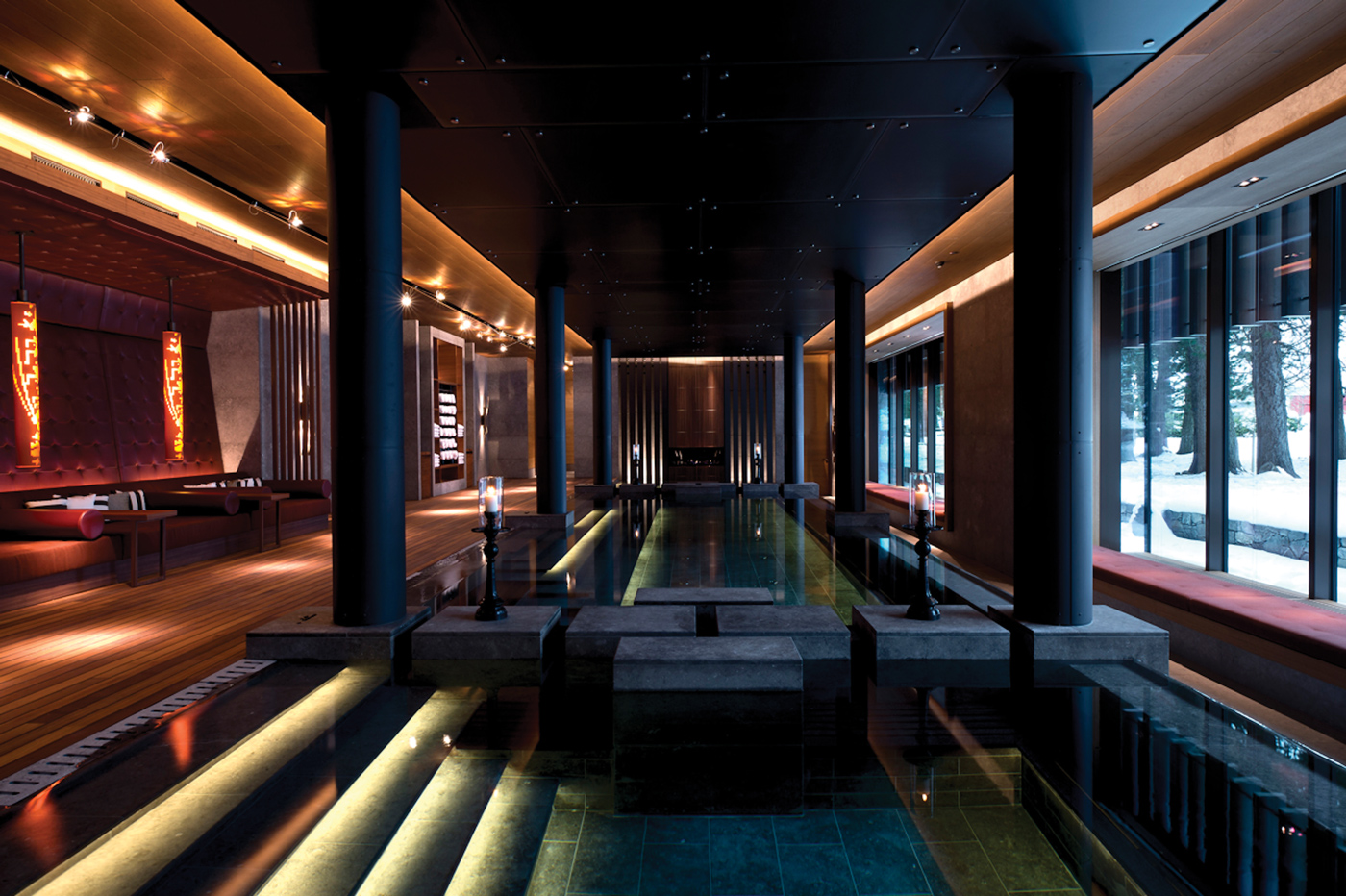 Now that we have gotten over the fact I hadn't come to ski, I have another confession to make. I also didn't leave the hotel for these first three days. What on earth was I up to, you might ask? Well, reading in places with a view, like the libraries or the bathtub. Swimming in places with a view, like the 35-metre lap pool in the three-level spa that also included a spectacular hydrotherapy unit with a Finnish-style sauna and steam room. It all takes time. Then there was the recommended Alpienne mountain massage, a thorough sports rub using Arnica, pine stone, honey and violet oil, which, you'll be happy to know, did calm me down enough to attempt a bit of skiing on day four.
Don't be too impressed though, for I didn't actually brave Gemmstock, I stayed on the gentler slopes down the Nätschen Mountain. Currently, there are 120 kilometres of slopes (Zermatt for instance has 200km) but the ASA plan for Andermatt is to connect with the Sedrun ski area so that they can double their meterage.
My trustworthy ski butler had prepared my skis overnight, based on my height, weight and shoe size. Apparently, they had an embedded chip to signal when the snow was too soft. As I trudged along the creamy, swishing snow with my group, we were ready to be taught by a ski instructor from the Ski Schule Andermatt. I won't go into the details of what happened next but let's just say it was rather embarrassing and I didn't actually overcome my fear at the Chedi.
I did however, take an imaginative leap to try and get over it. Andermatt does that to people, not just the rich and restless who are looking for something besides the regular luxury package deal but also those with outsized ambition like Sawiris, who envisioned something that could have been an ordinary, rustic experience, into a place that's quite extraordinary.
what's nearby