December 2, 2020 Mai Alami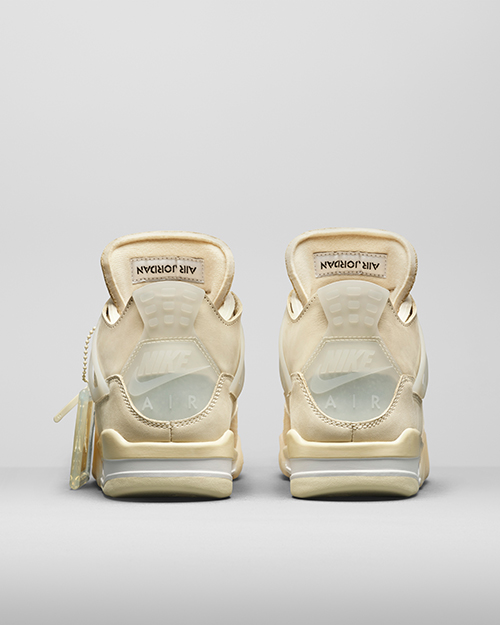 Back in July, Nike unveiled the most stunning trainers it has ever created for women. Devised in collaboration with Virgil Abloh's streetwear brand, Off-White, they're a collector's item you'll actually want to wear, not just keep.
There is so much to admire in the Nike Off-White Air Jordan 4 high-tops, not least their original 'Sail' colour. As a matter of fact, we have to commend Nike and Off-White for conceiving a pair of women's trainers that don't resort to a clichéd pink, purple or other stereotypically gendered colour code. Instead, these pumps seem to be formed from pure butter, combining a creamy suede upper and a honeycomb-hued lower. Gorgeous.
Next, let's take a moment to appreciate the model that Virgil Abloh chose for this limited release. The Jordan IVs are a Tinker Hatfield-designed classic that will forever be associated with 'The Shot' (May 7th, 1989). For those who don't remember (or who didn't watch 'The Last Dance' on Netflix), the Chicago Bulls had only three seconds left on the buzzer and Michael Jordan singelhandedly broke the hearts of the Cleveland Cavaliers' players and fans when he landed an epic shot over Craig Ehlo to win game five of their first-round series. He then jumps and pumps his fist before being mobbed by teammates, and his black Air Jordan IV trainers were from that moment forever engrained in sports lore.
Abloh's Off-White reincarnation of this shoe keeps most of the Jordan IV details intact. There's the visible Air unit, moulded heel logo, lockdown wings – called "lightweight tech straps" here – and many more of the things we're used to seeing on the AJ IVs. But there are also a number of new signature Off-White details too, and they work because they're subtle. The result is so fresh that there is incredible demand for these kicks: They might have originally retailed for 200 USD, but they're now worth 980 USD according to StockX.