May 20, 2021 Nicolas Shammas
In an ideal world, every potential Rolls-Royce customer looking for a four-door saloon would simply go and buy a Phantom, as it's a phenomenal car. The only downside (for some) is it comes with the emotional baggage of telling the world: "I'm worth a tonne of money and to hell with whatever you think, I'm going to enjoy the finest things in life".
Such a point shouldn't be disregarded because, in the real world, price, value and image all count enormously, especially when it comes to luxury purchases. And it's why we think the brand-new Ghost is not just a smart choice but a '2021 Ultimate' one.
Interestingly, the Ghost was always a humbler car than the Phantom – but that was probably more by default than design – yet, when the tastemakers at Goodwood found themselves needing to replace the best-selling car in their company's 116-year history, they decided to lay claim to that particular fact and build on it. "Post-Opulent Design" is how they describe eschewing some of the "superficial expressions of wealth" for something sleeker, more contemporary and pared down.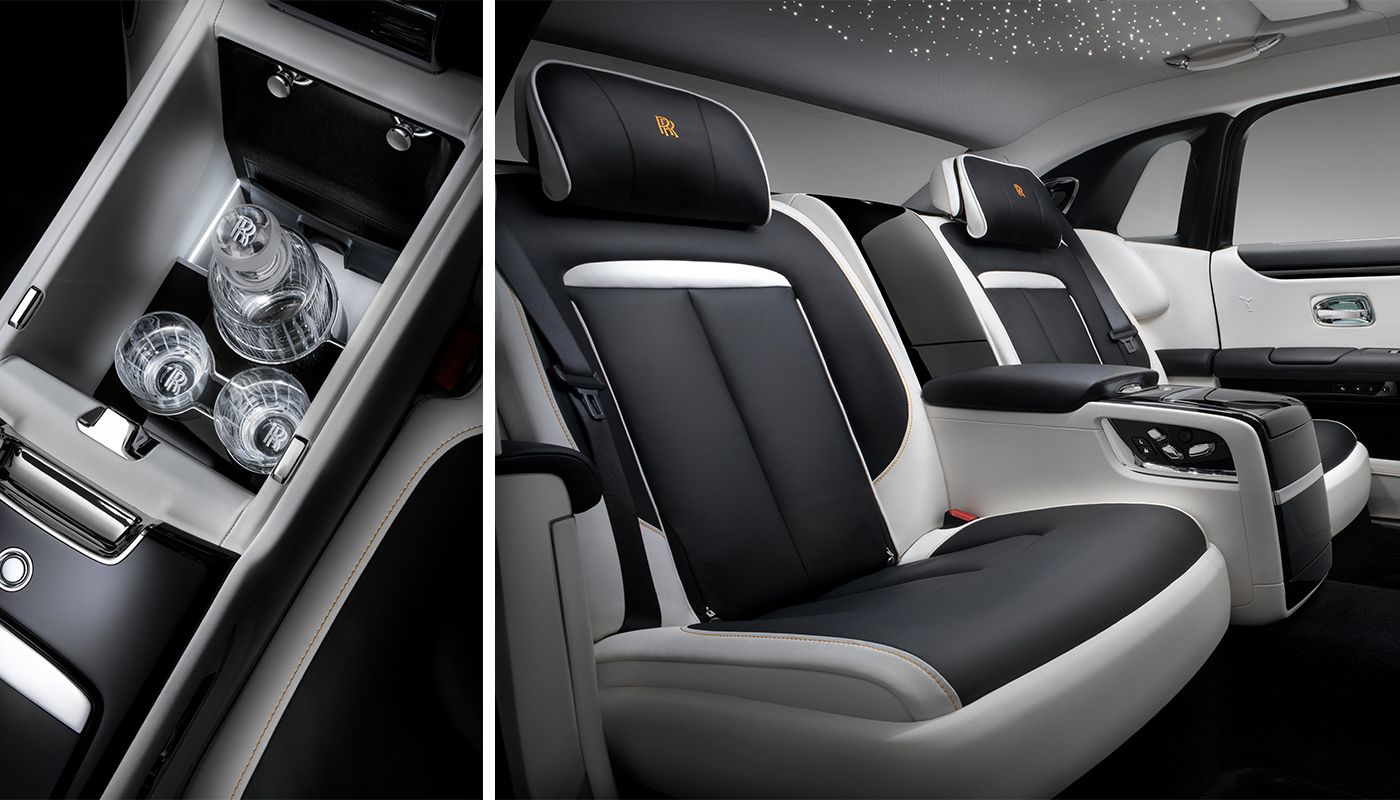 Even though the Ghost hasn't changed all that much, the new one is better looking, and from every angle too. Strong, sleek and with exquisite proportions, it comes in two versions (for now): there's the regular one, called Ghost, and then there's the Ghost Extended (which used to be called the Extended Wheel Base, but hey, when you're paring down, go all the way, right?). The Extended adds 17cm of space between the front and rear wheels, giving the cabin enough room for two individual Phantom-esque 'Serenity Seats', between which there's a fixed armrest that can – should you spec it – contain a very sophisticated champagne cooler, which somehow knows to chill non-vintage champagne at precisely 6 degrees Celsius, and vintage champagne at exactly 11 degrees.
Company boss Torsten Müller-Ötvös explained that the mission for this particular variant of Ghost was to develop it for customers who want to be driven during the week, but who prefer to drive themselves on the weekend. And because of that fact, he made sure his designers carved out that extra space for rear passengers without compromising the car's aesthetics, or handling. Speaking of which, this thing no longer rides on a BMW 7-series chassis, it now uses the Phantom and Cullinan's 'Architecture of Luxury' platform. They've also fitted it with all-wheel drive to make it usable all year round, and there's all-wheel steering now too to make it more nimble. Under the bonnet, they've replaced the old 6.6-litre with a 6.75-litre twin-turbo V12, and it pumps out 563bhp and 850Nm of torque.
Of course, you'd rarely ever push a Ghost's motor that hard, especially when what you really want is to waft along with comfort and serenity. But, it can never be a bad thing to have such immense power. Or a bottle of perfectly chilled vintage bubbly on hand. The good life just got significantly better.