October 1, 2022 Nicolas Shammas
Last June, we were invited by Perpétuel, the specialist watch retailer in Dubai founded by Melika Yazdjerdi and Hamdan Alhudaidi, to fly out to Germany and discover Lang 1943 – a new watch brand that they're throwing their support behind. And, before you ask, yes Lang was indeed founded in 2022; the year 1943 refers to the date of birth of Lang, the man, and not Lang, the brand. If the name sounds familiar it's probably because of A. Lange & Söhne, Marco Lang, Lang & Heyne, and even Rolf Lang but we can assure you that this Lang has nothing to do with those ones. Lang 1943 is named after Gerd-Rüdiger Lang, a luminary of the watch business – he was the man who invented sapphire crystal casebacks and founded Chronoswiss, a mid-range brand that most notably helped lead the mechanical renaissance during the quartz revolution in the 1980s. Mr. Lang is about to turn 80 however, and he has been retired for over a decade.
So, how is he launching a new brand? Well, the brand's actually the brainchild of Georg Bartkowiak, an industry veteran. "Back in 2010 if I recall, Rüdiger offered me the chance to buy Chronoswiss but I didn't have the means then, plus I was building Grieb & Benzinger, a high-end German watchmaker in the 40,000 to 600,000 EUR range. We maintained our friendship though and a number of years later, I went back to him and said, look Rüdiger, I want to create a new brand that has something to tell. There are so few people like you in the business, people who have left an indelible mark, so why don't we do something to bring back your original ideas and your unique way of making watches."
Aware of his age, Lang accepted but under the proviso that he would not be tied in as a partner, preferring instead to act as the brand's consultant, figurehead, and advisor for design and technology. "Funnily enough, it was only later, when we were talking about technical solutions that he mentioned the fact he owned a large stock of movements," reveals Bartkowiak. "Intrigued, I asked how many? Around a hundred, perhaps? He smiled and said, no, more! Still not understanding, I asked what calibres? And he said: lots! He then drew up an inventory list and it blew my mind."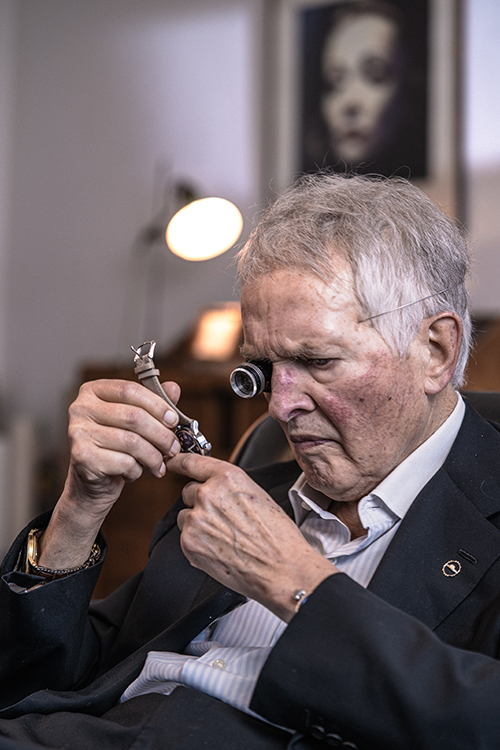 True to his word, and thanks to the great gifts of Rüdiger's "Cave" (thousands of mostly hand-wound, ultra-reliable, 1960s movements and components from the now defunct Marvin brand, which Lang had acquired at the end of the 1980s), Bartkowiak has succeeded in creating a new brand with an old soul. Interestingly, despite the fact that Lang was perhaps best known for regulator dial watches, the launch model of Lang literally plants its roots in 1943, for it takes inspiration from the super-sought-after military watches commissioned by the British Army in the 1940s. Known as the 'Dirty Dozen' for the fact that Her Majesty's Armed Forces commissioned twelve brands to produce them – Buren, Cyma, Eterna, Grana, Jaeger-LeCoultre, Lemania, Longines, IWC, Omega, Record, Timor and Vertex – according to stringent specifications, including water-resistance, luminosity, chronometric regulation, Arabic numerals on the dial and most importantly, a highly robust case.
"We felt that the dimensions of the calibre were ideal for a unisex watch of 39mm and by going with a field watch as our first model, we were able to complete the production process within just two years. What's more, it allowed us to keep the price down and maintain an affordable entry point of just 3,500 to 4,000 Euros," says Bartkowiak. Going forwards, Lang 1943's aim is to remain below the 10,000 Euro mark, and continue to offer the beauty of mechanics with exclusive movements. "This is very important, as we can attract people who are new to mechanical watches, people looking to start collections, and even seasoned collectors looking for something different. But if we move up to a 10,000 to 20,000 EUR threshold there isn't enough oxygen in the market anymore."
For their first year, production will be 600 units. By next year they're aiming to make 1,000 watches and within four years, they want to reach 3,000. "E-commerce will be important but touch points will be our main driver and thanks to our cooperation with Perpétuel, we are starting with a focus on the Middle East and growing from there."
We suspect Lang will grow rapidly, not just because their watches offer a welcome break from ETA, but because they present old-school values and an aesthetic that seems to unwittingly attract you. Maybe it's those deep two-tone dials with their Moser allure, or maybe its their sizing. Whatever the case, interest will only increase once they bring to market their chronographs and regulators.