July 24, 2017 Christina Lamb
On Twitter (where she has 7.1 million followers), she describes herself as "a mum and a wife with a really cool day job". That job is being queen and she looks the part with her fabulous designer clothes, long glossy hair and teeny-tiny waist. Her Instagram account (3.5m followers) often resembles a fashion shoot, with the occasional family snap such as the one of her sharing a heart-shaped Valentine's Day cake with an adoring king. But among the photos are less glamorous shots: pictures of her appearing amid wailing women in headscarves and grief-stricken children. That's because Her Majesty Rania Al Abdullah lives in a kingdom surrounded by war. Jordan shares borders with Syria, Iraq and Israel/Palestine. Unlike some of its oil-rich neighbours, it is a poor country, but it is giving a lesson to the world by taking in more refugees than the whole of Europe. In fact, one in four of its inhabitants is a refugee – Unicef estimates that 2.7m of Jordan's total population of 9.5m are refugees – and it hosts the world's biggest camp outside Africa. If we were to liken this situation to Europe, it would be as if the UK took in the entire population of Holland.
Apart from being a wife and a mother to four children, aged between 12 and 22, Queen Rania, who turns 47 this August, is the world's highest-profile Arab woman, a platform she uses as an outspoken advocate for refugees and for a more compassionate world in the time of Brexit and Trump. And this is ostensibly what we have come to the Al Husseiniya Palace to talk to her about.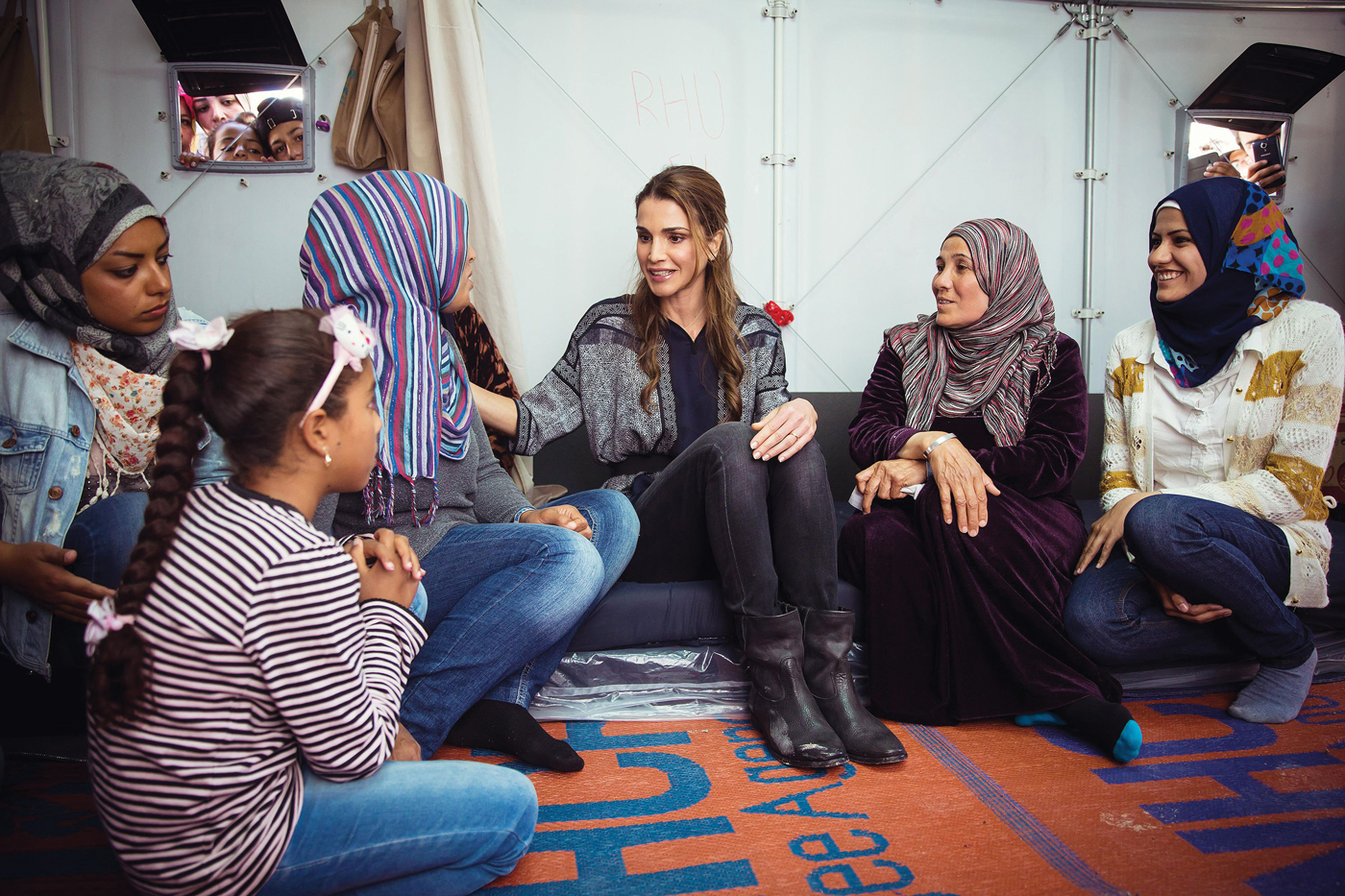 WAS IT THE RATIONAL THING TO DO, TO TAKE SO MANY REFUGEES? PROBABLY NOT.
Rania was thrust into the limelight at the age of 28, when she suddenly became the world's youngest queen. "It was extremely difficult – not least as I wasn't expecting it, so wasn't prepared for it," she admits, having been under the assumption her husband's uncle, Hassan, who was the crown prince and regent, was next in line to the throne. But in a Shakespearean twist, five and half years after she and Prince Abdullah wed, King Hussein, who was dying of cancer, rocked the country from his deathbed by sending his brother a letter accusing him of everything from slandering his family to meddling with the army. The king then named Abdullah as heir instead.
"From day one, it's been one challenge after another. We had 9/11, the war in Iraq and the refugees that came in then, the intifadas in Gaza, the brief war in Lebanon and the protracted Civil War in Syria, and many more refugees, so it's really been a challenge." Yet, in between fulfilling her main role of producing an heir and a spare, she has become a global activist everyone wants on their boards or at their conferences. Her main focus is on girls' education, particularly through better teaching – she has been working with the Institute of Education in London to set up a teacher-training institute in Jordan for example – but she has also become a Chanel-clad defender of Islam and an advocate for refugees. And though she might be a queen, her family were at one time refugees too.
Born Rania Al Yassin, her family are Palestinians who were living in Kuwait. During the first Gulf War in 1991, they were forced to flee along with thousands of other Palestinian families and resettled in Amman. Rania was doing an MBA in Cairo and joined them, getting a job in marketing at Citibank before moving to Apple and eventually meeting and marrying then Prince Abdullah, eldest son of King Hussein.
"I think Jordan has an unparalleled humanitarian record when it comes to hosting refugees," she says. "We are a small country and resource-poor, but we are the number one per capita host of refugees… We have taken in 1.3 million Syrian refugees, whereas the whole of Europe has struggled to take in a million."
She is angry at the lack of help. "Though I am really proud of the Jordanian response, it pains me to see how much Jordanians have had to suffer and how high a price they have had to pay for the world's complacency."
We get some sense of what Jordan is dealing with when we head 80 kilometres northeast to Zaatari, the world's biggest camp for Syrian refugees. Though some have moved on, Zaatari is still home to 80,000, of which half are children, making it Jordan's fourth-largest city; the white trailers cover more than five square kilometres. It has nine schools, 11 hospitals, two supermarkets, its own football league and a main street – nicknamed the Champs-Elysées – of cafés and shops, where you can even hire a wedding dress.
Yet, almost 90 per cent of refugees in Jordan live in towns and cities among the population, which puts immense stress on services. More than a third of Jordanians live below the poverty line and the land is incredibly arid – one of the world's five most water-short countries. The wars all around have destroyed tourism to ancient sites such as the stunning rose-red city of Petra, and unemployment among young people is 29 per cent.
"It may not have been the logical or sensible decision to take in refugees, because our economy can't take it. Our public resources, our infrastructure and social services have been totally exhausted. Our capacity to cope has been devastated," she admits. "Only 35 per cent of the cost of hosting refuges comes from donor countries. To cover the rest, we've had to borrow. A quarter of our national budget goes to refugees. Our debt-to-GDP ratio [now 90 per cent] has skyrocketed. Was it the rational thing to do, to take so many refugees? Probably not. But at the core of this crisis are human beings who lost everything through no choice of their own."
She cites the example of a female refugee called Maha, whom she met on a visit to a camp on the Greek island of Lesbos. "She was just one year from qualifying to be a gynaecologist. She'd had a harrowing journey out of Syria, an equally agonising sea crossing to get to Lesbos, her life had been turned upside down and she had nothing.
But her number one priority was to become a doctor. That's what's so sad when people think of refugees as desperate people waiting for handouts. These are people with pride, hopes, dreams and aspirations. Only when we see them that way can we start to empathise and come up with solutions."
For Queen Rania and her husband, there was never any question of not accepting the Syrians massing at their borders. "Do you turn your back on the mother and children taking a huge risk venturing into the dangers of the unknown because she knows what she's leaving behind is worse?" she asks. "Does my husband order his soldiers to close the borders? How is he going to sleep at night? It was never a question of yes or no, it was always a question of how are we going to make it work."
WE HAVE SEEN IN SOME AREAS, REFUGEES ARE VIEWED WITH FEAR AND SUSPICION. THAT'S A VERY DANGEROUS PHENOMENON.
The implication is clear. Why couldn't the EU, home to 500 million relatively affluent people, do the same? "I don't want to lump the whole global response in one category," she replies. "We have seen in some areas in Europe an outpouring of compassion, but in other places, instead of being viewed with sympathy, refugees are viewed with fear and suspicion. That's a very dangerous phenomenon, where security and economic fears are manipulated to promote identity politics and populist policies."
The words Trump and Brexit hang in the air. We ask how she feels that now the world's most powerful leader is preaching that kind of politics. "It's sad that, in many parts of the world, the word 'different' is becoming synonymous with 'dangerous'," she replies. "Of course it's frightening to think we live in a world where people can be randomly killed sitting in a restaurant, attending a concert or kneeling to pray, but to turn that into identity politics and to promote ultra-nationalism and isolationism and this fracturing of our world, that's dangerous. This global order we have, we can't turn it back. Fencing ourselves off and each country fending for itself is not going to serve anybody."
She also worries about what she sees as growing Islamophobia. "One of the main injustices in our world is the misconception surrounding Islam and the 1.6 billion Muslims. Islam is not the enemy. Daesh [Isis] and the like are the enemy. Their actions are not religious but criminal, and if you look into the backgrounds of many of their fighters, they are linked to criminal networks and prison cells. Wholesale fear of Islam and Muslims only encourages 'otherising' of those who speak, look or pray differently and plays into the hands of the extremists, who say western culture is against all of us Muslims."
As arguably the most prominent Muslim woman in the world, she has long been an advocate of girls' education and has spoken out against child marriage and honour killings. "I always find that, with women, if you empower them a little bit, they lift everyone around them. Education for girls is the best investment you can make, because the ripple effect affects so many issues – health, child mortality, economic empowerment all benefit when you give girls an education."
The queen, who claims to drive herself and wears western clothes, gets frustrated at western stereotypes. "What we see with Arab women is what we see with women everywhere – they beat the odds," she says. "In many instances, they form protective shields against the radicalisation of young men in their families and communities. They pool resources to feed their families. We see them on battlefields, like the Yazidi women fighting Isis in Iraq. The West can help by resisting easy stereotypes of
Arab women as submissive and helpless. They are not, and once we stop seeing them that way we can reach out. Women lift each other up."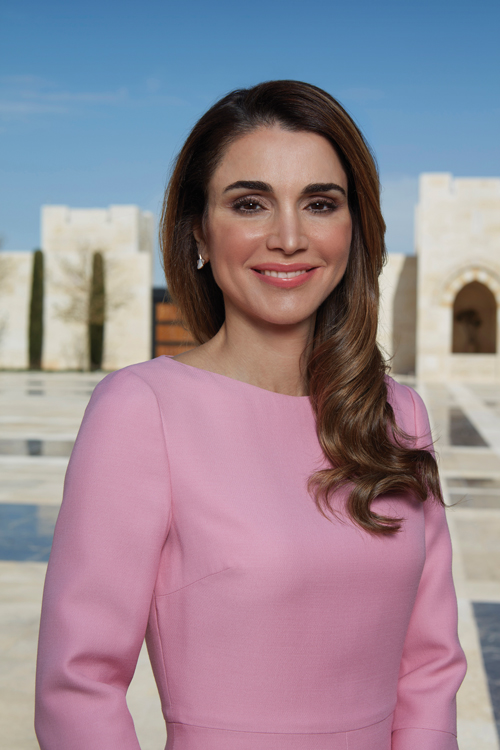 Those stereotypes are not just for Arab women. Queen Rania was all too aware of a recent Daily Mail headline, which controversially featured a 'Legs-it' headline, over a photograph of Theresa May and Nicola Sturgeon in skirts. "I was so disappointed," she confesses. "I think a lot of people woke up, saw that and thought we just travelled back 40 or 50 years."
We ask about her own choice of clothes and her decision not to wear a hijab, which is increasingly becoming a fashion statement in her country rather than a religious one. "I really do think that religion is a very personal thing," she says. "I feel that it's wrong to try to deal with our differences by trying to impose homogeneity. Many women in my country wear the hijab, and you'll also find many women dressed like me. It just baffles me sometimes that there's a huge debate about an issue that should really be a non-issue."
An issue that does warrant her attention is the war in Syria,which is now in its seventh year, and there is no sign of the refugee flow letting up. How does Queen Rania feel about the failure of the international community to deal with it? "This is a really dark spot in the history of world diplomacy," she replies. "Part of the reason we haven't been able to move forward is the world is divided on what they want to see happening in Syria. We need a more coherent vision that can get us to a negotiated peace settlement and ceasefire."
She reveals how she believes the West was naive in its interventions in Afghanistan, Iraq and Libya, toppling the Taliban regime and dictators such as Saddam Hussein and Colonel Gadaffi, and thinking things would change.
"Democratisation is a long process – you can't hope for democracy that will produce the freedoms people aspire to when those values haven't been ingrained in them," she says. "Values of free speech, respect for different opinions, respect for diversity, respect for civil institutions, free press – all those things are the building blocks you need for healthy democracy, otherwise you end up with one-time elections that produce dictators who are worse than the ones you removed, and then you are set back another 20 years waiting for the next set. Democracy is not just about elections – that's just the cherry on the pie. The hard work that comes beforehand to produce the kind of democracy you want, that's what you need to focus on." And with that, the Queen rises, bids us adieu and heads off to go and take on another cause.
COVER PHOTO BY: Tom Stoddart