October 12, 2017 Nadia Michel
Sitting in his small shop in the buzzing Mar Mikhael neighbourhood of Beirut, Ralph Masri seems awfully humble. It's a sleek space, mostly black with little window vignettes that showcase his sparkly designs. Even the location is unassuming. Tucked between a trendy restaurant and another tiny commercial space, it's easy to miss. But then again, isn't that the very definition of cool? Only insiders know where the real deal is.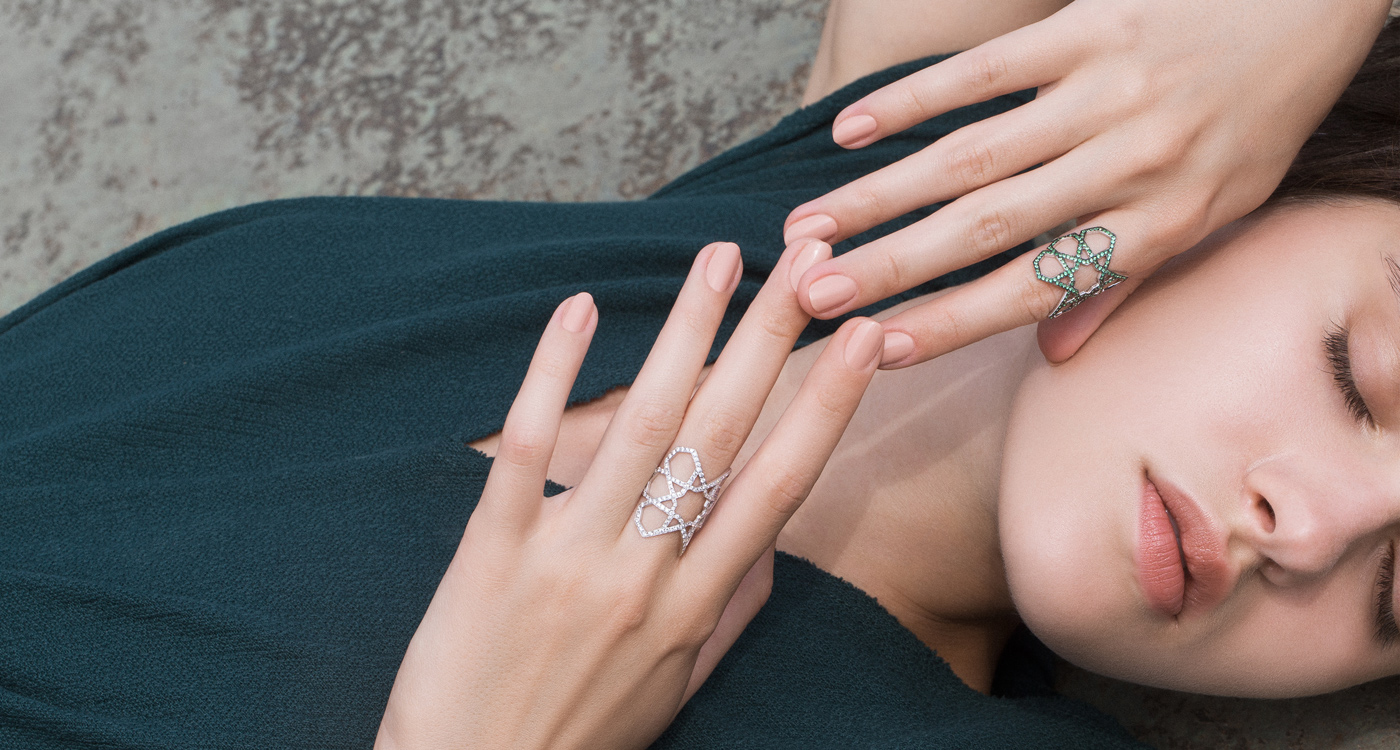 THE FACT YOU CAN FIND MY STUFF SITTING NEXT TO BUCELLATI AND DAVID YURMAN IS REALLY COOL.
Regardless, it's becoming increasingly hard for Masri to stay in the shadows. His stock has been skyrocketing the last couple of years and it all began in 2015, when Harvey Nichols in London chose to carry his Arabesque Deco collection. "They were my first major international stockists," he reminisces. Then in 2016, he scored an unlikely Dubai Design & Fashion Council/Vogue Fashion Prize that had many in the business uttering his name. Originally nominated in the Accessories segment, along with some handbag and shoe brands, Masri broke the mould, took home a financial grant of 15,000 USD from Farfetch, and even drove the organisers to create a dedicated Fine Jewellery Category.
"As a result of that, I got picked up by Harvey Nichols in Dubai too and that was my big break in the Middle East. Harvey Nichols is probably the most important fine jewellery destination in the region – they stock all the top brands and the fact you can find my stuff sitting next to Bucellati and David Yurman is really cool."
The ensuing press attracted trendsetters, one of whom was Jordan's Queen Rania, known as much for her humanitarian work as her flawless sense of style. While she reportedly acquired a number of Masri's designs, she chose a particular pair of oversized hoops from his Arabesque Deco collection to wear to the Jordanian Independence Day ceremony this year. Then, as you'd imagine in this day and age, once the images of the Queen wearing those earrings got plastered all over social media; it was only a matter of days before the pieces were sold out, worldwide.
At around the same time as he was blowing up in the Middle East, Masri managed to get his wares into a well-connected showroom in New York City – a little place stylists go when outfitting their clients for special events. "Gigi Hadid was the first American A-lister to wear my stuff," Masri reveals.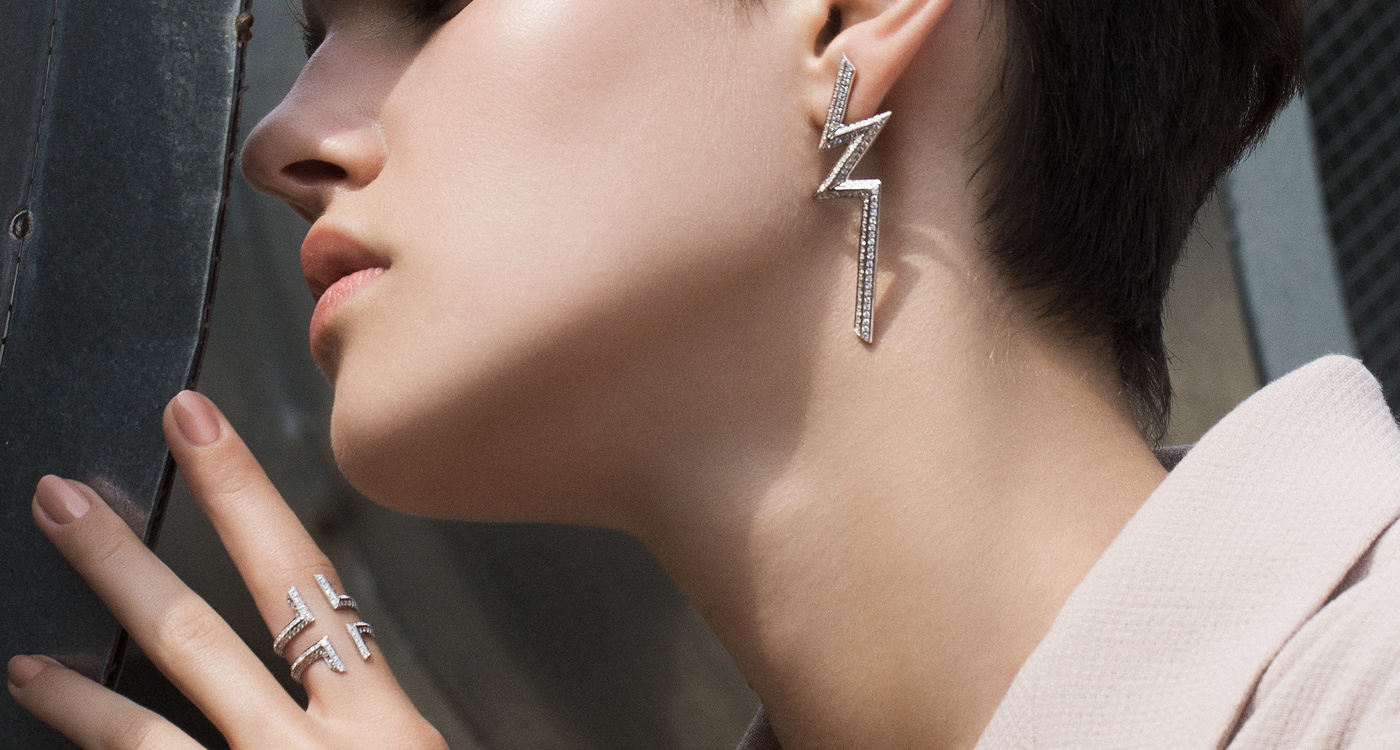 EDGY AND CONTEMPORARY THANKS TO HIS HEAVY USE OF GEOMETRIC LINES, MASRI'S JEWELLERY STRIKES JUST THE RIGHT BALANCE – IT SEEMS – FOR STARS LOOKING TO GET NOTICED.
Since then, his pieces have been spotted on numerous heavy-hitters, including Jessica Alba, Winnie Harlowe, Rita Ora and Niki Minaj. Masri's jewellery, inspired by oriental imagery such as Phoenician script and stained glass windows, comes off as edgy and contemporary thanks to his heavy use of geometric lines. It strikes just the right balance – it seems – for stars looking to get noticed. "Especially in the US market, celebrity placement has been great. It's such a celebrity-centric culture, not just for people but even for retailers," he explains.
Masri grew up in Beirut, the son of a jeweller father and a diamond-dealer mother. Though it would seem only natural that Ralph would follow in their footsteps, especially in a country where craftsmanship skills often get handed down one generation to the next, he is adamant that he never really considered this to be his destined path. In fact, it was graphic design and not jewellery design that he originally picked in his application to Central Saint Martins, a move he thought would make sense of his love for painting and the arts. But he soon switched tracks and almost immediately shone brighter than his contemporaries. "Saint Martins is the equivalent of Harvard for the design world," he muses.
After a brief stint working at Italian jeweller Pomellato, Masri set about founding his eponymous brand, with the help of his parents who supported him logistically and with their knowledge of the industry. His final school project, a collection of statement pieces made in silver, was a success from the start and the springboard for his first fine jewellery collection, Arabesque Deco. He has followed that up with three other collections since, the latest one having been launched this autumn at New York Fashion Week and Paris Fashion Week because, as he explains, "That's really where all the buying happens."
Considering his pieces are now being sold around the world, one might think Masri has had to move production to some far-off factory but that's not the case. The reality is that Masri is still intimately involved with the day-to-day, spending most of his days on the second floor of his shop, drawing, rendering and creating wax prototypes before turning his fantasies into gold and encrusting them with precious stones. He then shares the ensuing labour with a local artisan, and eventually sells the final product to his clients himself, as he also mans his Beirut retail space. "Clients much prefer dealing with the designer himself," he says, except sometimes, the product is so good it sells itself. "I have clients who've put in orders for literally thousands of dollars just off of images on Instagram, without even trying the pieces on," Masri says. That's the power of celebrity.