October 7, 2011 Farah Aljundi
 "Why, sometimes I've believed as many as six impossible things before breakfast."
-The Queen, 'Alice in Wonderland'
Alice laughed: "There's no use trying," she said; "one can't believe impossible things."
The dissonance of a Queen is a comparatively small ordeal to overcome, if one is to step out onto today's stage dancing to one's own tune. Few fields such as fashion manage such a tricky, and unpredictable audience, when her daunting sociocultural factors put on their heckle and come out to play. However, there are those of intrinsic rhythm, "the men of unborrowed vision," who the likes of Ayn Rand have praised, living by their own judgment, and willing to stand alone against tradition. Which brings us to some of the potent dreamers of our time, designers no less. "Why, sometimes I've believed as many as six impossible things before breakfast," said The Queen in 'Alice in Wonderland. To which Alice replied, "There's no use trying," she said; "one can't believe impossible things."
THE SHAPE SHIFTER
Krikor Jabotian
Lebanese based in Beirut, 24 years old
Studied at ESMOD in Beirut, trained under Elie Saab
Established own label in 2009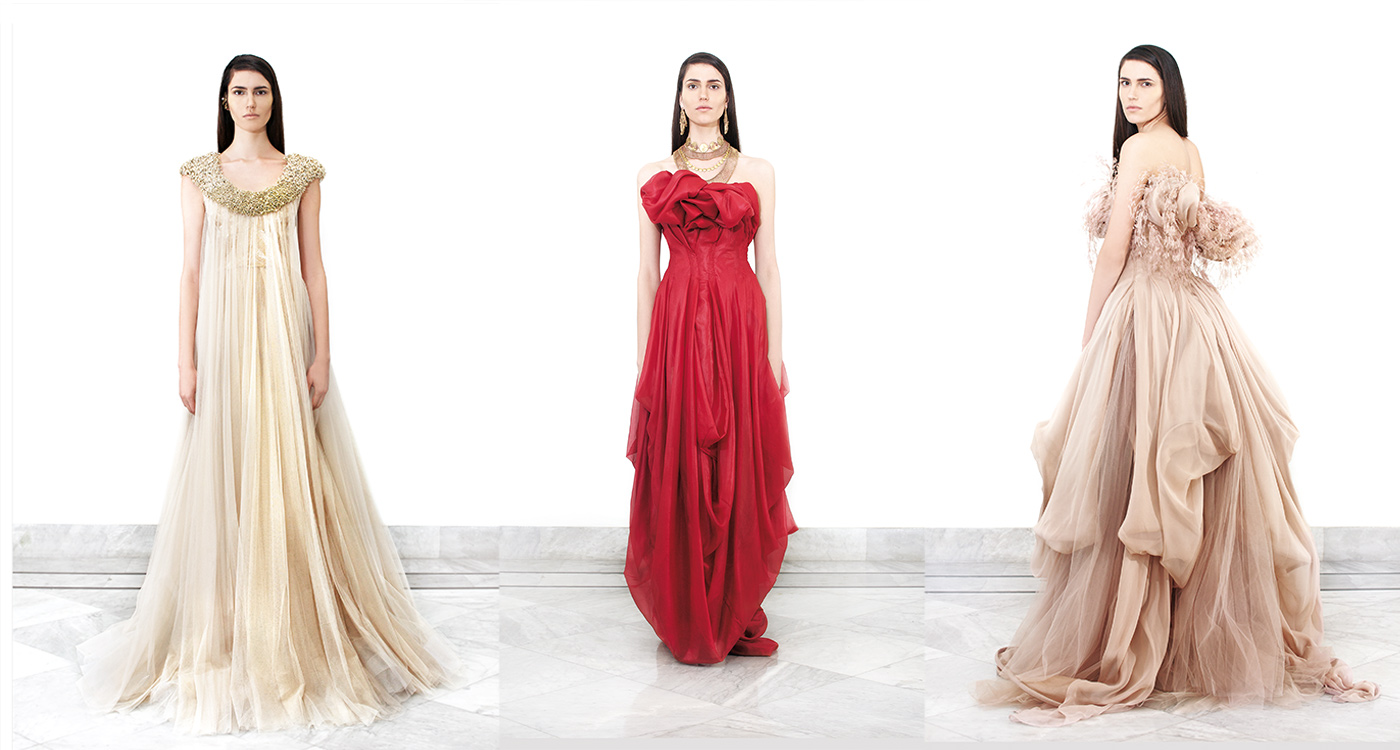 During an interview with Krikor Jabotian, inquiring about cognitive answers to concepts such as 'Impossible', his immediate response was: "a challenge." One surely sees this as a challenge overcome when presented with his work, where the raw and the unsaturated seem to fall naturally, into a voluptuous cascade of a play-on materials, moulded into an almost liquid-like flow of movement through volumes. He considers the craftsman's challenge to mostly be the undergoing evolution fabrics take when discovering and remodelling a woman's body, while still remaining loyal to highlighting her assets. It's his "give-and-take" relationship with fabrics, along with knowing "when to stop", that probably helped him gain "tasteful tact" as part of his recognition. Not one to fear the risk of diversion from trend, Jabotian focuses instead, on the moments the materials transform into a playful discovery of new ways to envelope a woman. Unhesitant to declare this as "the most exciting part of his job." Jabotian considered himself to be both a traditional yet turbulent person. This surely translates in syntony through his work, in his careful quest of the "perfect balance of the tradition and the twist." In a region where culture has imprinted us as "bounteous", Jabotian is careful that his generosity does not turn into a show, but into a modest display of careful compromise. Through a delectable "process of elimination", Krikor Jobotian has snugged and eased his way into subtle extravagance.
THE STORY TELLER
Mohammad Ashi
Saudi based in Beirut, 30 years old
Studied at ESMOD in Paris, trained under Elie Saab
Established own label in 2008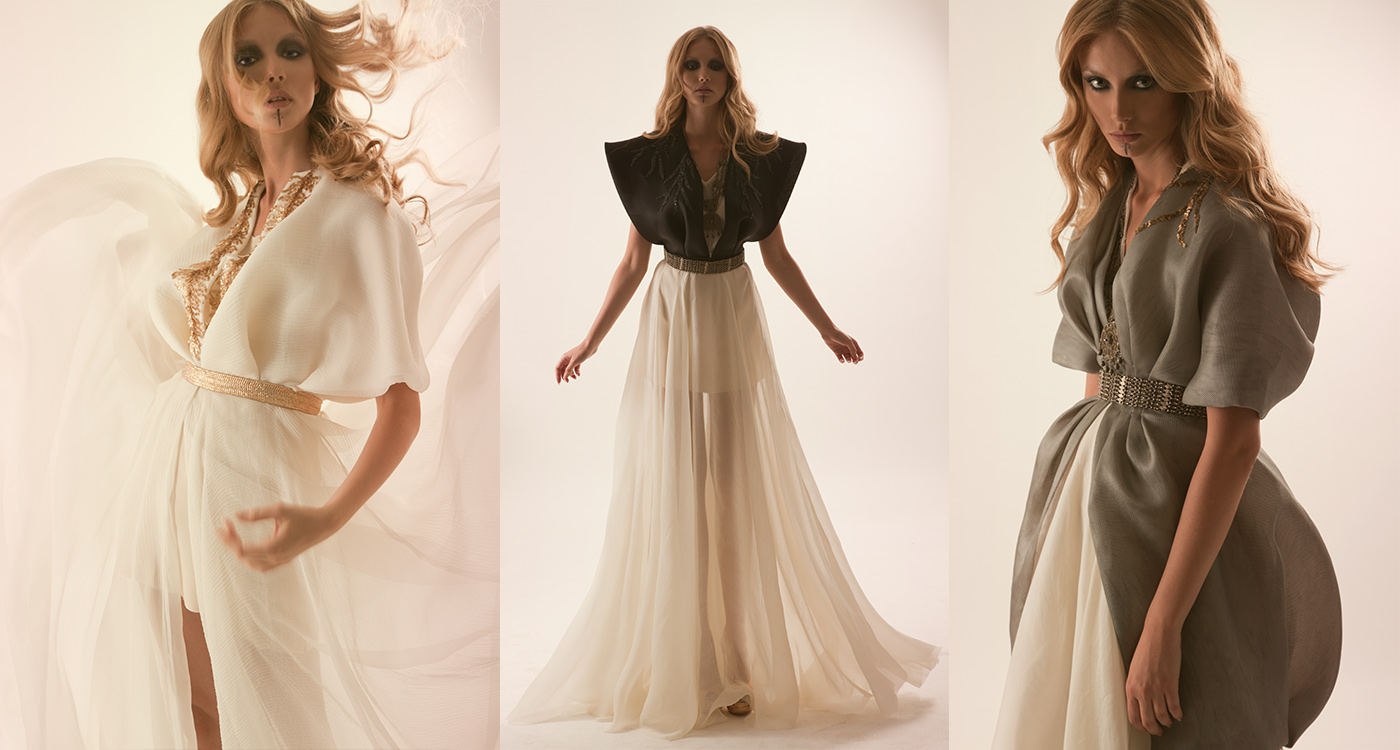 Mohammad Ashi has managed to dabble with the elixir of understanding the potency of fantasy and melancholic desire. Translated throughcapsule collections of solitary pieces, Ashi has managed to capture the overwhelming imagery of his literary inspiration, by weaving fables out of a woman's depth and onto her girth. There is an abundant use of rich, muted fabrics that literally sprawl around the female body to tell tales in silk and secrets in lace. Subdued palettes and intricate layers that mimic a woman's complexity are some of the many reasons women can't seem to get enough of 'Ashi Studio'. Ashi considers each 'story' to be a presentation of how the collection came to exist. This is done in collaboration with video artists, bespoke jewellery designers and Ashi's personal history with accessory design. His last collection digs deep into the gloom and romance of Emily Dickinson's poem entitled 'A bird came down the walk' (right). Where he uses the concept and 'lightness' of the wild bird, to present sixteen pieces of soft translucent fabrics in a supple.
A Bird came down the Walk
He did not know I saw
He bit an Angleworm in halves
And ate the fellow, raw,
And then he drank a Dew
From a convenient Grass
And then hopped sidewise to the Wall
To let a Beetle pass
THE ALCHEMIST
Shady Zeineldine
Lebanese based in Kuwait, 32 years old
Has had no formal training
Established own label in 2003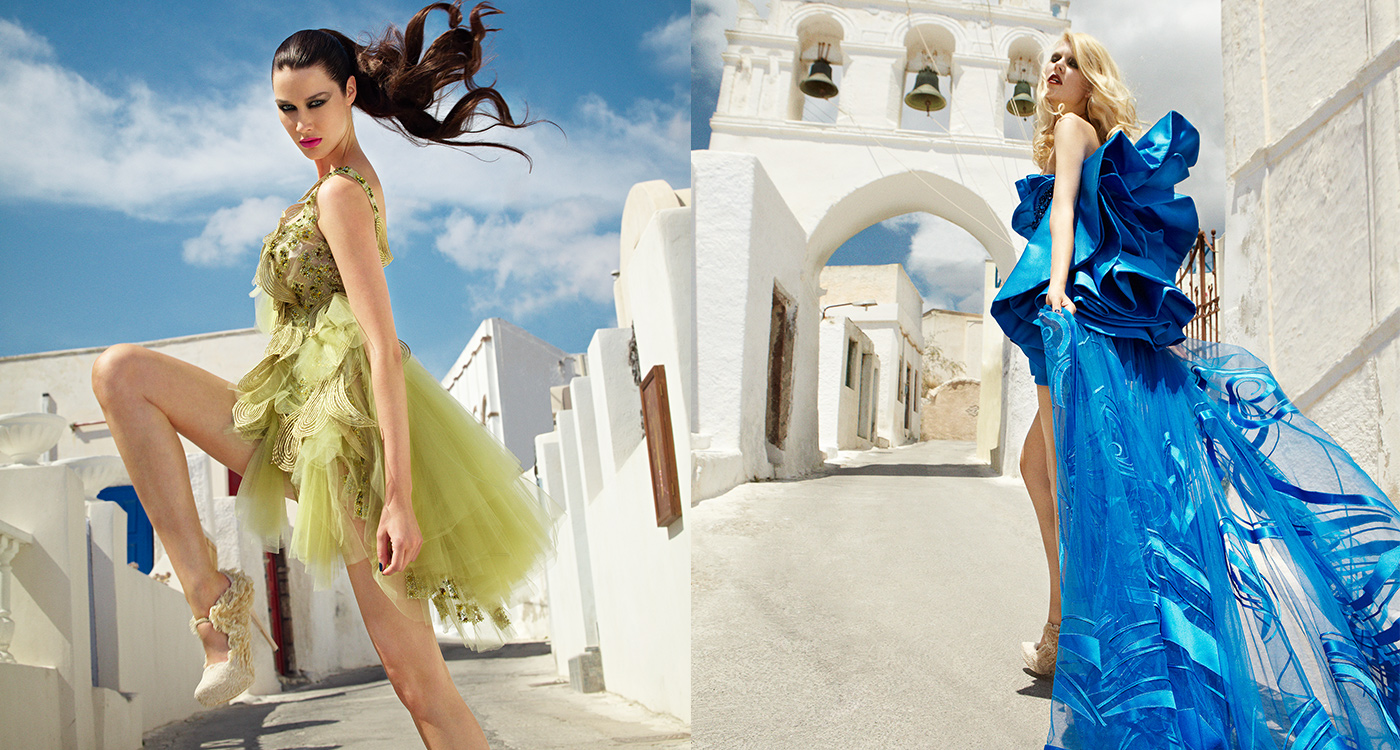 There is a certain tenor of couturists who choose to stand alongside the gleam of their work, soaking up whatever spotlight they may be showered in. Demure, is often the last trait adopted when attempting to shine from a base that is not internationally considered as 'fashion oriented'. Shady Zeineldine on the other hand, shies away behind his luscious folds of fabrics and handmade accessories that would make even the meekest woman growl.
Comfortable amidst the intimacy of both his craft and clientele, Shady has no plans to venture into the ready-to-wear arena, despite the fact that it may broaden his commercial base and expand his market. He remains true to his one-off pieces that are often catered to personal demands and never duplicated. With classical traditionalism tossed aside, he experiments with the revival of old gowns and fabrics, incorporating them with the use of more futuristic elements such as metal and laser cut. Shady has managed to take inspiration from the basic elements of earth, and turn them into opulent pieces carrying their own weight of intricacy, to blur the lines between a woman's body and her gown. His first collection reigned from the desert, brewing its sun-washed colours with its sleek, endless lines to develop a collection of liquid gold fabrics rippling around the body to mimic wind-etched sand dunes. His second collection was an ode to the lands of Greece, where he concocted a mix of her landscape and waters to produce a botanical quake of colour that burst into a blossom of volumes imitating the Aegean Sea breeze. His last two collections seem to veer towards the air-like qualities of a play-on the transparent and opaque, to create interrupted solid silks and embroidered sheers. Whichever way nature's elements take Shady next, his "couture potions" don't seem to be too far behind.