February 28, 2012 Warren Singh-Bartlett
Japanese architect Tadao Ando makes masterpieces in concrete. Here, Official Bespoke takes a look at his recently completed Pringiers House in Sri Lanka.
I remember the first time I saw a piece of Tadao Ando. I was visiting a friend in one of the lower-rise, village-like neighbourhoods of central Tokyo. Fresh off the boat, I'd been given what seemed like impossibly basic directions, the last of which was to look for the "beautiful, pale grey, all-concrete building past the Koban, close to the 7-11."
So I was to search for a concrete building in Tokyo. A city of 10 or so million, 25 if you counted greater Tokyo. What could possibly go wrong? Arriving at the station at which my friend had told me to alight – Shimokitazawa I think, but it was somewhere in Setagaya ward – I followed his directions, sweating slightly, until I found myself on the narrow, shop-lined street he'd said I'd find.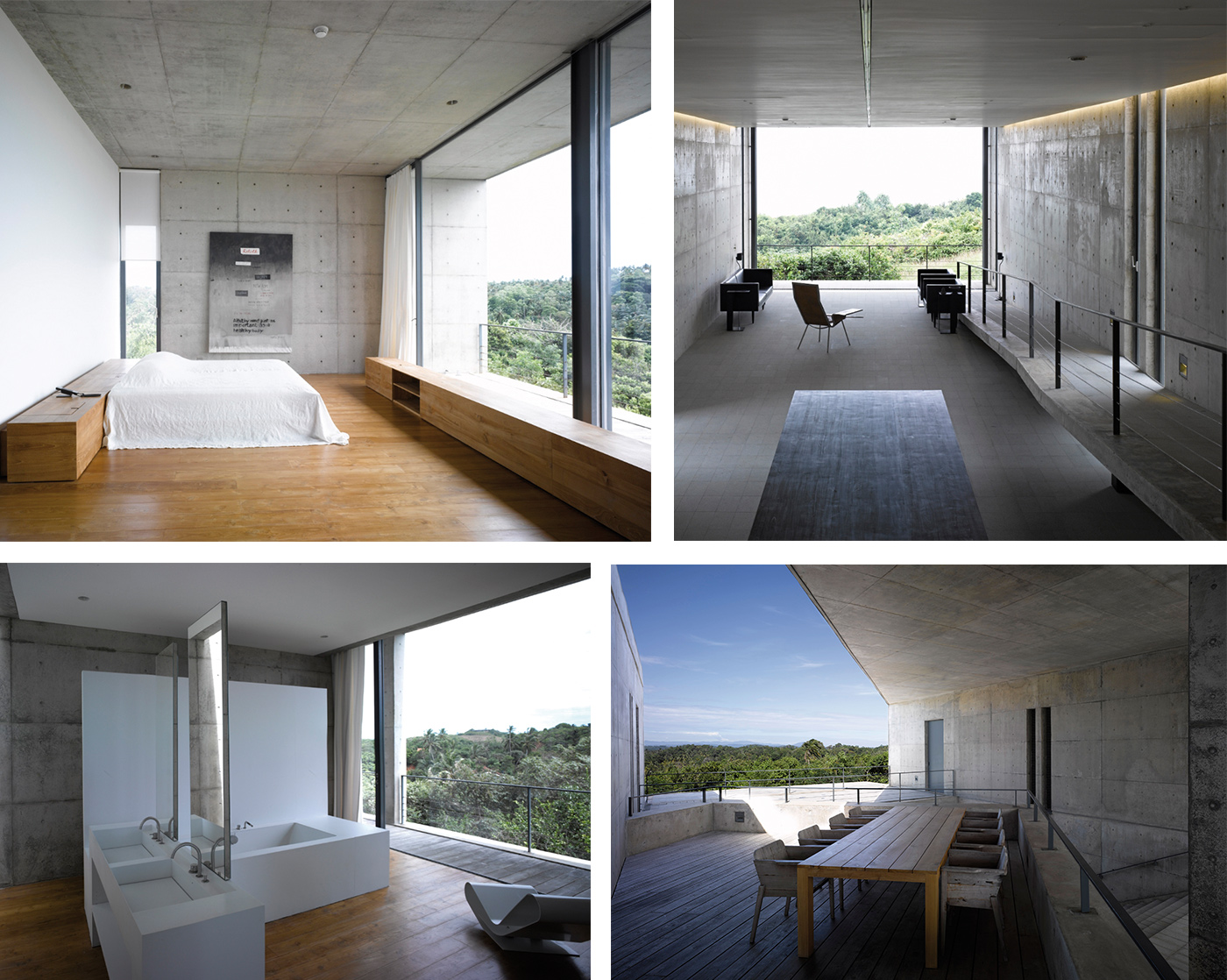 Scanning the street, there were two 7-11's that I could see but only one Koban (police booth). I walked towards it, beginning to wonder just how different this particular concrete building could be from all the others on the street. I'm not exaggerating when I say that getting this far had been stressful. You try navigating the Tokyo transportation system – a Gordian knot of public and private lines – when your linguistic ability barely stretches beyond 'thank you' and 'I don't understand'. Had I been a crazy old man, I'm sure I would have been muttering under my breath for quite a while by now.
But my friend was true to his word. Not only was his the only all-concrete building on the street (the others were partially and variously clad in a number of less appetising materials) but it was, as he had said, beautiful. Truly and transcendentally.
"Yes," he said later, in the kind of faux breezy fashion that suggests one doesn't care, when in fact, one does. Enormously. "It's a Tadao Ando, I think."
As it turned out, my friend thought wrong. Though designing furiously at the time, I later discovered that Mr. Ando had had nothing to do with that building in Setagaya. One of his contractors however, had, which explains why it used the distinctive concrete slabs that had misled my friend and which would instantly make anyone who has ever seen one of Mr. Ando's buildings think of him.
Cast in place in massive slabs, their surface dimpled by small, circular indentations (sole traces of the bolts that hold the varnished wooden moulds into which the liquid stone is poured) and minor, though wonderfully tactile irregularities, Ando's trademark pale grey concrete often appears polished to such perfection that it not only reflects light but is smooth, almost silky, to the touch.
Perched on a cliff-top in Sri Lanka, the Pringiers House is classic Ando. Built for Belgian entrepreneur, Pierre Pringiers and commissioned by his artist wife shortly before the tsunami of 2004, the location freed Ando from his usual practice of walling-off his sites in order to better manipulate the surroundings leaving him free to maximise the views.
Seen from below, where the dark stone base and wall is more prominent, the blank concrete façade, with its narrow vertical slits and pseudo-openings, resembles a cubic spyglass. It exudes the austerity of a modern monastery, a fortress or indeed one of the many museums Ando has famously built elsewhere.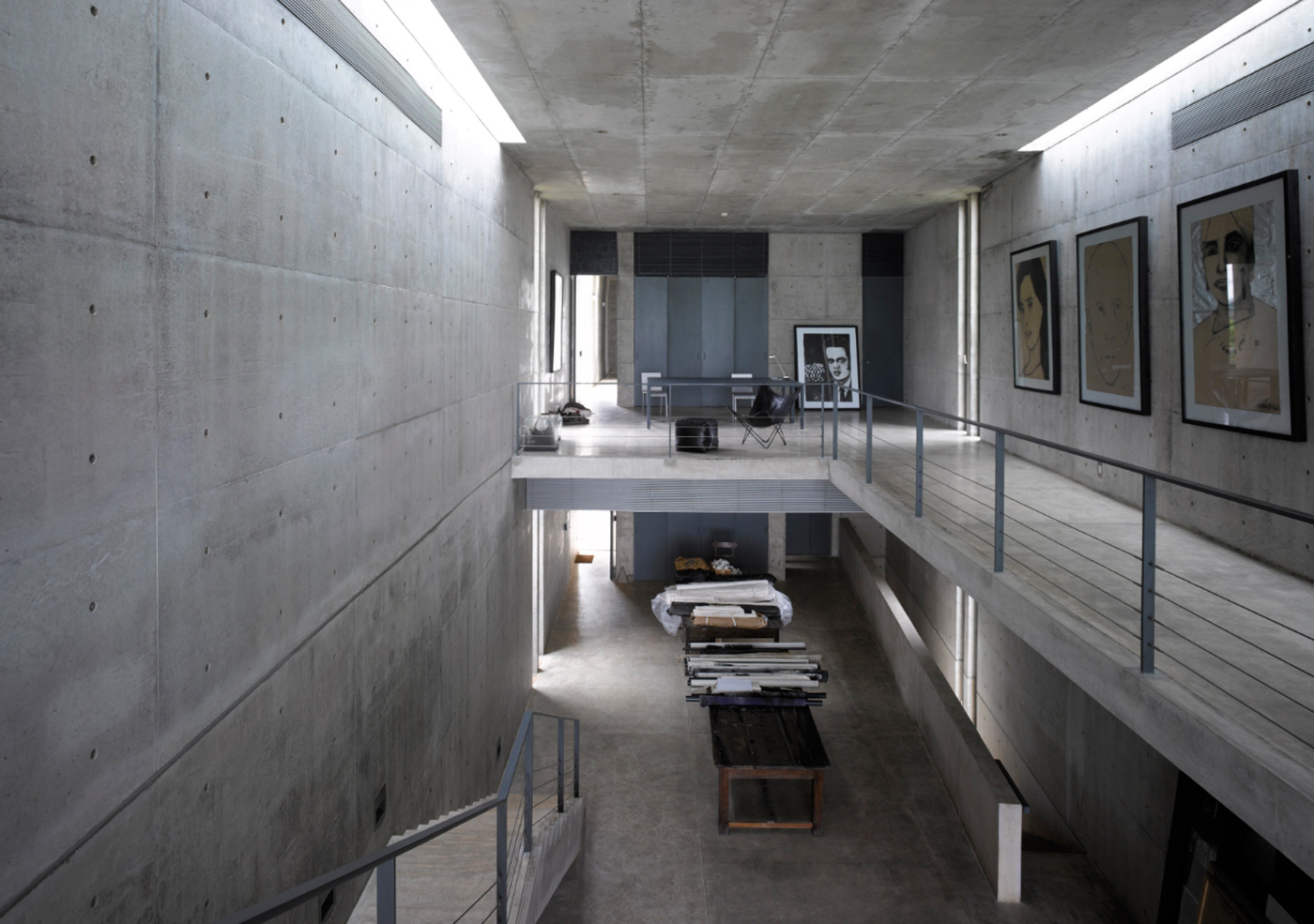 Seen from the cliff-top, the house takes on a more industrial, factory-like appearance; a series of slender platforms, divided into rectangular boxes and stacked one atop the other on delicate columns. In places, these boxes are partially open. In others, they end in massive floor-to-ceiling panes. A series of broad, flat planes, arranged in perfect geometries (and they in turn are composed of geometric slabs), intersected in places by other broad, flat planes at an angle. It couldn't be the work of anyone else.
Inside, any notion of factory or fortress is immediately dispelled. Ando is known for creating intensely human spaces and lauded in part for his ability to do so using that most inhuman of materials; concrete.
The various levels are linked by narrow, wood-clad staircases and gentle ramps. Walls are stark but as usual, are rescued from oppression by the quality of the concrete work and by Ando's masterful manipulation of light. In addition to the vast windows, long, slender skylights recessed into the ceiling on either side of each space flood the interiors with natural light but attention to the creation of shadow ensures that light softens walls, rather than washing them out. Used to spectacular effect elsewhere, notably in projects such as his Church of the Light in Ibaraki City, Ando's manipulation here is more subtle, the play of light creating drama of a more domestic nature.
"I create enclosed spaces mainly by means of thick concrete walls," the autodidact was quoted as saying in 1995, when he received the Pritzker Prize. "The primary reason is to create a place for the individual, a zone for oneself within society. When the external factors require the wall to be without openings, the interior must be especially full and satisfying."
The house is designed in three wings, one of which splits away from the main house at an angle. The three sections connect to a central courtyard from which a grand processional staircase rises. Rooms, though modestly-sized for a building of this kind, are designed with the setting in mind and both bedrooms and bathrooms are oriented to take in the full sweep of their surroundings.
Views are exquisitely framed, nowhere more so than in the double-height living and dining area, where the massive 6 x 6 metre window rests on a mechanism that electronically lowers it into the basement, completely opening the room to the outside. Above this wing of the house, is a sheltered patio and rooftop pool, which overlooks the central staircase and provides residents with an alternative to the beach below.

Completed in collaboration with local architectural studio, PWA, members of which travelled to Japan to meet Ando and his contractors and to experience the architect's work first-hand, the Pringiers House is perfectly suited to its site, a feat all the more remarkable given that Ando has never visited it himself.