October 2, 2011 Warren Singh-Bartlett
Pity Tripoli's poor Rachid Karami International Fair. In hindsight, it didn't stand much of a chance. Not because of any inherent flaws in the project itself, which would have provided Lebanon's northern port city with a much-needed economic and cultural boost, but because of factors beyond its control; the turbulent, destructive years Lebanon was about to pass through. It is no wonder that this project isn't well known in the international canon of architecture. In a derelict state for so many decades, it remains abandoned and unfinished. And yet, if you walk through its grounds and behold its towering structures such as the helicopter pad, the emerging stage of the exposed, open-air theatre, or the restaurant situated on the roof of a water tank, little would you suspect that the fair's architect was frightened of heights, and, of flying. You might even chuckle upon seeing Niemeyer's famous miniature sketches of the whole thing.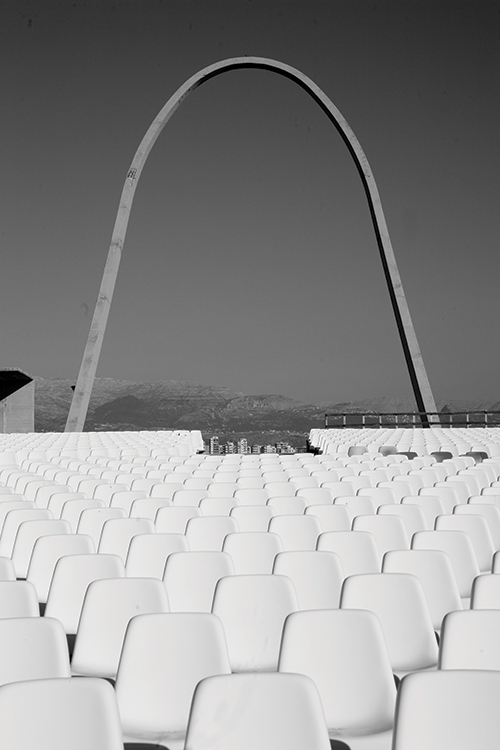 Due for completion in the mid-1970s, the fair was built in response to an earlier bout of instability; the four-month civil war that pitted Lebanon's Nasserite Left against the then Christian-dominated government in 1958. As the dust settled, those in power began to realise that if they were to stave off any future outbursts of violence, they were going to have to treat Lebanon as a whole and not view the country entirely through the lens of Beirut.
Then, as now, Lebanon's capital not only dominated the country politically and culturally but also economically, much to the detriment of almost everywhere else. Beirut was the centre of commercial activity and the centre of development. A report issued in 1961 made it clear the country needed a second economic pole and Tripoli – which prior to Beirut's emergence in the 19th century had been Lebanon's principal city – with its deep water port, historic tradition of trading and manufacturing, seemed the obvious choice.
In 1962, Brazilian architect Oscar Niemeyer, who had just finished work on his country's modernist marvel of a capital, Brasilia, was approached on behalf of the Lebanese government to design a permanent international fair in Tripoli. It was to be a world trade exhibition space. It was hoped the fair would not only revitalise Tripoli, but would compete directly with (and eventually overshadow) the region's other major fairs in Baghdad and Damascus.
After visiting Lebanon, Niemeyer agreed and began designing what would essentially be a little Brasilia in northern Lebanon. The fair was to be composed of classic Niemeyerisms: vast, curving concrete facades, airy exhibition pavilions perched over reflecting pools, a new national museum and a space museum (laugh, if you will but this was the 1960s and Lebanon even had the beginning of a modest space programme) a semi-sunken dome-shaped experimental theatre, an outdoor concert space, radical new housing projects, a fluid lotus shaped helipad and a panoramic restaurant perched atop a cylindrical water tower. There was even to be a monumental archway, like a smaller version of Eero Saarinen's soaring St. Louis Gateway. The whole ensemble was to be set in a million square metres of public parks, gardens and landscaped pools. For then president, Fouad Shehab, building a radical new vision of Lebanon in one of its most conservative cities – still better known today for its Mamluk, not its modernist charms – seemed like a good way to begin transforming Tripoli into Lebanon's second hub.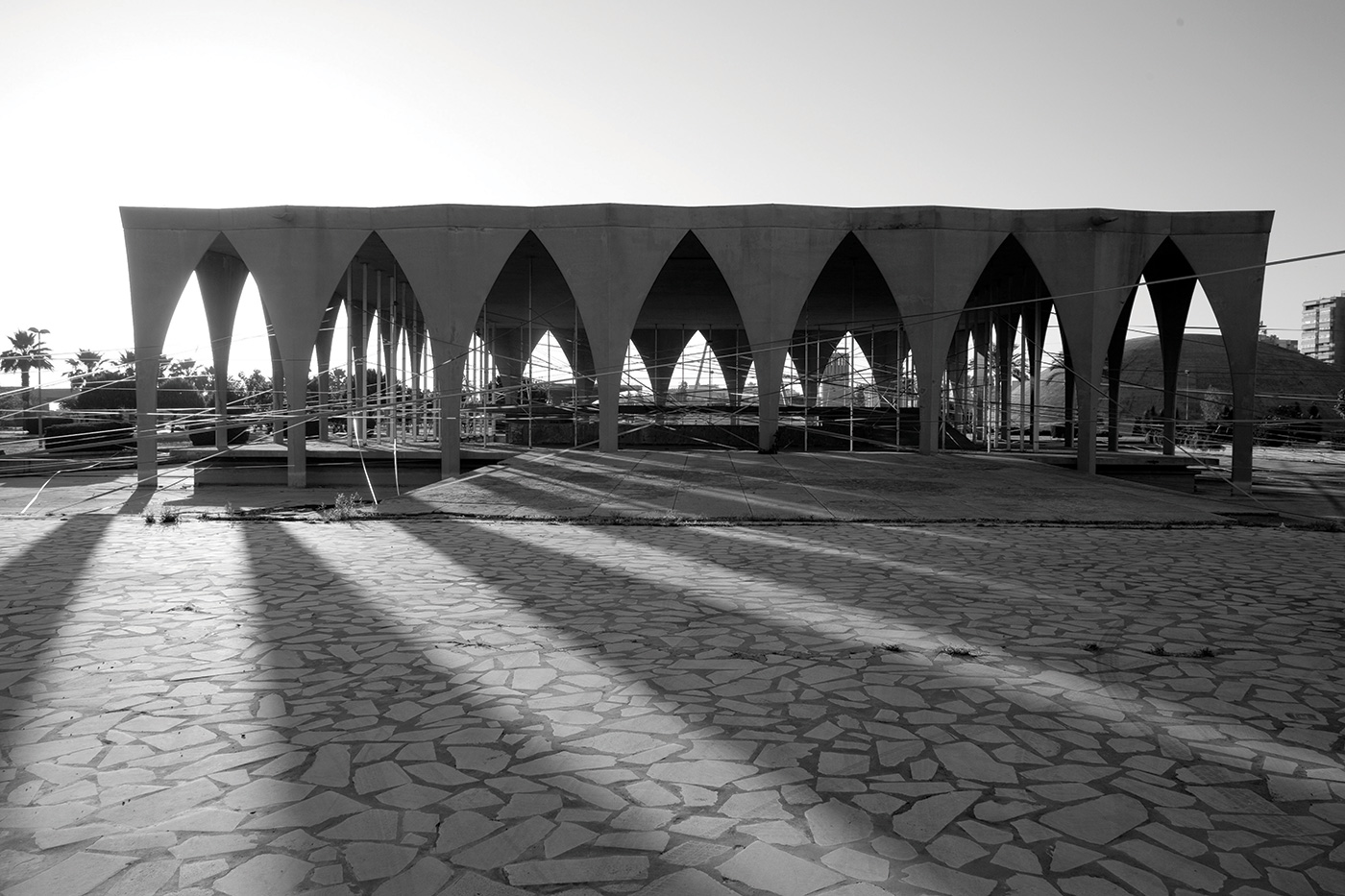 Until 1974, everything was going smoothly. The first phase of the fair was nearing completion and the gardens were being planted. Then the unrest that preceded the start of Lebanon's all-out war in 1975 brought work to a halt. It would never pick up again, leaving the monument-like buildings bare.
In 1976, the Syrian Army invaded Lebanon and occupied Tripoli. They looted the fair, turning it into a military base and detention/torture centre. They were to remain there for 18 years. During their occupancy, Syrian soldiers camped in Niemeyer's buildings, rearranging their layout with new breezeblock partitions and punching new windows and doors through the existing walls. In 1994, when the fair was returned to Lebanese control, everything of value, from electricity cables, to light fixtures, furniture, air-conditioning systems, crockery and cutlery, Carrera marble floor tiles and even bricks, had long since disappeared across the border. As a parting gift, the Syrians sealed the fair's huge underground storage depots, consolidating their entrances in concrete, and burned the gardens to the ground, which had already lost most of their trees to firewood.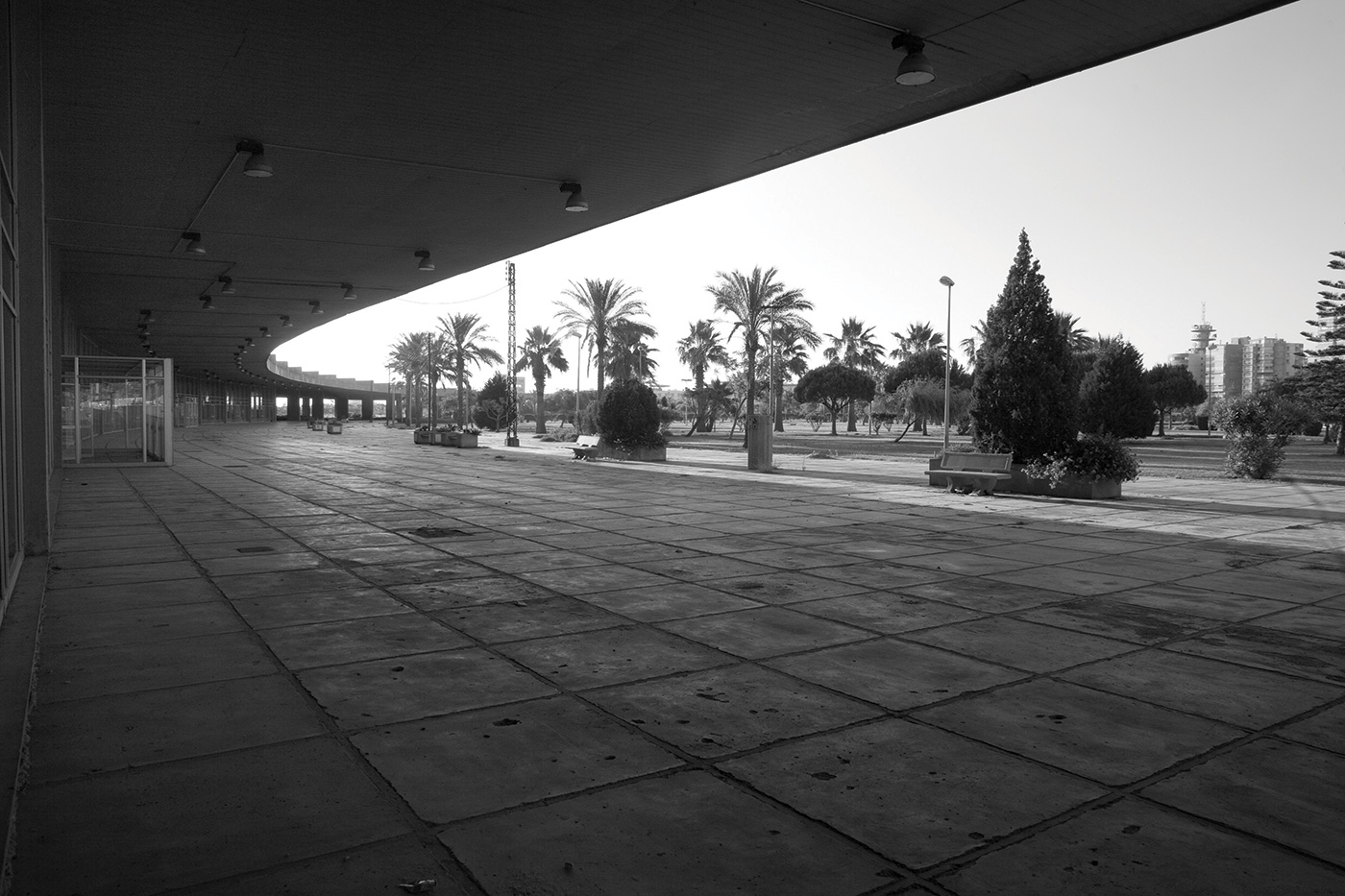 Post-war, the Rachid Karami fair's fate hasn't been any more enviable. The lessons of 1958 still haven't been fully absorbed and while Beirut is no longer quite as central to Lebanon as it was pre-war, the development of the country's other cities, especially Tripoli, remains deadlocked, victim of the endless, intestinal cold wars the country's political classes appear more interested in waging.
The fairgrounds are now open to residents, who come here to walk, skateboard or canoodle in the experimental theatre. Its fantastically futuristic buildings, still radical after all its 40 years (the architect is now 103 years old), have served as the backdrop to a number of music videos, most notably an ad for Pepsi featuring singer Haifa Wehbe in 2007. Beyond that, the fair is on hold.
However painful this is from a developmental perspective – a functioning fairground would bring desperately needed jobs to the city – from the preservationist's perspective, it's a blessing. The most serious attempt to revive the fair post-war would have bastardised one of Lebanon's most important modernist icons beyond recognition. Named after the assassinated Prime Minister Rachid Karami, the only tribute to Lebanon in this futuristic imaginary made concrete, can be gleaned from the Lebanese Pavilion, characterised by 'traditional' arches on all sides.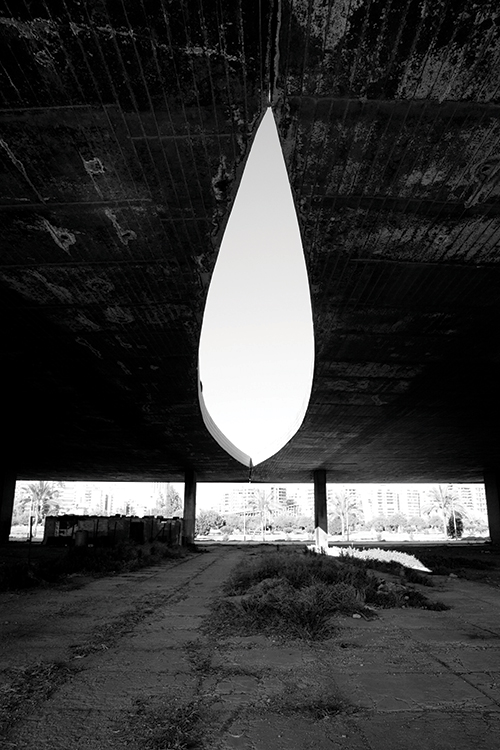 Launched in 2004 by the Tripoli Chamber of Commerce, Industry and Agriculture, the plan was to transform the fair into a 'Disney-style amusement park' called Cedarland. The mock-up showed Niemeyer's uncompromising paean to the future re-imagined as a cutesy Lebanese 'village', clad in sandstone blocks, its flat roofs covered in red tiles, its sharply pointed arches softened with candy-coloured stripes. Heritage activists, amongst them Georges Arbid, architect and professor at the American University of Beirut, went on the warpath. Such was their outcry that in 2006, the United Nation's Monument Watch Fund listed the fair as an endangered site.
Later initiatives have been less radical. The most recent, a proposal by Chinamex, a subsidiary of the Chinese government, was to turn the site into a permanent Chinese trade fair promised to respect the infrastructure and to renovate, but otherwise not alter, existing buildings. Like those before it, this plan also fell foul of Lebanon's fractured (and fractious) political climate, especially with the Israeli July 2006 attacks.
Although Arbid admits a functional fair would help enormously in alleviating Tripoli's economic stagnation, he's dismissive of the plans to restore the fair presented so far. "The site ideally lends itself to civic, cultural and yes, why not, leisure activities but one has to be creative in devising multiple uses (for the fair) at the local and national/regional scale," Arbid explains. "What's needed is the creation of a committee of experts – architects, planners, economists, artists – which could devise a long term sustainable strategy for the proper renovation and use of the fair. Judicious programming is as essential as is proper restoration."
Neither appear on the horizon and for now, the fair, which Niemeyer recently claimed was one of his favourite projects, stands unfinished, melancholically awaiting a change in the political environment. The gardens have been replanted, the buildings tidied up, and the detritus of war removed. One building has been transformed into a rather unfortunate motel but most remain empty. It's a testimony to the quality of the fair's construction that after everything it's been through, it's still in such good shape. "However, the Quality Inn hotel is a more serious problem," Arbid adds.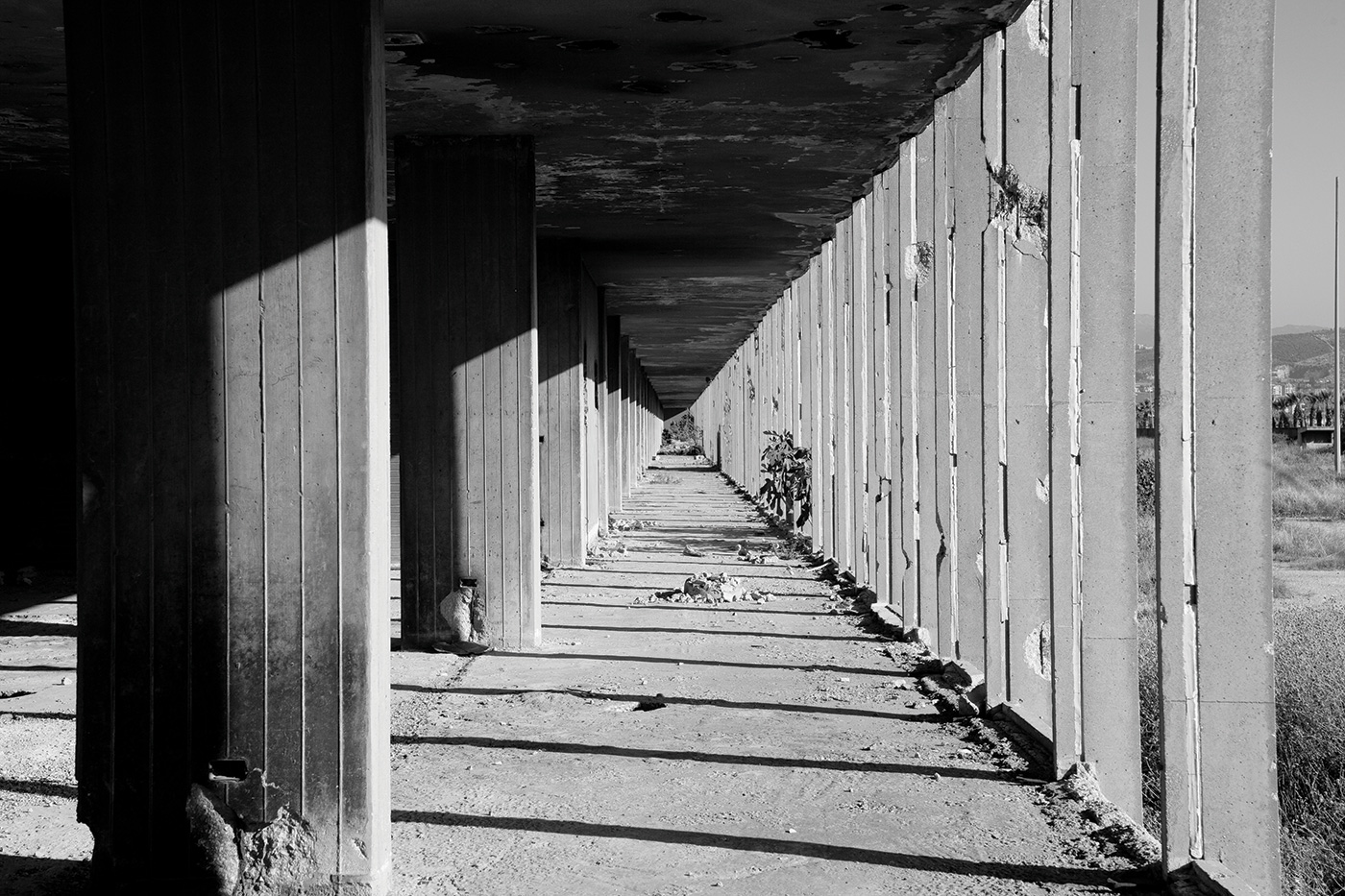 As an epitome of flavourless 'internationalism', the motel could not be further removed aesthetically or conceptually from the original purpose of the building it occupies; an experimental social housing unit that Niemeyer had planned to reproduce around the fair. This probably explains, in part, the ire this otherwise blandly inoffensive building elicits amongst the fair's protectors."It's a banal hotel, with no character," Arbid continues. "I call it the Quality Out."
That the Rachid Karami International Fair manages to impress in spite of its post-modern additions and unfortunate state of neglect is testament to the genius of Oscar's design. To fully appreciate its beauty, come on a sunny winter's day when the reflecting pools are full of (rain)water. Stand on the ramp under the ceremonial arch, facing the experimental theatre. The architectural mishmash of modern Tripoli to your left has crept closer and the citrus orchards that originally surrounded the fair are long gone but elsewhere, things are much as they were in 1962. The Mediterranean to your right is still a deep shimmering blue and directly ahead, the graceful, snow-capped sweep of Mount Lebanon is still dotted with red-roofed villages. Had he designed the backdrop to his magnificent fair, it's doubtful even Mr. Niemeyer could have done better himself.
PHOTOGRAPHER: Georges Haddad
what's nearby