February 2, 2020 Nadia Michel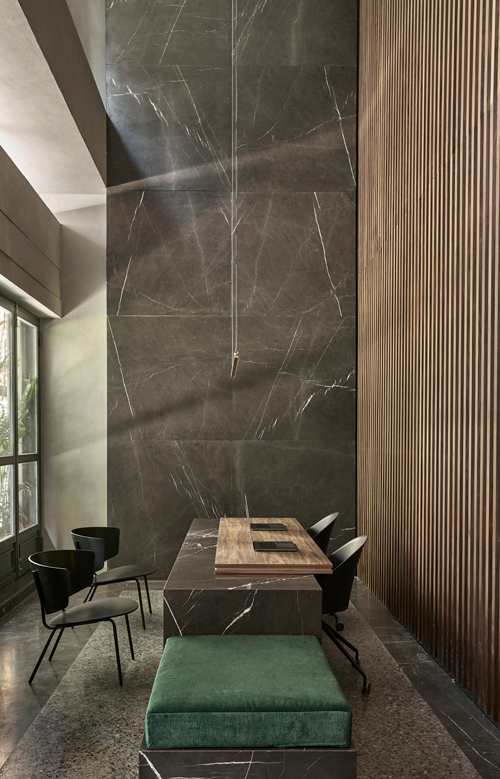 With its great views inside and out, Perianth Hotel is just the place you'd want to stay in order to gain a fresh perspective on Athens, a city in full revival mode.
Smack-dab in the heart of Agia Irini, one of Athens' liveliest squares, is a low-slung 1930s building that houses Perianth, a sleek, 38-room hotel designed by Greek architecture practice, K-Studio. The hotel's interior is an ode to neomodernism inspired by the streamlined modernity of the building's Art-Deco exterior, including the curves and repetitive patterns of the façade and balconies. The hotel's floors are terrazzo, which brings a cool lightness to the space, there's plenty of American walnut, which adds warmth and depth, while the blush-pink velvet upholstery introduces a touch of period glamour. This compelling palette is amplified and complemented by a selection of bold, modern pieces of furniture and custom-designed brass accents and, taken as a whole, the design provides a perfect setting for displaying an impressive collection of contemporary Greek art.
"We were thinking that everyone that comes to Greece only sees the ancient Greece, and there's an art scene here that's hugely under represented," explains Anastasia Sgoumpopoulou, who owns the hotel along with her two siblings, Alexandra and Konstantinos.
Eclectic artworks like Lito Kattou's 'Two Million Looks' mirror sculpture or Rallou Panagiotou's oversized, Swatch-inspired, wall-mounted faux timepiece adorn Perianth's common spaces and rooms.
Sgoumpopoulou, who is also a partner in the local distribution for Toms shoes, initially devised plans for the hotel with her family during the economic crisis of 2013 and the property finally opened for business in the summer of 2018. They reveal that they engaged in some serious debate as to what the purpose of the building should be (it was built in an era that gave little thought to the future legacy of buildings) but in the end agreed to go with the concept of a vibrant urban boutique hotel that also accommodates a previous long-standing tenant: the Zen Centre on the first floor, which is a meditation studio and martial arts club operated by brother Konstantinos (who also happens to be a Zen monk). But more on that later.
The hotel's 38 rooms range from 21 to 46 square metres, with the ones on the lower floors benefiting from higher ceilings but within a smaller space, meaning the number of rooms on each level decreases as you rise through the floors. Every room comes with a private terrace surveying the Athenian skyline and the 166 sqm Penthouse Suite is the crown jewel of the property, taking up the entire sixth floor, and it comes with pretty much every amenity you might dream of, including a vast terrace overlooking one of history's most mythical monuments, the Acropolis, and a beautiful outdoor marble bar flanked by a small pool one side and a hot tub on the other.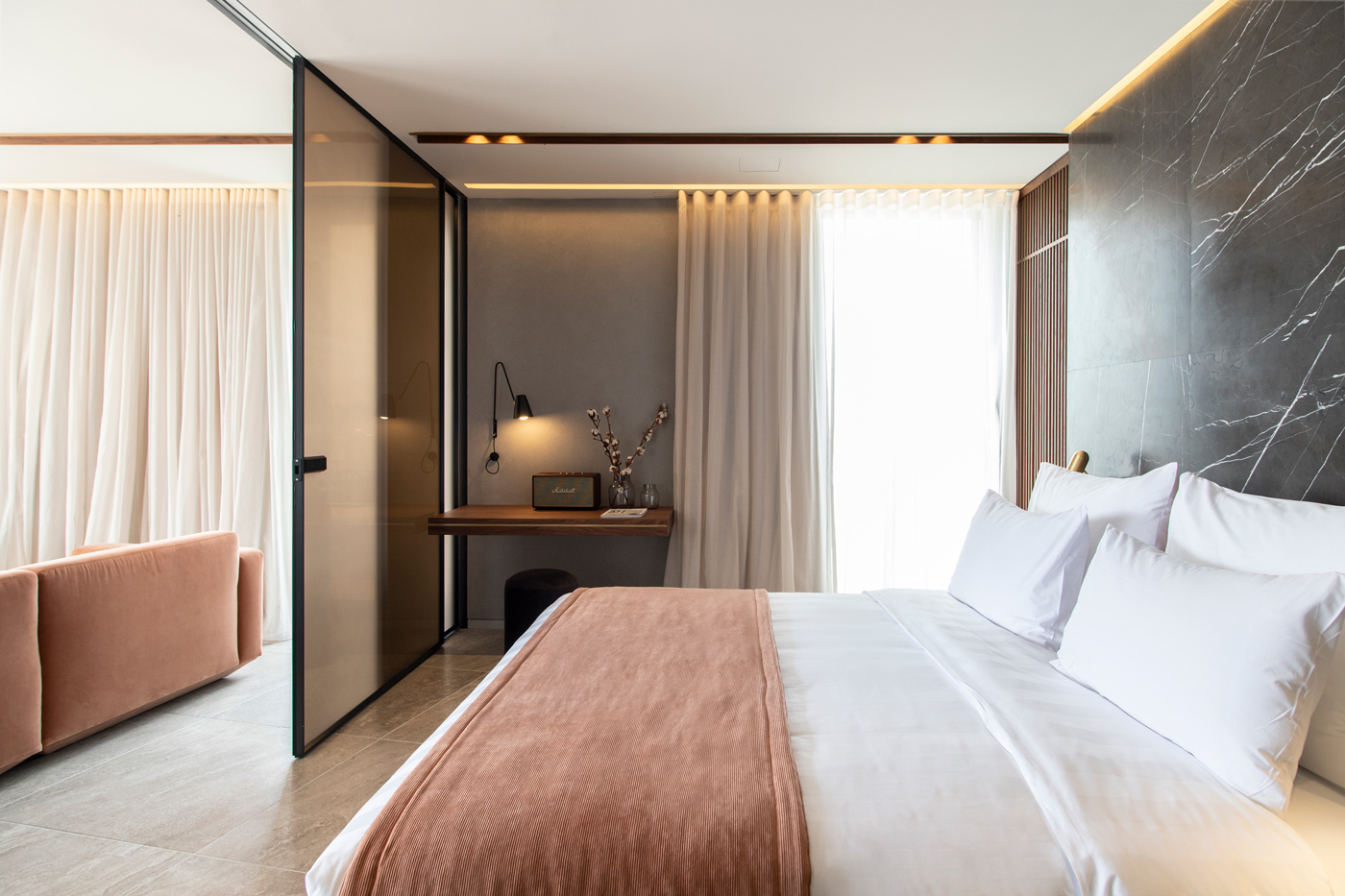 Il Barretto, the hotel's ground-floor restaurant and bar, is fine for a coffee but if you're looking for good food then there's better stuff elsewhere. For example, you won't want to miss the donuts at Lukumades, and it's right around the corner. These freshly-made little balls are so darn good even sugar-haters will consider replacing a meal with a bowlful of these delicacies, particularly if they're filled with pistachio cream and smothered in dark chocolate sauce.
The Acropolis is also just a 13-minute walk away. And no matter how much you've heard, or read about it, the magnificence of this elevated citadel never fails to deliver. Check out the nearby Acropolis museum too, which opened in 2009, as it showcases an impressive collection of archaeological finds.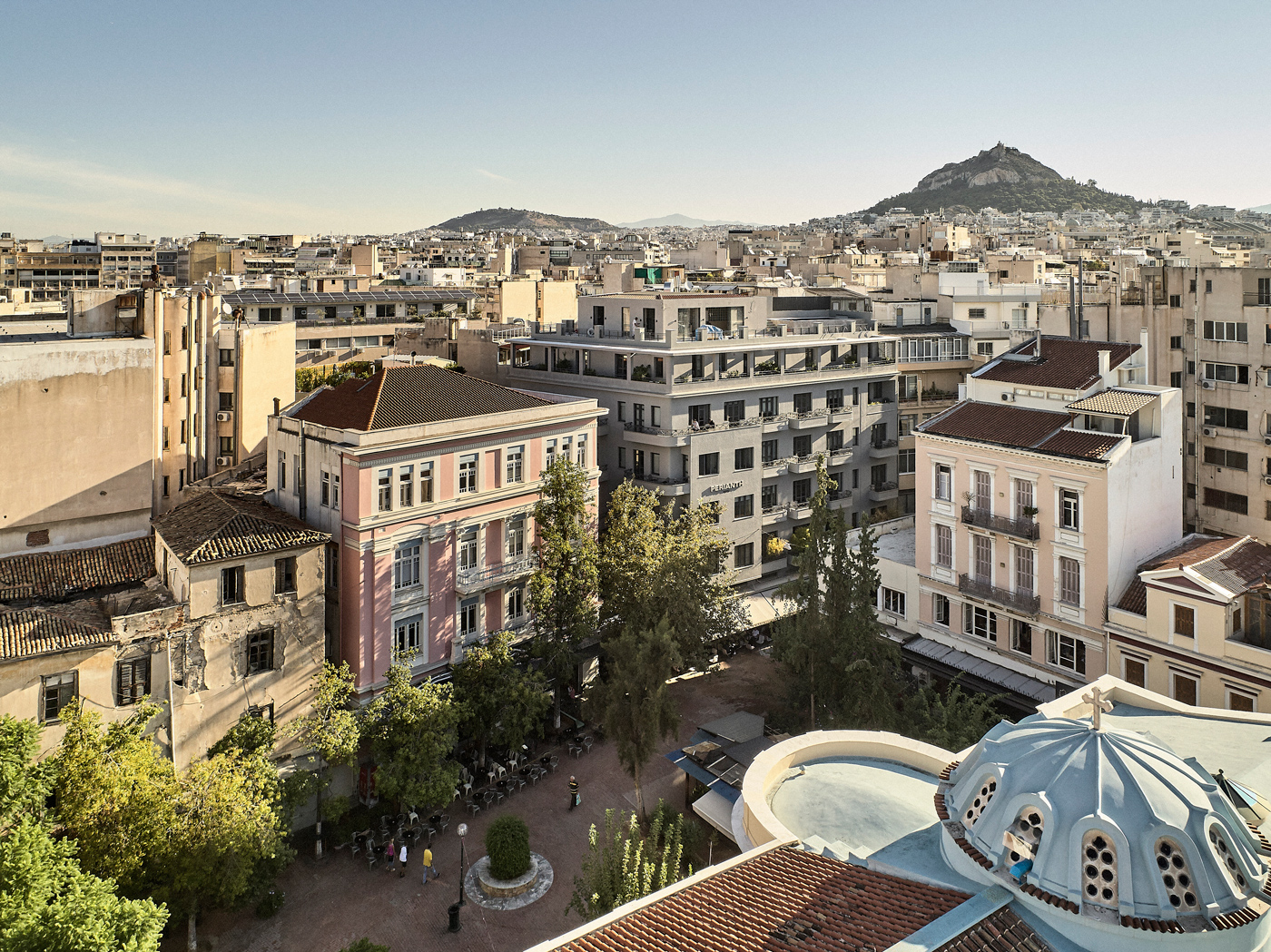 Of course, there's more to Athens than Ancient Greece, as Sgoumpopoulou pointed out, there art gallery openings every day of the week, pop-ups all around the neighbourhood and countless cafés to while away the days, if that's what you're after. Alternatively, a stay at Perianth affords you the ability to make the most of what's on offer at The Zen Centre, like the daily talks and meditation with Zen teachers who will guide you, helping you forget the self in order to find enlightenment.
Okay so it's still gyros and goddesses, but this is far from your traditional Athens, and the Perianth is the ideal base to enjoy this journey of discovery. Best of, you won't even need a greenhouse-emitting vehicle (after you've arrived, at least). It's all perfectly imperfect.
what's nearby