August 14, 2018 Nick Walton
As an evening storm rolls in over the savannah and flashes of temperamental lightning compete for attention with the freight train-like roar of heavy rain, I'm safe and dry under a thick canopy of canvas. It's the rainy season here in Kenya, when sunsets battle towering cumulus clouds for domination of the horizon, and when a significant fraction of the year's rain is portioned out rather violently each evening. However, in my stunning suite at the recently-reopened andBeyond Bateleur Camp, tucked away in the foothills of the Oloololo Escarpment within the famed Maasai Mara Reserve, I have everything I need to survive rather lavishly – there's a wet bar stocked with fresh limes and local gin; a claw-footed bath steaming away and treacle-hued light coming from discretely positioned lamps. Despite the rain, I don't think the scene could be any more enchanting.

I've always been intrigued by this part of the world. The Maasai Mara is one of the world's great wildlife reserves, but it's more than just Kenya's pride and joy, or an extension of Tanzania's Serengeti; it's a living, wondrously-evolving 30,000 square kilometre ecosystem that the Maasai call 'the place where the land moves on forever'. The Mara is also an ecosystem that's packed with life and vitality and one that follows the seasons, not national borders or labels on a map. It's Africa at its most protected, its most vulnerable, and its most intriguing.
Of course, it's also nice to explore such a wild landscape from the confines of the region's luxury game lodges, each a little ecosystem in itself, and I've started my tour of three distinctive camps at one of Kenya's favourites. Twenty years after it was first built, Bateleur has recently emerged from a complete renovation and the effect is nothing short of mesmerising; rooms are decked out in leather, polished wood and crystal, much like it must have been during the intrepid colonial period, while the sumptuous dining room and lounge, with its roaring fireplace and ornate chandeliers, opens out to an expansive terrace from which I watch hot air balloons rise into the crisp early morning air the next day.
The rainy season is a great time to visit East Africa. The Mara ecosystem, whether it's the Masai Mara National Reserve in Kenya, the Serengeti National Park in Tanzania or the private concessions clinging to their borders, is defined by cycles, from the great migration to the two rainy seasons, bringing life to the vast savannahs and marking the end of the calving season, ensuring spectacular wildlife sightings if you don't mind a little mud.

It's into the mud that I venture with my experienced guide, Ole Kima. The rains have come a month early this year but the andBeyond 4×4 game vehicle easily traverses rivers now flooded with coffee-coloured water, while above, troops of baboons leap from branch to branch in towering fig trees, raining dew drops down onto the canvas canopy. As we clear the forest and emerge in the open savannahs, the hot air balloons come into sight again, flares of flame lighting indigo skies as they struggle into the warm air.
Life is abundant on the savannah and we're quickly greeted by elephants, Cape buffalo and Coke's hartebeest, towering antelope native to the Mara. A pair of black rhino encrusted with oxpecker birds, enjoys the cool mud but watches us carefully as we rumble by in low gear. On a grassy hillside where scenes from Out of Africa were filmed, Kima sets up a bush breakfast, a highlight of any safari at andBeyond. There's cereal, eggs and delectable sausages, which in turn attract a pair of shy but intrigued black-backed jackals, little dog-like animals that disappear with ease among the tall grasses.
After breakfast we venture south, pausing at the border between Tanzania and Kenya, which is marked by a simple stone tablet, before spying a pride of lions in the shade of an acacia tree. It's a brilliant experience – there isn't another vehicle for as far as the eye can see, an increasingly rare phenomenon in a part of Africa that's seen a surge in tourism – and the new cubs play among the tall grass and take turns to stalk each other while a pair of broad-winged marsh harriers dance in the afternoon thermals high above.
As we make our way back to the camp, a wall of dark cumulus clouds slowly swallowing up the sunshine, Kima spots a tiny shadow in a far-off tree and turns down a narrow track to investigate. I'm intrigued what he could have spied so far from the trail. An infinitely elegant leopard watches our approach with nonchalant ease, its tail curled around a narrow, shaded branch, its saucer-sized paws dangling beneath. We have an enchanting moment of held breaths, gazing up at the beautiful cat before it yawns, stretches and deftly descends the tree, disappearing instantly into the honey-hued grass, leaving me slack jawed for one magical moment.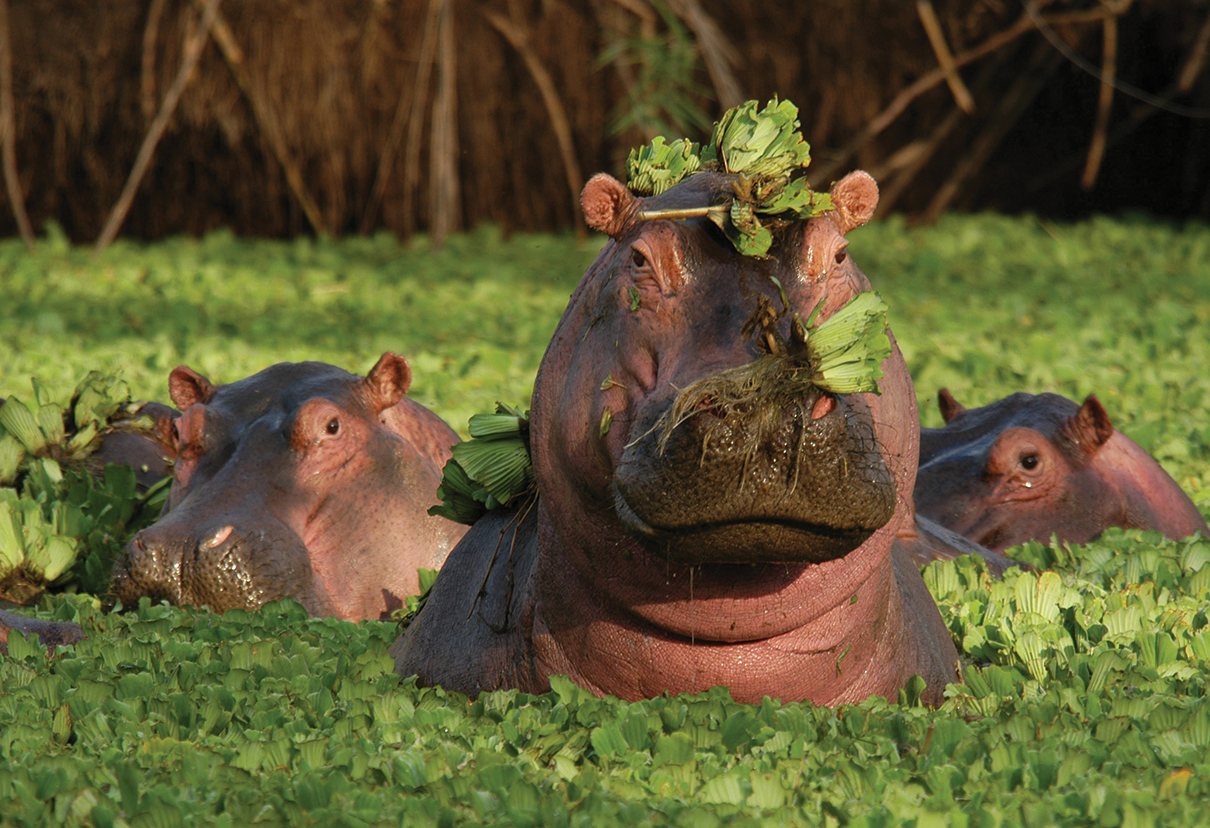 A couple of short flights the next morning and I'm across the border into Tanzania and arrive at andBeyond's Grumeti Serengeti Tented Camp, a beautiful rustic game lodge located beside a bywater of the camp's namesake river, where hippos frolic and Nile crocodiles mate. With 11 cavernous tented riverside suites, the camp offers access to the seemingly endless grasslands of the western Serengeti.
I am keen to make the most of the daylight and head out almost immediately with my young guide, Steve. After an hour's drive down some dusty tails, we arrive at the swollen Grumeti River. A seasonal lake has formed and a Thompson gazelle darts across our path while a baby Cape buffalo, born the night before, wobbles next to its protective mother, its umbilical cord still trailing beneath it.
My last stop is andBeyond's Klein's Camp, which is located on a private concession owned by the local Maasai community. Private concessions have different rules than national parks and it's a great opportunity to enjoy off-roading, walking safaris and night drives in search of the many animals that rise after dark. Perched on the flanks of an ancient mountain range, the camp offers stunning views from its ten spacious cottages and that night, after a candle lit dinner served on my cottage's patio, I fall asleep to the resonating growls of lions in the valley far below.
The northeast is also favoured by elephants, who crush and crack their way through the landscape. Even when you can't see them, you can hear them and see the trail of foliage destruction they leave in their wake. This destruction can cause tension with neighbouring communities; here, on the cusp of the Park, elephants roam the villages at night, eating crops and trampling anything in their way.
However, the Maasai family I visit as part of andBeyond's Africa Fountain Community Tour seem to take the destruction – and the proximity of leopards, cheetah and lions – in stride. A village elder shows me around his compound of thicket fences and mud-clad homes, a string of intrigued, bright-eyed children trailing behind me. As a life-long urbanite, I'm as fascinated with the Maasai's way of life, from the goat's blood that's central to their diet, to their tiny homes with palm-sized windows ("to keep out leopards" I'm told) as the children are by my hiking boots and the LCD screen on the back of my camera.
As the light begins to fade in the sky and the mountains loom on the horizon, the kids huddle around me, excited about a video I've taken of them singing. It's an enchanting finish to another spectacular African adventure, but one that only serves to add to my curiosity, which is what draws intrepid travellers back to the Mara like the rains that give this landscape life.
what's nearby