December 8, 2015 Nicolas Shammas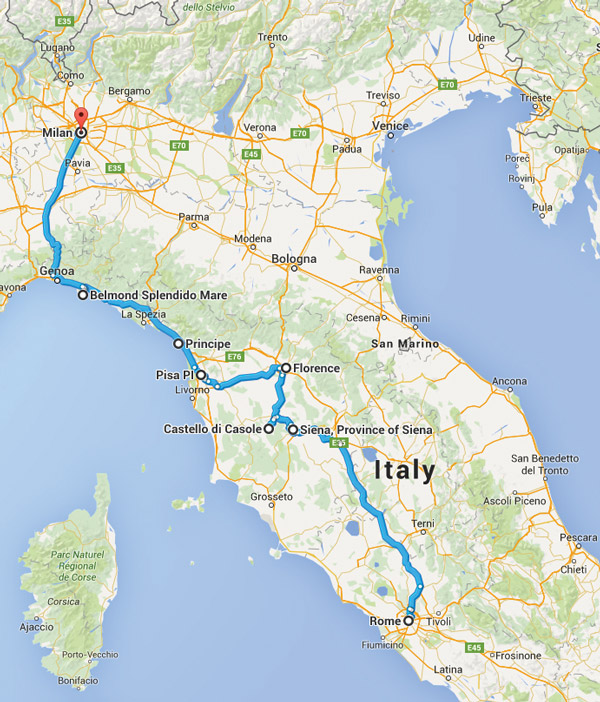 There's nothing like Central Italy. With its medieval fortified villages and ochre-coloured villas, set within a landscape of vineyards, cypress trees and hills rolling down to the coast, it's little wonder the region charms everyone who visits. But this bountiful, picturesque part of the world would take you donkey years to explore if you really wanted to do it properly, so, let's start by admitting that this won't be a tourist guide. I mean, even with the greatest will in the world, you'll never see all the sights, linger over every piece of art and potter about each beautifully preserved hilltop town you come across. Hard decisions needed to be made and we duly made them.
So what we have got here? It's a driving route that takes into account that five days is an ideal time to spend on the road without getting too cramped or restless – and we haven't limited you to Tuscany either. Instead, we start in Lazio, head through Toscana and then Liguria before bringing it to an end in Lombardia. The itinerary will allow you to uncover splendours, stay at fantastic hotels, eat the most exquisite food and enrich your souls through culture, romance and luxury. In short, it's the good life and this year's Ultimate Getaway.
The starting point is, as you can see from our map, Rome, which is no coincidence since you'll have a much larger choice of rental cars than if you landed at any of the other airports across Italy. Strangely enough though, especially considering it's Italy's capital, Rome has a terrible airport. In fact, Leonardo da Vinci International is so awful that we recommend you swiftly collect your luggage, fill out whatever paperwork needs to be done and hit the road fast because the sooner you get started the better. First stop: Castello di Casole.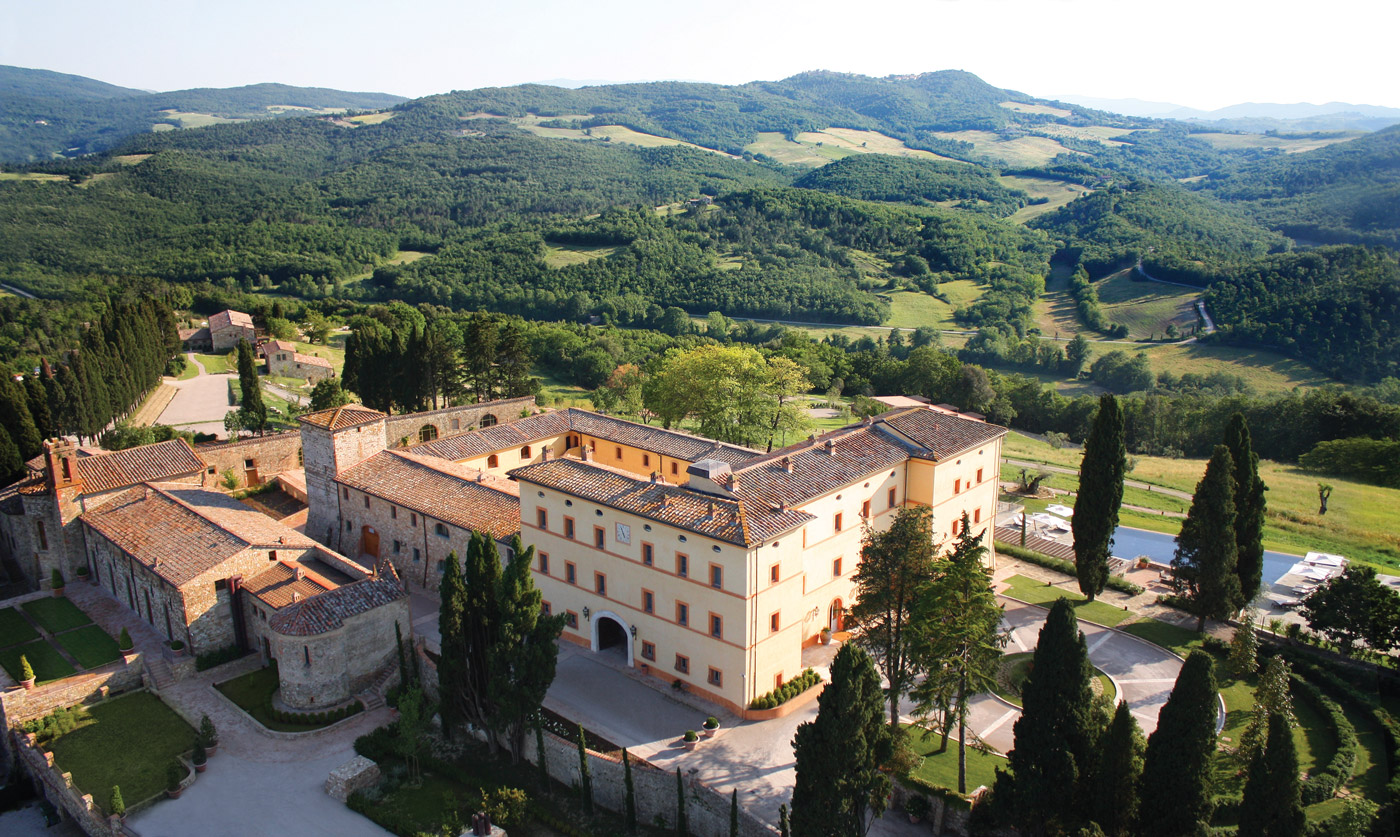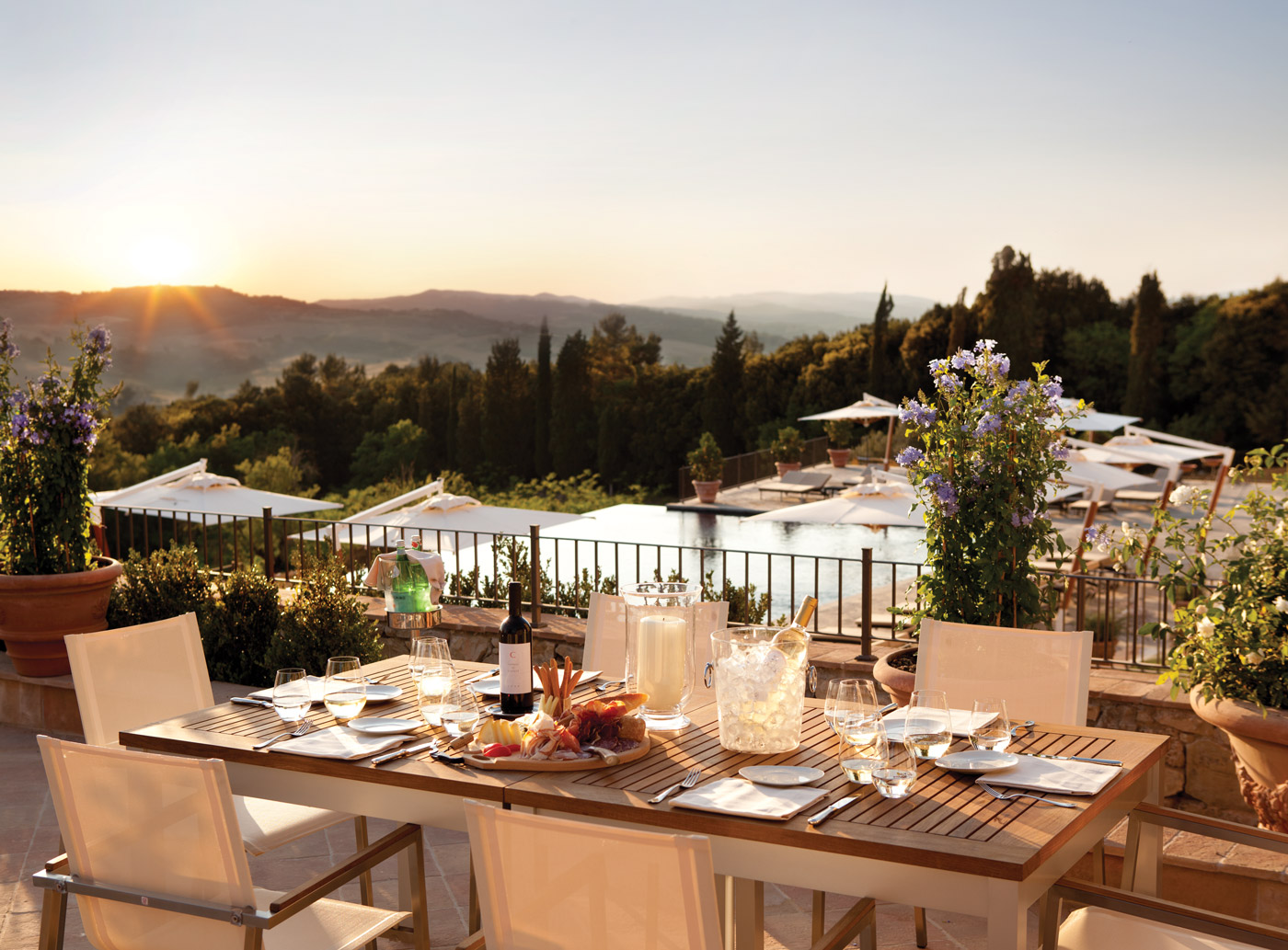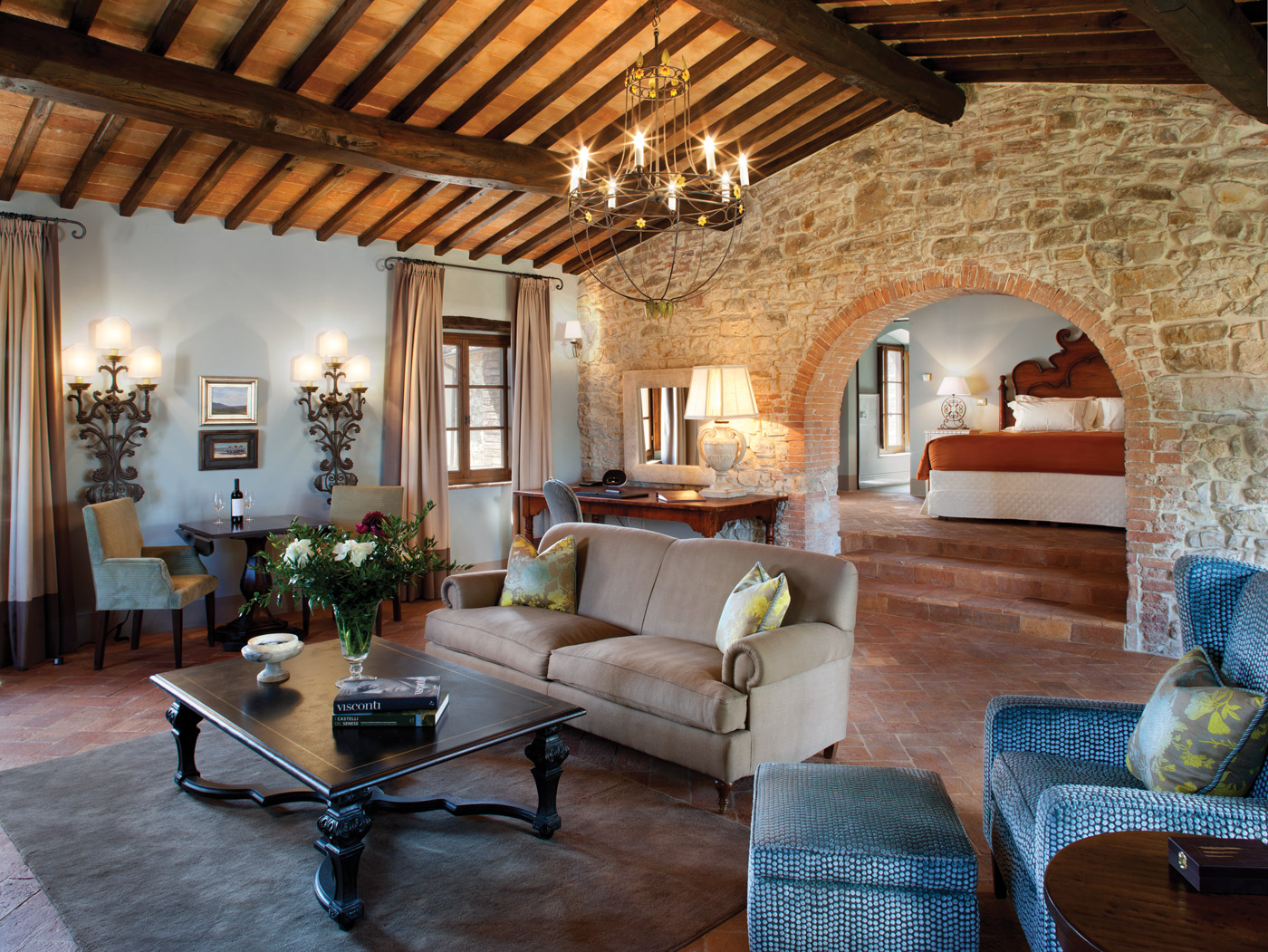 Castello-di-Casole-Ufficial
Hotel-Castello-di-Casole-Dining-Terrace_CMYK
OneBedroom_Magnifia_sittingtobedroom_CDC__342_CMYK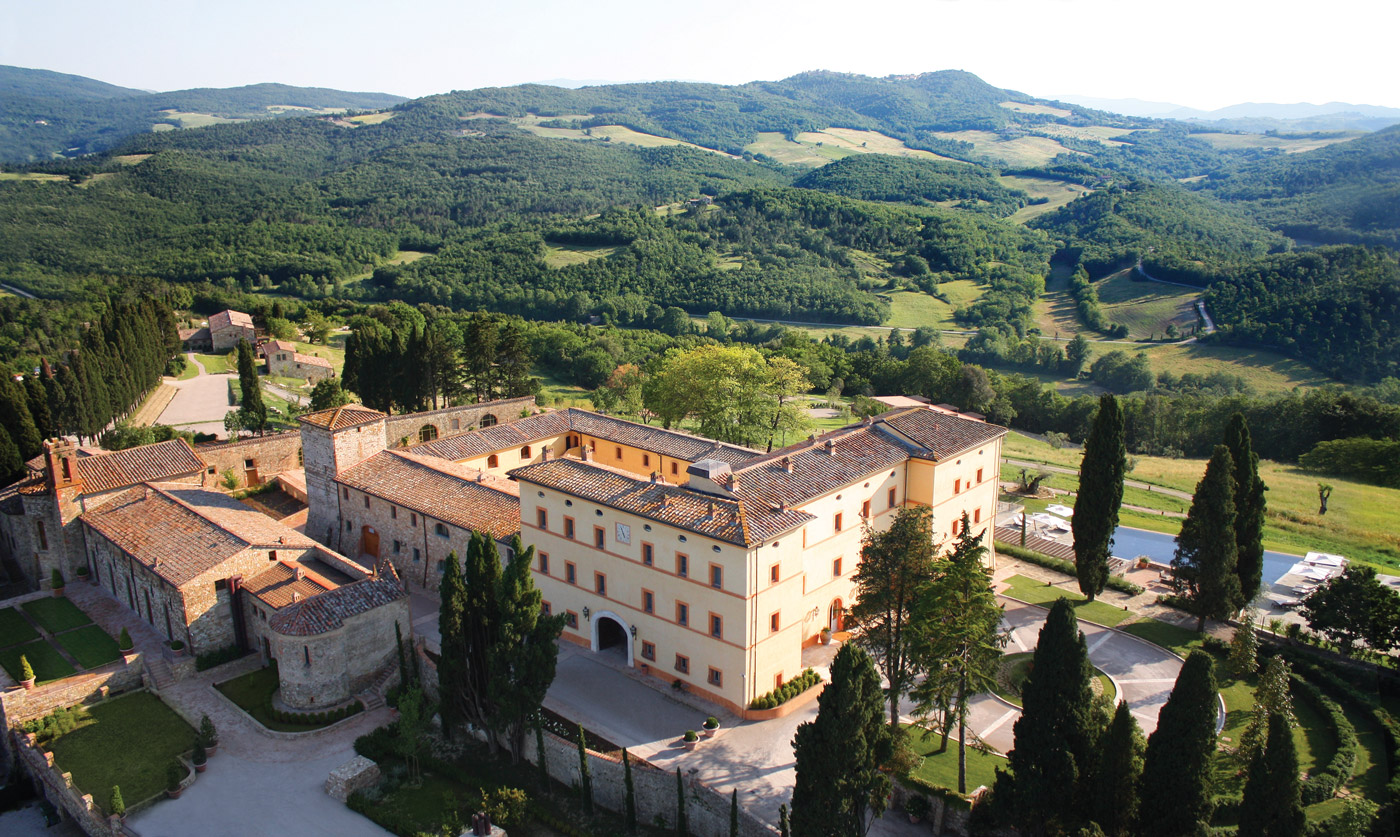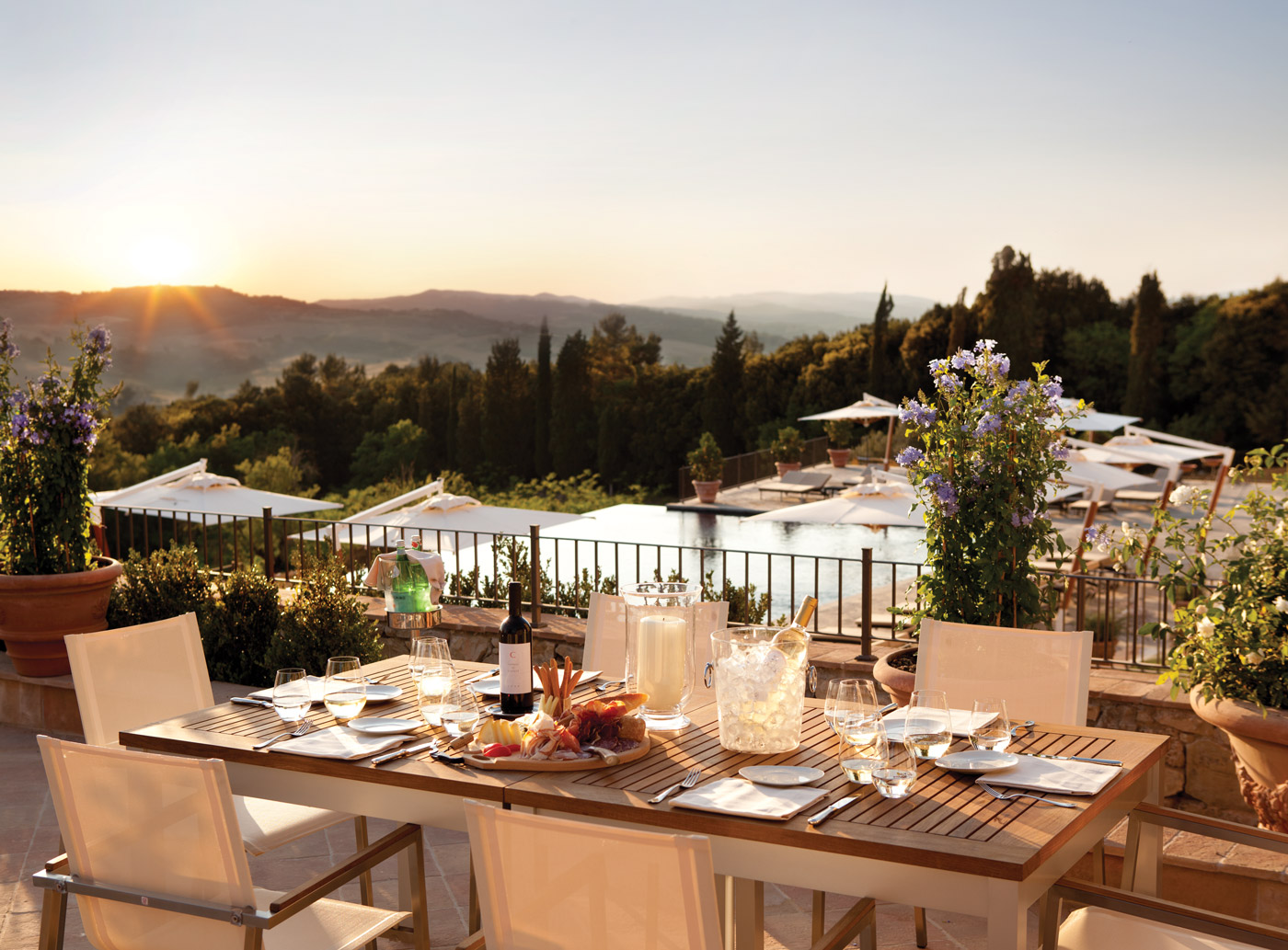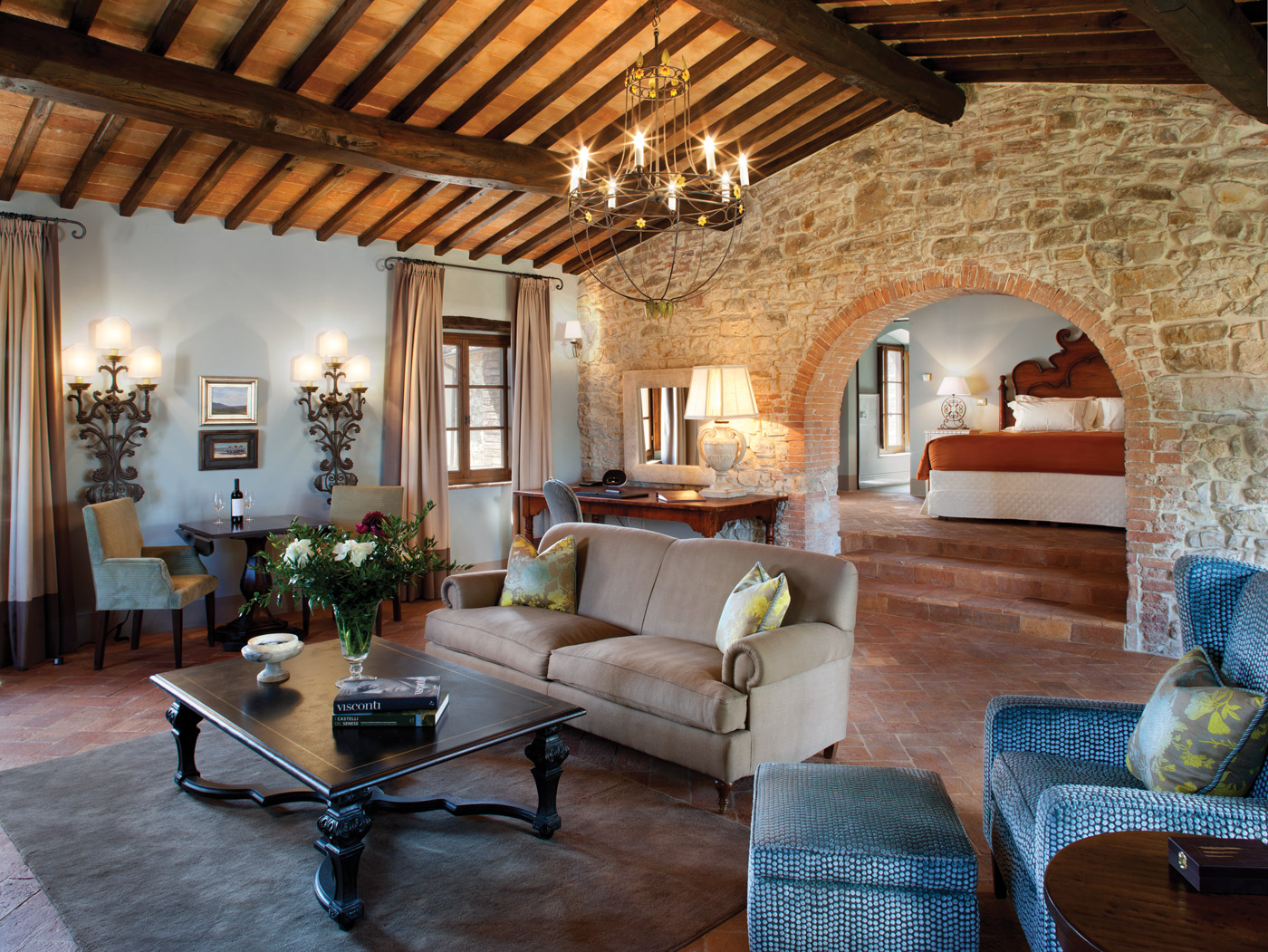 DAY 1: Rome to Siena
HOTEL: Castello di Casole
The drive from Rome to the Castello di Casole, in Casole d'Elsa near Siena, takes under three hours and towards the end of the journey you'll have to brave some of the historic dirt roads that sweep across the steeply rolling, voluptuous hills of Tuscany. As beautiful as the drive may be though, nothing can prepare you for the majesty of the Castello di Casole. This 10th century Tuscan hamlet turned hotel and serviced residential community is centred around a charming castle from where you can enjoy a bird's-eye view of the surrounding countryside: all of which is theirs. To give you an idea of the incredible scale: imagine how big the Pearl Qatar is, then multiply that by four and a quarter and you still haven't quite filled the 1,700 hectares here.
Opened in 2012, the American-owned private estate boasts a hotel with 41 generously sized suites (each of which comes with an enormous un-European sized marble bathroom) as well as a number of serviced villas and farmhouses, which one can rent, buy or acquire a share of. Having toured a few of their offerings, we were particularly taken by the farmhouses.
Apart from the vineyards, olive groves, lemon orchards, and game reserve, Casole has two restaurants, a bar, a vaulted-ceiling spa that's set within the castle's former subterranean wine cellar, an over-ground Technogym-equipped fitness centre, a heated outdoor blue mosaic-tiled infinity pool, an ancient chapel, a yoga pavilion (set inside what was formerly the new chapel) and a delightful courtyard where breakfast is served. Need we say more?
With its high levels of comfort and service clearly geared towards the international traveller, this is a great place to unwind and escape the humdrum of normal life.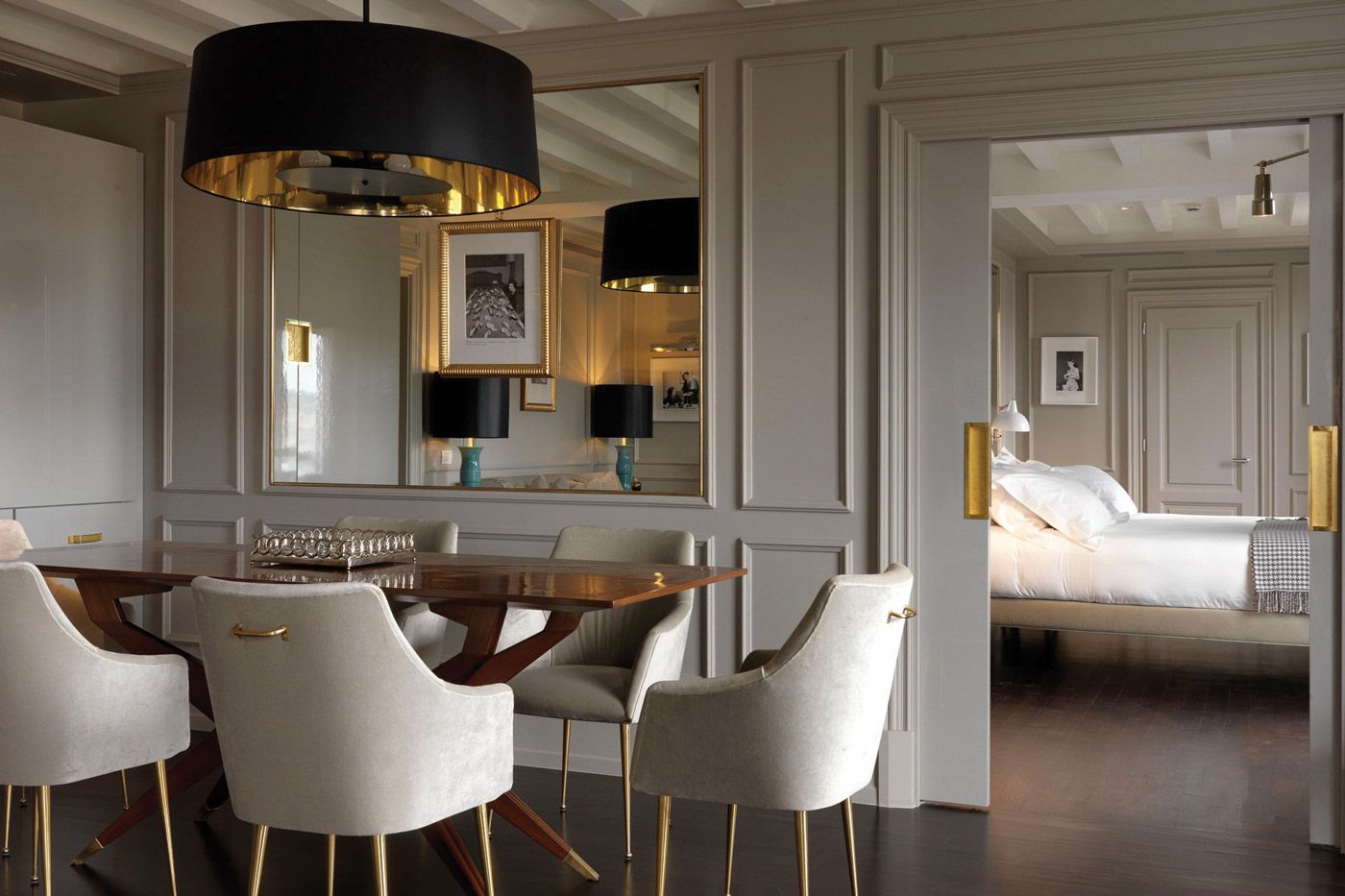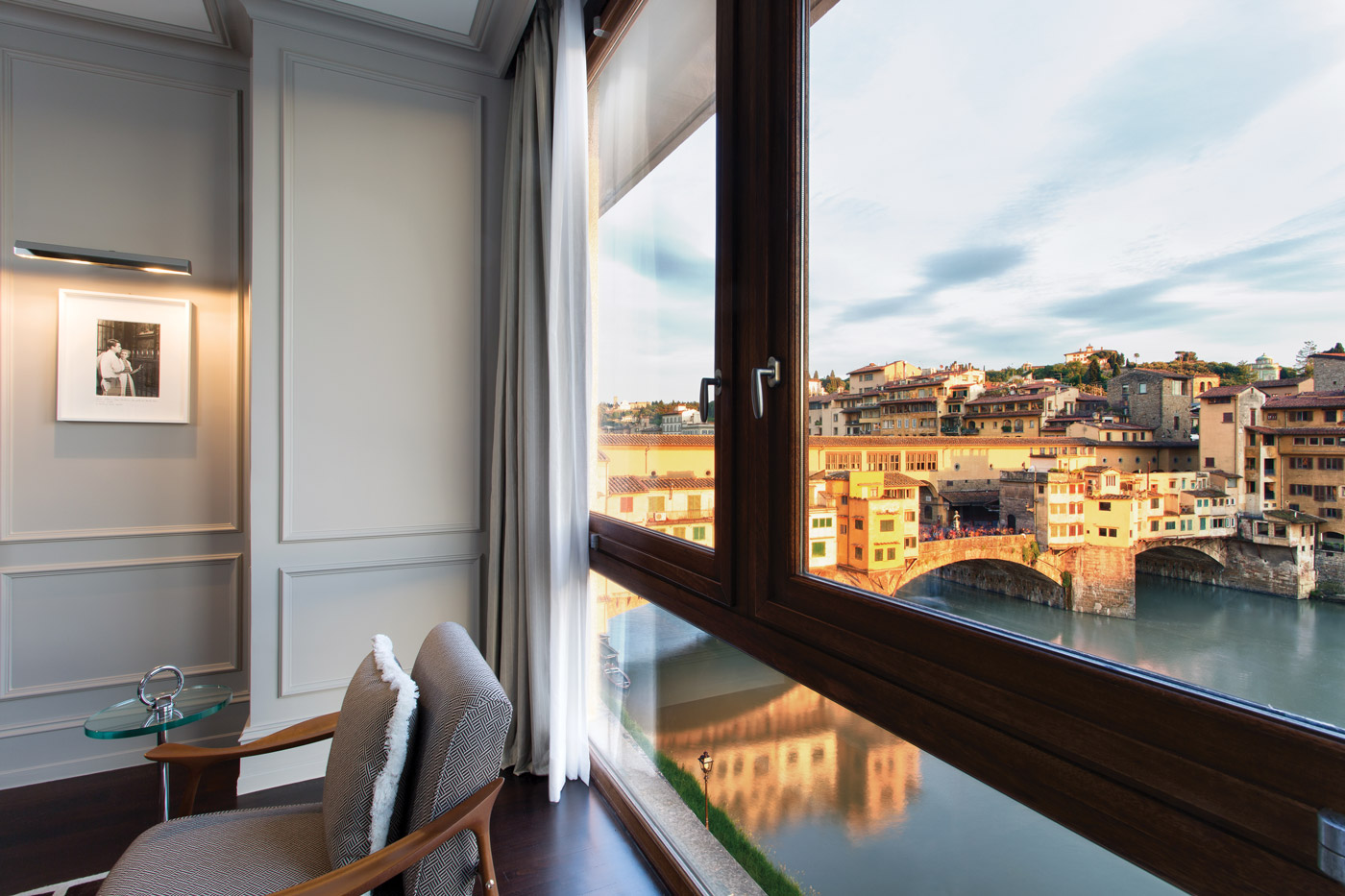 suite-dining-room-portrait-firenze-florence-conde-nast-traveller-16sept14-massimo-listri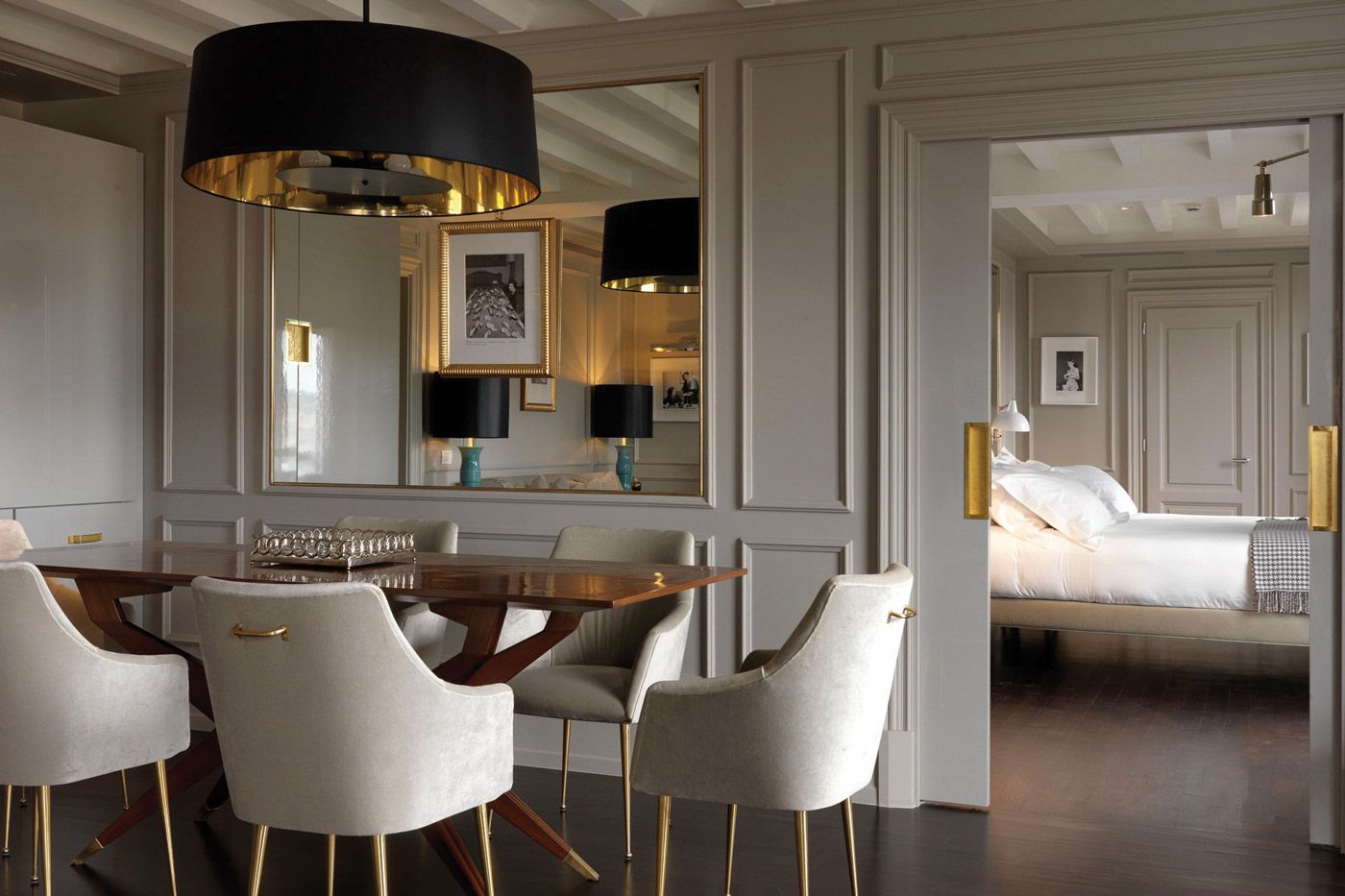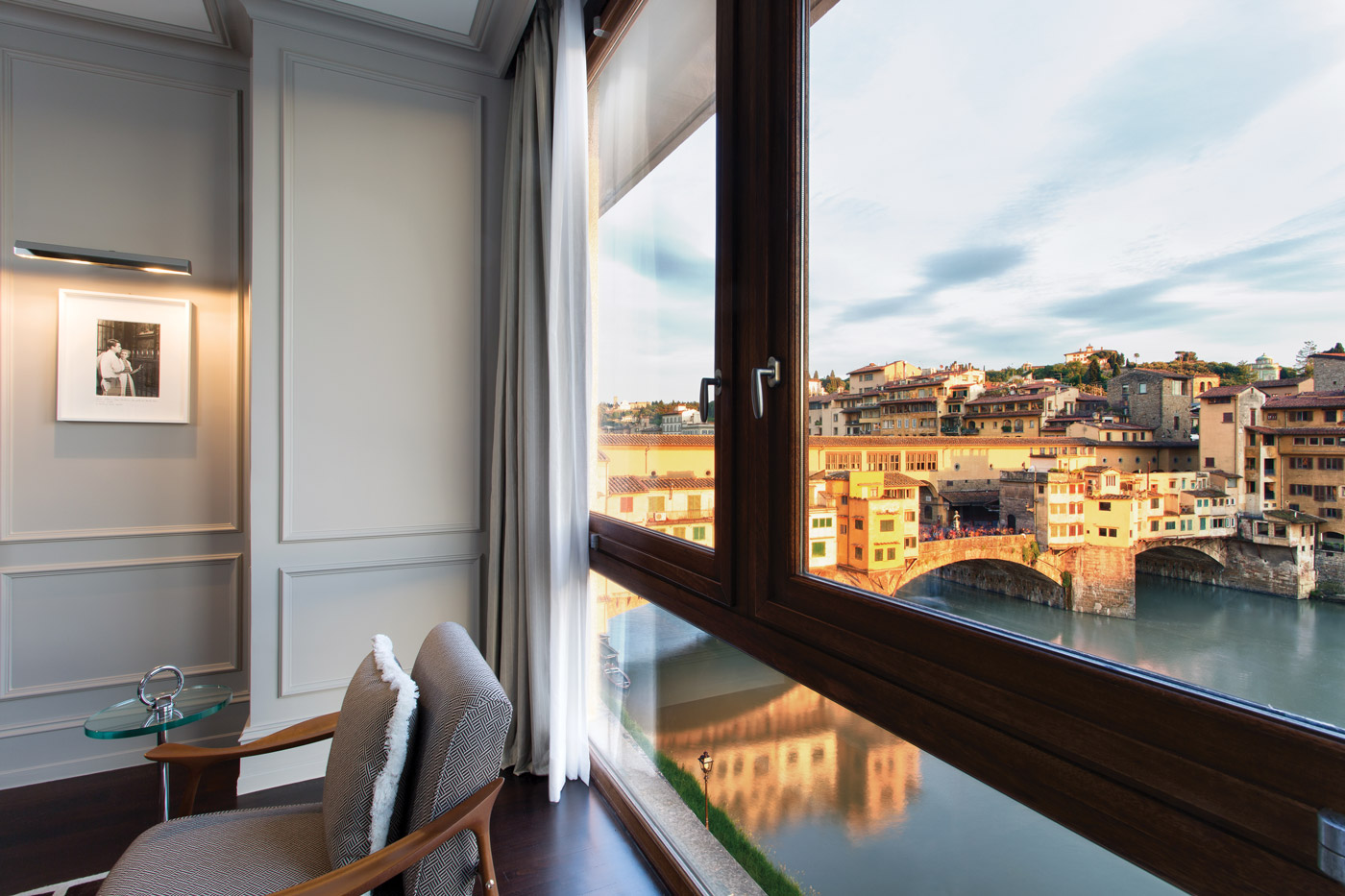 DAY 2: Siena to Florence
HOTEL: Portrait Firenze
You'll need to check out early if you want to make the most of both Siena and Florence today but before you do, don't forget to have the concierge reserve lunch at the Taverna di San Giuseppe.
Siena is a Roman settlement established in the first century BC and as you'll soon discover, it's a real gem. Your visit should start at the shell-shaped Piazza del Campo, one of the most breathtaking urban spaces in the world and it's here that you'll find the immense Palazzo Pubblico (town hall) with its famous Torre del Mangia and the Banca Monte dei Paschi di Siena (the oldest surviving bank in the world). The 13th century Duomo is also a short walk away and a must-see. Then by the time you've done all that, you'll have worked up a healthy appetite but don't worry, lunch is close by.
The Taverna di San Giuseppe is a Sienese institution that's located in a building that dates back to 1100 with a tufa rock wine cellar from 200 BC. Though warm and inviting, the interior is fairly simple; the food on the other hand, is anything but. Classics reign supreme here, with specialities liked ribollita (a Tuscan minestrone soup), brasato (braised beef with vegetables) and of course bistecca fiorentina. We went for the latter, which was exquisite, along with some hearty homemade pici pasta that came with a delicious cinghiale (wild boar) sauce.
Hopefully, you're feeling reinvigorated by now, as you'll need to drive for an hour to get to Florence, one of our favourite places on the planet. Unlike Milan, Italy's banking capital, or Rome, its religious centre, Florence has for centuries been a melting pot of creativity and commerce, which is why it delights shoppers and culture-vultures alike. Let's not forget that even if Michelangelo, Leonardo and Botticelli became part and parcel of everyday Florentine life so too did the talented silk weavers, silver workers, leather toilers and furriers, who ply their trade on the busy streets.
In terms of hotels, there may be a Four Seasons, a St. Regis and a Savoy but if you want the best then that'll be a lesser known name: Portrait Firenze. Overlooking the Ponte Vecchio, smack bang in the heart of the historic district, this hotel is part of the Lungarno Collection, a group of properties owned by the Ferragamo family and it shows. Oozing a magnificently understated, tasteful elegance, there are just 36 rooms, which are more like large ultra-chic apartments than your typical hotel suites. On the downside, there's no gym but this is Florence so you'll be walking your socks off anyway.
One last thing: book dinner at the charming Trattoria Cammillo, a favoured haunt of Florentine cognoscenti since the 1940s. It's very close to the Portrait and while everything they serve is good, their spaghetti alla bottarga and tagliolini al tartufo bianco are both divine.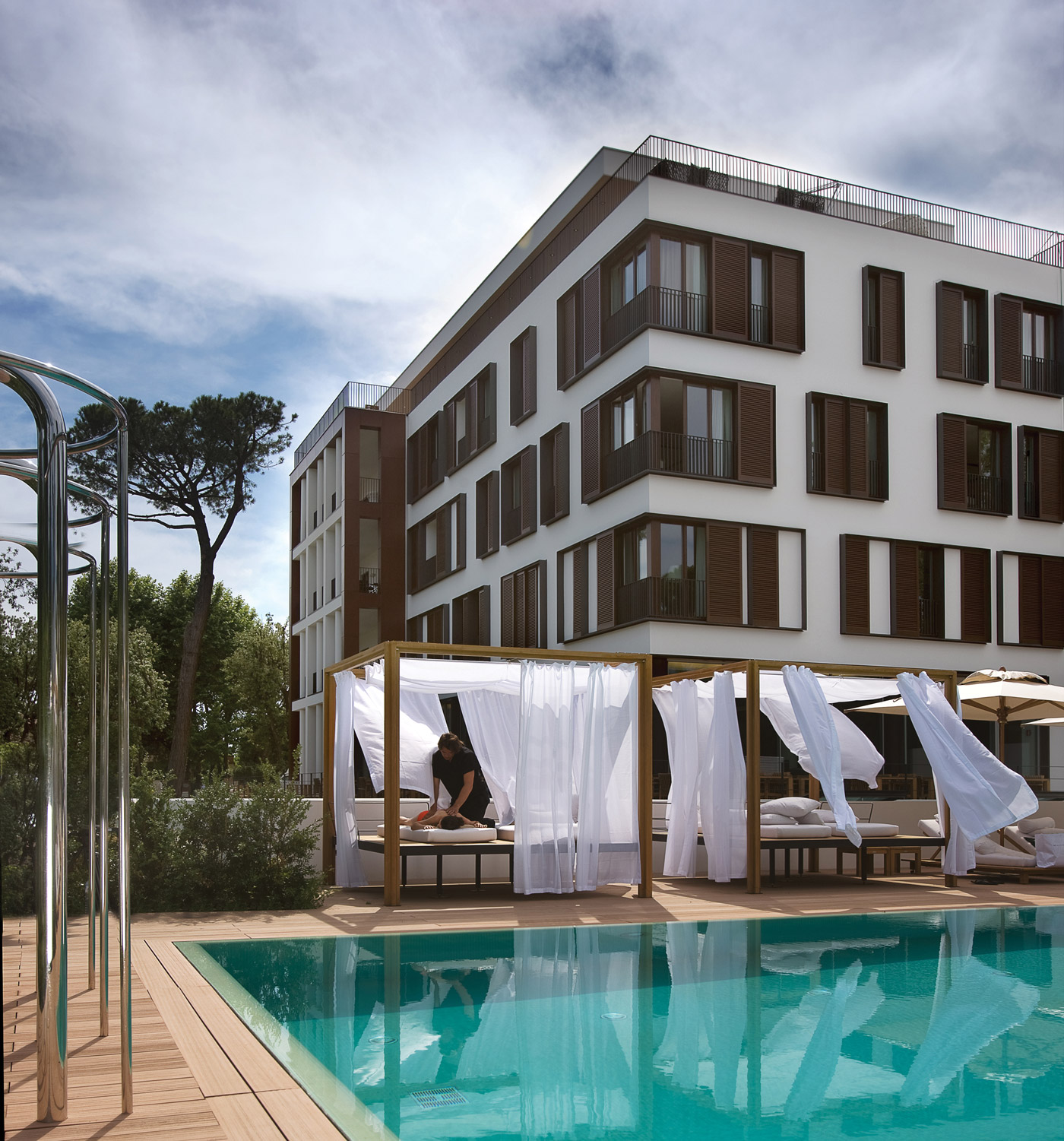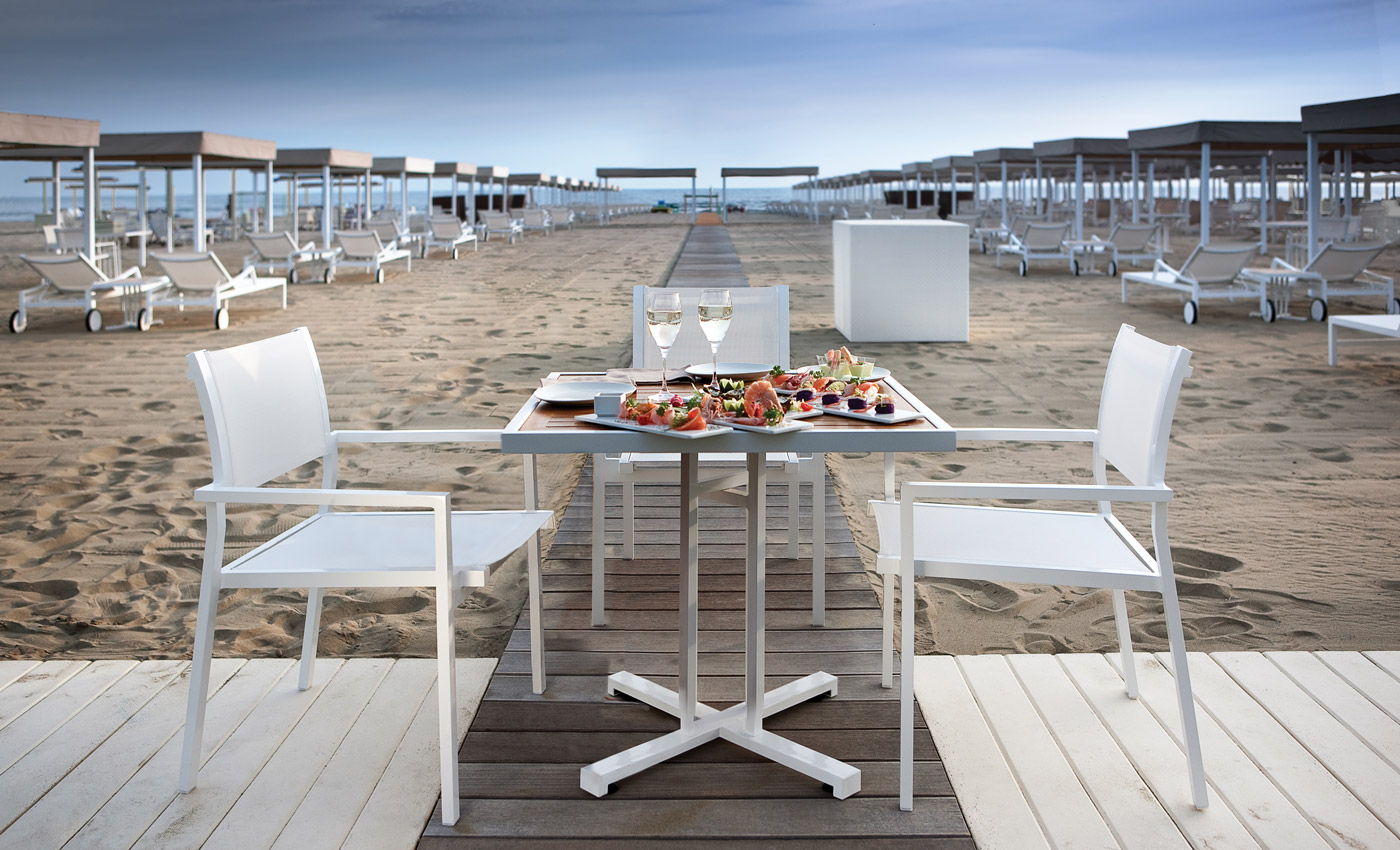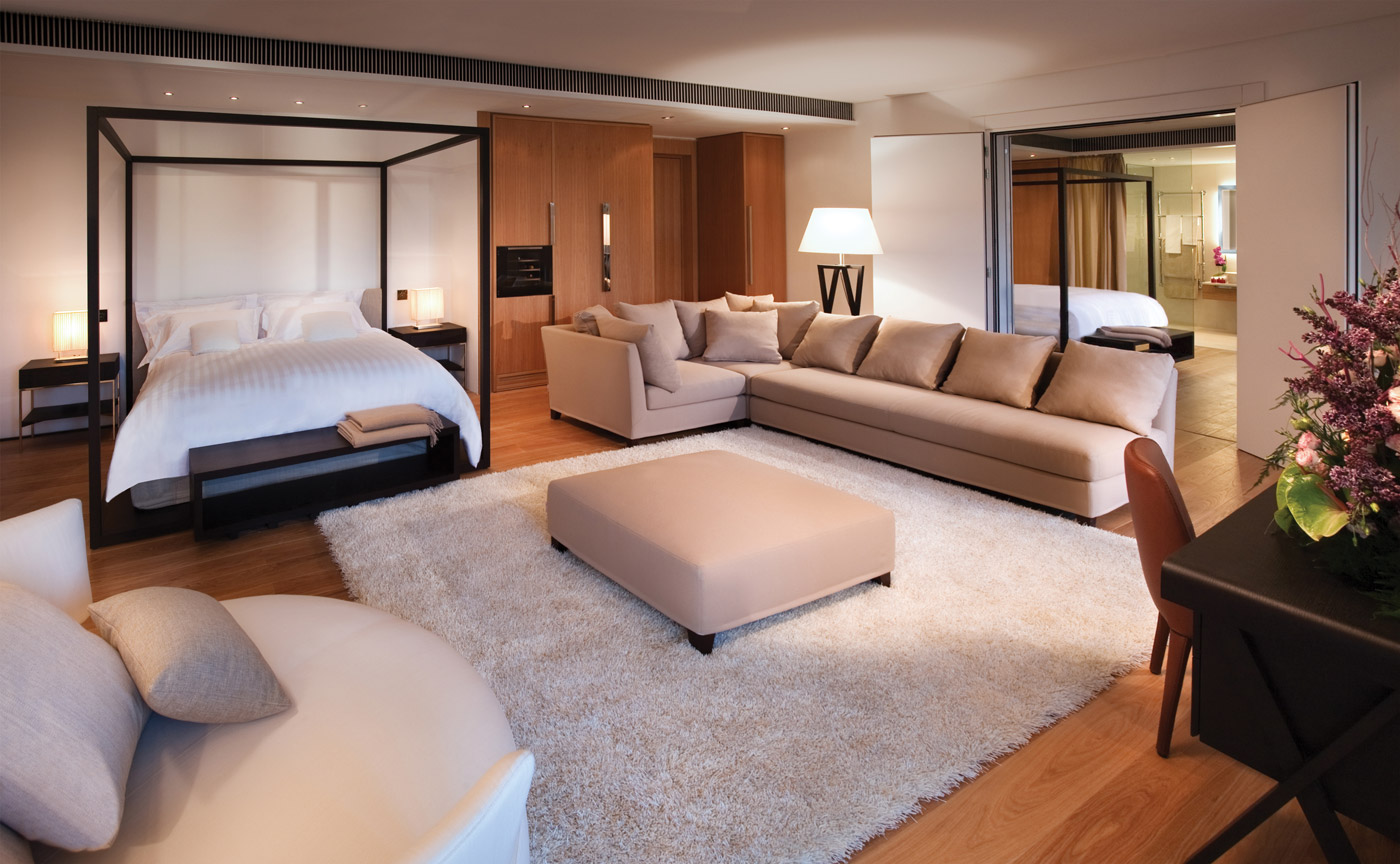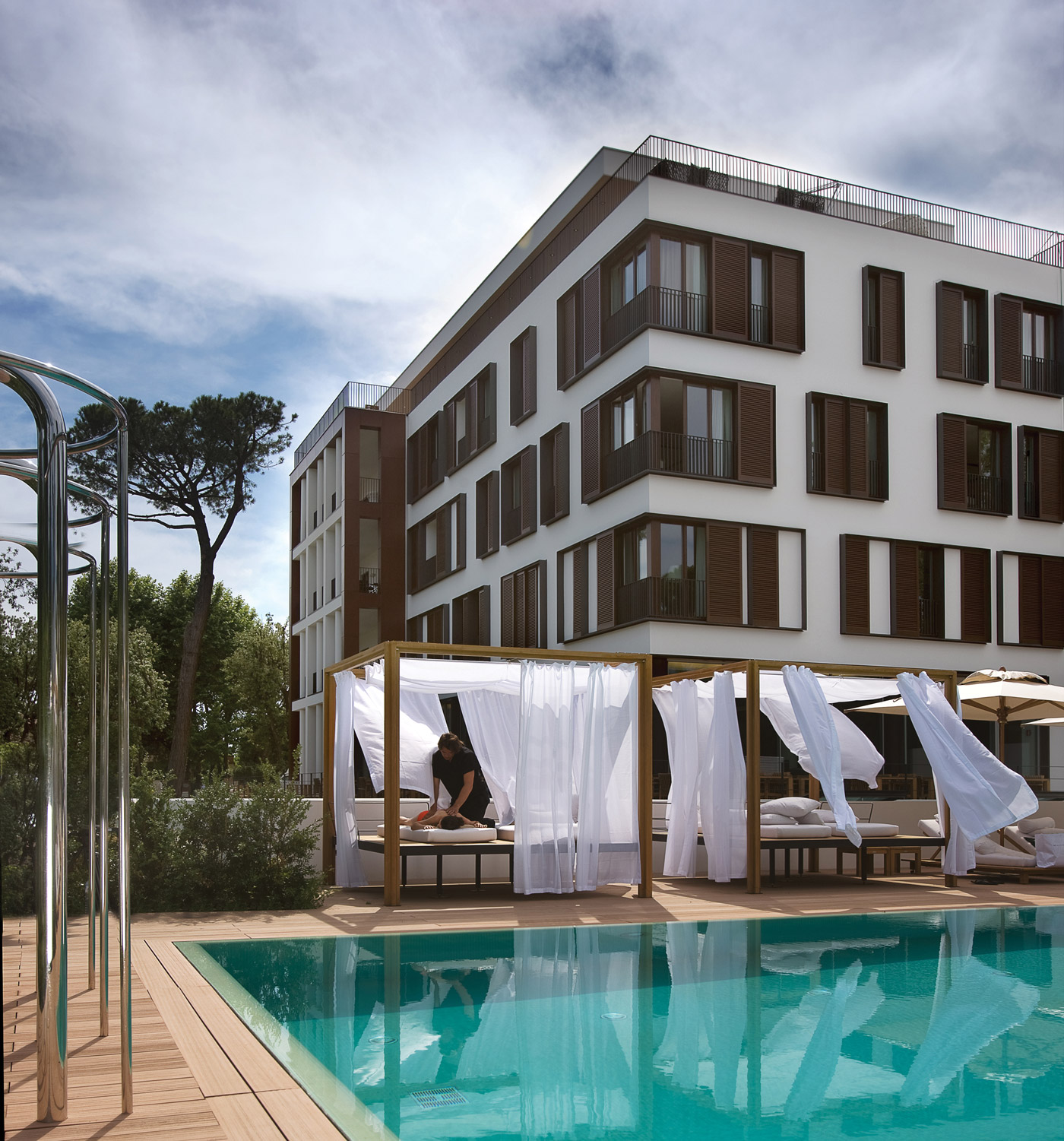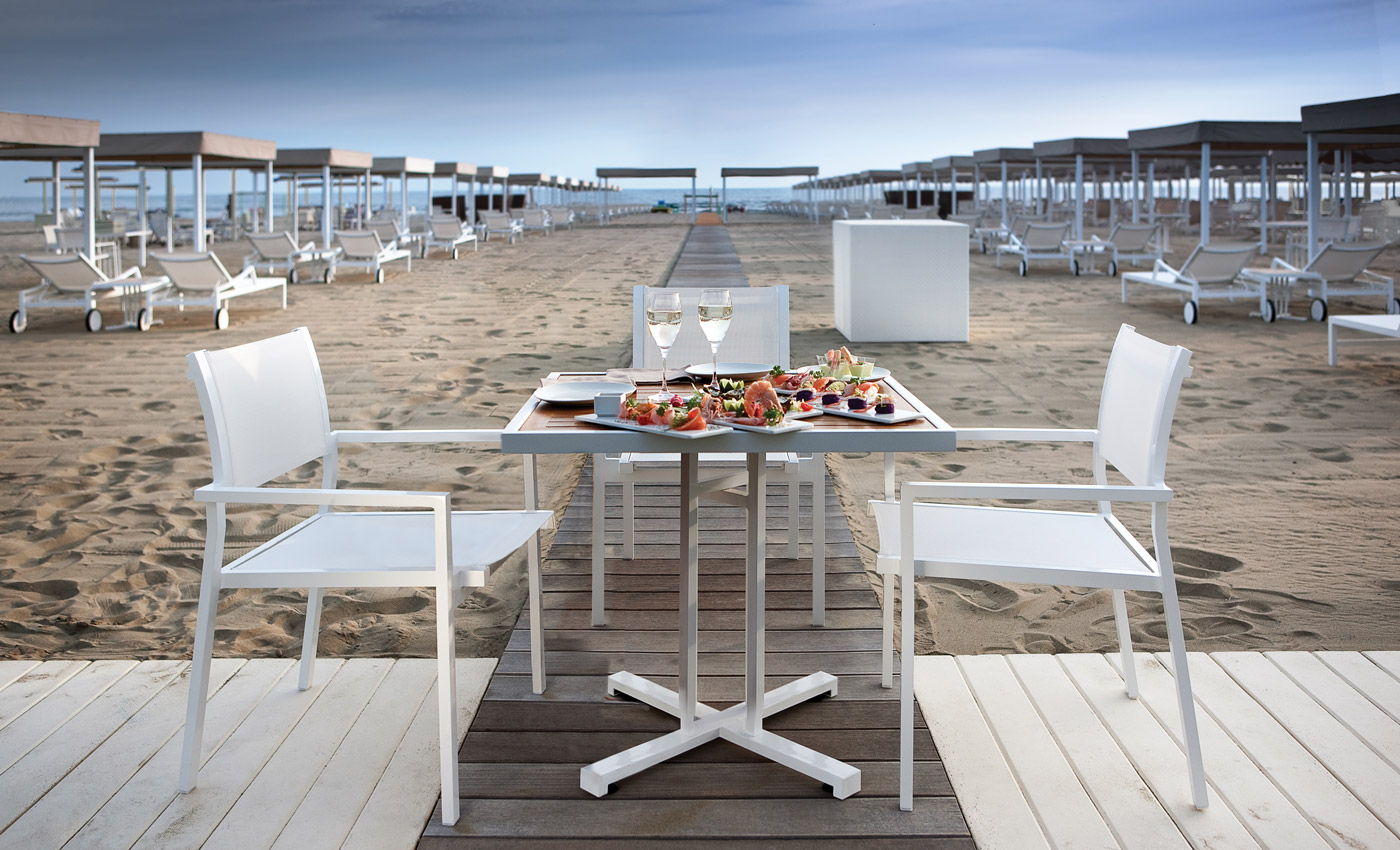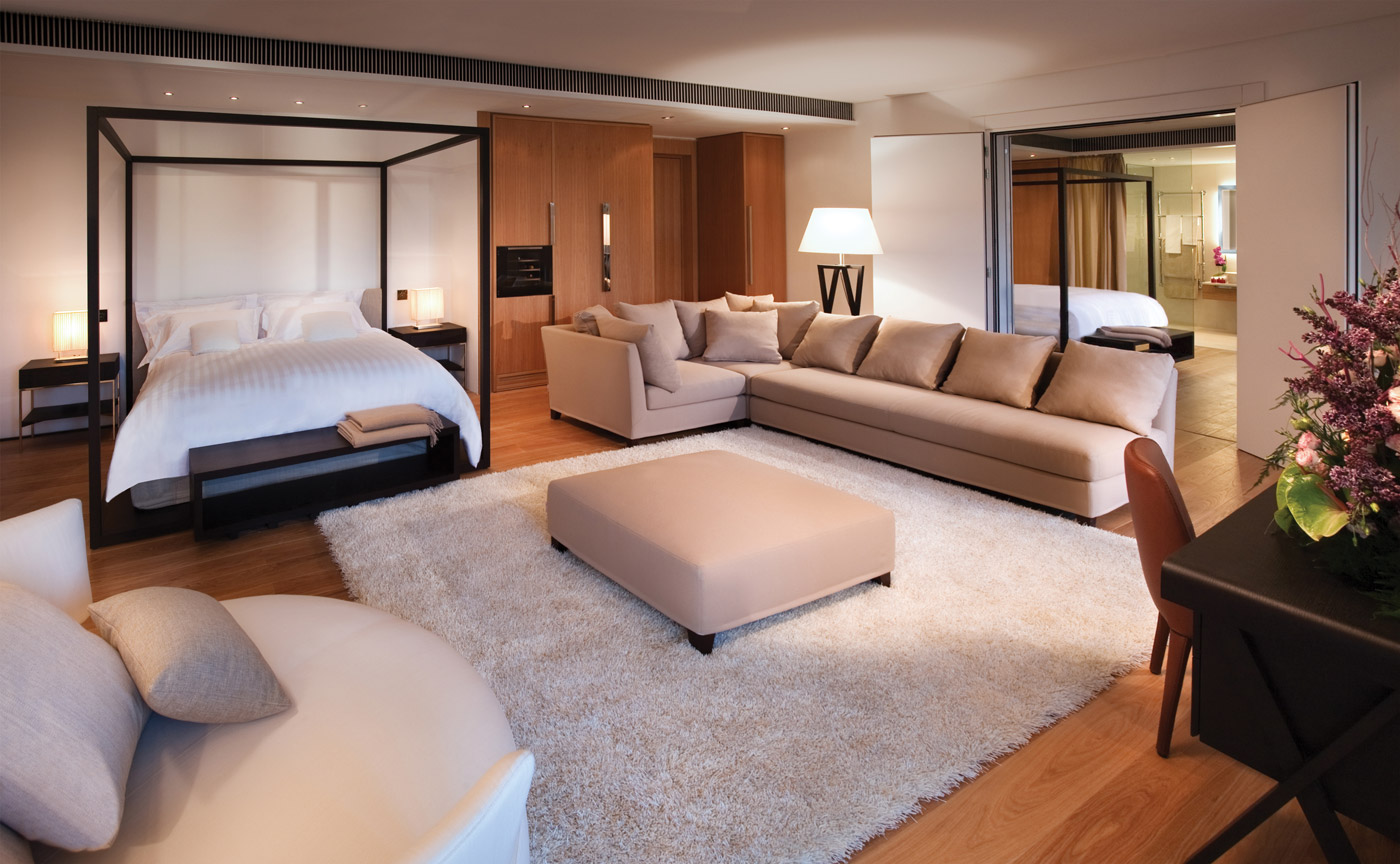 DAY 3: Florence to Forte dei Marmi (via Pisa)
HOTEL: Principe Forte dei Marmi
Tearing yourself away from Florence won't be easy so don't force it. If you'd rather sacrifice some Forte dei Marmi beach time and spend the morning wondering about Tuscany's capital, you can. That being said, today's route isn't the most direct, as we've added a whistle-stop at the Leaning Tower of Pisa (because it's worth chalking off one of the Seven Wonders of the World), so be aware that it'll take two and a half hours to get to Forte, all things considered. Personally, we aimed to be there by lunch but that's because food is one of our utmost concerns. Each to their own though, as they say.
Forte dei Marmi – which means marble fort – exists because, in the 16th century, Michelangelo built a road to transport the Carrara marble he needed for his statues down from the Apuan Alps to the coast, where it was loaded onto ships. Over the centuries, the seaside town developed into a high-end, low-key bolthole for moneyed Italians and today Zucchero, Armani, Andrea Bocelli and the Agnelli family all own houses here. But don't expect an Italian Saint Tropez, rather, think spaced out low-rise buildings, shaded by pines and connected by grid-like roads, intersected by a kilometre-long avenue that runs in parallel to an impressively wide darkish sand beach. The topography is also unbelievably flat here and it encourages everyone to get about on bicycles. Life is slow but that's the charm of it.
The Principe Forte dei Marmi, which opened in July 2010, is by far the most trendy boutique hotel in the area. Encompassing four floors of contemporary style, the pared-down décor is elegant, the warm woods, stone and glass harmonising nicely with a who's who of Italian furniture design. One of the key features is glass and apart from the floor-to-ceiling windows in each of the 28 rooms, there's also glass partitioning the gorgeous Tunisian stone bathrooms from the main bedrooms.
The Principe's pièce de résistance and the reason it stays open all year round is an award-winning luxurious spa that's definitely a sight for weary eyes. Sadly, if you're there for just a night, you'll probably not have time to enjoy it.
Instead, you can hop onto the hotel's baby-blue bicycles and pedal over to the town centre for a capuccino and a meander around the shops. Ladies should check out the jewellery of Angela Caputi, and two multi-brand stores: Fiacchini and Gallery Market. Men would do wisely to invest in some irresistible handmade shoes by Mauro Volponi and some shirts by Luigi Borrelli.
Dinner plans should of course involve a visit to the area's Michelin-starred hotspot: Bistrot. With its open-plan kitchen and dual wood-fired ovens, this restaurant specialises in refined meat and fish dishes. Stand warned that the bill will be hefty but it's totally worth it. One last thing: don't stay up too late as tomorrow will be epic.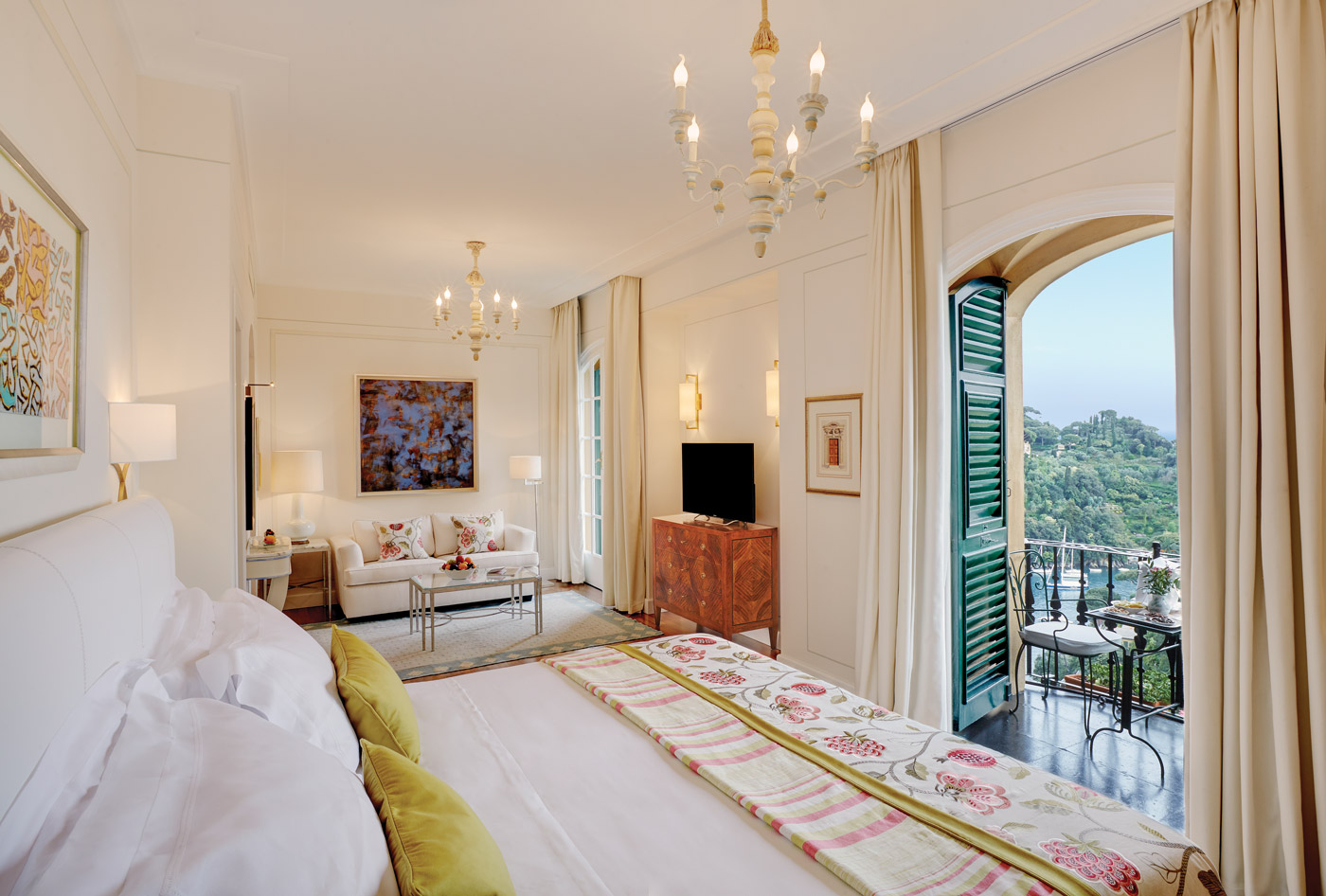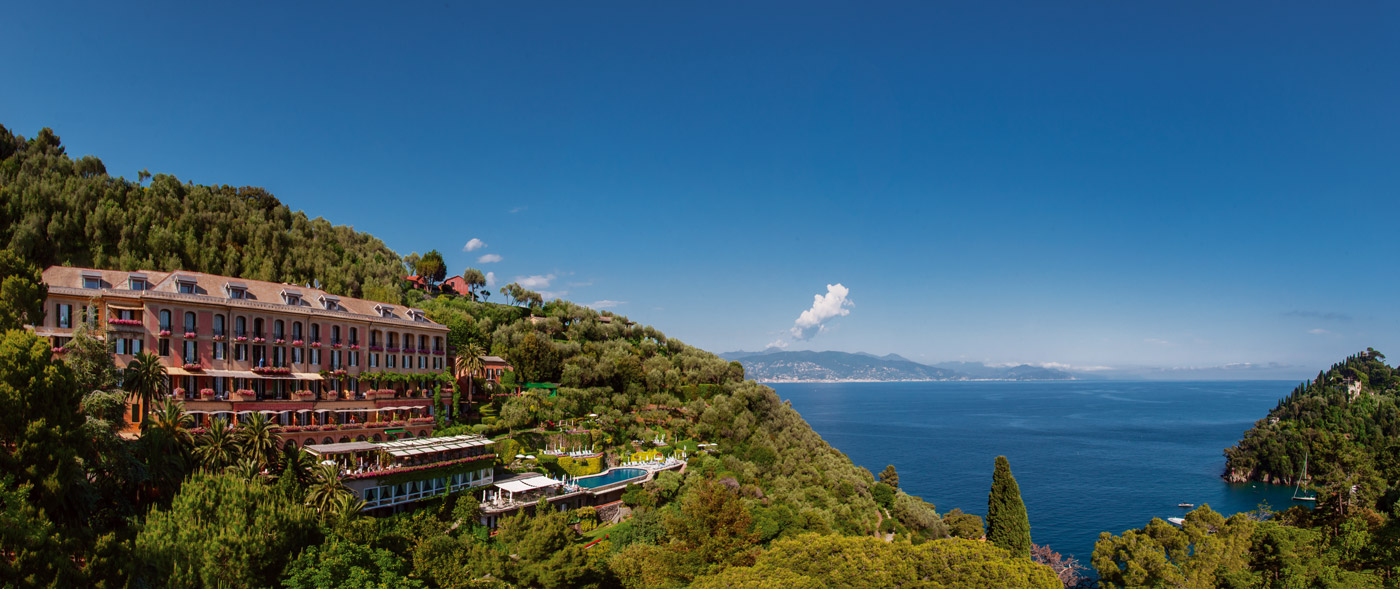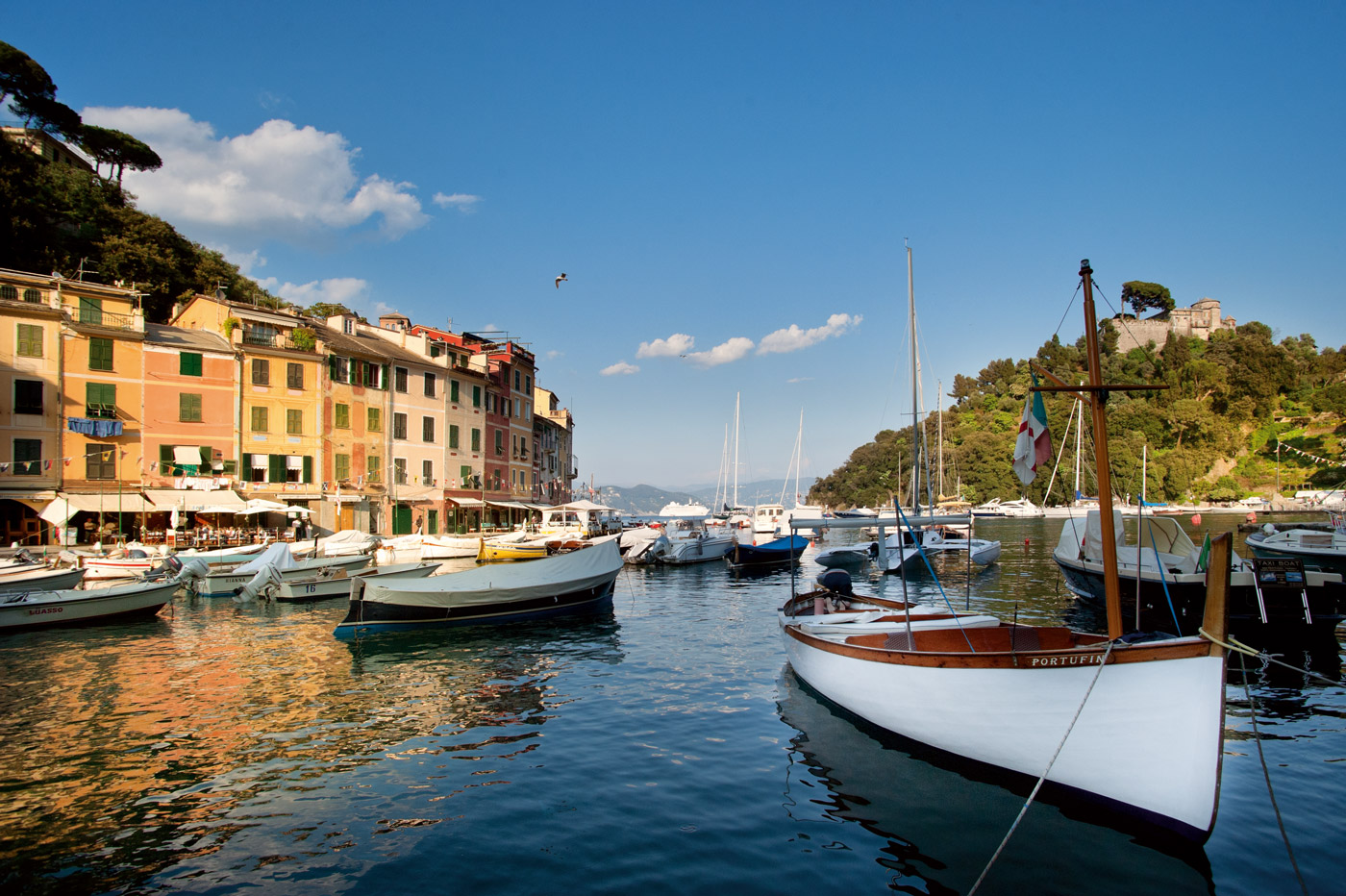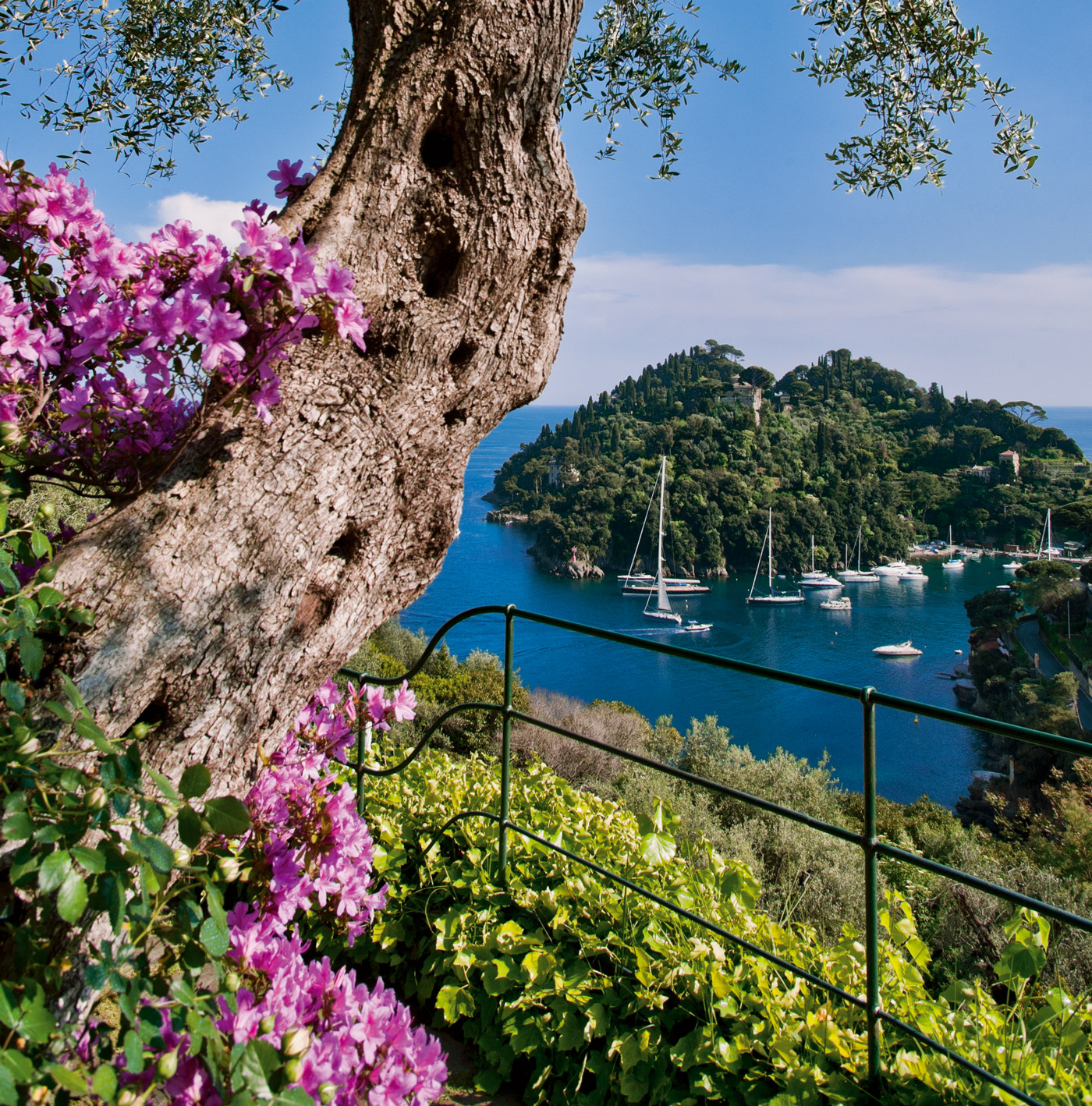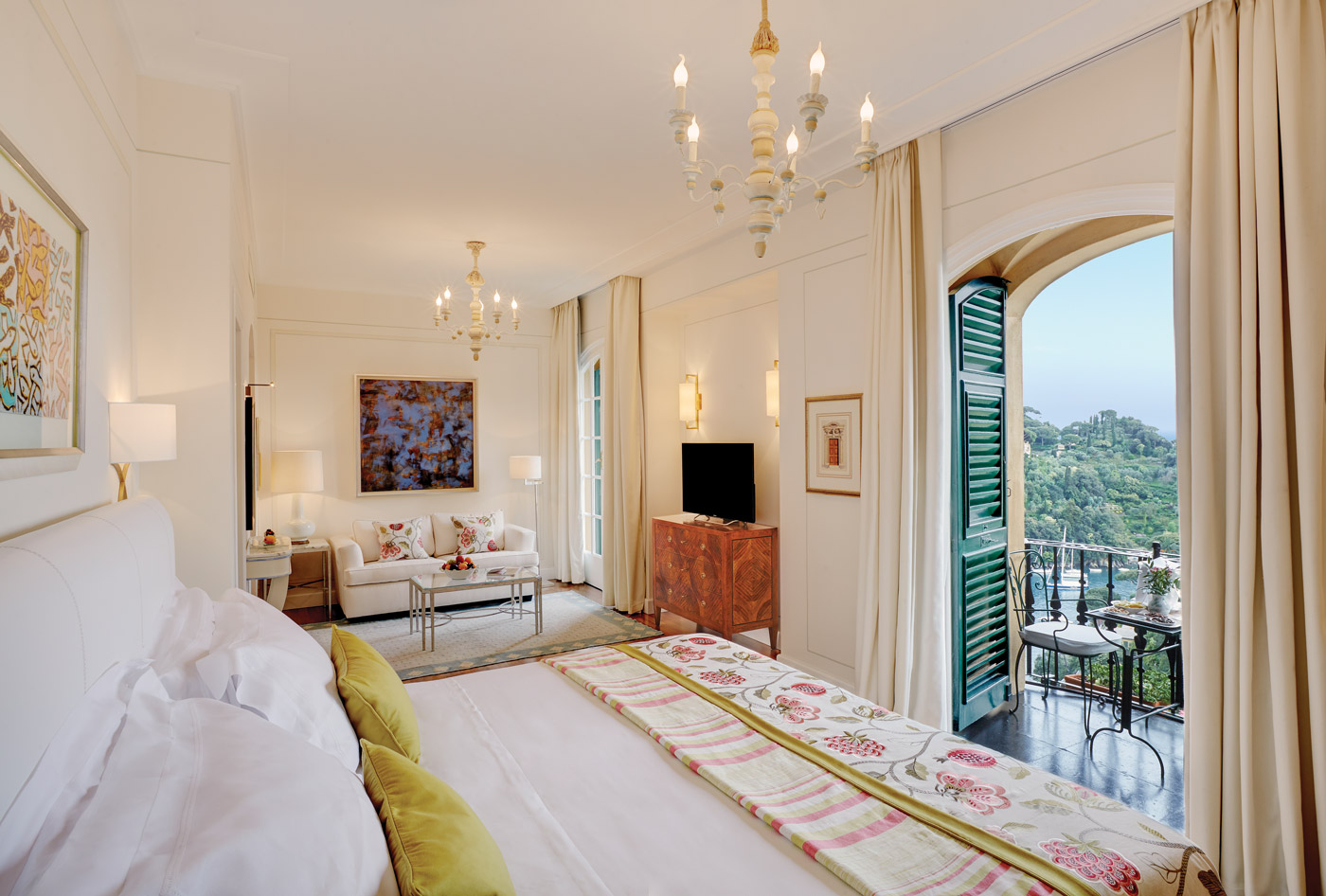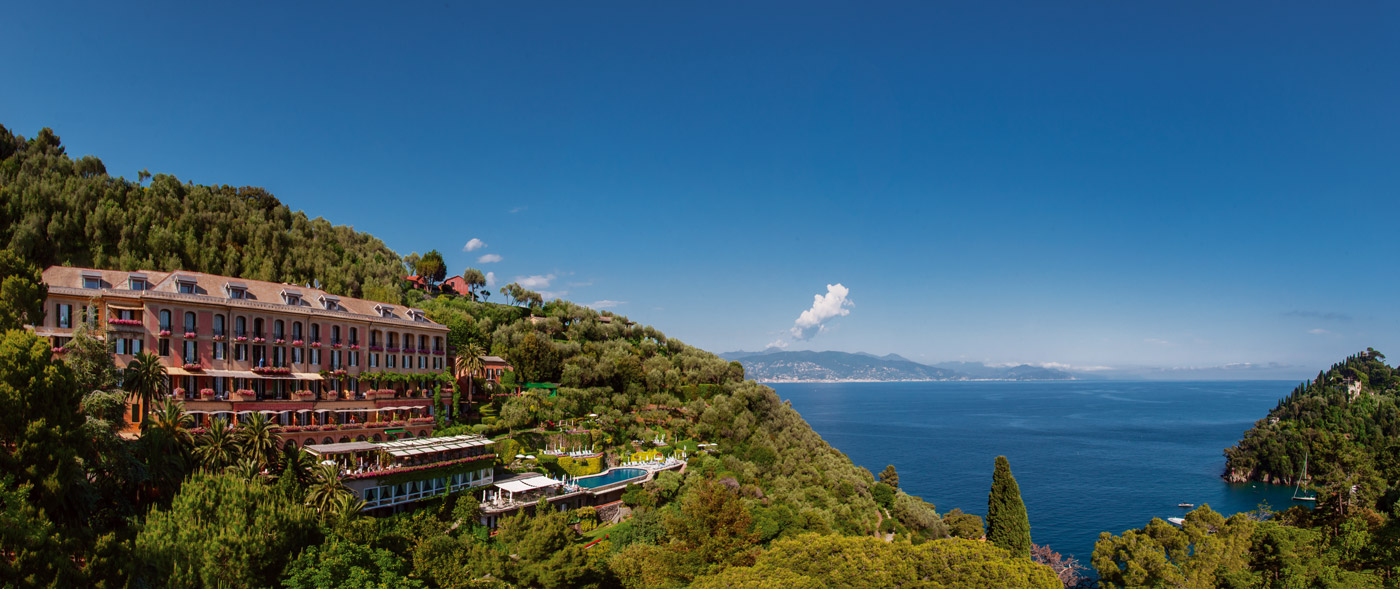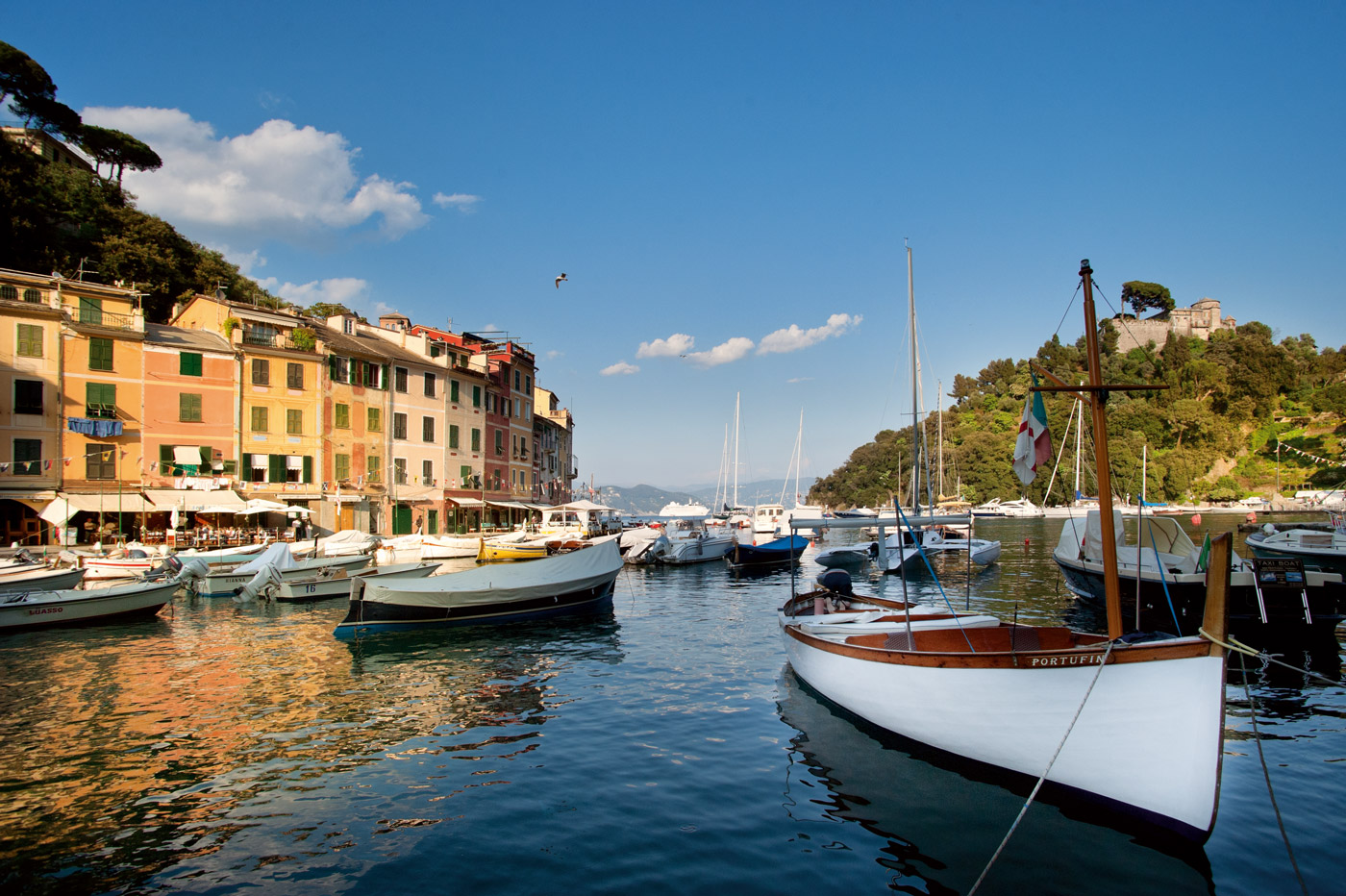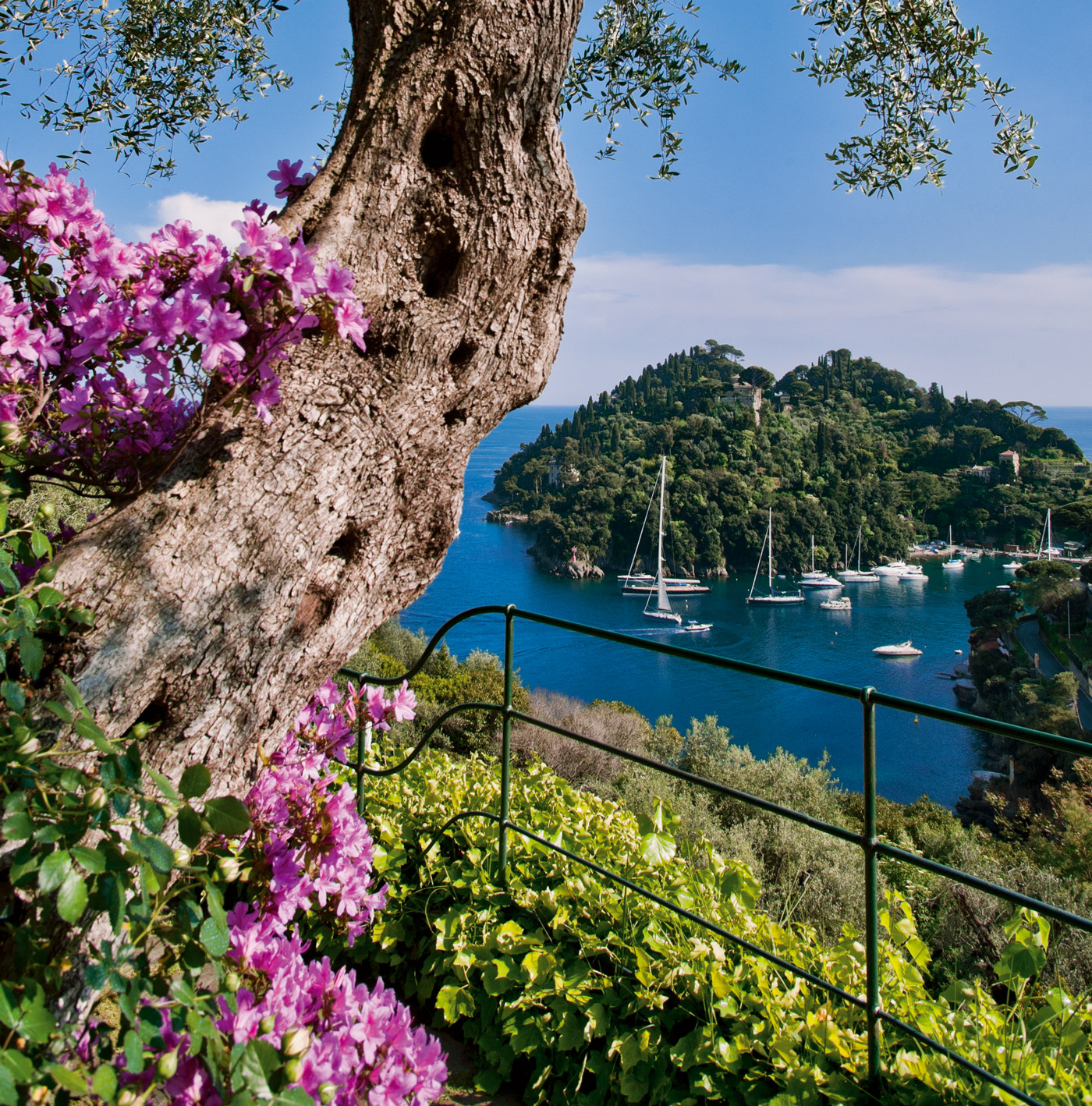 DAY 4: Forte dei Marmi to Portofino
HOTEL: Belmond Hotel Splendido
The drive from Forte dei Marmi to Portofino is less than an hour and a half long and it takes you on a road through two towns (Rapallo and Santa Margherita Ligure), which almost rival our millionaire's playground destination in terms of beauty, if not exclusivity.
Oddly, one of the untold truths about visiting Portofino by boat (rather than car) is that despite the beauty of this fishing port, you'll get very bored, very quickly. Driving there though, provides a fresh perspective and a stay at the former Benedictine monastery that's now the Belmond Hotel Splendido, an even better one yet. In fact, spend just a single night here and you'll become besotted with the place. That is, of course, what people have been doing for over a century.
Part of the exclusive Orient-Express group of hotels since 1985, (recently rebranded to Belmond), the Splendido has succeeded in remaining in the top flight of European hotels since 1902 and during that time it has hosted almost every celebrity A-lister from Bogart and Bacall to Brando and Spielberg.
It's a discrete and exclusive place with only 64 rooms, including 34 suites. Nearly all come with balconies that open onto postcard views of large yachts adrift languid Ligurian waters. If you're looking for the best then that'll be from the outdoor saltwater infinity pool.
The interiors of the hotel are suggestive of another age, conveying the quaint old-world charm of an aristocratic home. Having seen the full gamut of rooms, we'd recommend you stump up the extra cash for a deliciously light and airy Junior Suite, as it has a much more contemporary décor than the heavier golds and creams of the standard rooms. The bathrooms are equally nice in every class in room and are part of a recent renovation.
Much like the Hotel du Cap in Cap d'Antibes, one of the most magical aspects of the Splendido is its breathtakingly beautiful, manicured garden filled to the brim with daisies, roses, jasmine, bougainvillaea, agapanthus, hydrangeas, juniper trees, lemon trees, ancient olive trees and towering palm trees – it's well worth a gander.
In terms of lunch, you have to try Puny, which is located right in the centre of the harbour. We were waited on by the owner, Luigi "Puny" Miroli, who's now in his 80's, and when he boastfully claimed that his pappardelle alla portofino was "the best pasta in the world", we of course assumed he was hyperbolizing. He wasn't though and those large flat noodles in a pesto sauce with fresh tomato might actually be the nectar of the gods.
For dinner, book a table at Splendido's fairytale candle-lit terrace known as La Terrazza. The Maître D' will probably recommend you start with a peach bellini, which was no doubt a habit acquired from the Splendido's sister property, the Cipriani in Venice. It's good but not quite Harry's Bar good. On the hand, the food is excellent, with fish specialties being the major highlight.
DAY 5: Portofino to Milan
HOTEL: Four Seasons Hotel Milan
It takes two and a half hours to get to Milan, that is if you don't stop at the designer outlets on the way so you won't a lot of time here. Of course, a good night's sleep is important before your flight home and even though there are so many great hotels in this city we still love the Four Seasons. What you might not know is that this former 15th century convent was actually transformed into an urban sanctuary of luxury and comfort by none other than the Aman's Adrian Zecha, who had it fly the Regent flag until the Four Seasons acquired it in 1992. In any case, enjoy your last night. It's been a hell of a ride.
what's nearby