October 10, 2016 Kate Hazell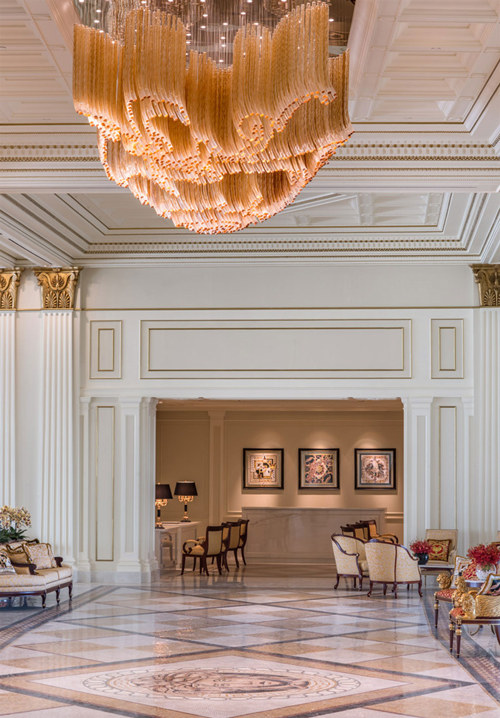 Before 2008, it seemed as though a new and exciting project would be launched almost every day in Dubai. After the bubble burst, so many plans got put on the backburner that it was impossible to tell which projects were put on hold and which were abandoned altogether. The Palazzo Versace was one such case. Initially announced in 2006, the luxury Italian fashion house captured the world's attention by promising holidaymakers the world's first air-conditioned beach.
As you might imagine, the global economic crisis put the project in jeopardy but the Versace-designed hotel and two Versace-branded residential buildings – the Palazzo Versace residences, housing 169 luxury apartments, and an adjacent 80-storey D1 Tower, with a further 518 apartments – finally broke ground in 2011.
While other luxury hoteliers including Four Seasons, Ritz Carlton, St. Regis and The W Hotel have all chosen to build either on the external coastline or in the new Downtown, Palazzo Versace can be found nestled by the Creek in the heart of Culture Village, an ongoing project about ten minutes from Dubai's international airport. For the moment at least, if you were to ask any of the city's expat residents what they think of this area, you'll get a sniffy response. But it certainly has potential.
Remarkably, as regal as its aspirations are, the Palazzo Versace arived without pomp or ceremony. Instead, it quietly came online last December with a soft opening, seven years after initially scheduled. We visited this June and currently, 147 of the 215 rooms are ready, with the 9th floor and spa due for completion by August.
Those familiar with Versace will know to expect design cues like the Medusa head, infinity Greek key line in addition to bold and colourful prints. But the opulence of the house is also manifested here in other ways, such as through ornate crystal chandeliers, mosaic flooring, gilded furniture, patterned fenestration and white Corinthian columns with gold-leaf capitals. In today's less-is-more culture such a massive, bold statement is certainly unorthodox but Versace made no compromise while creating this '16th century Italian Palace' in a desert oasis. While you would have to seriously stretch your imagination to identify an Italian palace in its sprawling exterior, once inside you'll find they did a decent job of fulfilling their mission of creating a 'neoclassical masterpiece with subtle traces of Arabian architecture'. Apart from the corridor walls, which are lined with contemporary framed illustrations of Donatella Versace's runway looks from over the years, the rest of the hotel stays true to the historically rooted palatial vibe. Donatella, the vice president and chief designer of the Versace Group, personally designed everything here, all the way down to the Versace silverware and plates.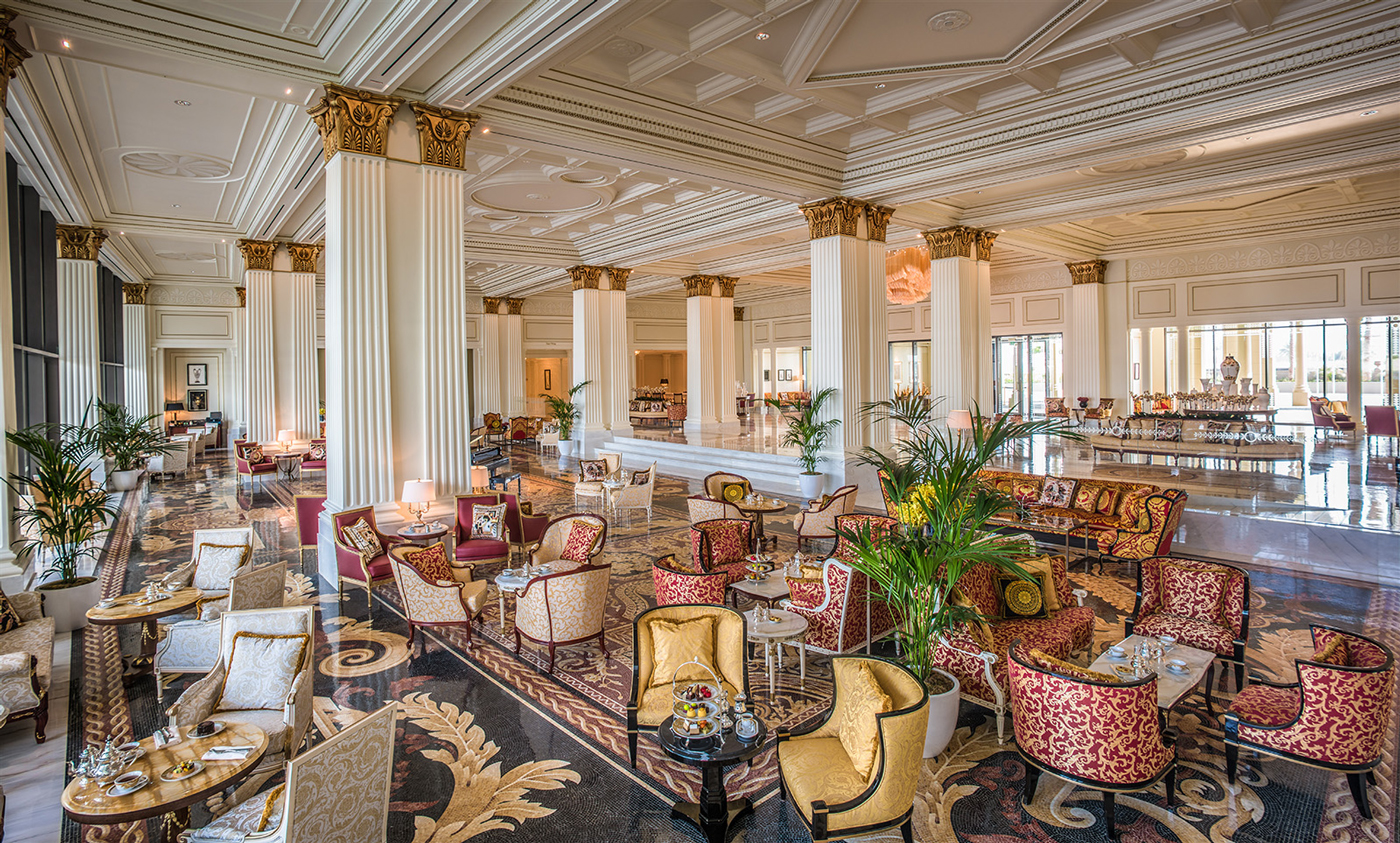 Those with a more sensitive nature might find this all a little ill fitting but the Palazzo Versace is certainly impressive, and oddly, not even remotely out of place in a city that embraces this sort of grandiosity. To be fair, we arrived expecting to dislike its over-the-top extravagance but there's something appropriate, even dare we say it, tasteful, about a Palazzo Versace in Dubai.
There are eight bars and restaurants including Giardano (an all-day Italian with an extensive buffet breakfast), Vanitas (a fine-dining Italian that specialisies in seafood), Enigma, Q's bar (by music producer Quincy Jones), La Vita bar, Gazebo (shisha) and pool bar Amalfi. Enigma in particular has already received critical acclaim in its short six months. Bringing a new model to Dubai, it changes chef and concept every three months with both Quique Dacosta and Björn Franatzén having already done a stint each in the kitchen. Unfortunately, given that our stay coincided with Ramadan, we could not sample it for ourselves but we were welcomed at Vanitas, run by Chef Andrea Gaea. After a raw cuttlefish ravioli (where the 'pasta' was created using raw fish) to start we opted for the Tagliolini Al Nero, which combines black ink tagliolini with cuttlefish ragout – both dishes were divine.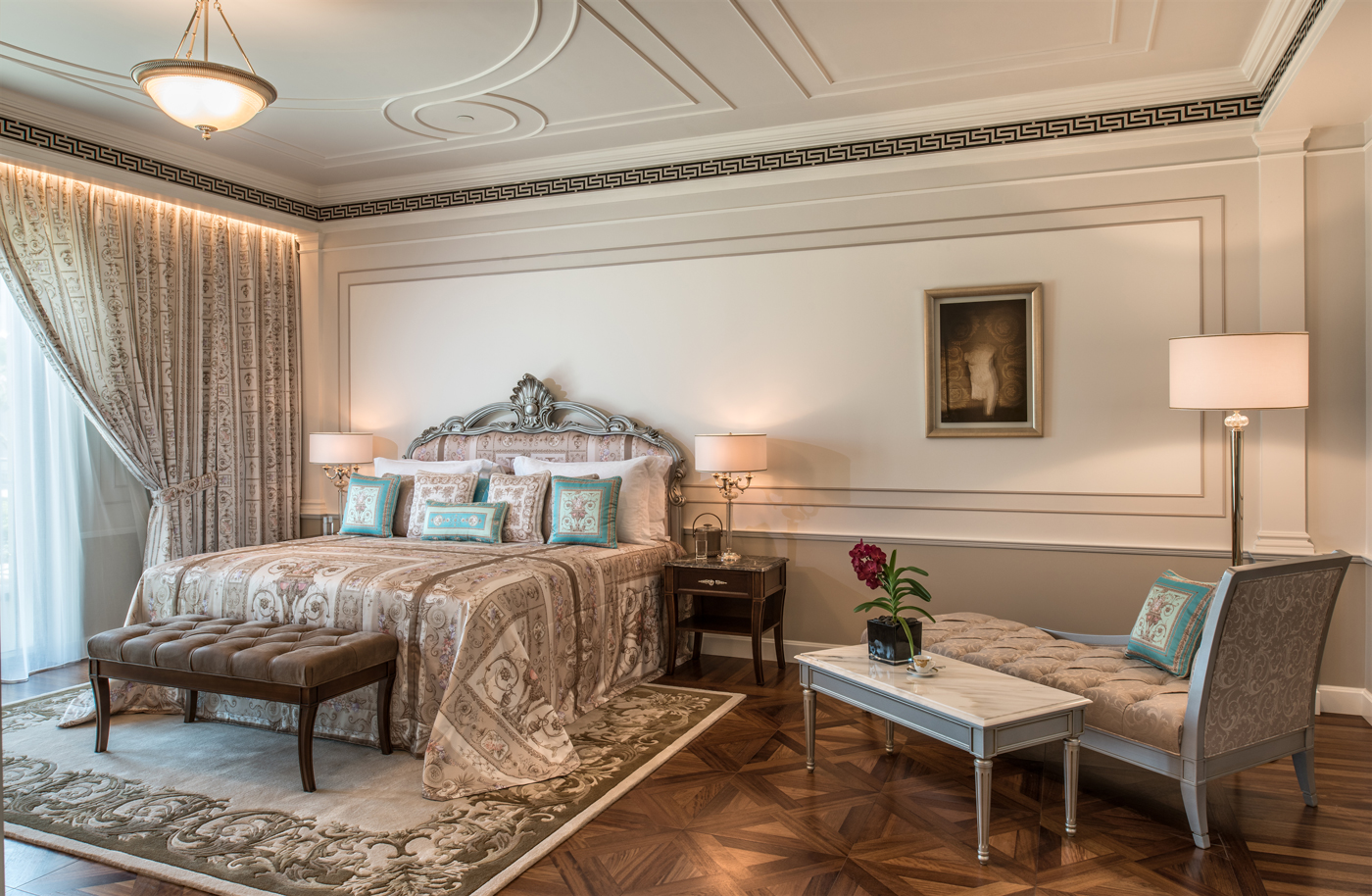 The hotel rooms come in one of four colour themes: salmon, beige, turquoise and blue. All have pleasingly high ceilings as well as real parquet floors. Ours, which cost 775 USD a night and faced the Creek, was comfortable, calming and spacious, with a huge marble shower and bath coupled with electric curtains and touch-screen controls. It felt royally Renaissance but with 21st century updates. From its window, we were able look down upon the huge turquoise 50-metre swimming pool, which itself overlooks a nearly finished boardwalk and jetty. In time, when the latest evolution of Dubai is complete and the ambitious Dubai Creek Harbour (three times larger than Downtown Dubai) runs into the 545 million USD Dubai Water Canal, you'll probably find superyachts moored out here. But for now there's just a speedboat or two flying by.
Essentially, the magic of Palazzo Versace is that while it may be seven years late and minus a refrigerated beach (the owners thankfully decided it wasn't environmentally feasible), it's already many years ahead in a part of Dubai that's yet to properly surface. As the new Creek continues to develop through the city, what may now seem like an odd choice of location will undoubtedly be at the centre of Dubai 2.0. What's more, in taking their time, the Palazzo Versace hotel has already perfected the kind of details that ensure a loyal clientele – the food, the hospitality and the luxury of a unique five-star stay.
what's nearby