December 6, 2016 Nadia Michel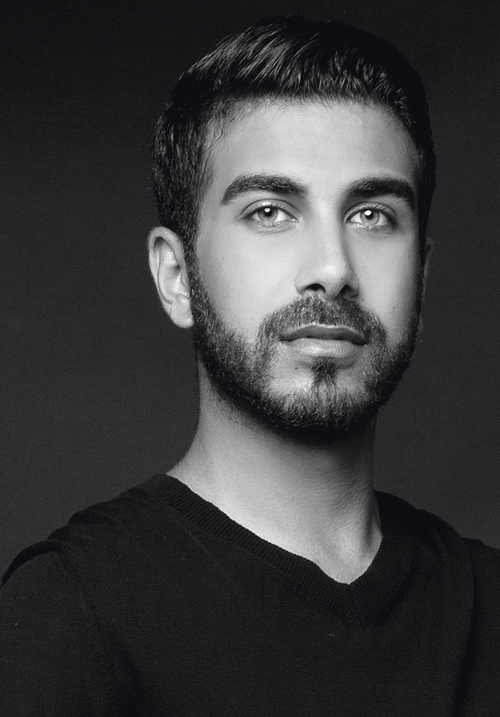 Eschewing simplicity for spectacular complexity, Hussein Bazaza is a rapidly rising star in the fashion industry who's of the opinion local designers are wary of taking risks. That's why this imaginative 26-year-old maverick approaches his own designs without fear, creating narratives rich with imagery and his growing legion of customers can't get enough of it.
His past collections have featured an impressive display of trademark embellished fabrics. Layered collages of hand-made embroidery, laser-cut appliqués, geometric cuts, folds, layers and custom-printed fabrics combine to give the dresses and separates a rich artfulness.
"I don't like minimalism at all, and anyway, I think in the Middle East, designers tend to embrace it in the wrong way – they do elementary stuff, like simple white shirts. You have to create something with a unique detail, something clever and smart."
Cleverness is clearly what drives Bazaza's brand, from his chemistry-inspired logo that likens the letters of his name to the periodic table, to the symbolic identities he gives his collections – like Sophia the Alchemist or Areef. Citing a deep intellectual drive behind his creativity, the ESMOD-trained designer's whimsical designs are the result of a highly personal process. "I don't like to get inspired by flowers or nature, it's something deeper than that," explains the surprisingly soft-spoken creative. "Every collection I've ever done has had a fairytale behind it. For me, the creative process begins with lots of research on a specific topic. After that, I invent a character to go with the theme. And later on, after all the pieces of my story are put together, we walk through it step-by-step all the while creating outfits to match the tale."
I don't like minimalism at all, and anyway, I think in the Middle East, designers tend to embrace it in the wrong way.
What makes Bazaza's designs really stand out from the fray of regional creative talent are the ultra-flattering and feminine silhouettes he ultimately assembles with his unique and intricate fabrics. It's an art he learned during time spent working with legendary couture masters Rabih Kayrouz and Elie Saab. "My apprenticeship at Rabih Kayrouz in Paris taught me how to approach separates whereas working with Elie Saab in Beirut helped me to focus and truly respect the woman's silhouette, and make her beautiful," he says. "For me, the waist is the most important thing."
That idea seems to be a crowd pleaser. It's been three years since Bazaza launched his eponymous brand, and his growing distribution network now spans a number of stores across the Arabian Gulf, in addition to prominent global e-commerce sites like Moda Operandi and Farfetch. Proving his versatility and market appeal, the emerging designer also has a bridal collection in the works (with Beirut-based bridal shop Esposa) and a capsule fashion collection for the prominent cult-brand Sarah's Bags. And, with a bunch of prestigious fashion industry awards and prizes already stacked on the shelf – including a 2013 Elle Style Award, a 2015 Middle East Fashion Award, and most recently the Style.com/Arabia DDFC Fashion Prize – it's a solid bet that Hussein Bazaza is on his way to landing a coveted spot in the kingdom of international fashion design.