November 16, 2017 Nadia Michel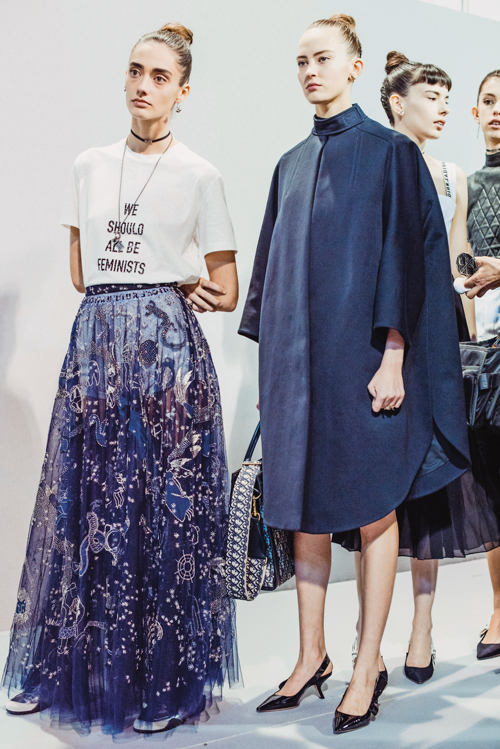 Creative director Maria Grazia Chiuri is off with a bang with her first collection for Dior.
For the Dior Spring 2017 collection, Maria Grazia Chiuri opted to give the iconic brand a well-needed makeover. It's the kind of rebranding that involves some serious whipping into shape, yet respects the solid foundation that was already there.
The Dior brand we know today has gone through many renaissances since it was founded in 1946, when Christian Dior founded his own maison at 30 Avenue Montaigne. With the backing of France's richest man, Marcel Boussac, a successful entrepreneur who had made his fortune in textile manufacturing, Dior went on to launch his first collection, dubbed the 'New Look' by an enthusiastic Carmel Snow, then Editor-in-Chief at Harper's Bazaar (even though the two part collection had actually been named 'Corolle' and 'Huit' by Dior himself). The groundbreaking look was characterised by a small, nipped-in waist and a full skirt falling below mid-calf length, which gave women a very curvaceous appearance, a fresh silhouette epitomised by the Bar peplum suit from that collection. Shortly after, in 1949, Dior opened his first shop in New York City and it was so successful that by the end of that year, Dior constituted 75 per cent of Paris' fashion exports and 5 per cent of France's total export revenue.
After Dior passed away unexpectedly at the age of 52 in 1957 (some say he died of a heart attack after choking on a fishbone while other accounts attributed it to a strenuous sexual encounter), the brand continued to grow with a litany of exceptionally talented creative directors at its helm, including Yves Saint Laurent, Marc Bohan, Gianfranco Ferré, John Galliano and Raf Simons. Fast-forward to 2016, and Maria Grazia Chiuri – the first woman ever to head Dior- has somewhat reinvented the New Look, giving women, once again, a new definition for femininity.
Ironically, Chiuri infused her first collection during last Paris Fashion Week with a solid dose of tension-creating masculinity. Dior's Ready-to-Wear Spring 2017 show opened with a shaven-headed Ruth Bell in a white fencing jacket and knickerbockers, and continued with variations on the theme: quilted, optic white fencing kits with buckled-on halters. She also introduced a new line of sneakers and knee-high boots, which she paired with romantic tulle skirts as part of an unusually (for the brand) large daywear collection. The evening dresses, light and airy and mostly bustier-topped, were also often paired with the athletic-inspired footwear, along with thin black chokers, indicators that Chiuri – and Dior – are ready and able to attract a younger audience.
But it was Dior's messenger t-shirts that really stole the show. Emblazoned with messages like 'We should all be feminists', the in-your-face brand positioning resonates with an audience seeking for meaning and depth in an ever expanding and often vapid fashion landscape.