October 17, 2019 Nadia Michel
It took a few confused U-turns before we finally pinpointed the small road leading to Beit Al Batroun, a quaint property in the hills of northern Lebanon. Barely visible from the main thoroughfare, it turns sharply downwards as if on the side of a precipice that might lead to a much longer vacation than anticipated. But the moment of trepidation is short lived, and within a couple of minutes on a bumpy unmarked road, we arrive to a lovely house, a country-style boutique hotel built six years ago on a 2,000 square-metre plot of treed land. It is constructed from repurposed materials and lovingly furnished with vintage finds collected by owner Colette Kalil, a mosaic artist-turned-innkeeper whose colourful art pieces are also on display.
We've come here for a little quiet, some respite from the chaos we call modern life, this race against time that's peppered with constant text messages, emails, the pressures of social media, and salted with social obligations. We're looking for simplicity, and maybe a slower sense of time. As we pull up and turn off the engine, it's clear that we've landed in a different world from the one we left behind in Beirut: the only perceptible sounds are the buzzing of insects and the soft wind rustling the leaves. It's almost uncomfortable at first, conjuring that feeling of needing to whisper in a library so as to not disturb anyone.
Our Garden View room is simply appointed with the bare necessities: a bed which has been split into two singles, a small night table with a lamp, an armoire and a small console to accommodate a coffee machine and a couple of bottles of water. The bathroom, charming with its hand-carved sink and locally produced olive oil-based toiletries, has a European-style, unenclosed shower, a surprisingly refreshing change from those ostentatious fixtures in most luxury hotels, those marble-clad, gilded showcases we use to wash up in. There is no television, no hotel phone, no complicated lighting system and the curtains are not automated. In fact, the curtains are merely an afterthought. And it's great. Abundance can produce an unexpected craving for the complete opposite: a no frills minimalism. So simple, yet this here is all we really need.
The unwinding begins as we sip a fresh pomegranate drink on Beit Al Batroun's terrace, a peaceful oasis surrounded by native greenery and potted flowers, outfitted with a few well-appointed dining tables and chaises longues overlooking the property. There is a small pool on the far end, perfect for a late afternoon refresh or a midnight dip, perhaps.      
Colette, the owner, is more gracious host than hotel manager. She is constantly attending to our wellbeing and offering up suggestions for things to do in the area. She is always flanked by her sidekick Chloe, a quiet and friendly French bulldog that somehow fits perfectly in this rustic-chic setting.
Of course, there's more to a digital-free vacation in Batroun than sitting around on the porch all day (though in theory, that doesn't seem so bad). Beit Al Batroun is just 15 minutes away from some of the area's most notable landmarks, including old Batroun, one of the oldest cities in the world, with its awe-inspiring ancient sea wall and mandatory pit stop, Hilmi's House of Lemonade. It's also a five-minute drive from some of the region's most animated coastline hotspots, including Loco Beach Resort, a scenic and popular destination that also happens, with its approximately 7 USD entrance fee, to be an inexpensive alternative to the more upscale nearby resorts. And as it turns out, it offers pretty much the same things: plenty of adjustable beach chairs, umbrellas and attentive waiters, always on the ready with some well appreciated refreshments. On weekends, it's a wild party, but on a Tuesday, it's an oasis of calm and the ideal setting for a low-key afternoon at the beach. There's also a very respectable restaurant, where you can power up on fresh salads and seafood.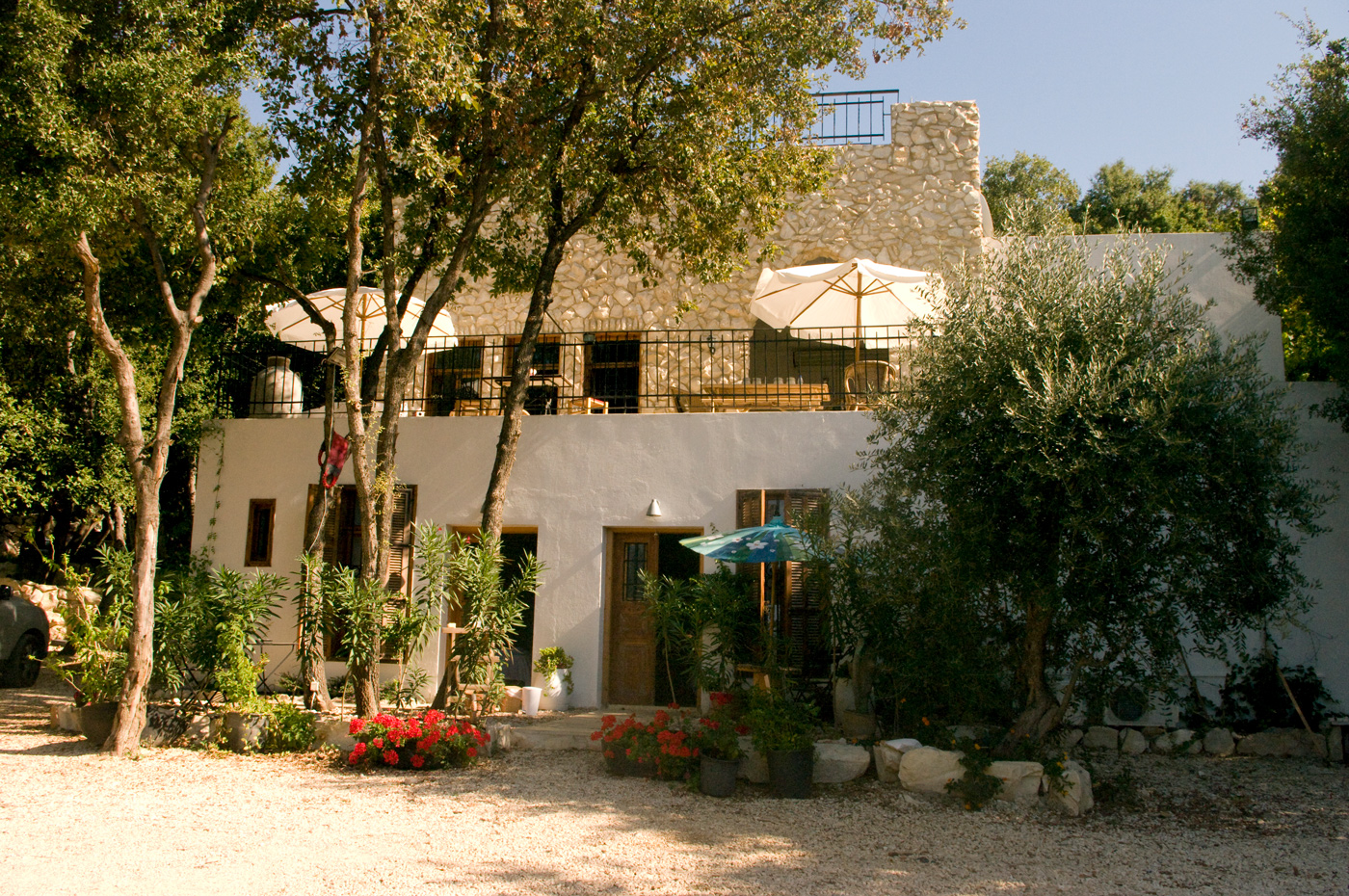 Next door is Pierre & Friends, a legendary seafront bar and restaurant that serves up a mean sunset cocktail and unrivalled cuttlefish in squid ink. It's the perfect cap to a flawless day, a wrinkle in time that feels much more valuable than the hours it measures.
Back at Beit Al Batroun, we sleep as one with nature: we even omit the AC to get a real taste of simplicity, eventually awakened by some persistent mosquitos and the rooster that rules Colette's hens. Fresh eggs are on hand for breakfast, alongside a fresh and abundant buffet that includes savoury ful mudammas and halaweh, that decadent tahini fudge that's impossible to resist even for sugar avoiders, all prepared by Asmahan, the hotel's gracious cook and helper.
And yes, in case you're wondering, there is Wi-Fi here. It's just kind of spotty enough that you'll probably give up on it and eventually forget your mobile for a bit. And that's ok.
what's nearby