August 10, 2013 Sylvia Byatt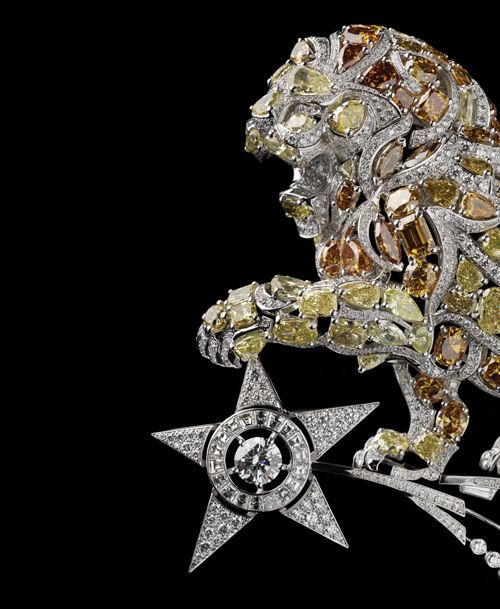 The world may credit Coco Chanel with changing the face of fashion and introducing us to the little black dress, the pea jacket and trousers for women but she also played an integral role in transforming our appreciation of jewellery.
The opening salvo of Coco Chanel's war on jewellery began when the innovative young designer introduced costume jewellery to her line of accessories at her Paris boutique in 1921. Alongside her trademark hats and gloves were extravagant pieces designed specifically to compliment her clothes, which appeared simple and elegant in comparison.
At the time, (real) jewellery collections were heavily inspired by the Art Deco movement and consisted of large, brightly coloured precious gemstones set in geometric patterns. Mlle. Chanel of course, had her own ideas. In 1924, she decided to develop her own unique style and teamed up with Maison Gripoix, masters of fine glass jewellery. Coco's goal was to create innovative pieces that not only didn't include precious or semiprecious stones at all but which were patently obviously fake.
Of course, she created an uproar, especially when she went on to explain that she had decided to make her visibly fake pieces not because times were tough – the 1920s did not Roar for no reason – but in order to subvert the arrogance of extravagant luxury.
"In my profession, any means is legitimate, provided it is only used in the true spirit of fashion," she explained a few years later in 1932. "I started creating costume jewellery because I felt that it was refreshingly free of arrogance, during a period that tended towards ostentatious displays of luxury."
For her fakes, Chanel adopted the signature colour combination of red and green. Her designs drew heavily on history and were inspired by everything from the Byzantine treasures of Saint Mark's Basilica and Baroque pendants, to the glittering gems of the Mughals and ancient African carvings. Nothing was off limits when it came to inspiration. And while Mademoiselle (famously) couldn't draw or sketch, she could mould modelling plastic into the shapes her imagination desired.
But almost as soon as she'd established one trend, Chanel was ready to move on to another. By the end of the 1920s – and ironically, just as the high times of this decade were giving way to the austerity of the Great Depression – she found herself once again intrigued by real gems.
"[My approach to costume jewellery] faded into the background during the economic recession, when, in every sphere of life there emerged an instinctive desire for authenticity and amusing trinkets were once again put into their proper perspective," she continued in that same interview in 1932. "lf I have chosen diamonds, it is because they represent the greatest value in the smallest volume. And my love of things that glitter has inspired me to try to combine elegance and fashion through the medium of jewellery."
If Coco was now all about getting real, the high-end jewellers and particularly, the diamond industry behemoth De Beers, were suffering. In 1932, they approached the mistress of faux bijoux and asked her to help them develop a collection using real diamonds. Working together with French illustrator, Paul Iribe, who had made his name working with graphics, textiles, advertising and jewellery, Coco created her Bijoux de Diamants collection, her first foray into fine jewellery, which was shown in Paris at her private residence at 29 Rue du Faubourg Saint -Honoré.
The collection was focused on three themes: bows, stars and feathers. "If you weren't born with wings, it doesn't stop you from flying," Mademoiselle Chanel famously said of her fascination with plumage. Diamonds were cut into unusual shapes, including triangles and hexagons (a feat at the time) and each piece was constructed using innovative techniques that involved minimal, and sometimes almost invisible, settings.
The most magical part of the collection was that each piece was assembled in such a way, that it could be transformed into something else. A necklace could become a brooch or a bracelet and a ring could become a pendant. At a time when even may of those who could still afford diamonds couldn't necessarily afford several pieces at the same time, Coco's clever approach was a huge success. So much so that De Beers' share price rose 20 points on the London Stock Exchange within two days of the exhibition's opening.
Decades later, Coco's jewellery continues to fascinate. Last year, the French fashion house celebrated the 80th anniversary of Chanel's groundbreaking collection with an exhibition collection entitled 'The 1932 Collection'. Nine fine jewellery pieces, all influenced by the motifs and symbols that defined the Mademoiselle's designs were created and later displayed around the world, proving not only that we still love a fake but also that the designer, who is credited with making costume jewellery chic continues to make history, 42 years after her death.