January 17, 2018 Irene McConnell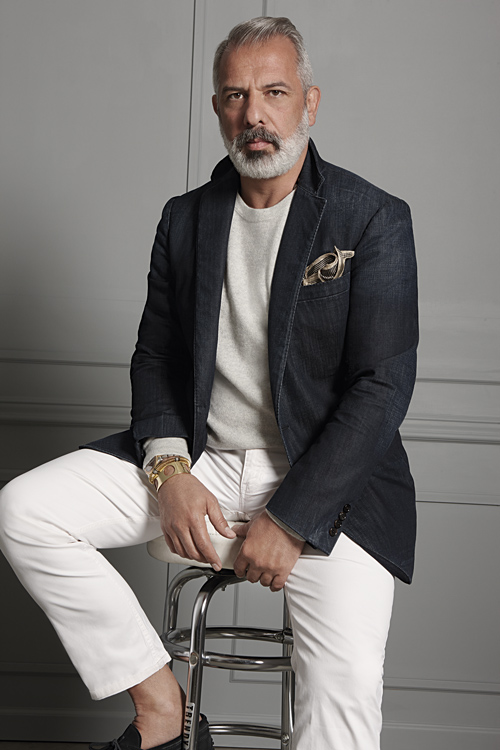 With a sharp eye and a curator's approach, Chahan Minassian creates unpretentious, tasteful interiors. It's little wonder then that he was chosen to help renovate one of Paris' most prestigious projects – the Hôtel de Crillon.
Picture the plump curves of two soft grey armchairs, mirrored in the wavy metal sides of a table that somehow echoes their undulating forms. They sit on a minimalist cream carpet, offset by textured curtains in a darker shade of cream, whose organic weave contrasts with the perfectly straight lines of a geometric artwork woven from black thread.
Architect Chahan Minassian – who goes simply by the name Chahan – is an interior designer whose work is best characterised by complementarity and mixtures. Attracted to natural, richly textured materials, the Paris-based Armenian specialises in opulent yet understated interiors. Interestingly, he puts his eclectic approach down to his upbringing in Lebanon, where he lived until the age of 15. "I don't hesitate to mix things together, as long as I like everything, and that's what I'd say I've inherited from my 'oriental' upbringing," he explains.
One of the ways that Chahan achieves balance in his interiors is his nuanced approach to colour. "I usually work in a monochromatic palette, but it's very rich," he explains, in excellent English that's tinged with a charming French lilt. "I'll use 30 shades of cream – but the cream is applied by stone, suede, glass, wood and patina." Chahan tends to accentuate his nuanced colour scheme with playful accents, often in maroon, mauve or blue, and has an obvious penchant for turquoise and teal – the hues of the Mediterranean.
Timeless and serene, his harmonious style made him the preferred choice to form part of the Saudi Arabian royal family's design team when they embarked on a four-year renovation of their Rosewood-managed Hôtel de Crillon property in Paris (which ended last summer).
Chahan explains that the scope of his work also sometimes involves the creation of one-off bespoke sofas, lamps and tables, which he has individually made when he can't source the pieces he has in mind. And moreover, since 2008, the Chahan Gallery in Paris has been creating handmade, individually numbered pieces available to a wider customer base, 70 per cent of whom are themselves interior designers.
His ability to mix old and new is something you'll come across on the Chahan_M Instagram account, which he uses as a platform to communicate his brand aesthetic. The feed features plenty of photos of his own designs, as well as many curated collectibles, mostly from the 1930s and the 1960s, periods that he admits to having a particular passion for. Also evident is that fascination of his for textures and patterns, which usually come in the form of a close-up combined with a funny hashtag like: #cantgetanybetterthanthis. His enthusiasm is thoroughly contagious, and if hiring him for your next project isn't on the cards, then a daily dose of his social media channels might be the next best thing.