October 9, 2018 Nicolas Shammas
From the moment you cross the scorching Maldivian runway, enter the sweaty main terminal, wait for your luggage, realise you have one bag missing, queue in line to file your claim and finally emerge at the arrivals gate, the sight of a single friendly smiley face waiting to usher you to the well-appointed, soothing and fresh environs of the exclusive Cheval Blanc airport lounge leaves you without any doubt that it's all going uphill from here on.
Cheval Blanc's aim is not just to remain the pinnacle of ultra-luxury escapism, but crucial to our success is that we remain humble and generous.
Freshly pressed juices, refrigerated hand towels and a quick email check via their high-speed Wi-Fi bring you back to your senses as the exhaustion starts to wear off and before you know it, it's time to board the seaplane. Now, if you've ever been to the Maldives, you'll understand what a decidedly uncomfortable and unluxurious experience the seaplane journey is, but the Cheval Blanc Randheli found a way out of this distress by being the first to offer an attractive alternative (albeit one that probably no one else can afford). Essentially, they bought their own Twin Otter, gutted it, created a swish leather-lined private jet style interior, added a custom paint job to the exterior, and then handed it back to Trans Maldivian Airways to operate exclusively for their guests. Around forty carefree minutes later and we touch down, bobbing gently on the waves, as a handful of yet more smiling staff welcome us warmly, waving wholeheartedly until the plane has finished taxiing up to the quay.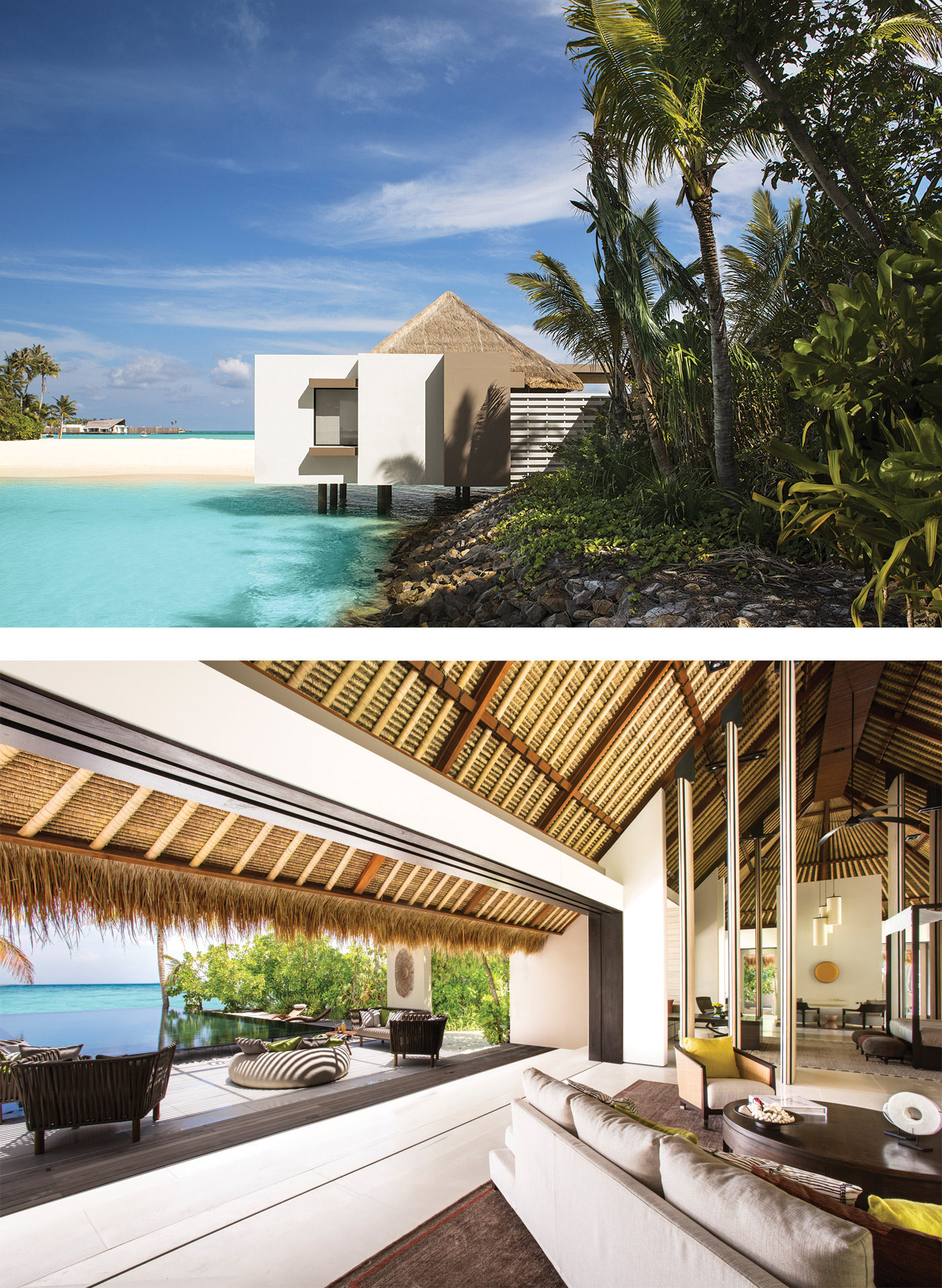 Now, before I even get into the details of this delightful resort, let's take a step back and begin with the fundamental question – Cheval Blanc: hotel or wine? The answer is both. With roots that can be traced back to 1832, Cheval Blanc is a Saint-Émilion-based wine producer and one of Bordeaux's finest. In 1998 it was acquired as a personal investment by Bernard Arnault, the Chairman and CEO of LVMH, and his friend, Baron Albert Frère, the richest man in Belgium. After a few years had passed, Arnault was once again looking to splash a little cash, this time on a chalet in the French Alpine town of Courchevel where he, his second wife and young kids could play during the ski season. After searching the area for the perfect spot, he came up with another idea: to build his own hotel – it was a smart move too because he could simply annex his chalet to the hotel and make use of the hotel's services and facilities, while also turning what would have been a financial burden into a profit centre. When he formally unveiled this pet project in 2006, the result was a game-changing ski resort that he named Cheval Blanc, in homage to his prized wine estate. Three years later and the circle was finally completed when LVMH acquired Cheval Blanc, and all of its assets, for an undisclosed sum of money.
There are a few more things to add. Firstly, in 2011, France declared LVMH's hotel in Courchevel to be among the top eight of the entire country and, in order distinguish it and its seven equals, from other five-star hotels, they bestowed upon each the new title of Palace. In 2013, Cheval Blanc opened its second property (this time as a management contract with the bulk of the investment borne by an Eastern European financier) in the north-eastern Maldivian atoll of Noonu. And last year, they opened their third property, in St. Bart, through an acquisition (and subsequent renovation) of the French West Indies' best hotel, the Isle de France.
So why exactly have we travelled to this particular Cheval Blanc? The reasons are threefold. Firstly, we've already been to the one in Courchevel. Secondly, this one's important because it has set the standard for future Cheval Blancs and will therefore help us understand what the brand represents and where it's heading. And thirdly, the Randheli is becoming a glamorous hotspot for discerning Middle Eastern, Russian and Chinese travellers.
Next, we should consider how the Randheli property fits into the already spoilt choice of remarkable hotels in the Maldives. Frankly, it doesn't, but I mean this in a good way. It stands apart from them all (bar perhaps Velaa) simply because it can. With deep enough pockets, impeccable taste and the right attitude, you could probably say that the same would apply to any hotel group but one thing I found totally extraordinary and unique to Randheli was the level of their generosity. It's an odd choice of words, I know, especially considering the 2,000 USD a night rack rate but even so, the Cheval Blanc Randheli showers you with a generosity of spirit, space and time. After all, this is a place where everybody knows your name, where 360 staff wait upon just 45 villas, where every villa comes with a 12.5-metre pool, two bathrooms, an indoor and outdoor shower as well as a kitchen, where going to the spa literally means escaping to another island, where plenty of facilities are offered free of charge (like the golf simulator, paddle boards, pedalos, snorkelling equipment and tennis courts), where going over time on the water sports equipment is sympathetically overlooked, where the chefs personally cook you daily treats, and where you'll even find a pair of taupe-coloured espadrilles (in your exact size) and a bottle of the property's signature 'Island Chic' scent (created by François Demachy, the renowned Creative Director of Parfums Christian Dior) as welcome gifts in your wardrobe.
"Cheval Blanc's aim is not just to remain the pinnacle of ultra-luxury escapism, but crucial to our success is that we remain humble and generous."
This inimitable Randheli munificence is personified by the charming half-Austrian half-Italian General Manager, Renato Chizzola, whose enthusiasm is so contagious it's a wonder LVMH's potion-masters haven't been sent to bottle the guy. "The key is that this is a journey," Chizzola explains to me one breezy afternoon, sat next to the sprawling 25-metre, square-shaped, infinity-edge swimming pool, "because you never really arrive. Cheval Blanc's aim is not just to remain the pinnacle of ultra-luxury escapism, but crucial to our success is that we remain humble and generous."
Of course, there are so many reasons why someone like Prince William decided to bring his wife here for their babymoon following the birth of Prince George but chief among them had to have been the style of the place. The architect, Jean-Michel Gathy, of Amanyara and One&Only Reethi Rah fame, was Randheli's design mastermind and his work here is both stunning and graceful. The 45 airy and ultra-contemporary villas, each with their own huge private infinity pool, are incredibly uplifting and more akin to sumptuous sanctuaries than straightforward hotel rooms. Each villa takes the form of a massive open space crowned by a thatched roof and finished with teak, cinnamon wood, coconut shell and compressed stone but if you'd rather separate your spaces it divides into three – a living room, bedroom and bathroom – via elegant swivelling seven-metre-high oak panel partitions.
Gathy's philosophy, as we learned when we featured him in Issue 47, is that luxury has three components: freedom, privacy and space – hence his propensity for soaring ceilings, long vistas and ever expansive rooms. Naturally, the Cheval Blanc Randheli is the grandest manifestation of this approach. Remember that just a decade ago, Gathy had raised the bar when he designed the One&Only Reethi Rah's rooms at a then-decadent 72 square metres but he has blown that out of the water here because the smallest villa at Randheli stands at 130 square metres.
When I put the question of what's next to Olivier Lefèbvre, Head of LVMH Hotel Activities, he admitted that there are a number of projects at different stages of planning but he was not at liberty to go into any details. He did however mention two already confirmed Cheval Blanc projects: the transformation of the former Art Deco department store, La Samaritaine in Paris, and a small island getaway off the southern coast of Oman. "Cheval Blanc's vision is to create a collection of intimate, exclusive and private contemporary Maisons with distinct residential features, subtly combining modern sensibility with each location's unique heritage, to create timeless and welcoming havens in harmony with their environment," he says. "These exclusive properties echo the brand's commitment to creativity, craftsmanship and exclusive privacy. Indeed, every detail is conceived specifically for the property in order to create an haute-couture residential experience. And through our 'Art de Recevoir' and the high personalisation of our guest experience, we have secured an above-industry repeat guest ratio."

Admittedly their achievements thus far have been highly impressive but I still wanted to press him to find out what unifies this collection of properties. "Our Maisons share essential features," he replies, "notably exceptional locations, a limited number of rooms, private, ultra-high-end services, innovative and varied culinary and well-being experiences, plus art that is naturally integrated in the premises."
Funnily enough, his answer, if somewhat mechanical, sums it up pretty well. It also brings to my mind the raised round artworks by French artist, Vincent Beaurin, that have been hung in each and every Randheli villa, which protrude from the walls to reflect the way the island rises from the ocean. Then my memories veer towards the Yannick Alléno-developed Le 1947 restaurant. This little piece of French heaven, complete with triangular parquet floors, corniced windows, tapestry motifs, custom-made Christofle silverware and crystal Baccarat chandeliers served us one of the greatest meals we've ever had. Even though there were 13 courses, each was indelibly etched into my memory. With starters like a fennel soup with star anise and smoked eel served with Ratte potatoes and beetroot foam, the crowning achievement was a melt-in-your-mouth terrine of foie gras with cherries and roasted almonds. For the main courses we had Dublin Bay prawns, a sea bass filet and wagyu beef but my favourite was the seared scallops doused in a summer truffle emulsion that came with an open ravioli of spinach and celeriac. Divine doesn't even cover it.
I still think about that meal way more than I should but perhaps that's it really: Cheval Blanc is the stuff dreams are made of.
what's nearby