August 8, 2019 Nadia Michel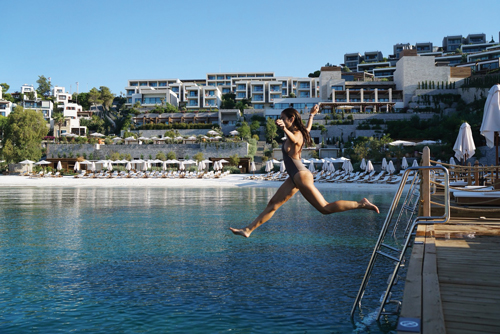 From design to gastronomy, there are no stones left unturned at The Bodrum Edition. It is a fabulous escape by Marriott's hippest hotel chain.
Great music? Check. Great lighting? Check. Amazing 130 square-metre villa suite replete with fresh orchids, a sleek, standalone tub and a beautiful sea view from a balcony, framed by a terracotta potted olive tree and comfortable outdoor chairs? Of course. The setting is pretty much flawless here, and it would be hard to imagine a better place for a romantic getaway. One might even venture to say that honeymooners might have a better shot at their forever after if they started off their adventure here. It's that good.
That's because like at all Edition Hotels, every single detail here has been considered by the godfather of lifestyle boutique hotels and urban resorts, Ian Schrager – the co-creative mind behind the legendary Studio 54 and an ensuing string of benchmark-setting hotel brands Delano Hotel in Miami and Mondrian Hotel in West Hollywood. As at other Editions, the lighting has been thoughtfully designed by UK-based Isometrix (issue 16), which means you get a dramatic ambiance exactly where you want it and flattering lighting where you need it. The soundtrack for this idyllic getaway consists of custom playlists supplied and refreshed regularly by Edition's HQ in NYC, and it varies depending on where you find yourself. For example, beachy French retro jams liven up your outdoor stroll on the beautifully landscaped, terraced property, while fresh-off-the turntable DJ mixes liven up your drive into town should you take the option of a tour with the hotel's very gracious and knowledgeable young concierge, Kristofer (who happens to be an Irish-Turkish local with plenty of tales to tell).
It's also worth noting here that the Edition's signature smell, a seductive custom blend with top notes of black tea, was developed with Le Labo and it is ubiquitous throughout – even in the property's ventilation system, and Kristofer happens to have a spray version of it for the Land Rover. You could see then, how beautiful memories could easily be conjured post-trip with the simple lighting of an Edition custom scented candle – they're available for purchase in the rooms and in the spa.
And what a spa it is. In keeping with the purity of the aesthetic found throughout the hotel, the spa is zen white and spacious enough that you might even get lost. It's the peaceful setting for our late afternoon Ultimate Aromatheraphy massage, a rejuvenating experience heightened by the uplifting scent of lemongrass. But we'd also recommend the Moroccan Hammam Experience (topped off with shea butter that leaves your skin feeling irresistibly soft) or a Man Facial.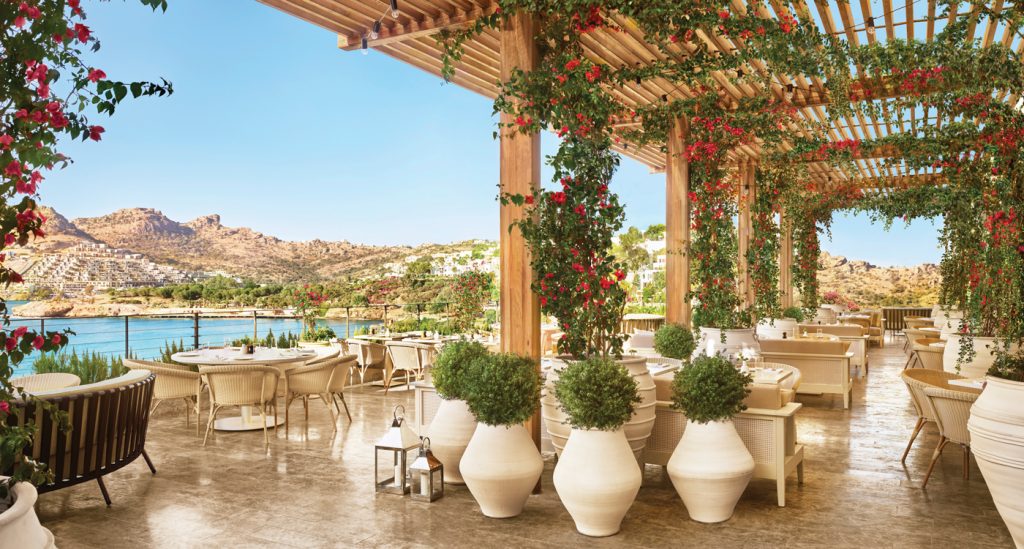 It all makes for the perfect way to ready yourself for a long, languorous evening filled with fantastic food and impeccable service by stylishly-clad staff. And about that food: you probably wouldn't know quite what to expect from a luxury boutique hotel in Turkey. But you'd probably anticipate a decadent buffet spread of international breakfast staples, right? Nope, not here. Shrager and company have eschewed the ubiquitous food orgy and opted for something even more satisfying: a traditional Turkish breakfast feast served at your table that includes everything from olives to local cheeses, sujok, various egg dishes, jams and tasty pastries including simit, a traditional sesame roll. Best of all they serve this until 4PM every day on a beautiful outdoor patio, because let's face it, on this kind of vacation, breakfast can wait.
"My favourite thing on the table is this clotted cream with honey," our breakfast companion, Diego Muñoz tells us. Muñoz, the Peruvian Executive Chef at the Bodrum Edition, has made international headlines as the former head chef at Lima's Michelin-starred Astrid & Gastón – which reached #14 on the World's Best Restaurants List and #1 on the Latin American 50 Best Restaurants List – and for being a pioneer of the Nomadic Chef movement, which has taken him around the world at some of the world's most respected restaurants. For the Bodrum Edition, Muñoz has devised a menu that focuses on local products.
"Morena is easy going and more focused on the products than touching them too much," he says of the all-day casual dining venue that is flanked by the beach bar. "You can bring kids and you can come twice a day," he explains. It's comfort food with a twist, a well-rounded menu that runs the gamut from South American street food like mushrooms in chimichurri sauce, to the local Pide, the Turkish equivalent of a pizza to tiradito, Japanese-inspired raw fish.
Meanwhile, Muñoz's focus today in on Brava, which is preparing for its seasonal opening when we meet. "Brava is more Mediterranean with a Latin American twist," he tells us. Muñoz, it turns out, was underplaying this spectacular 29-table outdoor dining restaurant, which actually became a destination in its own right when it opened last year. "Almost 50 to 60 per cent of our guests were coming from outside and not staying at the hotel, and this year we think it's going to be even more," says General Manager Marc Matar. The heady mix of perfectly composed dishes, wine pairings and salt air is a perfect storm. Once the formula is established, however, Muñoz will jet back to Peru, where he launched a concept called Atman, a monthly table he hosts at his home for ten, exclusively accepting reservations for two, because "with big groups of friends, the last thing they care about is the food," he points out.
Here, everyone will appreciate the sugar white beach, the great selection of water sports, daily yoga sessions overlooking the sea and the kind of service that makes you feel like a VIP. But although guests of a party here would have a fabulous destination wedding experience, it's duos – like at Atman – who will really appreciate the details. Because it's one of the world's rare spots where everything (thank you Mr. Schrager) is just perfect.
what's nearby