July 12, 2018 Stephanie d'Arc Taylor
Looking at the clothes she designs, you can tell it's been a while since Sasha Nassar left Jaffa, the ancient city on the Mediterranean where she was born and raised. In fact, the pieces from her first collection as a Paris-based designer, a year ago (for spring/summer 2017), only hinted at Middle Eastern culture.
You would have to have been looking for clues like the squared off necklines, the sleeve lengths, the pre-worn stripes that vaguely recall a djellaba plucked off a washing line in Marrakech. (Only Nassar's djellabas are in silk, naturally.) Yet it's those subtle Middle Eastern references that distinguish her clothes, and offset an otherwise European silhouette of plunging necklines, strappy backs, and soaring hemlines.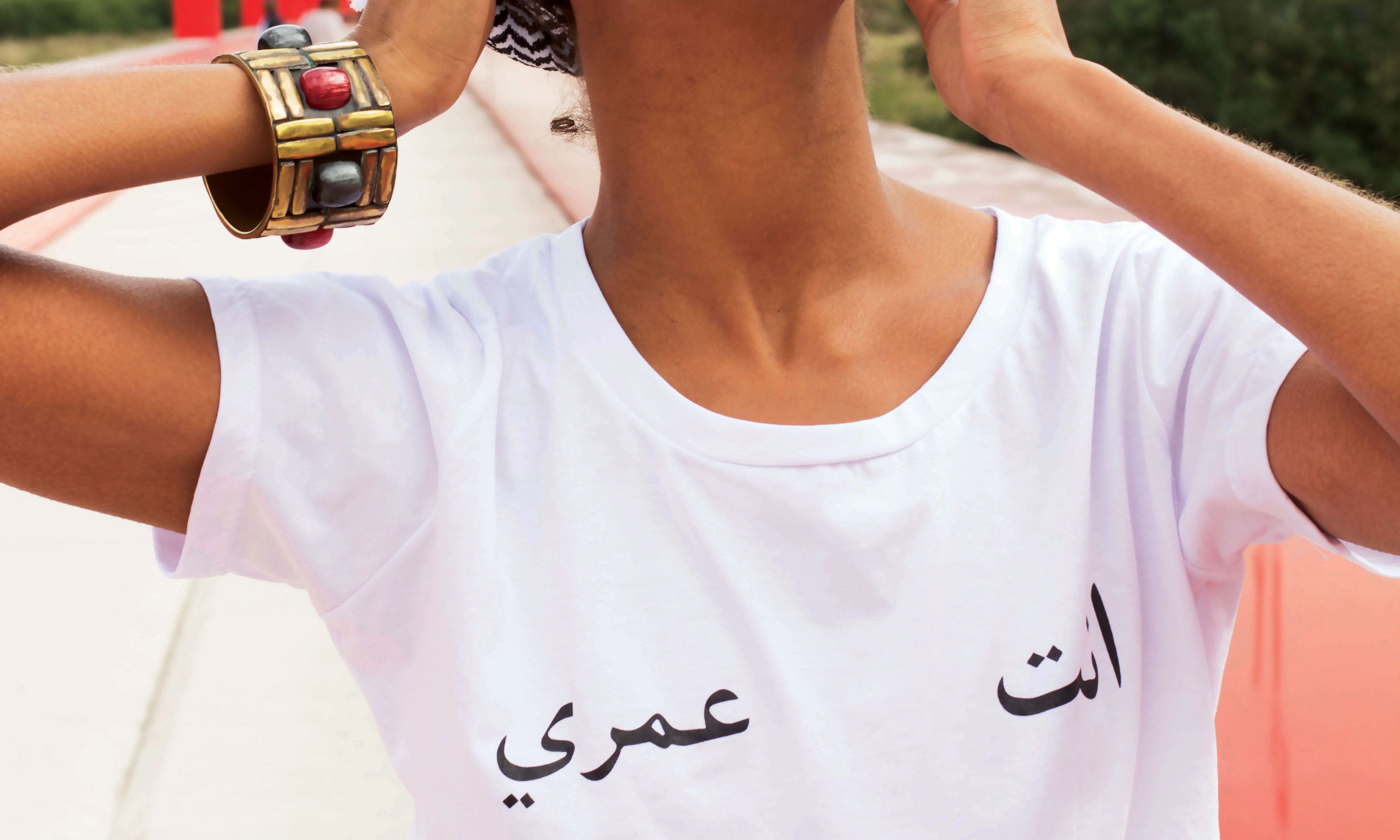 Then again, as much as her work is a balancing act, there's no mistaking her Arab roots, especially these days. The writing is quite literally on the, erm, "tits," as Nassar puts it: her new collection of spring/summer 2018 t-shirts – originally designed for the shop at the Amastan (a boutique hotel with its own art gallery just off Paris' Champs Elysées) but now incorporated into her larger seasonal catalogue – feature Arabic script with cute everyday sayings like 'Habib Albi' (Love of My Heart) and 'Inta Omri' (You are My Life) subtly scripted across the wearer's chest.
The playfulness of those t-shirts is emblematic of the rest of her collection that, true to her manner, evokes Arab traditions in unexpected ways. Standout pieces include a triangle-top sundress, caftans, and a 1970s-style sleeveless flared leg jumpsuit made from a lightweight keffiyeh material produced in a factory in Hebron that's now, according to Nassar, the only place that still makes keffiyehs in the traditional way.
---
"I need to be away from the Middle East to understand how inspiring it is. When I'm there, I don't notice it."
---
It seems that the longer she has lived in Paris, the more Nassar has come to miss her natal culture. "I guess my work is inspired by the Middle East," Nassar tells us. "But I need to be away from it to understand how inspiring it is. When I'm there, I don't notice it, I feel stuck with my life. It was only when I moved far away, to Europe, that I realised how inspiring it was."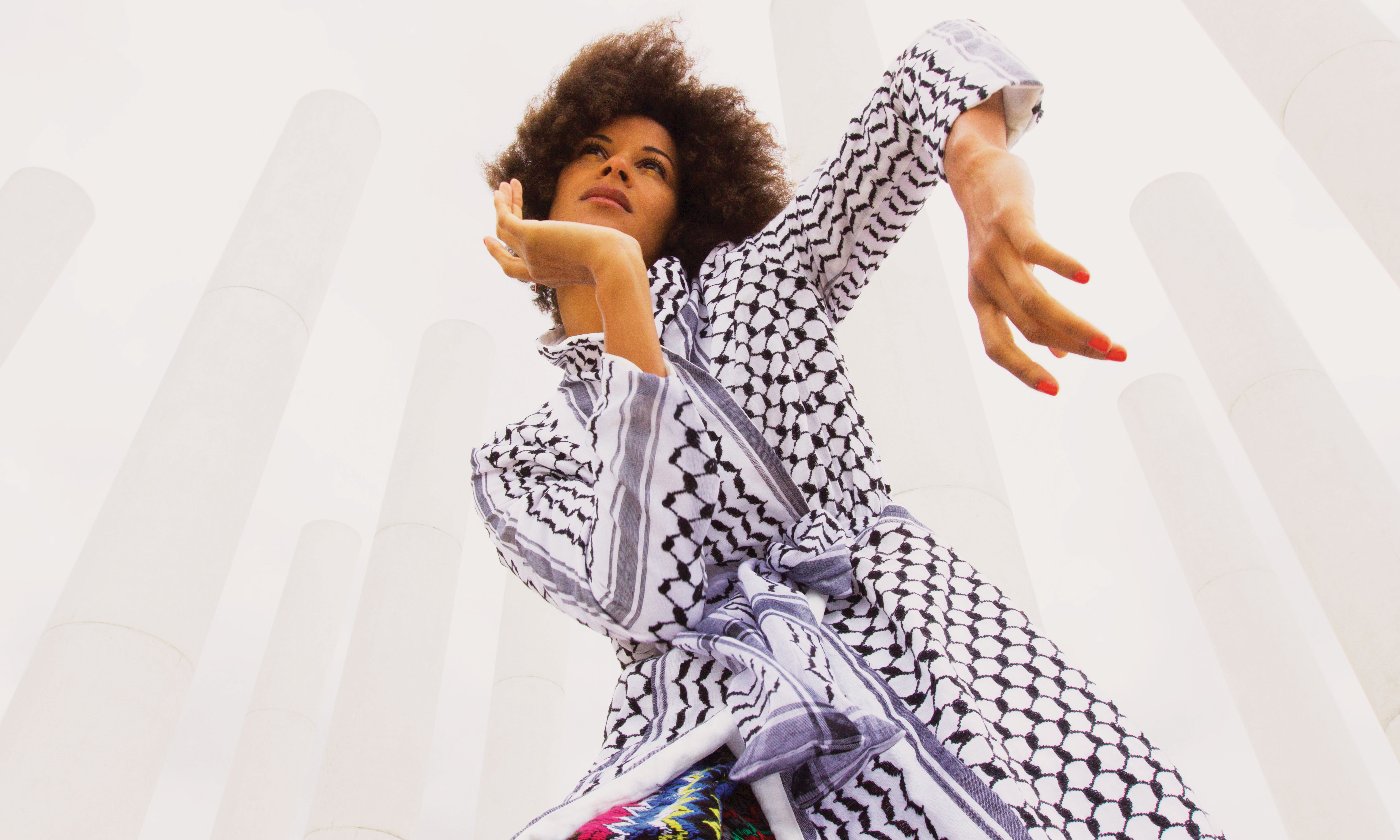 Nassar's choice to bridge continents, both in terms of her homes and design philosophy, has proved to be a rich source of inspiration. During her graduation from Istituto Marangoni in 2013, where she got to study in Milan, London and Paris, she won the fiercely competitive top prize of best collection during London's Graduate Fashion Week. Her work comprised a series of caftans, shifts, and burqa-style outfits, created in very untraditional sheer muslin and revealing lace. Nassar designed every aspect of those looks, all the way down to the materials: "I didn't find any fabrics that I liked," she reasons, "so I decided to create the patterns of the fabrics myself." Her unforgettable sheer burqa covered the model from her head and shoulders all the way down to the mid-calf. But it was so form-fitting that she was forced to clasp her hands to her sides while walking. It was also so sheer that her breasts and undergarments were visible through the geometric pattern.
Yet, despite an obvious subversion of conservative dress codes, Nassar does not see herself as radical, and more importantly, neither does her audience. "When I created this latest collection, I had some concerns about whether the collection might be received negatively," she says, "To create a dress out of a keffiyeh is a statement. For Palestinians it is a symbol of resistance so people can take it badly. But I only got positive reactions from it and that was surprising to me."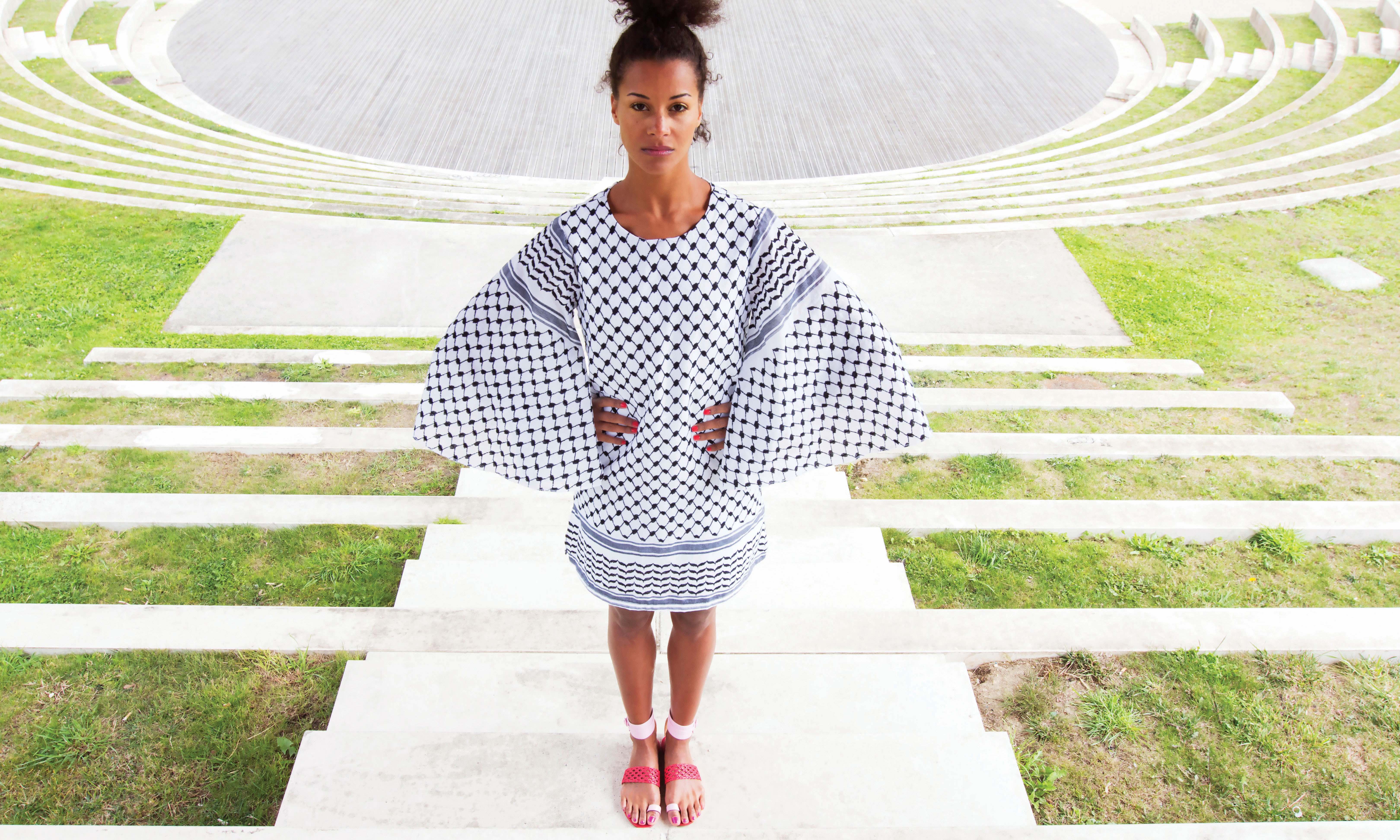 So who exactly is she designing these clothes for? Nassar is adamant that her work must appeal to more than just the bold, beautiful, and young and discloses that a reassuring sign is that even her "strong, independent" mother is a fan of the label, although she also admits with a chuckle that "she doesn't have a choice in the matter".
Despite making her home in the French capital, Palestine will always be dear to Nassar's heart. "Everything about the place is special – the people, the food, the sea, the streets. There is something super authentic, especially in Jaffa. Being Palestinian is a big part of my identity. My inspiration will always come from there, and I'm glad it does."
Up next for Nassar? "I want to use Palestinian embroidery to create a collection of djellaba and silhouettes like that. I'll also add more t-shirts, in Arabic of course!"