July 5, 2018 Nadia Michel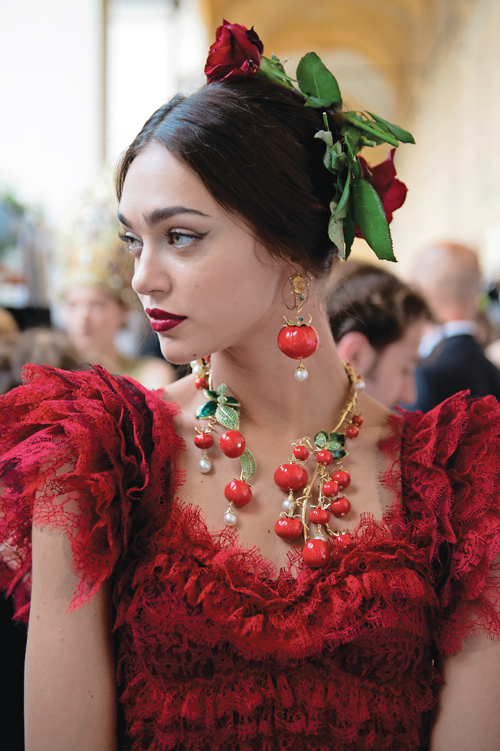 Dolce & Gabanna's foray into couture jewellery has resulted in the brand's Alta Gioielleria line, which gorgeously combines highly inspired forms with Italy's renowned tradition of fine jewellery making.
In the four years since Dolce & Gabbana launched into Alta Moda (Italian haute couture), they have gained a profound understanding of this rarefied world. "With ready-to-wear it's about what's hot now, what's cool, what message are you trying to get across?" says Domenico Dolce. "You're always aware that at the end of the day you have to sell a lot of clothes to millions of women." But Alta Moda allows for a completely different approach. Rather than setting a trend or vying for mass-market appeal, the designers only have to please a clique of clients. "Alta Moda is not so much about the big showy gowns," continues Dolce. "What sells fastest is daywear. Our clients want to live in Alta Moda."
The venture has far exceeded even the Italian duo's expectations. Where their first collection was shown to just 100 key clients, the last show was a four-day Alta Artigianalità extravaganza held in July in Naples, with 400 invited guests coming to see not just the designers' largest Alta Moda offering yet, but Alta Sartoria (couture tailoring) and Alta Gioielleria (couture jewellery) collections too.
The prized jewels were exceptional. Steeped in fantasy and awash with motifs of nature, they combined traditional and modern-day artisanal techniques to form an ode to the life and times of 81-year-old Italian actress Sophia Loren, a long time muse of Dolce & Gabbana's.
Among the cacophony of flowers, fruits and richly coloured gemstones was the 'Rose Garden in Bloom' necklace, with fresh buds illuminated by multicolour tourmalines and a pavé of emeralds adorning the leaves. The roses, individually crafted and enamelled by hand, were of the yellow variety, which it's worth noting, were first discovered in the 18th century, growing wild in the Middle East. Such a fact may well have been lost on the Chinese clients and Texan billionaires who assembled at the ambitious Alta Moda runway show but not, we hope, the Arabs.
The beautiful Dolce & Gabbana Alta Gioielleria collection jewels are available by private appointment only.