April 4, 2019 Nadia Michel
Fusing age-old floor tile making techniques with piping hot design, Blatt Chaya's Designer Edition will make you fall in love with cement all over again.
You might think there'd be little room for traditional cement tiles in a contemporary interior, but Blatt Chaya's latest project will make you think again. The historied Lebanese purveyor of the Levant region's most ubiquitous flooring has branched out with collaborations with some very au courant designers.
Part of its Prêt à Poser collection launched in late 2017, the Designer Edition includes the innovative schemes of seven Lebanese designers and artists, who have pushed the boundaries of conventional coloured tile production to a whole new level of both craftsmanship and aesthetics.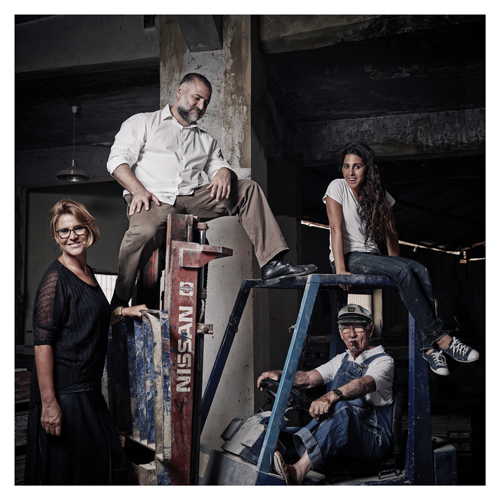 "The only brief we gave them was the size, 20 by 20 cm squares that could be assembled into a pattern," explains Youmna Zard, Blatt Chaya's General Manager. The crop of fresh-thinking collaborators rose to the occasion with unlikely brass and mirror inserts, and with a purity of lines that would complement event the most fashion-forward space.
The Lebanese company was originally founded in 1881 but shuttered in the 1940s, possibly due to the upheaval of WW2. Now headed by Edgard Chaya, who eventually revived the family business in 1996 after discovering a box of old tiles, Blatt Chaya prides itself on using the exact same techniques, ingredients and natural colours as the original manufacturer.
"The human factor is really important. When you put a machine made tile next to a hand-made tile, you see the machine made one has no personality. It looks bland," asserts Karim Chaya, the Managing Director.
Besides being handmade and thoughtfully designed, the entire Prêt-à-Poser Collection has the added benefit of being ready for carry-out, unlike most of Blatt Chaya's customary tiles, which take at least two weeks to produce. It also removes a lot of the angst that comes with selecting patterns and colours, which admittedly, can be daunting for even the most seasoned interior architect.
Still, creative minds will be glad to know that Blatt Chaya can create and customise pretty much any design, short of a few kooky requests.
"We cannot do neon pink, for instance," explains Chaya. "But that's simply because synthetic dyes haven't proven themselves over time and we don't know whether they're going to fade. The natural dyes we use have proven themselves over a 50- to 60-year period."
The ongoing project bridges old and new in a part of the world that possesses both a rich history and ebullient talent. "We're bringing in contemporary designers who let lose with their imagination to create that link with between their modern designs and our time-honoured craft," concludes Zard.