March 30, 2019 Nadia Michel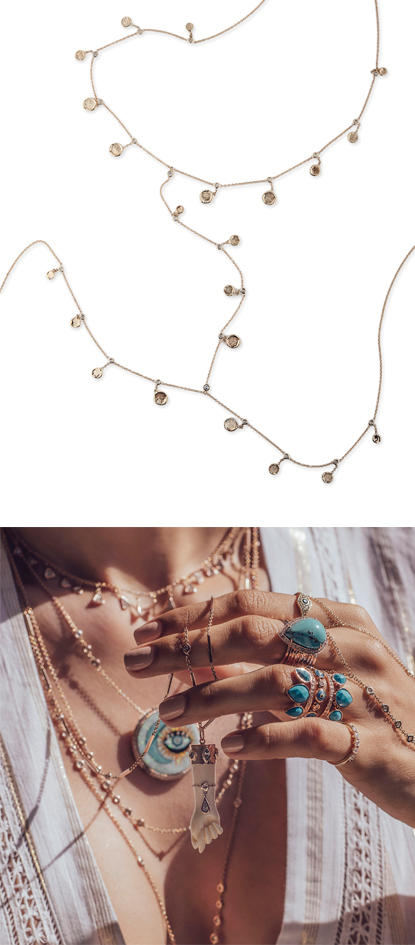 Born in LA to an Egyptian father and Native American mother, Jacquie Aiche makes beautiful  pieces that became globally famous thanks to their popularity among models, singers and actresses.
The term fine jewellery can conjure images of princess-cut diamonds, strands of glistening pearls, and smooth, polished precious metals. But even though Jacquie Aiche is every bit a fine jeweller, she can't be categorised by any of that. Peruse her wares at the various tastemaker stores she distributes her stuff in (like Curve, Dash, MyTheresa and Shopbop) and you'll find high-end, festival ready trinkets that defy the laws of fine.
"Traditional, classical jewellery is amazing, but it's just not me," explains the California-based jeweller, whose A-List client roster includes Rihanna, Alessandra Ambrosio and Gigi Hadid and reads like a Grammy after-party guest list. It's a group that she describes, along with her loyal team, as her tribe and "lovers of good vibes, the energy of minerals, and layers of diamonds".
Delicate yet bold-spirited, her namesake collection includes unconventional designs and precious stones along with healing crystals and colourful minerals wrought with spiritual meaning. "I've always had a very wild and spiritual nature. I think it's that rebellious spirit to constantly shake things up that has made me successful as a designer. I love designing diamond and gemstone adornments that illuminate natural beauty. Pieces that give you the aura of a goddess and the confidence of a rebel," she says.
As an Egyptian Native American, Aiche has woven her bi-cultural references into her designs to create a language quite of her own. Yet even so, she does still leave references, almost like breadcrumbs (the eye, and stones like turquoise and opal, which have historically been the talismans of kings, shamans, and warriors) to perhaps lead you on a path through the vagrancies of her soul.
Especially when worn layered, Aiche's jewellery takes on a kind of a bohemian allure that challenges any pre-existing notion of what fine jewellery must be. "The bold colour choices, hammered gold, and goddess imagery have always been so inspiring to me," she explains. "I love to design with those themes in mind. They carry an energy that is so alluring and feminine to me."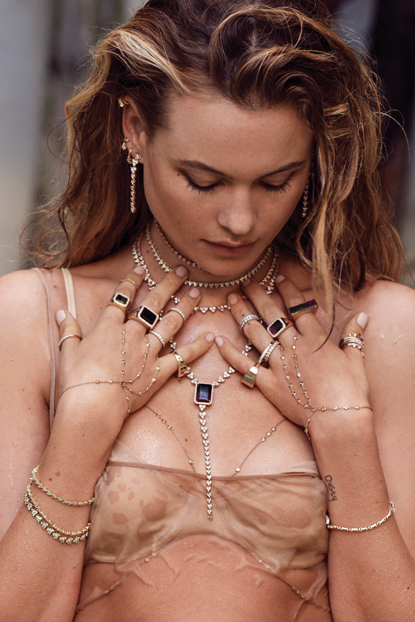 Aiche founded her brand in 2007, while working in a Santa Monica clothing store, with just a single piece of jewellery – an audacious finger bracelet. That piece, which is still her bestseller, has since been reimagined in multiple iterations, including as part of a Sweet Leaf collection. "The marijuana leaf is such a botanical beauty, and I've always loved it as a symbol of freedom. I saw the happiness it brings people and was hooked on spreading that energy through my designs," she says of the popular culture symbol which features on various JA pieces from oversized hoops to an eccentrically customised vintage Rolex.
Then again, the designer, who can usually be found roaming around her Beverly Hills showroom barefoot, has also become widely recognised for her precious body chains, which present a bold alternative to traditional accessories. "I live in my finger bracelets, body chains, and bra. Pieces that can make women feel confident and sensual as soon as they touch the skin," she adds.
No doubt, it's that sensual, cerebral approach that has made Jacquie Aiche a hit amongst Hollywood A-listers, and also sparked a slew of imitators. But it is Aiche's particular flavour, and her extensive collection, that has safeguarded her place as the reigning queen of bohemia, and it's the reason for her growth across the globe. Indeed her wares are actually available right here in the Middle East, thanks to stockists like Aubade in Kuwait, Boom & Mellow in Dubai and Macle in Lebanon.
It also transpires that Aiches's fascination with boho-chic is developing further with Gypsy, a new line of self-care products purported to bring peace, balance, and healing to those who use them. Her range includes scented body and facial mists, which are infused with crystals like Amethyst and Labradorite, mystically charged under the full moon and handcrafted in small batches in Los Angeles. It seems that Aiche's journey is only just beginning.