April 9, 2015 John Ovans
One of the big stories of China may be how international luxury brands are successfully luring China's new rich to spend on their status symbols but we're far more interested in another scoop, namely how Hermès has thrown its weight behind Jiang Qiong Er as she pioneers an original Chinese brand, Shang Xia, based on restraint, style and old-fashioned craftsmanship.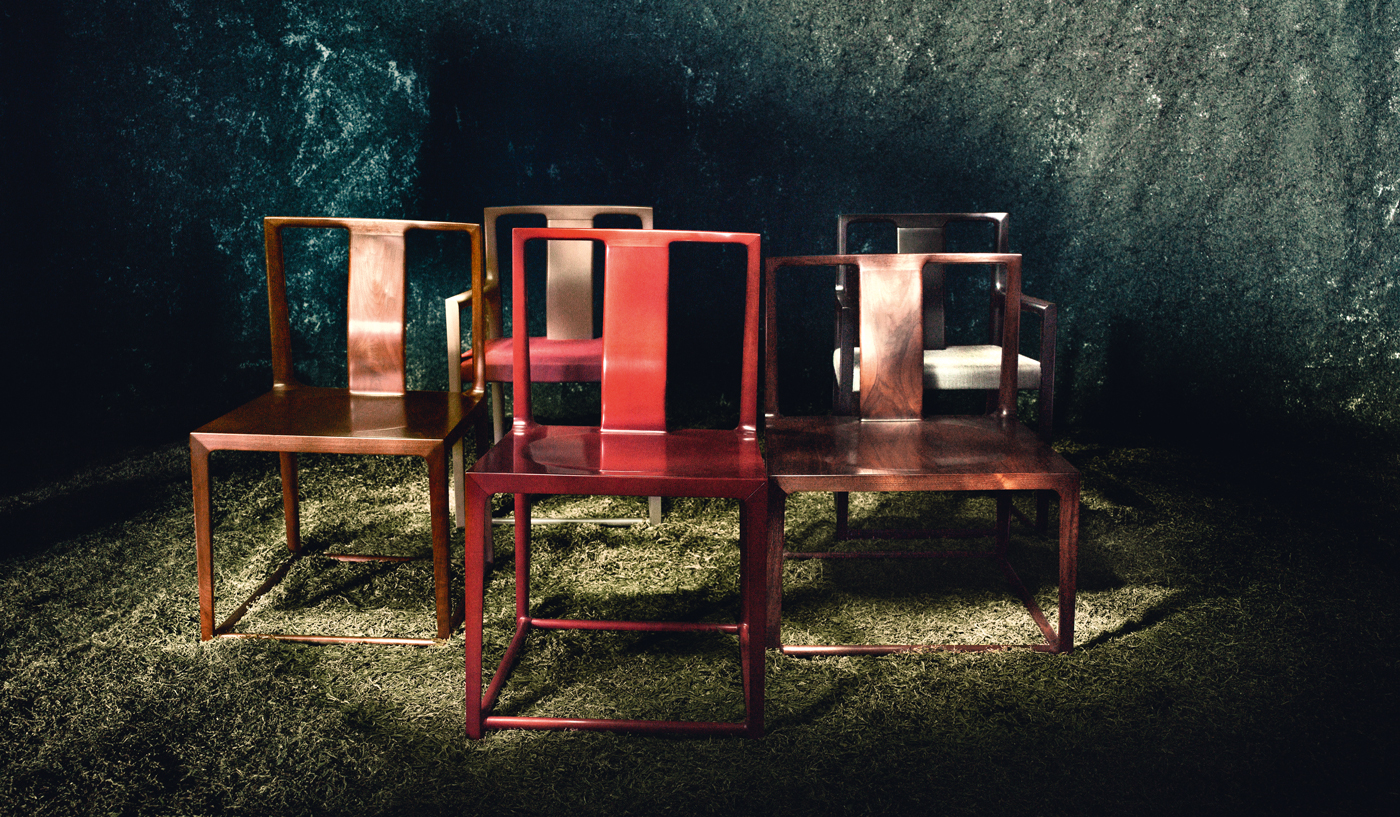 In Shanghai, a city teeming with traffic, pollution, and an estimated population of 24 million, it can be hard to find some peace and quiet. But inside a converted 1920s police station, on the upmarket Huahai Road, is an almost cave-like sanctuary by the name of Shang Xia. Founded by Hermès in 2010 and appropriately situated next door to its sister maison at the edge of Shanghai's chic French Concession district, this homegrown Chinese lifestyle brand – and not, as I am corrected, a luxury brand – produces clothing, furniture, homeware and jewellery. Everything derives from Chinese culture, and 'the Chinese art of living', a kind of blending of tradition and modernity, hence the name Shang Xia, which translates as 'up down'.
Interviewing the heads of such vanguard companies can often be a tricky business for journalists – often being made to run around in circles, trying to grab a few words backstage at a show or contending with poor connections over Skype – but it quickly becomes apparent that this won't be the case with Shang Xia. Soon after walking through the doors and realising just how minimalistic and stunning this flagship store is with its futuristic zen-like décor filled with unusually pared back products, I'm invited to sit down and take part in a traditional tea ceremony on the boutique floor – something all customers are treated to. Much obliged, totally relaxed and with my thirst quenched, I am then ushered upstairs to sit with Jiang Qiong Er – Shang Xia's founder, artistic director and CEO – in an environment that can only be described as serene, where the faint aroma of tea hangs in the air.
According to Ms Qiong Er – beautiful, poised, and heavily pregnant – it all comes down to tea. "We built the brand around tea – but we are not a tea brand," she clarifies. "We are talking about tea 'life'. The spirit that tea represents. The taste is not sweet, salty, or spicy. It's very ordinary. It doesn't really have a taste. But at the same time, the taste can be so splendid that you can cry. It depends on how you drink, who you drink with, in which object, in which environment. It's emotional, passionate, but peaceful. This is 'shang xia'. They look like opposites, but they meet in the middle, with harmony."
Harmony isn't something that's often touted in this oft-discordant city, where everything moves at hyper-lapse speed, including the luxury industry. The Chinese appetite for Western brands has resulted in a huge boom – on the metro, you're never likely to be less than ten feet away from a Michael Kors handbag at any given time. But Shanghai's evolution continues, as China begins to look inward to traditions past. "With the globalisation of the world, more and more people are asking, 'Who am I, where do I come from, where is my Chinese identity?'" Qiong Er says. "We have responded to this need."
Everything sold by Shang Xia is produced by artisans using traditional Chinese techniques, and is the result of months, and sometimes years of research by an expert committee of figures including professionals from national museums and universities. "They are helping us to discover more history, more inspiration, and craftsmanship to make sure the cultural story we share is correct. We want to keep learning so this is a long process." She gestures to a Da Tian Di rocking chair behind us, constructed entirely using wooden joinery, which has a curve in the back that apparently took two years to get right. Then there's the Lan Yue range of handbags (made to be carried on the elbow because that's the way Asian women prefer to carry their bags). They took several months to make using hand-woven empress silk and woven leather to capture the feel of bamboo and what the brand calls the world's first three-dimensionality in a bag, in that it is completely curved. Or there's the beautiful Bridge bamboo tea sets – made from stunning white porcelain wrapped in painstakingly woven bamboo – that are incredibly intricate and require three months per set. "When you better understand the magic, the key points of the know-how, then you can try to integrate and interpret some contemporary designs," says Qiong Er. "If we don't know the know-how well, we can't really use it well."
This focus on research, restraint, style and old-fashioned craftsmanship is somewhat at odds with how other brands have attempted to interpret Chinese culture. Just last February, Burberry released a range of scarves to commemorate the Year of the Goat imprinted with Chinese lettering. The scarves were met with much derision from Chinese consumers, who felt they looked like cheap knock-offs. When I bring the topic up, it is clear that Qiong Er and her team are bemused. "You should not underestimate the Chinese' tastes," she insists, "especially the younger generation. We need something surprising, contemporary. It's not so easy to just put some Chinese pattern on something – more and more people are looking for cultural depth."
Shang Xia steers clear of cliché – you won't find Chinese writing or images of the dragon, phoenix or flower on any of their designs. "We only use the spiritual inspiration," she says. "The proportion, the lightness, the emptiness. But the physical language of design is contemporary." This also means that Shang Xia has a future outside of China, having already opened its first boutique in Paris in 2013. "Everyone knows China for the quality problems. Fakes, copies, the lack of culture. But Shang Xia is totally different to those typical Western press stories and it shows that 'Made in China' can still be excellent."
Walking around the boutique, Qiong Er encourages me to touch the products – from a seamless men's cashmere coat, also months in the making – and in some cases even to listen – the sound of a porcelain bowl, for instance, the material which turns out to be responsible for the ambient sounds we're already listening to, softly playing in the background. I can tell I am being asked to slow down and consider things, something the world of fast fashion doesn't allow you to do, especially in a city like Shanghai which, for instance, boasts four Dolce and Gabbanas. For Qiong Er, the most important thing is for Shang Xia to create emotional value for its customers. "But the challenge we are facing is balance-finding," she says. "If everything is going too fast, it will break. It's like the Chinese ink and brush painting: the beauty of them is the emptiness in the painting. But the emptiness of the white rice paper does not mean empty. This is the life harmony, life balance, up and down, the busy and the peace, tradition and modernity – shang and xia."