February 4, 2016 Stephanie Rafanelli
Say hello to Gigi Hadid's kid sister, whose dreams of riding at the Olympics were shattered by Lyme disease. Now she's following in her sister's footsteps and fast becoming a belle of the fashion circuit.
Sisterhood – not in the feminist sense – has become something of an Instagram fixation in the post-Jenner world. And so I'm on New York's Fifth Avenue breaking bread and boiled eggs (and, I suspect, interview virginity) with one half of our latest sororal infatuation: American-Dutch-Palestinian model Bella Hadid. Just 19, she is the lesser known – and ergo, to my old-school sensibilities, cooler – younger sister of Victoria's Secret model Gigi. In the space of a year, the siblings have garnered a global teen following.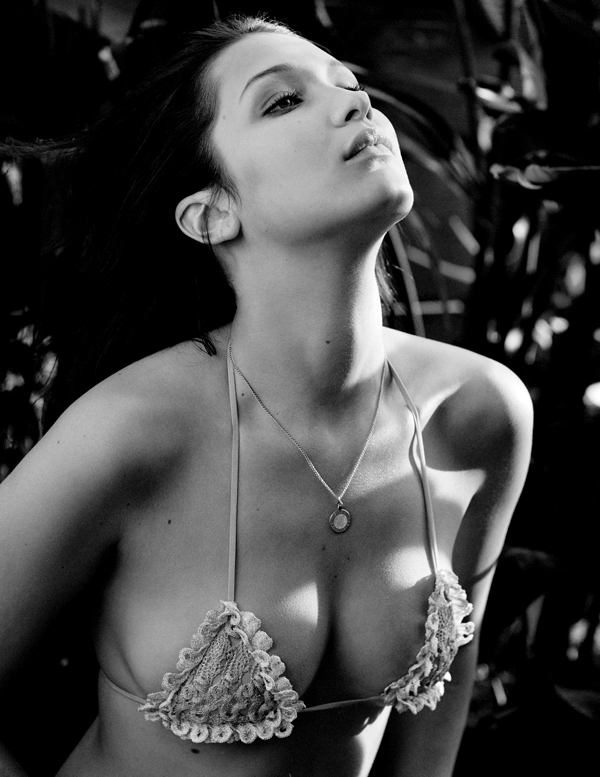 This morning, all eyes are on Bella. Odd, because today's patrons are the types who think social media is sharing a copy of The New Yorker. I suspect a case of mistaken identity: "Everyone says I look like Jennifer Lawrence." She does actually but with a soupçon of Laetitia Casta in the mix. "I was at Saturday Night Live the other day and [Jennifer] walked out and gave me a little nod. And I gave her one back. I don't know if she knows."
But Bella is no mere doppelgänger. Her own look, like her story, is too interesting: the sum of languid pistachio eyes, sweetheart lips, freckled skin like oat-sprinkled milk and dark 1970s-era Anjelica Huston hair – all atop an insanely womanly body (she is also remarkably mature for her age). This is the result of the auspicious genetic fusion of her Dutch-born mother, model Yolanda Foster (née van den Herik), and her Palestinian father, mega-property developer Mohamed Hadid. If Gigi, 20, is the athletic Malibu girl – the volleyball-playing Sports Illustrated favourite – then Bella is the mysterious one. There is also something adorably maudlin about her; in black, she makes an exotic Morticia. She belongs in the East Village, where she moved a year ago, now the base for her nascent modelling career.
Her older sister and 'best friend', who lives around the corner from her, has had something of a head start in the industry. Gigi first modelled for Guess at the age of two and a couple of years ago shot straight to the top, scoring a Tom Ford Velvet Orchid campaign and an American Vogue cover. Since then, she has won one of America's most prized campaigns with Maybelline, walked for Chanel and Marc Jacobs and most recently became a Victoria's Secret Angel, alongside friend and 'relative' Kendall Jenner. (Gigi and Bella's stepfather, 16-time Grammy award-winning music producer David Foster, was formerly stepfather to Brody and Brandon Jenner, Kendall's half-brothers.)
Gigi is now a 'supermodel': the super affix is as Insta- as the -gram these days. She has 10.1 million followers and is part of the global flaxen-haired sorority of Cara Delevingne, Taylor Swift and Karlie Kloss. Given the milieu, it helps, no doubt, that her mother was a protagonist in the reality TV show The Real Housewives of Beverly Hills, and her father is responsible for more than 15 Ritz-Carlton hotels and has a penchant for building 'giga mansions' around Bel Air.
Signed to power agent IMG like her sister, Bella made her runway debut alongside Gigi in Tom Ford's A/W 2015 show last February. The following season, in September, she went solo, walking for the likes of DVF and Topshop Unique. "It was my first full season. I was so exhausted." She rolls her eyes, and orders hard-boiled eggs. "I only did 13 shows, just request casting. The show girls do, like, 12 shows a day. I only did one or two shows a day and I was like, 'I need to go to sleep.' I thought, 'OK, maybe I'm just a pussy.'" She's not though – more on this later.
Her presence did not go un-noticed. In December, she walked for Karl Lagerfeld at Chanel's Metiers d'Art show in Rome and you might have also seen her in Topshop's partywear-themed Christmas campaign, alongside (Keith Richards' granddaughter) Ella Richards, (Dutch-born Moroccan-Egyptian model) Imaan Hammam and (the Kenyan sensation) Malaika Firth. Yet for a number of reasons, including her health, Bella is not a straightforward poster girl for the festive season. "I used to be the last to go home at a party, now I'm the first," she says. But then, to Bella, keeping a low profile is no bad thing. "You never really see Gisele out or around. She's kind of untouchable."
Given the social media maxim 'there is no such thing as too much online exposure', this fondness for old-school values is rather charming in a digital native. Although it's all relative. "I still feel awkward taking a selfie sometimes, it feels a little weird." She has 1.9 million Instagram followers, but it's a drop in the cyber-ocean compared to Kendall Jenner's 43.8 million. "I don't know how she handles it every day. The paparazzi and all that freak me out. Being 19 years old? Even if you grew up with it, it's insane."
She posts mainly, she says, because "I love taking photos". She studied photography at Parsons School of Design for one term then dropped out. "I'm so socially awkward, I really had to put myself out there and meet new people." Her ambition had been to compete in equestrian events at the 2016 Olympics. Her family kept horses in Malibu and she began riding at two years old and competed internationally as a teenager. "That was my goal. If I'd had the chance to succeed in riding, I might not have modelled." She pauses. "I didn't know that I was going to get sick."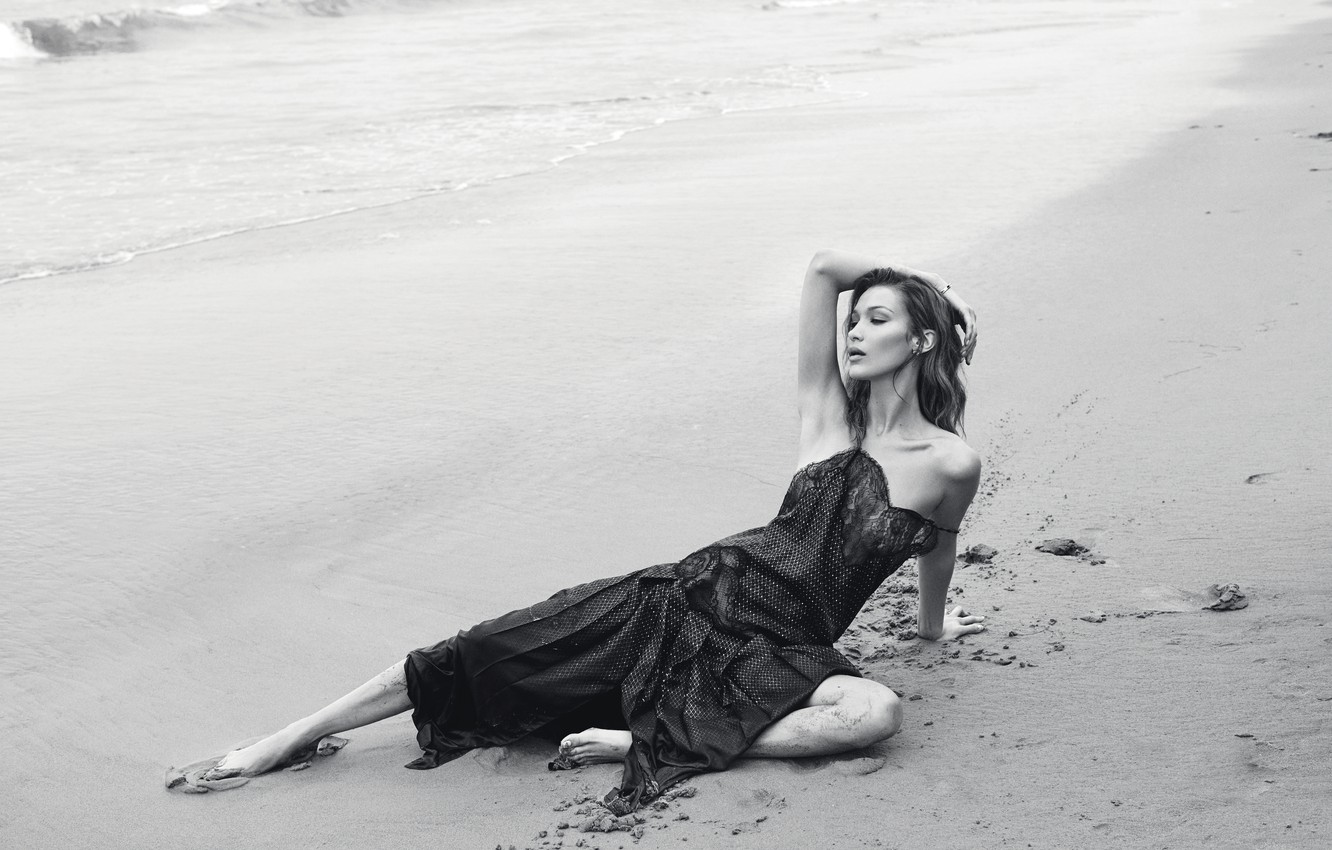 In 2012, following the diagnosis of her mother, it was found that both Bella and her younger brother Anwar were suffering from Lyme disease (they went public about it just last year).
Carried by ticks, the disease causes flu-like symptoms, which, if caught early, can be treated with intravenous antibiotics. However, if undiagnosed, chronic symptoms persist often for years, ranging from facial palsy, persistent fatigue and joint pain, to neurological problems such as memory loss and cognitive impairment. It is thought that Yolanda, Bella and Anwar were infected some years earlier during contact with their horses.
Bella was diagnosed in her junior year of high school. "I stopped driving because I kept crashing, because my brain just stopped working." She had an accident – "It was when I first got sick. It was a dark time" – which was reported in the press as a DUI. "I was exhausted all the time. It affected my memory so I suddenly couldn't remember how to drive to Santa Monica from Malibu where I lived. I couldn't ride, I was just too sick. And I had to sell my horse because I couldn't take care of it." It was an emotional blow on top of the physical.
Her mother was left, she says, unable to read, write or watch television. "Anything loud was too much. We used to listen to music in the car together and sing. She hasn't listened to music or watched a movie in four years." Yolanda is being treated with long-term intravenous antibiotics but Bella, intolerant to the drugs, is now trying a course of alternative treatment. When she finishes her boiled eggs, she pulls out three plastic bags of around 30 pills – "my mother makes these little baggies for me" – and dutifully swallows them one by one with green tea. She is also on a three-week detox to cleanse her system.
She says that her health now is at around 60 per cent. "I still have Lyme in my spine; my back has been in excruciating pain for three years. I have it in all my joints and it goes up to my brain. So sometimes I have trouble with putting together sentences. I go to sleep at 10pm and wake up at 10am fully exhausted." She won't use painkillers because "it's an ongoing problem, which is how you get addicted". Yolanda has campaigned to raise awareness of the disease and was presented with an award at the Global Lyme Alliance Gala last month, proclaiming: "I will walk to the end of the earth to find a cure."
It's sad that the family's equestrian passion has been the source of so much suffering. "My mum has been into horses her whole life. When she was young in Holland she would ride her pony to school in the snow." As a teenager, Yolanda was signed to the Ford Modelling Agency and travelled between Paris, Milan and New York before settling in California in 1994. There she met and married Mohamed Hadid. Today, as well as being a property developer, Hadid is an artist with his own gallery, a designer, a pilot and is developing a new technology for producing water. And he cooks. Bella explains: "He makes feasts with warak enab and everything. There is a Lebanese restaurant called Carnival in LA, which my dad part-owns. As far back as when we were six and seven years old, my sister and I would sneak into the back and make falafel with the chef. It was such a highlight of my childhood." Does she identify herself as Palestinian? "I definitely have my Palestinian gene. I love to play host." And she gets "upset" watching news broadcasts about Gaza. "My dad is very Palestinian, very pro his country. But he respects everyone's political views."
Bella's parents divorced in 2000 and Yolanda went on to marry David Foster, who produced Christina Aguilera, Michael Bublé and Whitney Houston. The Fosters threw infamous parties. "I was around eight and so unaware and oblivious to famous people, I don't think I ever knew who they were. I would just say, 'Hey, Whitney.' She was just my stepdad's friend."
This experience seems to have been an early vaccination against a Kardashian-level of desperation for fame. Both Bella and Gigi made themselves scarce during filming for The Real Housewives of Beverly Hills. "We only had cameras in the house for a couple of hours and we'd be like, 'Okay Mum, we're going down the beach.' We didn't just want to be the girls from The Real Housewives."
Nor has Bella chased, it seems, the most highly visible celebrity boyfriend. Instead, she has opted for the critically acclaimed Canadian existential R&B singer Abel Tesfaye, aka The Weeknd. "He's 25 but I think once you get over the 19 mark, then it's not as weird. He's really good about me being sick. He doesn't really go out that much either these days. He's always in the studio." How does he get on with the rest of the clan? "My mum literally wants to adopt him!" That makes another person around the Hadid festive table (she already has two older half-sisters, Marielle and Alana, on her father's side and five stepsisters from her stepfather). "My immediate family is 20 people. It's like, 'How many sisters can you buy presents for?' I need to keep working just to pay off Christmas." That's her pragmatic view of modelling at the moment, her only goals being "happiness and health". We wish her both… And the preservation of a little mystery.