June 12, 2017 Nicolas Shammas
The once perilously fast Mille Miglia road race may have turned into a bit of beauty parade but it's still a one-of-a-kind occasion that'll get enthusiasts' adrenaline pumping. The Mille Miglia (which means 1,000 miles in Italian) was an open-road endurance race that was established by the young Count Aymo Maggi and Franco Mazzotti, in response to the Italian Grand Prix being moved from their home town of Brescia to Monza. Together with a group of wealthy associates, they created the world's most spectacular, and dangerous, race and it firmly reinstated Brescia at the top of the automotive food chain. Essentially the course ran from Brescia, near Milan, to Rome and back, in a figure-of-eight shaped course of roughly 1,500 kilometres – or a thousand Roman miles. But, according to my guide when I visited Brescia's Mille Miglia Museum this May, the course changed almost every year. This hardly mattered though because, with hundreds of cars, thousands of twists and turns, closed roads, in the dark and the rain, stopping only for fuel, the drivers were seen as gladiators. And for the automakers, the event presented an exceptional opportunity to mobilise the population and advertise their products to potential buyers all over Italy.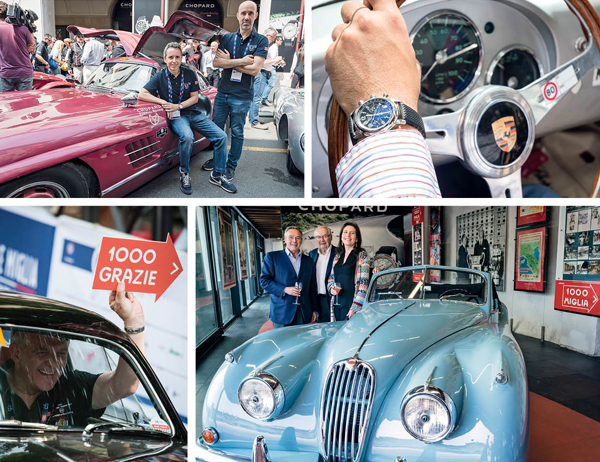 In 1927, the winning car, an OM (or Officine Meccaniche, a marque that was – appropriately – from Brescia) completed the course in a little over 21 hours, and while times would improve in subsequent years, so perilous were the conditions that drivers were considered lucky to even finish the race. Remember, these were the days before asphalt and with only rudimentary mechanics, car problems were par for the course. Yet it was the crashes that would prove the greatest liability for both drivers and spectators, especially given the incredible number of people that would line the roads to watch the cars rocket past. With no crowd protection, injuries and deaths became commonplace. In fact, an accident in 1938 killed 10 spectators and led to the cancellation of the 1939 event. But there was a lot more to come and after the war, it became more popular than ever.
In the 1950s, Enzo Ferrari famously called the Mille Miglia the "most beautiful race in the world". But with catastrophe always looming, fate struck in 1957 when Alfonso de Portago, an old-school playboy and godson of the King of Spain, stubbornly refused to pull over from a winning position to change his deteriorating tyres, only for one of them to ultimately explode. He lost control of his Ferrari 335S while travelling at over 240 km/h. The car cut a telegraph pole in two, ploughed through the crowd and ended up in a small canal. Eleven people died, including the Marquis de Portago, his co-driver, and five children. The race was permanently scrapped and that was the end of it.
Over that course of 30 years , the Mille Miglia had been held 24 times. Alfa Romeo dominated the pre-war period (winning 11 races), while Ferrari won eight times after the war. Remarkably though, the record time belonged to a non-Italian driver in a non-Italian car – Sir Stirling Moss in a Mercedes-Benz 300SLR – with a quite death-defying time of just 10 hours, 7 minutes and 48 seconds, which equates to an average speed of 160 km/h, including stops.
Nevertheless, like a phoenix rising from the ashes, the Mille Miglia was revived in 1982 under the name Mille Miglia Storica and it has remained on the calendar ever since. Unlike before however, not just anyone can enter: only vehicles whose models raced the original event between 1927 and 1957 are eligible to participate. 84-year-old Enzo Ferrari even lent a hand to help get the recreation of the race back on the road again, and he described it as "a museum in motion, unique and charming, in a beautiful framework of jubilant visitors."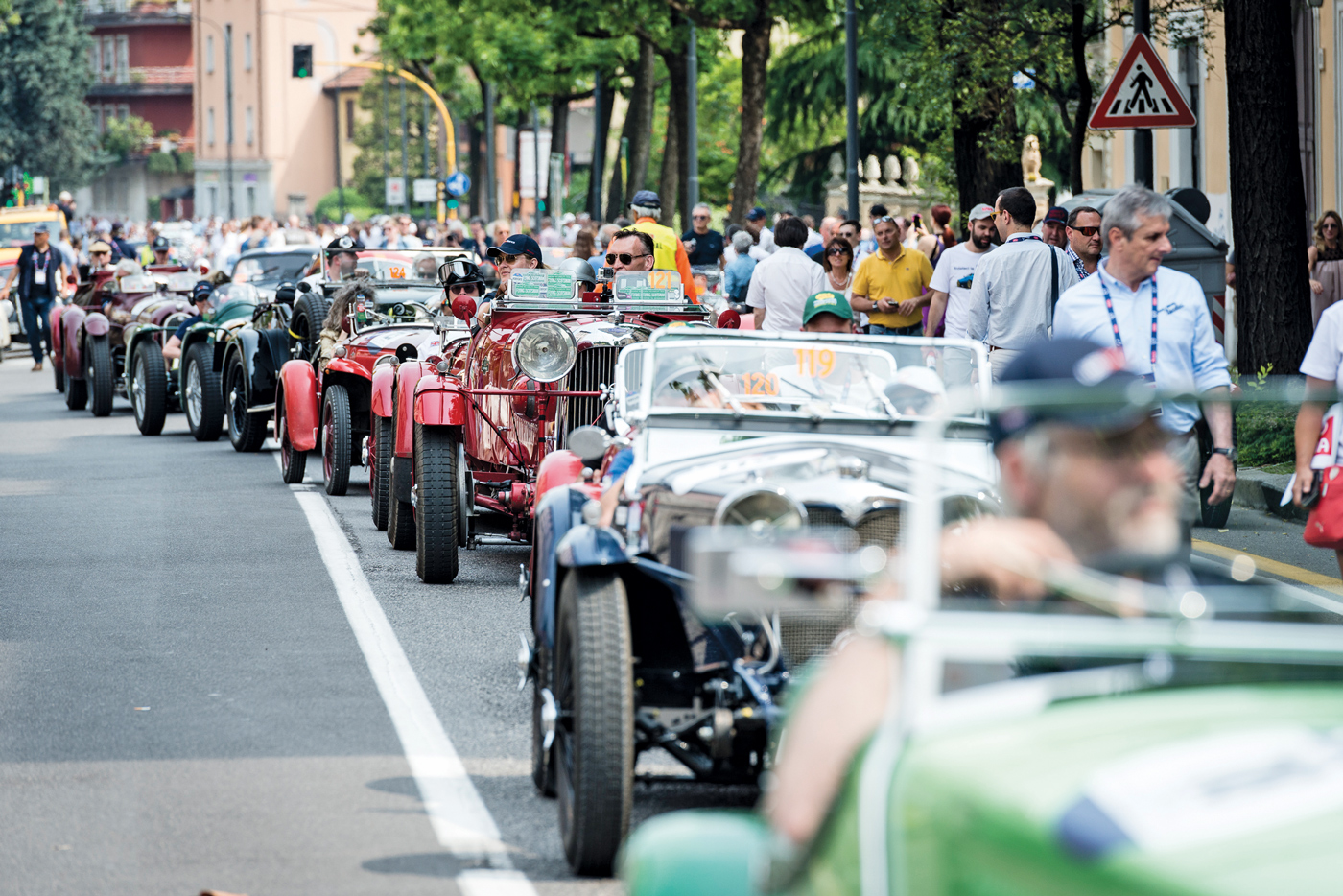 Undoubtedly, much of Mille Miglia's global acclaim can be attributed to its lasting partnership with Chopard, which has been in effect since 1987. We caught up with the owner and co-president of Chopard, Karl-Friedrich Scheufele at this year's race.
HOW DID CHOPARD FIRST GET INVOLVED IN THE MILLE MIGLIA?
Karl-Friedrich Scheufele – I attended my first race in 1987 after a friend had recommended I go see it. I was hooked and immediately went and met with the organisers to put forward the idea of a partnership where we would make a watch for every race. And from 1988 we began the partnership with the first watch coming out in time for the 1989 race and every year since there has been a watch associated with the Mille Miglia and the watch collection emerged.
HOW HAS THE RACE CHANGED SINCE THEN?
In those days there was a smaller and more familial atmosphere. There were under 200 participants, but this year there are 440. It became, like many things, more and more professional, with many more restrictions, especially with regard to the driving, which was still somewhat free. Over the years they have had to contain everything, to the point that it's extremely well organised now, with police escorts, and so on. It still has the same spirit as before, I must say, it's just that, in my eyes, they could do better with just 300 participants.
WHEN WAS YOUR FIRST RACE?
Even though I owned some vintage cars I did not own a car that was eligible until 1989 when I entered a 300SL Gullwing Mercedes, with Jacky Ickx as my co-driver. This car has actually entered every year since, so I would guess it has the most extensive Mille Miglia participation record of any car.
DO YOU KNOW HOW MANY PEOPLE APPLIED THIS YEAR?
The past few years have seen between 900 and 1,000 applications, for just 400 or so slots.
IT'S CLASSIFIED AS A RALLY NOW AND NOT A RACE, SO HOW DOES ONE WIN?
Points are scored for arriving at checkpoints at the right time. And between those checkpoints are tests that require you to cover a precise distance in an even more precise time. It doesn't require big average speeds; rather it's all about precision, and winners are often defined by a mere tenth of a second.
AND IS IT ONLY THE WINNER WHO RECEIVES A CHOPARD WATCH?
No, the winner gets a trophy. But all the participants receive one driver's Chopard watch, which is a limited edition that changes every year. There's also a series of 1,000 watches that are for sale, so if a participant wants to choose a number that corresponds to their car for example, they can. Finally there's the on-going Mille Miglia collection of seven or so references, which are always available and not limited.
HOW BENEFICIAL HAS THE ASSOCIATION BETWEEN CHOPARD AND THE MILLE MIGLIA BEEN?
Very. Next year it will be 30 years since we began our partnership and over that time we have carried the Mille Miglia name to every corner of the world. In fact, we made a survey and some countries in the Far East associate the name Mille Miglia with a Chopard watch – they didn't even know it was a race. But it has been great and it's wonderful to be back every year. There's something magical about this place and the people – Italians are just so passionate about cars.
CHOPARD'S MILLE MIGLIA COLLECTION HAS BECOME ONE OF THE BRAND'S BEST SELLING LINES HAS IT NOT?
It's a line that we always position as being accessible and sporty and in that bracket it is extremely successful. It represents a fair part of our business and you could say it has become an icon of the Chopard watch collection.
HOW DID YOU COME UP WITH SOME OF THE MORE FAMOUS DESIGN INSPIRATIONS, SUCH AS THE TREADS ON THE RUBBER STRAPS FOR INSTANCE?
It was in 1996 or 1997 and it was the first time the Porsche Museum had lent us their 550 Spyder RS and I was lying in the grass next to the car, relaxing before the start and I noticed the car's beautiful Dunlop tyres and I thought how great they'd look on a strap. So Jacky put me in touch with Dunlop and they were very helpful and they gave us permission to use a reproduction of the actual tread and it lead the way to our first ever rubber strap. The sad part of this story is that they no longer allow these tyres to be used on the road.
There have always been watch associations with Formula 1 but was yours the first in the classic arena?
Yes, we were the first to associate ourselves long-term with an event like this in the world of classic cars and we did it because of a personal passion, not for commercial reasons.
COULD YOU EXPLAIN WHAT YOU FORESAW IN SUCH A PARTNERSHIP BACK IN 1987?
I was just amazed by the atmosphere and the passion that these people had and I thought an association could be really interesting. At that time I assumed it would just be a niche thing but was thoroughly convinced by the crowds: there were men, kids, women, all age groups, all classes, and I realised how unifying an event it was and thought it could be a really interesting association.
FINALLY, DO YOU HAVE ANY ADDITIONAL PARTING WORDS ABOUT THE MILLE MIGLIA?
Anyone who loves cars simply has to attend at least one Mille Miglia, and if you can find a way to race it – all the better.