June 1, 2016 Frances and Michael Howorth
Sanlorenzo's latest yacht, the 460Exp does not, as you might expect, take her name from her length – the 460 actually refers to her displacement (all 460 gross tonnes of it) and the Exp is an acronym for Explorer (which is the industry term for a go-anywhere self contained vessel). She's the first in a series of new yachts by the Italian shipyard that place design and purpose at the very core of their being. To make her truly world girdling, the 460Exp needs nothing more than the inclination and determination of an owner who wants to make a circumnavigation. Having walked up the gangway of the first finished example of this yacht, the moss green-hulled Moka, at her unveiling during the last Monaco Yacht Show, it is all too easy to see how an owner might get appropriately inspired.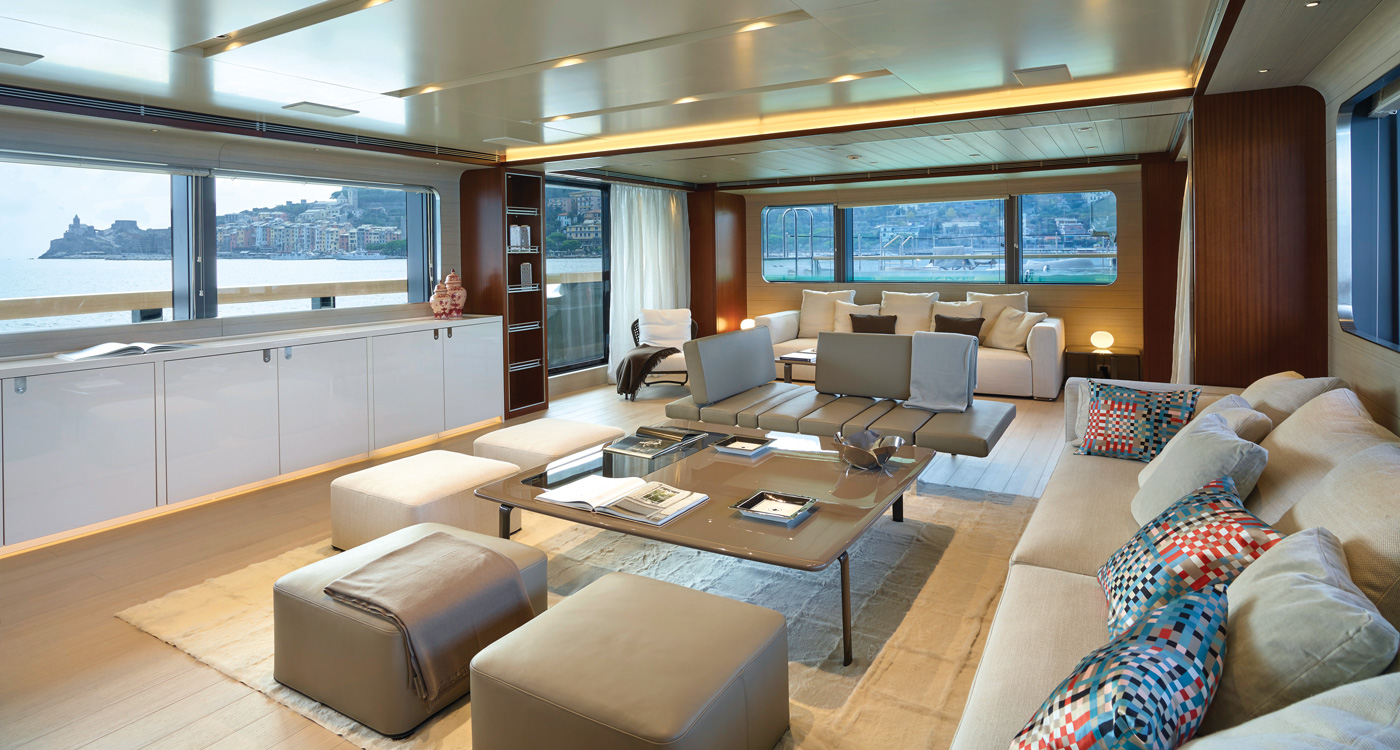 Classified as 'Green Plus' by RINA (Registro Italiano Navale), thanks to battery packs that allow her to stay at anchor for considerable periods without turning on the generators or engines (eliminating emissions, vibration and noise) the 460Exp is also highly frugal when it comes to fuel consumption.
She is powered by twin Caterpillar C32 Acert engines of 1,319hp each, which provide her with a maximum speed of 15 knots and a cruising speed of 11 knots. But for those looking for fractionally more oomph, Sanlorenzo also offers optional 1,360hp MTU 8V 4000 M63 engines that manage an extra knot at full pelt. Furthermore, having since tested Moka extensively, the manufacturer confirms that the 460Exp is actually capable of exceeding her predicted 4,000-nautical-mile range.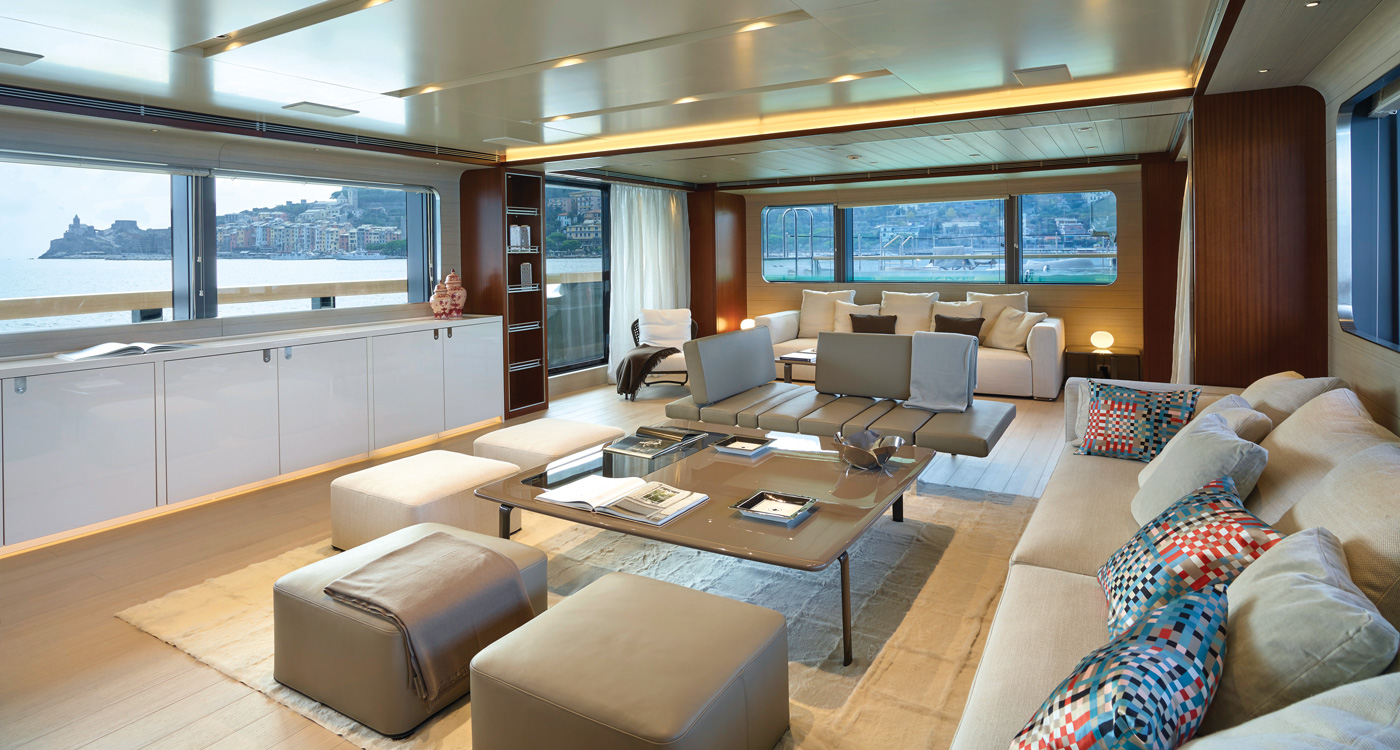 "Following over 5,600 nautical miles of navigation, a month at sea, of which 19 whole days of sailing at the average speed of 12.5 knots, Moka does not show any sign of wear and moreover she has not experienced any serious issue," stated the company with pride, following her maiden voyage from Viareggio to Florida via the Canary Islands and the Caribbean. "The hull, equipment and machinery have not been affected in the least by the long navigation and unrelenting sea."
The team at SanLorenzo reveals that during the design stage of the 460Exp range, three key factors were particularly emphasised as integral characteristics of the vessel: spaciousness on board, safety, and self-sufficiency. "The combination of these factors take the 460Exp beyond the usual limits associated with yachting, to bring the real meaning of adventure back to her owner: the exploration of far-off and beautiful destinations, with all the usual safety and comfort associated with a superyacht that combines the experience, craftsmanship and innovation of Sanlorenzo."
Large enough to carry an owner's party of up to 12, yet small enough to manoeuvre in and out of marinas and the more intimate, and therefore more interesting harbours, she's an MCA-compliant steel displacement yacht, which can be upgraded to ice-class if desired, yet she carries a relatively shallow draught of just 2.5 metres at full load. That may be too deep for the Bahamas, for instance, but it won't pose a problem in most of the off-the-beaten track destinations that she's likely to encounter.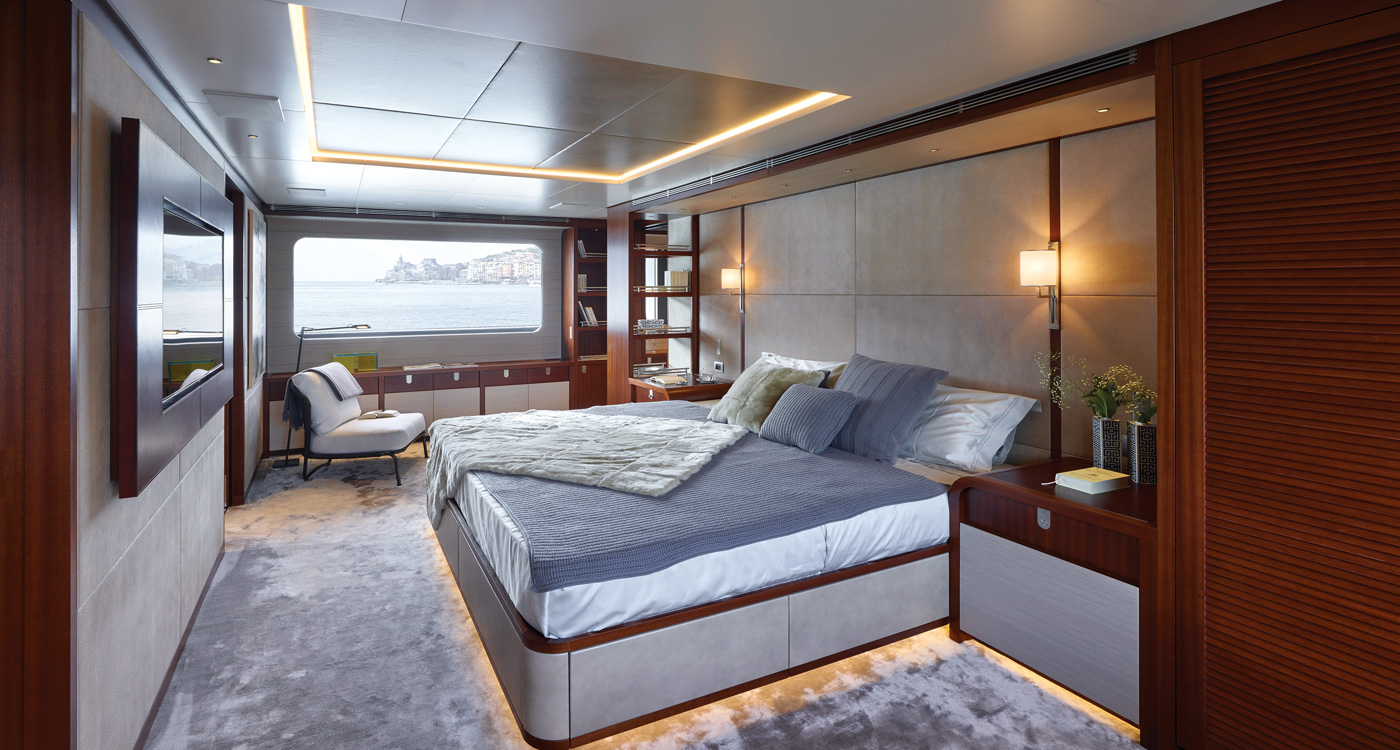 Designer Francesco Paszkowski, best known for his longstanding work with Baglietto, was called upon to give the yacht her rugged good looks and was charged with the responsibility of finding room for the mini-armada of toys that she carries. By moving her aluminium superstructure as far forward as possible, he has afforded her the space to carry a variety of PWCs, tenders, sport boats, windsurfers, and even a dive locker. Discharge that lot into the water and the garage turns around to do double duty as a beach club, fitted with a bar and sauna, too. Her vast, open aft deck is used to store additional tenders, or perhaps even a sailing yacht of up to 10 metres, which can be handled with the yacht's own 4-tonne lifting crane.
Fancy a swim in a fresh-water swimming pool? Then head up to the main deck because here, Paszkowski has thought to add one to the a main-deck and to make sure you use it to the fullest, it's equipped with a current machine to swim against. A gym is located in a spa-like area below deck, near the guest staterooms. This wonderfully appointed leisure space is lit by a large vertical window that not only offers tantalising views of the sea while exercising but also floods the space with a natural light, which gives a wonderful feeling of oneness with the elements.
Her large internal volume offers plenty of storage space, extensive refrigerated and frozen provisions capacity, as well as garbage compactors and when combined with the large amount of living space she affords, means a maximising of the luxurious aspects of her long-range capabilities. Clearly, Sanlorenzo understands that if guests are to spend extended periods of time between port stops, they'll need to do so in great comfort.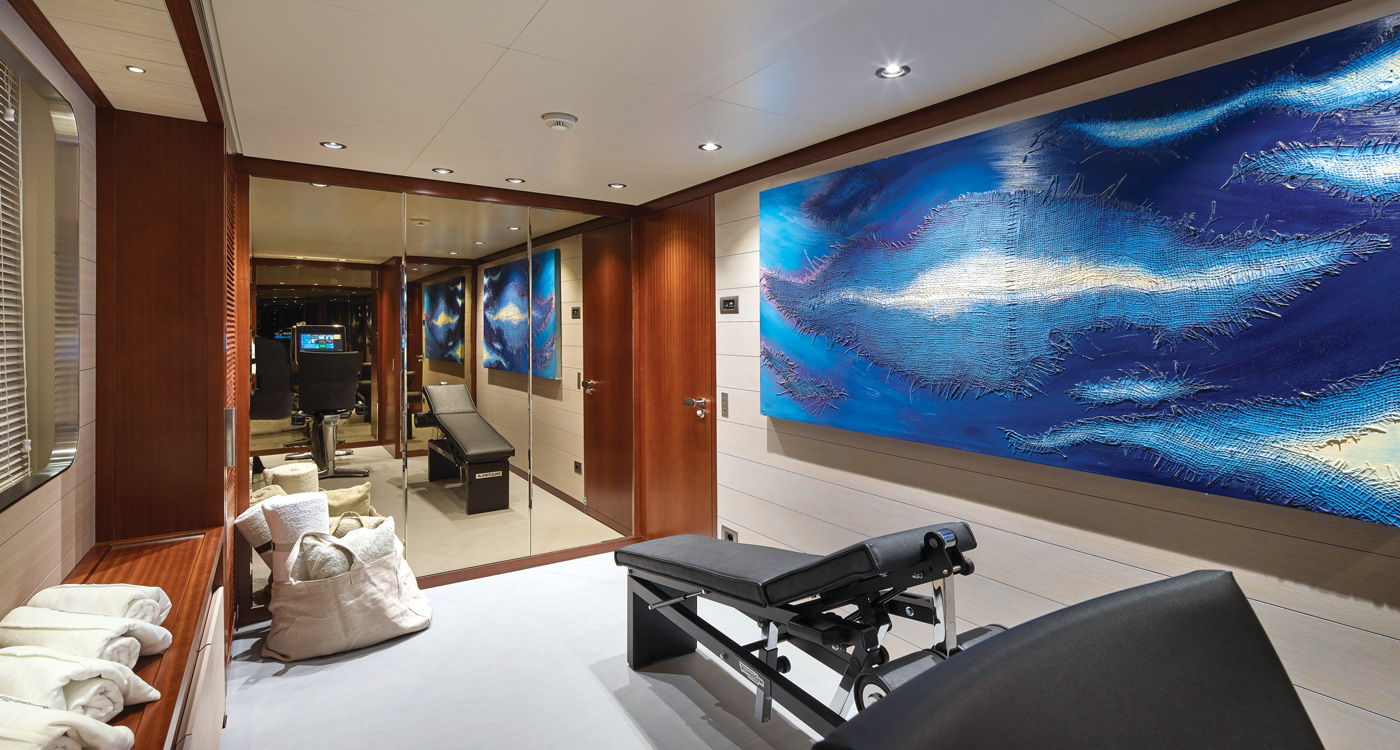 There are five spacious en-suite cabins in all, the four guest cabins consisting of two double rooms and two twin rooms are located on the lower deck, while the opulent full-beam master suite is to be found on the main deck forward. Moka's owner was reportedly heavily involved with the interior design and it has a consistent, luxurious theme, with sophisticated plush carpets and quality wood in classical shades, such as mahogany and teak, matched with elegant, timeless furniture and off-white coloured leathers. It all combines very harmoniously and makes guests feel right at home.
There is excellent headroom throughout the living areas and this gives the yacht a pleasing open feel, and the layout of the main saloon and dining area is somewhat unconventional, with a trio of panoramic windows looking out onto the deck instead of the typical sliding doors. The outside aft entrance to the yacht is via a large glass door to port and this allows the area to feel surprisingly more gracious and spacious.
Founded in 1958, Sanlorenzo has been building quality motor yachts for a very long time now yet it remains a 'boutique' builder given its small yearly production output. It is perhaps because they produce fewer units than other builders in Italy that they can indulge in the level of customisation that they do. And unlike the vast majority of builders these days, their financials continue to grow. The company has recently announced that they have 270 million USD of orders for 2016, including four additional 460Exp yachts. Clearly, the new green globetrotter is catching on.