November 15, 2019 Nadia Michel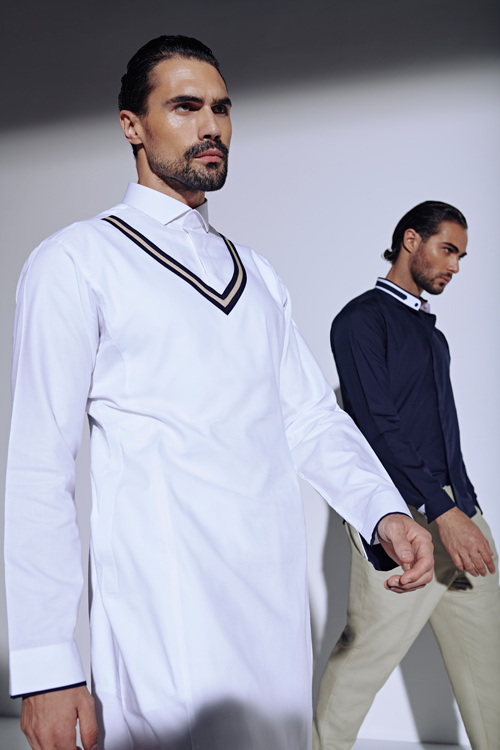 Alakeel's original and creative east-meets-west designs have been around for over a decade but it's only now, within a new context of reform and change within the Kingdom, that they're finding more mainstream success.
Having debuted during Dubai's Fashion Week back in 2008, many might have thought the experimental and progressive Toby by Hatem Alakeel male fashion brand might not survive the test of time, especially as traditional Gulf dress has always been, and will probably always remain – well, traditional. But more than a decade on and it's clear to see that, Hatem Alakeel was not just ahead of his time, his star is still rising.
On the day we speak, in Dubai away from his atelier in Jeddah, he hints at a project he's working on to develop more sustainable fabrics, referencing among other things, dry-dyeing (which uses approximately 90 per cent less water, 75 per cent less energy, and 90 per cent fewer auxiliary chemicals) and bioengineering materials in a lab. "If we don't start looking at ways to produce more eco-friendly products, we're really not being progressive in our thinking," he says.
There's also that Toby Femme campaign film he launched last year to showcase his women's collection, shortly after it was announced that women in Saudi would finally be allowed to drive cars. It featured Bayan Linjawi, the 23-year old entrepreneur behind Blossom, an accelerator that empowers female-led Saudi start-ups to network and thrive. Around that same time he also publicly lauded HRH Prince Mohammad bin Salman's announcement that he'd lifted the compulsory abaya law.
"Believing in tradition does not mean that you're primitive. You can move forward and hold on to your culture and heritage. That's what creates your unique identity, and that's a big part of my philosophy," he points out.
Alakeel, a self-described Saudi activist, takes this ethos beyond the confines of his own brand by investing his energy into the country's emerging creative community. Last October, he served as co-curator for Tanween at The King Abdulaziz Centre for World Culture (also known as Ithra, an Aramco-funded project that opened last year and is Saudi's biggest cultural institution, with its own library, cinema and a world-class museum) where guests from MIT and Snapchat discussed Saudi Arabia's emerging creative eco-system. "Nurturing our talent will hopefully be part of the whole 2030 movement. The message is that you don't have to be a lawyer or a doctor to start a business," he points out.
Alakeel's business speaks for itself. Over the last decade, his Toby by Hatem label has disrupted the national garb status quo and even managed to convert some unexpected global superstars into thobe-wearers, including George Michael, Tyrese Gibson, Christian Louboutin, Aquazurra's Edgardo Osorio and even Snoop Dogg, who wore Alakeel's designs in his 'Here Comes the King' video. Proving he's versatile, he also designed shirts worn by Prince William and his teammates in a charity polo match against members of the Saudi Arabian royal family in Cambridge as part of the 2018 GCC Polo Cup tournament.
Catering to both the Saudi and UAE markets, Alakeel has grown his business using word of mouth and social media. And his KSA headquarters, where his team of 35 hand-makes all of his designs, is also where you'll find his shop. "Rents are cheaper there, we even have our own equivalent of the Champs-Élysées or Avenue Montaigne, where we can have luxury positioning without having to pay the crazy positioning fees or royalties that you have to pay at Dubai mall, for example," he explains.
BELIEVING IN TRADITION DOES NOT MEAN THAT YOU'RE PRIMITIVE. YOU CAN MOVE FORWARD AND HOLD ON TO YOUR CULTURE AND HERITAGE. THAT'S WHAT CREATES YOUR UNIQUE IDENTITY. 
Alakeel has also just released his fifth women's collection, comprised mainly of highly versatile statement jackets and coats. "They can even be worn at the beach for example, over a pareo," he points out. "It's not about putting it in a category, or in a box – it's all about styling," he says, insinuating that any woman, not just Saudi, can wear his designs.
This raises another question though, namely how innovative can he be with women's fashion in a country where sheathing oneself in copious metres of black fabric is the norm, despite last year's quiet lift on the compulsory cover-up. "You'd be really surprised at what people choose to show and not to show. It's about humility, being modest, but then showing," Alakeel says. Indeed, Saudi women's voracious appetite for oversized jewels and sky-high stilettos is no secret.
Saudi Arabia is changing, spurring a need for a new level of innovation from a generation that's ripe with creative talent, and Alakeel is one of those modernizers.