October 3, 2021 admin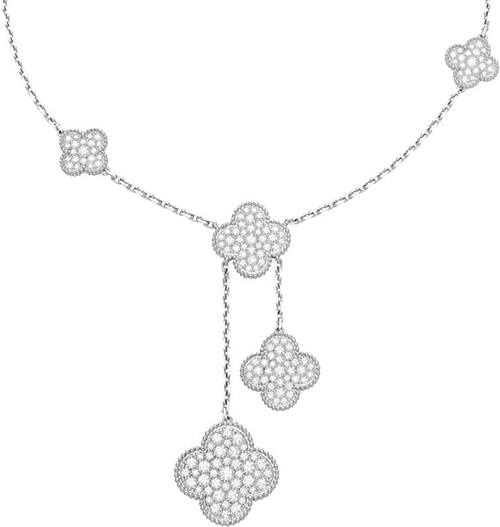 Fifty-three years old now, yet as contemporary as ever, Van Cleef & Arpel's Alhambra collection must be the jewellery industry's luckiest charm.
1. Its motif was designed by Jacques Arpels in 1968, combining the Gothic quatrefoil of the Doge's Palace in Venice, the scalloped Moorish arches of Alhambra in Spain, and of course the charm of the Irish four-leaf clover.
2. It challenged the notion that fine jewellery was the exclusive purview of formal evening events by popularizing a ready-to-wear concept of daytime jewellery that can be dressed up, or down.
3. Though VC&A debuted Alhambra on an opera-length necklace featuring 20 little gold four-leaf clover motifs, edged in beaded or "perlé" gold, it has since worked its way to rings, bracelets and even watches.
4. Alhambra also has multiple sub-collections now, including the Vintage Alhambra (faithful to the collection's original design), Magic Alhambra (which uses clovers of various sizes), Sweet Alhambra (adorned with miniature quatrefoils), Pure Alhambra (that uses a more minimalistic approach, devoid of scalloping), Byzantine Alhambra (which hollows out the motifs) and Lucky Alhambra (which adds other motifs like hearts, leaves and butterflies).
5. Alhambra pieces tend to retain their value pretty well on the second hand market. Of course there is a discrepancy between store price and resale price but if your piece is in good condition, and has the box and papers, you should expect to receive at least 50 per cent back from what you paid. That's rare in the world of semi-precious jewellery.