March 30, 2018 Warren Singh-Bartlett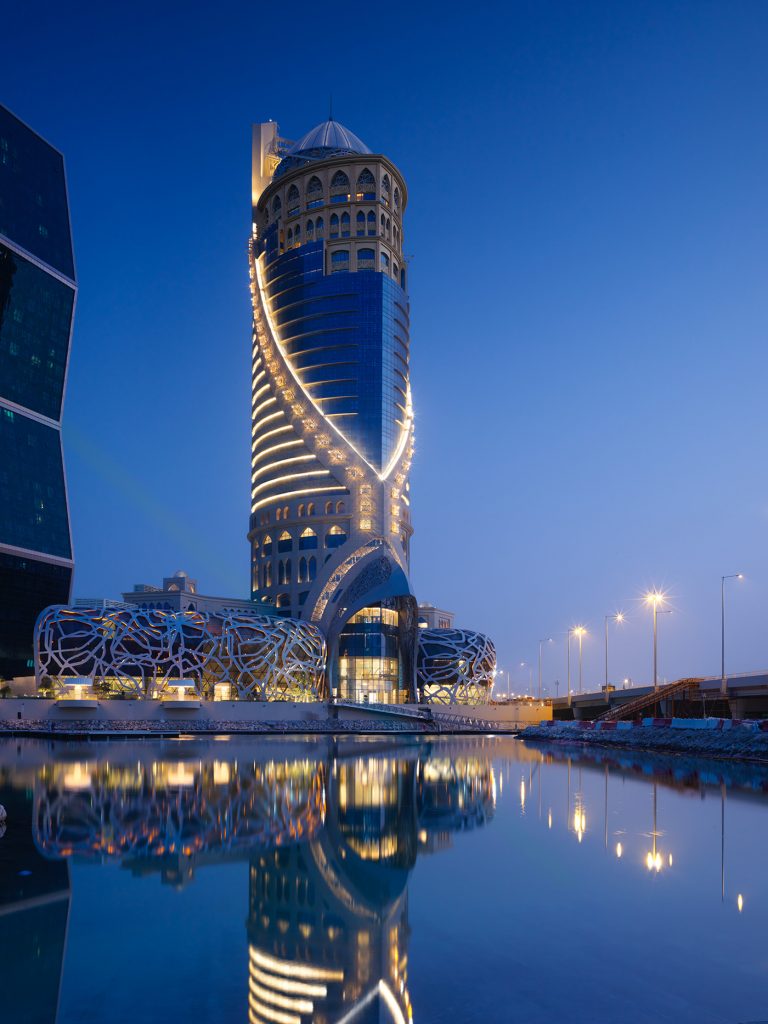 Remember when your mother would tell you that it's what's on the inside that counts? As I approached Doha's new Mondrian Hotel, my first thought was that it could have been built with that maxim in mind.
From without the building is distinct, albeit for the wrong reasons, and is typical of the kind of over-heated architecture found in places like Gurgaon and Las Vegas; a misshapen base wrapped in a Beijing National Stadium-style mesh of metal ribbons, with an elliptical glass tower rising above that looks like it is squeezed into an illuminated stone waistcoat. Apparently, the local Qatari architects (South West Architecture) were inspired by the idea of a falcon rising from its nest but I'd seen photos of the interior, so I didn't let that discourage me. Back to Mother. Remember when she told you never to judge a book by its cover? At the Mondrian, that maxim also applies, for as you will discover the moment you enter, the hapless exterior gives no indication of the sophistication within.
The visual feast that is part 'Through the Looking-Glass', part 'Spirited Away', the Mondrian is a world unto itself.
The Mondrian is not your standard hotel. With respect to the W, which let's be honest, has never worked persuasively outside of North America, it marks the region's first genuine foray into the 'lifestyle' hotel, offering up the experience you might associate with an Edition, an Andaz or for that matter, stand-alones like Barcelona's Cotton House or Singapore's Hôtel Vagabond. In other words properties with history, character, sex appeal and élan, which do excess with style and where the phrase 'Rock on' is only ever heard on pay-per-view.
If, for self-evident reasons, a Mondrian in Doha can't offer much in the way of history, it delivers everything else in spades. Take character, for example. To walk through the front doors is to be transported to a Kingdom of the Improbable, a plane of existence so separate, it gives the trope of hotel as 'escape' a completely new meaning.
A visual feast that is part 'Through the Looking-Glass', part 'Spirited Away', the Mondrian is a world unto itself, a place of supersized furnishings, fairy-tale whimsy and cutting-edge design, whipped up by Dutch architect/designer, Marcel Wanders and his fellow travellers at the furniture and lighting design studio, Moooi.
There's the sleek, spiralling black Staircase to Nowhere in the lobby and the vertiginous ziggurat of a staircase made for making an entrance in the sprawling ballroom. The 24-karat lift and the Swarovski chandelier showers. The relaxation area seemingly made of oversized pearls in the women's section of the sprawling 2,000 square-metre ESPA and the porcelain floor lamp that lights up like a Disco Ball in the men's sauna. There's the indoor pool beneath what looks like a giant Tiffany lampshade and the indoor grove of cloud-like, white tree sculptures in the lounge. Wonder (and Wander) around the Mondrian and the sensory overload is such that sometimes, you'll have to fight back the urge to skip along the corridors, giggling with glee.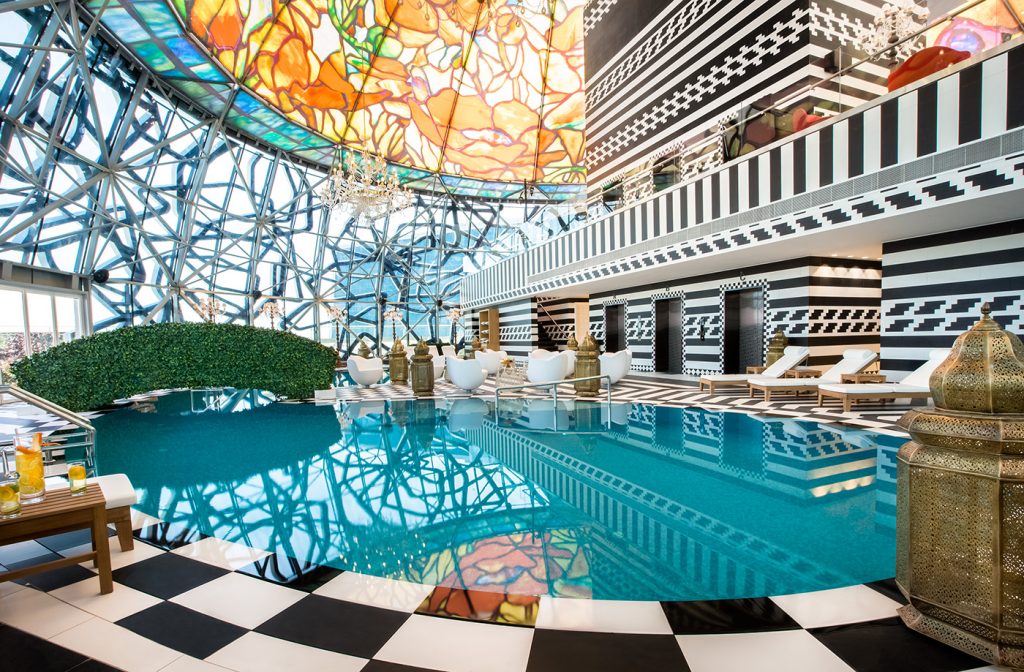 Rooms – well, apart from the two opulent penthouse suites, one of which features a hi-tech, red velvet entertainment room centred on a massive, circular couch/divan and which is only missing a brass pole – are comparatively austere. Relaxing, contemplative and decorated in a cool palette of whites, they express a greater sense of place. Thus the rippling, dun-coloured carpet evokes sand dunes, the striking Arabesque tiles in the glamorous open-plan bathroom conjure Islamic geometries and the hallucinogenic mix of Dutch and Middle Eastern decorative details in artist Femke Hiemstra's Neo-Fabulist wallpaper, which is used to perfection on the dividing wall between the bed and the bathroom, reads like a contemporary tapestry.
But design isn't the only card the Mondrian plays. More than its siblings in London, Miami and Los Angeles (the Mondrian is part of Sam Nazarian's SBE-owned Morgan's Hotel Group), it places almost as much emphasis on its restaurants as it does on its rooms.
Although a relatively compact property – there are 211 rooms and 59 suites, in all – the Mondrian has eight separate outlets, three of which are run by external operators. While the practice of partnering with high-profile restaurants and chefs is one of the earliest innovations of the boutique hotel movement, at the Mondrian, all of the restaurants also share the same kitchen facilities. This, as Simon Winchester, the hotel's Executive Chef explained to me over Jasmine tea one afternoon, is unusual. Big name hotel restaurants normally operate their own kitchens. The combined approach seems to be paying off, for in addition to fostering united purpose and bolstering a sense of belonging, which is sometimes missing when out-of-house operators are isolated from the rest of the hotel, it has also introduced an element of (friendly) competition that Winchester says is keeping everyone on their toes.
There is contemporary Japanese food at Morimoto, courtesy of Timur Fazilov, who has worked alongside Gordon Ramsay and was previously head chef at Scape at the Burj Al-Arab; breakfast, lunch and à la carte brunch at Wolfgang Puck's CUT courtesy of Ben Small, who has worked with Puck for seven years and previously oversaw CUT at the Four Seasons Bahrain Bay; sweet treats at the Magnolia Bakery; New York-style burgers at the Hudson Tavern; drinks at Rise; and cocktails and dancing at Black Orchid, the in-house nightclub; and soon, regional favourites will be served up at Walima.

Though only open since November, the Mondrian already appears to have cultivated a crowd. While GM Axel Gassar speaks self-effacingly of the need to "iron out a few remaining issues", from a guest perspective, flaws are invisible. Service is seamless and unobtrusive and although more informal than you would find at a traditional hotel, maintains a welcome distance from the overly-familiar 'mateyness' adopted by some other players in the lifestyle travel and hospitality game.
The Mondrian is urban and urbane, a sophisticated bolthole that feels like a resort but lives like a city hotel. If there is one thing it does not (yet) have going for it, it is a beach. But apparently even that is a temporary state of affairs, for once the marina in front of the hotel is completed, guests will be a few minutes' sail from a private island 'extension' currently under construction offshore. Small but full of ambition, as Mother might have said, the Mondrian is proof that good things come to those who wait.
what's nearby