December 1, 2017 Nadia Michel
It was a tall order if there ever was one: build a Louvre in the desert, in a city with a negligible tourism industry and a dubious (at least from a European perspective) cultural scene. But there was no turning back once a 400 million Euro deal was signed between the UAE and France in 2007, which involved a 30-year-loan deal for the Louvre brand name and the rental of hundreds of artworks from Paris museums.
Fast-forward a decade, and the Pritzker Prize-winning French architect Jean Nouvel's glistening structure at the tip of Saadiyat Island serves as a fait accompli. The museum, inaugurated on November 8th, is a magnificent complex of 55 sugar-cube-shaped buildings sheltered by a vast, 180-metre diameter dome, which at 7,500 tonnes, weighs only marginally less than the Eiffel Tower. This irregular honeycomb cupola, formed from stainless steel and aluminium seems to magically float above those white, cuboid buildings, which are themselves surrounded by quiet courtyards of reflective pools. The overall impression is more that of a cultural neighbourhood than a conventional arts structure, and even if it avoids making any visual reference to its French counterpart, the Louvre's director Jean-Luc Martinez has made sure the project lives up to its name.
This is the most ambitious project of the first half of the 21st century… Never have two states worked on a museum together.
Despite some initial criticism – there was actually a significant amount, especially in France where the "deal in the desert' sparked an online petition asserting, "Our museums are not for sale", and French art historian Didier Rykner accused the Louvre of "pillaging" France's treasures – Martinez has emerged the victor, as most commentators have responded with a concerted sense of awe and a positive – even if tentative – seal of approval.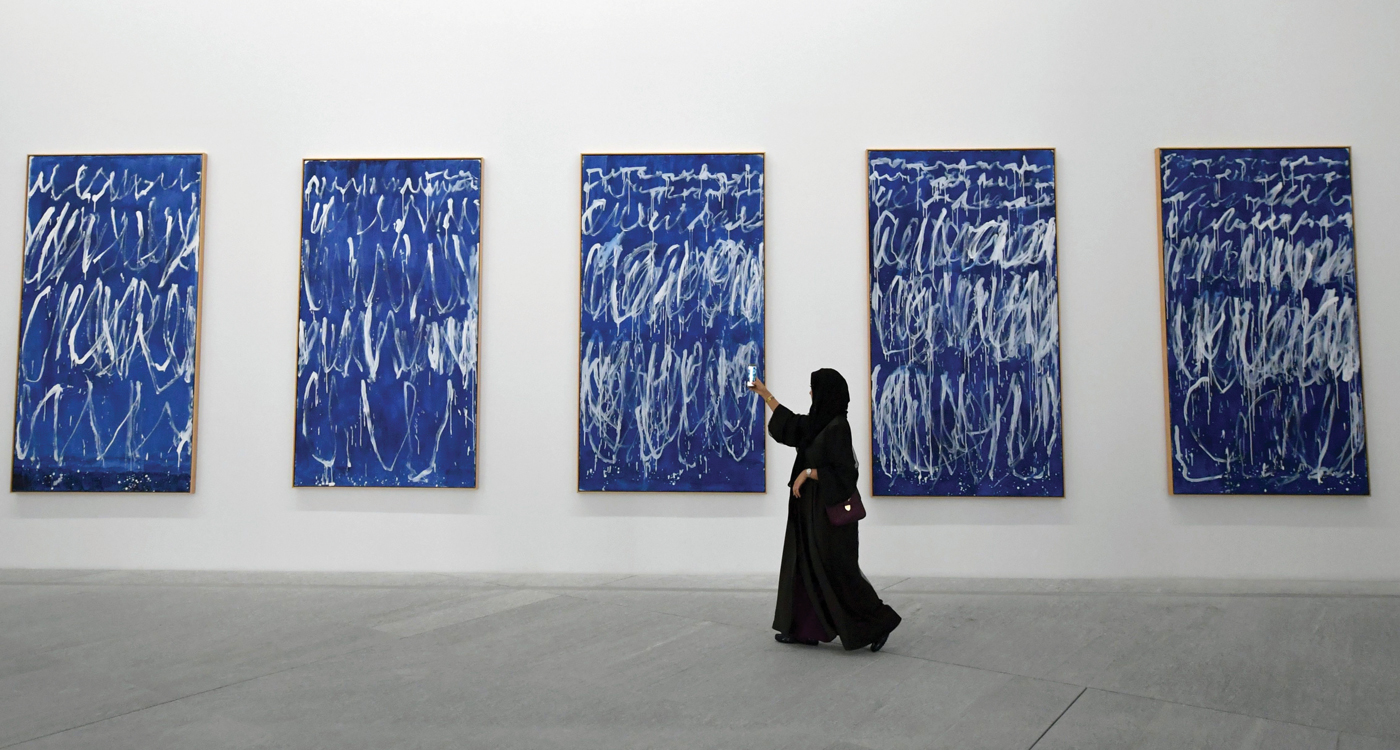 "This is the most ambitious project of the first half of the 21st century," Martinez proclaimed during the inauguration, pointing out that the Louvre in Paris is the most visited museum in the world, with around 8 million visitors per year. That'll be a tough number to match, but Martinez, who has expertly navigated the murky waters of this unprecedented agreement, is enthused by its scope. "Never have two states worked on a museum together," he said, before adding: "And thanks to the Louvre Abu Dhabi, French museums were forced to work together after 50 years of development."
Martinez, who was a curator at the Louvre in Paris when the famous deal was signed, was appointed director of the project in 2013 by the President at the time, François Hollande. He evidently takes a lot of satisfaction from the culmination of years of appeasing, reassuring, acquiring and cashing cheques, for he goes as far as calling the final result "a love letter to France."
One element that has clearly required a lot of attention from him and his team is the collection, flow and display of the artworks, which betray a politico-cultural bent. "It's a message of open minds at a time of extremism," he says. It would seem, the Louvre Abu Dhabi has made a conscious effort to send a message of inclusiveness by grouping works by similarities, regardless of their origin – as opposed to dividing them into time periods, countries of origin or even artistic movements. Nowhere is this more visible than in the Universal Religion exhibit, where a display sees Saudi relics placed close to a French Virgin and Child figure from the 1500s and a Jewish funerary statue from the 1200s. "This tells the story of globalisation," Martinez asserts.
As you'd hope, the Abu Dhabi Tourism & Culture Authority has been building up the museum's own collection for quite some time and it now boasts some compelling pieces, chief among them a well-preserved Bactrian princess sculpture from Central Asia, a 9th century Quran in Kufic script, and the beautiful 'Madonna and Child' by Giovanni Bellini (a vital but often overlooked Renaissance artist). Nevertheless, it's what's on loan that gives the new museum world-class credibility. To this effect, Martinez helped bring in not just pieces from the Louvre Paris but 12 other French institutions, including the Pompidou, Musée d'Orsay and Versailles. Look out for an 1887 Van Gogh self-portrait, 'The Saint-Lazare Station' by Claude Monet and the crowd-pleasing 'La Belle Ferronniere' by Leonardo da Vinci (one of only 15 known paintings by the artist, which is being hailed as a "symbol of the partnership" between the two Louvres – though it will only remain in the Emirate for a year. This naturally begs the question of what will happen after all the 'symbols' go home, and whether Martinez 's legacy will live on.

To that effect, it has been imperative that Martinez makes sure the Louvre Abu Dhabi appeals to the broadest audience possible. Which is why there are plenty of popular contemporary pieces by Giacometti and Brâncusi, Yves Klein and Alexander Calder. There's also a Kandinsky, and most notably a Piet Mondrian that used to belong to Yves Saint Laurent and Pierre Bergé. That particular piece was reported to be the Louvre Abu Dhabi's first acquisition.
Obviously, the building itself was also of huge importance and the starchitect responsible for much of the global press's adulation fulfilled his remit in creating a space that's as spectacular as the art within. During a private tour of the museum, Nouvel explained that his layout was inspired by traditional neighbourhoods of the Gulf, with a central agora and light sifting through the punctured roof reminiscent of a canopy of date trees. And it's not all for show either, as the combination of an open design, shade and carefully placed pools reduces the ambient temperature by at least five degrees.
But perhaps the most impressive facet of this new museum is that it's just the first step in an ambitious plan to transform Saadiyat Island into a new cultural heart, with the addition of a National Museum (designed by Lord Foster) and a new Guggenheim (by Frank Gehry). And regardless of the multiple delays in reaching that goal, the Louvre's opening must have surely warmed a few cold feet. "The U.A.E. is investing in a major way in culture and education," Martinez underscored. "France has transmitted its knowledge." Now, whether or not the rest of the world follows suit remains to be seen.
what's nearby