January 29, 2022 Maya Khoury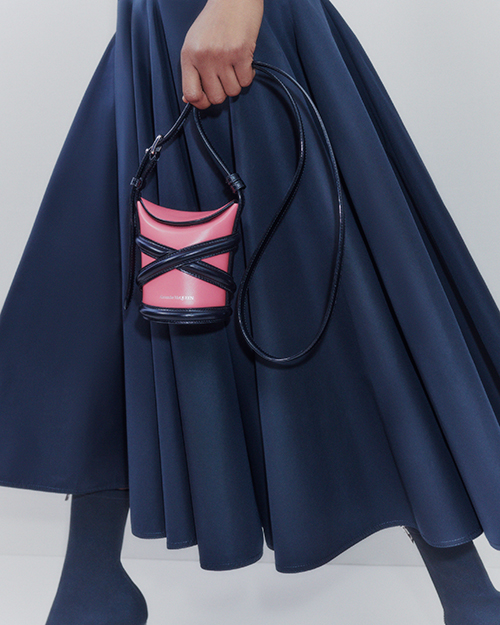 Leaving the house used to be a simple affair: wallet, check; keys, check; phone, check. Nowadays though, what with alcohol sprays, spare masks, antiseptic gel, wet wipes and gloves, not to mention added paraphernalia for the kids and, more often than not, husband, and you can understand why we have to resort to a rucksack over a designer bag. There is a stylish alternative however that's not just utilitarian, it's also cool and on-trend. Named the Curve, it was created last year by Sarah Burton for Alexander McQueen and resembles the offspring of a bucket and a crescent hobo. As you'd expect, it's an accessory that's hotly sought after by fashionistas the world over but they're going to have more decisions to weigh up now as, the spring/summer 2022 Alexander McQueen pre-collection ushered in a new slimmed down version of the Curve that goes by the name of Curve Mini. And, to cut a long story short, we think it's perfect. Not just because it offers all the good looks of the Curve in a slightly more svelte package but because its price is pretty reasonable too, at 890 USD.
Made from Italian calf leather the Curve Mini is strong yet supple, rounded yet angular. And even though it is structured it's still mighty comfortable with two alternating padded straps that, like their larger sibling, don't stop at the links: they continue in a sinuous, sensual manner around the body of the bag as a tribute perhaps to the corsets that have long been an Alexander McQueen signature (and something that the house's founder reinterpreted in fantastical and subversive ways).
As far as colours are concerned, this McQueen bag can predominantly be found in a clean-cut and classic black and white colourway, as well as in statement candyfloss pink and powdery blue and lilac hues but there's also an all-black version and four hot-fix crystal numbers. Basically, whatever your mood, there is a Curve Mini to match it.