October 17, 2019 Gautam Sharma
As recently as a decade ago, electric cars were perceived as glorified golf karts with as much personality as your household washing machine. But then Tesla came along and unleashed tantalising products such as the Model S saloon and Model X SUV, which didn't just move the goalposts; they reinvented the whole playing field. Sluggish acceleration and highly constrained touring ranges were the bugbear of EVs of yesteryear, but Tesla forced the industry to rethink what's possible with battery-powered vehicles, as the Model S and Model X are limited on neither front. We sampled the offbeat Model X with its crowd-stopping 'falcon doors' that swing open vertically to provide easy access to the futuristic cabin – and not just any variant but the range-topping with P100D, which is equipped with a 100kWh battery and dual electric motors (one each for front and rear axles).
The Model X P100D is backed by impressive performance credentials, as Tesla quotes an eye-watering 3.1-second split for the zero to 100km/h sprint, comfortably thrashing every other SUV on the market. The company also claims the P100D can cover 542km on a full charge, but it's more realistic to expect a 350 to 400km touring range under normal driving conditions.
Recharging can be done at home via a standard 220-volt wall socket, with each hour of charging via this method providing 13km of range. Do the maths and you'll glean that eight hours of charging will give you a theoretical range of just under 105km, which is enough to cover most people's daily commute. Tesla says the typical usage pattern of owners is to top up battery charge on a daily basis, rather than waiting for it to be fully drained before recharging.
The Model X drives remarkably similarly to a conventional car, although it seems odd not to have to push a start button or turn a key once inside the car. You just put your foot on the accelerator and away you go. Of course, the other oddity is the lack of noise being generated by a combustion engine, but you soon get over this, especially at highway speeds, where wind and road noise in any case drown out most of the engine din in a conventionally powered car.
As with all modern EVs, the Model X features regenerative braking (in other words, kinetic energy is dissipated by recharging the battery rather than brake pads clamping on discs), and there are two modes for this – 'Standard' and 'Low'. Selecting the first of these requires some mental recalibration on your part, because the Model X slows dramatically as soon as you take your foot off the throttle, with the car's forward momentum being converted to battery charge at a high rate. You barely need to touch the brake in this mode, so the other benefit is that you can expect very long disc and pad life if you drive primarily with this setting selected.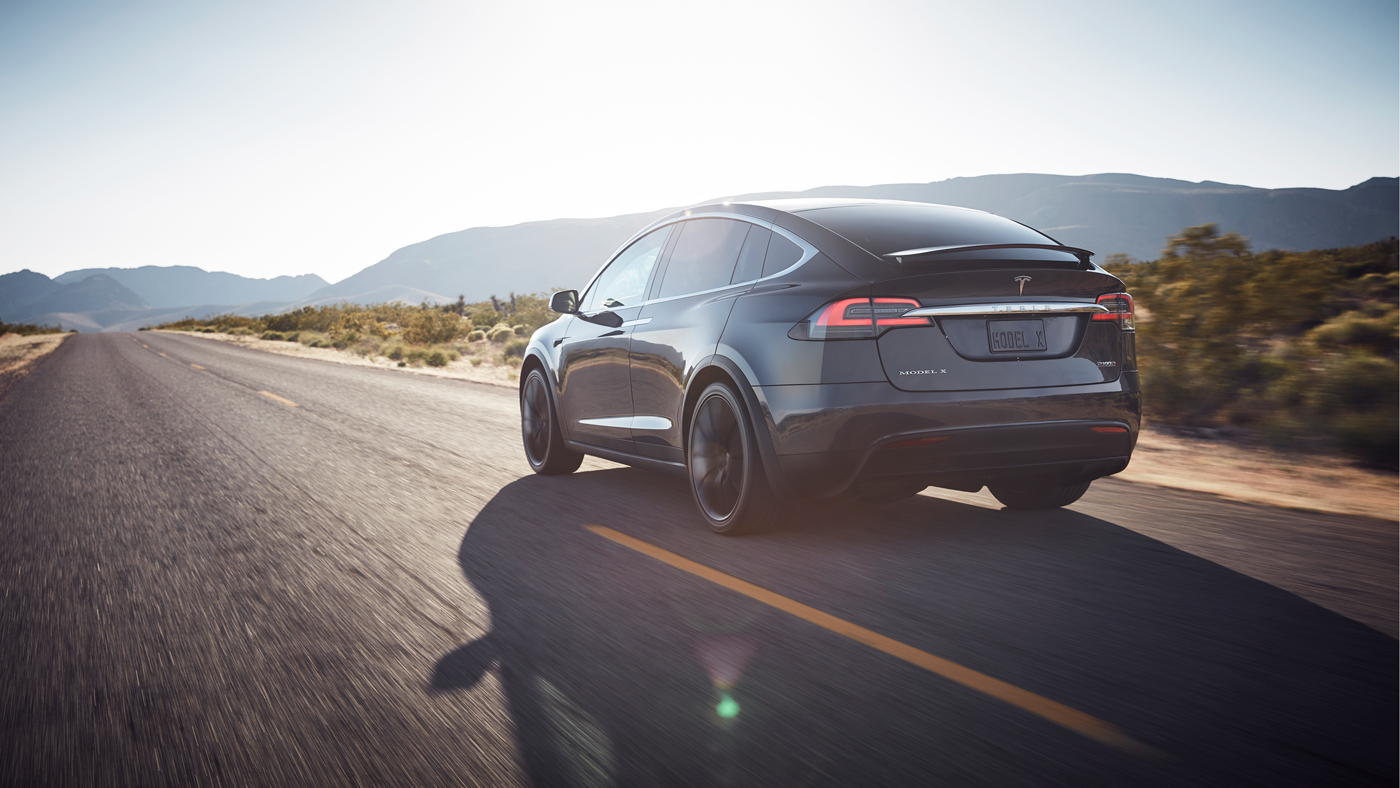 Our test car came with the 'Ludicrous Speed Upgrade' (isn't that is the most magnificent name ever for an automotive feature?) and an active spoiler that deploys at the optimum angle depending on the speed the vehicle is travelling at. Other options on the menu include Ultra-High-Fidelity Sound, Enhanced Autopilot and Full Self-Driving Capability. There's also a Premium Upgrades package that brings goodies such as front doors that open automatically as you approach, a super-efficient air-filtration system for the cabin, extra leather and Alcantara trim, dynamic LED lights and various other extras. The car's safety technologies include collision avoidance and automatic emergency braking, plus a raft of 12 airbags (head and knee airbags in the front, two side curtain airbags, four seat-mounted side airbags, and two door-mounted airbags).
The immense bulk of the battery pack is partially offset by a lightweight aluminium body reinforced with high-strength boron steel elements, and fit/finish of this is okay, but the shutlines lack the precision and consistency you'd find in a premium German offering. The front doors also close with a slightly tinny clang, rather than a reassuring 'thunk'.
The big takeaway from our first taste of the Model X is how utterly normal it is to drive. You completely forget you're piloting an electric vehicle within just a few kilometres of cruising down the road. And, unlike EVs of five or ten years ago, the Teslas offer a touring range that's more than sufficient for the typical daily commute.
My brief stint behind the wheel of the Model X has gone a long way towards changing my perception of electric vehicles. They're not the evil scourge I thought they were. Tesla has elevated the genre to a formerly unimaginable plane, with the rest of the automotive world now playing a rushed game of catch-up.