March 4, 2019 Nadia Michel
You might call them over-the-top, but that's exactly the point. Amina Muaddi shoes, which range from stiletto pumps and sandals to ankle and knee-high boots, are bold, architectural footwear with lustrous textures and light-catching embellishments.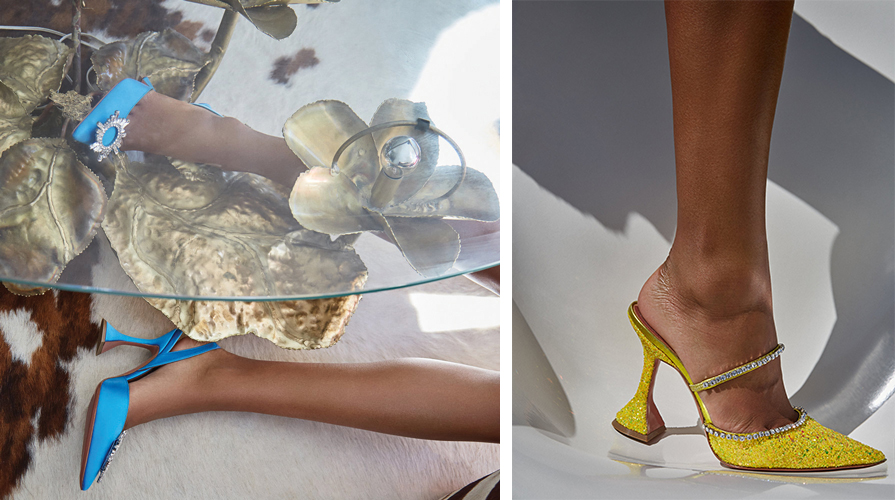 The brand's founder, who is of the same name, calls her range "modern and fresh," with a DNA that's rooted in "simplicity and minimalism but with a luxury twist." She also claims that, more than anything, it is comfort that is the defining feature of her shoes – with her highest heel currently coming in at 95mm. "I call them nine-to-midnight shoes," says Muaddi. "You can wear them to work during the day, but also at night to go out and have fun without feeling you're making a sacrifice when it comes to style."
Given the calibre of the distribution deals she has already been able to secure for her brand (which only just began in August) – including the likes of Net-a-Porter, Brown's, FWRD by Elyse Walker and Level in Dubai, the rate at which she sold out her first collection, and the rave reviews by some of the fashion world's leading editors, who continue to clamour for more of her maximalist footwear, it all begs the question: who exactly is Amina Muaddi?
Born to a Jordanian father and Romanian mother, she and her two BFFs –The Attico's Giorgia and Gilda – have been fixtures on the It-girl circuit for a number of years now, so you could say she is already an established trend-setter of sorts. Widely featured on the web, and well followed on social media, her exuberant sense of style helped propel the Paris-based designer and allowed her to transition from background actor to protagonist in record time.
Her formation though was in fashion communication at Milan's European Institute of Design, after which she did stints styling for L'Uomo Vogue and GQ. It was then that she says she realised designing shoes was the perfect expression of her creative vision. But, in order to really learn about shoes, she took the important decision of learning the craft under some legendary master shoemakers in the Brenta Riviera, east of Venice.
Then, in 2012, she co-founded her first shoe brand, Oscar Tiye in Milan, before then moving to Paris, where she collaborated with French couturier Alexandre Vauthier on the launch of his shoe line (which she continues to design to this day). But it is this latest venture, which uses her own name, that she says represents her greatest achievement to date.
The collection, which was produced in Parma, features glitter, bright metallic, brightly coloured satin, pleated tulle, chunky crystal brooches and of course a geometric flared heel, which is seemingly the Muaddi trademark.
Overall, Amina Muaddi shoes strike a balance between sexy, cool and sophisticated and they're a perfect fit for today's tastemaker.