May 30, 2016 Tania Mourad Haddad & Olfa Mourad Shammas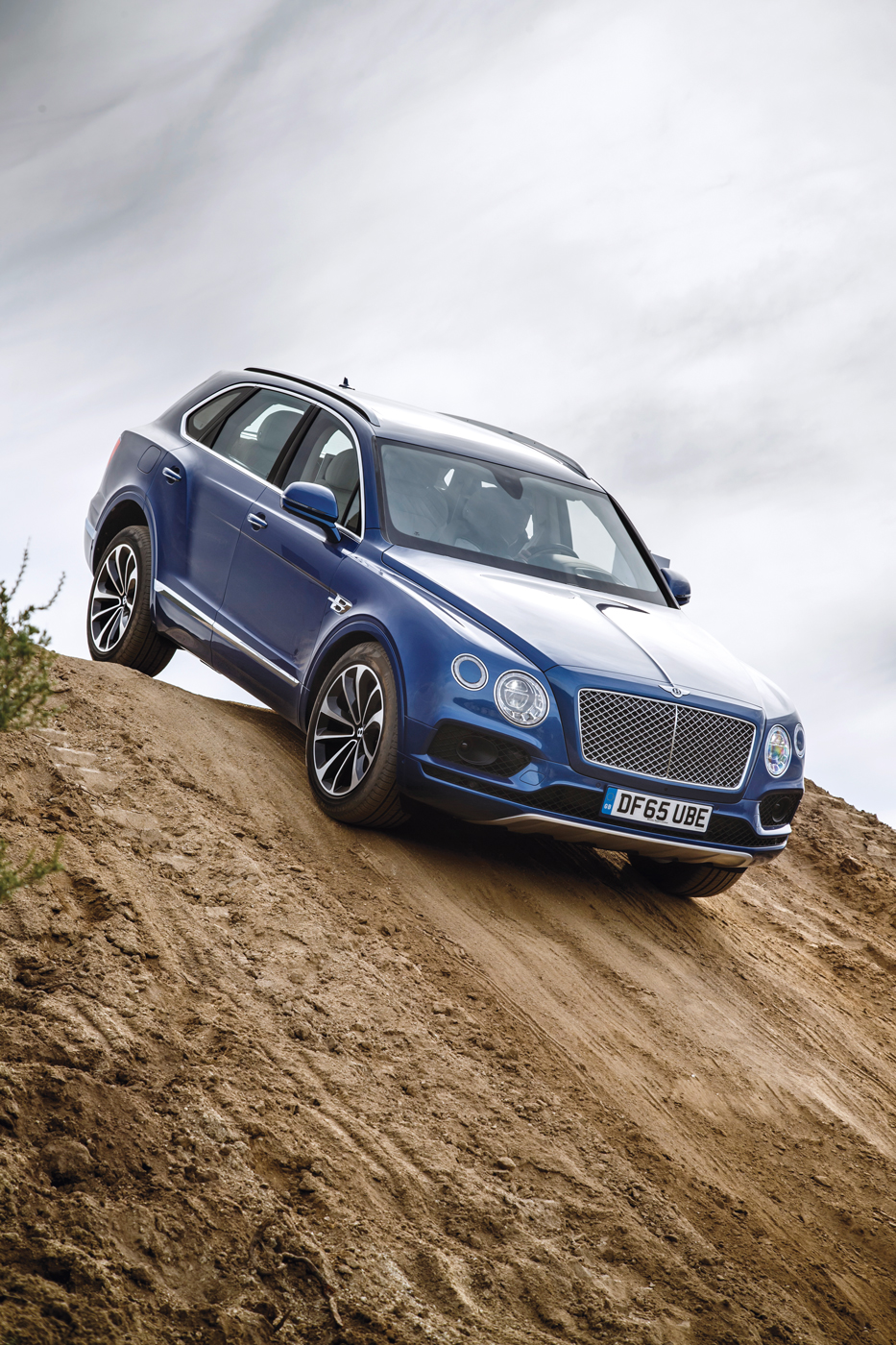 Imagine how you'd be feeling after flying halfway across the world to Los Angeles via the tedium of modern-day commercial air travel. You'd undoubtedly be fatigued, disorientated and a little irritable. In our case, this certainly held true except, waiting for us outside the arrivals terminal of LAX, was a shiny new chauffeur-driven red Bentley Mulsanne. It's amazing how a judicious sprinkling of luxury can act as an antidote to petty complaints because, once ensconced in those beautifully soft, cream-coloured, leather back seats, we were happily catching up on our emails via built-in tablets, with barely a worry in the world. We had seamlessly entered into the lap of luxury without being fully aware that this was simply the hors d'oeuvre to a feast of supersize Bentley adventures.
The reason for our coming to California was to attend the global media launch of the Bentayga, a brand new sport utility vehicle in Bentley's growing stable, a car that the British firm is hoping will not just broaden its line-up but its customer base too. But let's take a step back for a moment. When we first heard that Bentley was going to launch an SUV, being mothers and all, it got our hearts racing! This is after all a category that resonates deeply with us. Why? Well first of all, we value the utility of a sport utility vehicle or rather, the fact it can carry pretty much everyone and everything for most occasions. We also appreciate the elevated driving position, which affords us a better command of the road. And finally, in a world in which women are becoming increasingly more affluent and powerful, the luxury SUV has emerged every bit as much of a status symbol as a high-end watch or even a flashy sports car. In fact it's probably superior to them, as it tells the world, "I'm a family woman with the simplest tastes: only the best will do." Just imagine how well a Bentley would fare in this regard – it could literally be the crème de la crème ride for go-getting yummy mummies.
But let's not get ahead of ourselves. Some time last year, when we first came across the pre-launch shots of the Bentayga online, well, to be honest, it didn't sweep us off our feet. But now, having become well acquainted with it, we can assure you that it is better looking in the flesh. Indeed, from the first moment we spotted it, parked on a podium in all its glory at the Home of Bentley, a temporary tricked-out villa in Palm Springs, the Bentayga endeared itself to us as we could never have imagined. Is it flawless? No. But hey, who is? After four years in development, at least Bentley's hard work has paid off.
From the outside, the most prominent feature of the Bentayga's design is its imposing face. With wide eyes and a criss-crossed metal grill, the car seems to demand everyone get out of its way. Sweeping side creases and prominent rear haunches accentuate the stunningly large wheels. In contrast the windows appear quite small, in order to lend this big brute a more sporty aspect, and it works, somewhat. The car's derrière however, is not so hot. We were told that it was actually the designers' biggest challenge, which makes sense, given they've never designed a hatchback before. And though we wouldn't classify it as a deal breaker, we would say there is room for improvement here.
Now, since we have returned from our Californian escapade, we've been raving about the Bentayga and, probably fearful of stumping up the cash for such a dear purchase, our husbands have been cunningly trying to convince us that it's challenged in the looks department. While we appreciate the exterior may be contentious, as every good mother will tell you, it's what's on the inside that counts. In this regard the Bentayga is magnificent. In fact, Bentley has raised the bar so high, it's hard to imagine how any automotive rival could compete with such a masterpiece. With a look and feel that's matched only by an extraordinary fit and finish, it's a joy for all the senses. Bright bezels of just 1.5mm thickness separate control panels from surrounding trim, while knobs are burled with an almost Rolex-level of artisanship. The wood, of which there is masses, is peeled, pressed, matched, sanded, lacquered, polished and wrapped for your tactile pleasure. Then there's the leather. Apparently, eleven traditionally cured, hand-dyed bull-hides are needed to upholster each Bentayga, and they're given a grand old afterlife having been stitched and quilted to evoke finely tailored hunting jackets in a kind of cross pollination of city and country life. And with more than 15 hide colours to choose from – as well as countless stitching arrangements – we'd imagine speccing this car would be a blast.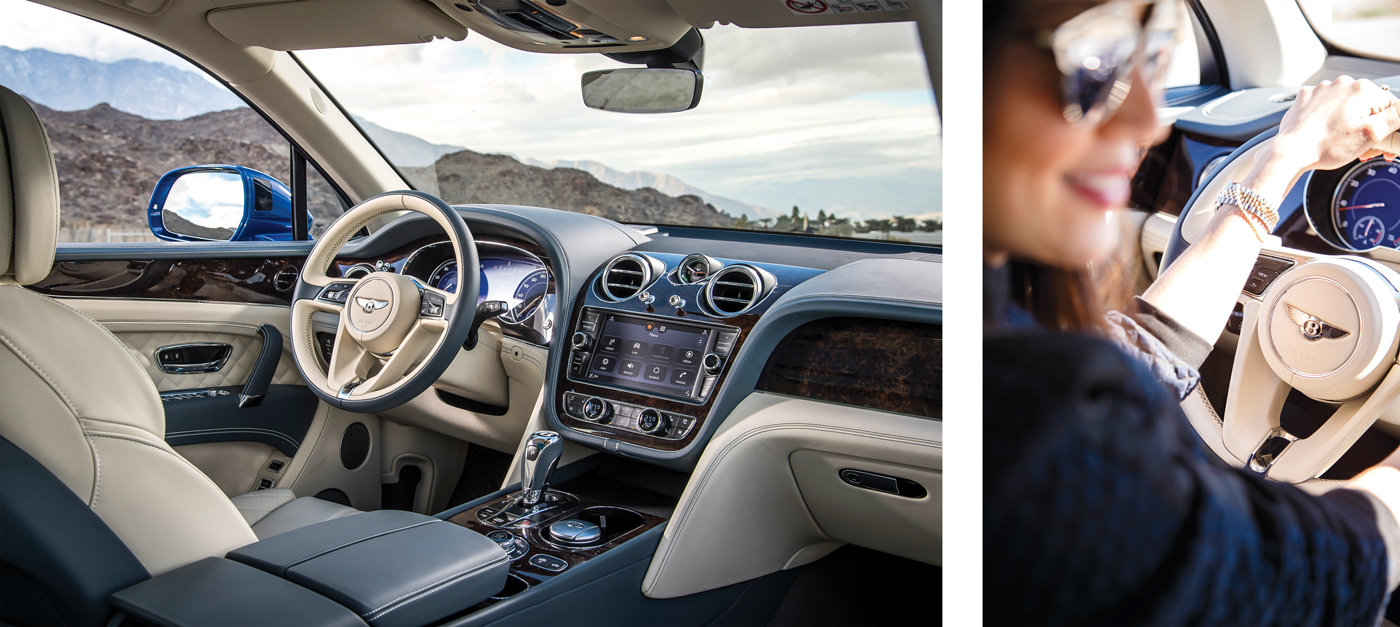 By now you're probably wondering how this beefcake rides. Well, we finally got around to that the following morning. Slipping into the two front seats of our assigned Bentayga, we made some final adjustments before setting off. GPS route: check. Music playlist prepped to be blasted through the top-of-the-range stereo system from Naim: check. Lane assist: check. And finally, Bentley's Head Up Display (projecting our speed and navigation instructions onto the windscreen): check, check, check! We were truly ready for lift off.
And what a day it was. Driving through the San Jacinto Mountains, we didn't just discover how fast, powerful, smooth and quiet the Bentayga is, we also happily ascertained that it's not a wolf in sheep's clothing. With the sun shining through the panoramic sunroof, the wind blowing through our hair and nothing but a chunky leather-bound grip (of the sporty steering wheel) keeping us in control of 600 horses at full gallop, it felt like nothing could stop us. And, in fact, nothing did.
Driven by Olfa
Arriving at Cahuilla Creek, our first stop of the day, Tania sweetly (or rather, shrewdly) let me take the wheel first, so I switched places with her and activated the Bentley Dynamic Ride (a clever new active anti-roll bar system that allows for a firm but comfortable ride on asphalt and also permits maximum wheel articulation off it). Bentley says that for this tech to act quickly enough, they needed to create an electrical system four times more powerful than has ever been done before.
Back to me though: one of the marshals was ushering me towards the top of a steep looking hill and after limping up it slowly, I got to a vantage point from where I could see just what a crazy motocross park Bentley had brought us to. Whoever said that luxury ends when the road does clearly hasn't hauled a 230,000 USD Bentley through such a place, and though most Bentayga owners won't ever need to contend with such hazards, I'm pretty sure they'd appreciate knowing their car has the ability to deal with all of them and more.
In the end, and despite a debilitating fear of heights, I ascend and descend inclines so steep, my insides hurt. I mount boulders (sometimes with just two or three wheels on the ground) and I even traverse a bridge made from just a couple of logs of wood, encouraged by the Bentayga's graceful abilities (and very useful ultrasonic sensors and tiny cameras that even offer a bird's eye view of the car). Once done, rather than go through it all again as a co-driver with Tania, I decide to take to the backseat and watch some television on the 10.2-inch HD tablets connected to the on-board 4G WiFi. Fabulous.
Driven by Tania
I have to say, California was the perfect place to launch the Bentayga, with its mix of smooth asphalt, rocky hill climbs and sandy dunes. The latter was my favourite experience, although just beforehand, as we flew over the Glamis desert of Southern California in a helicopter, I did wonder if it wasn't a step too far for the Bentayga. The car just seemed too pretty to be roughed up in this way. But, I was instructed to take no mercy on the sand, ("No matter what, keep your foot on the gas pedal") so that's what I did.
With the Bentayga readied and a pro-driver assigned as my co-pilot, I switched the Drive Dynamics Control to Sand Dunes (one of four off-road modes including Snow & Grass, Dirt & Gravel, Mud & Trail) and we were on our way. My instructor told me to follow the car ahead while keeping a safe distance, just in case it got stuck. To make matters more interesting, it was Olfa in the car ahead, and as I watched her accelerate up the sand dune, drifting in an acrobatic power slide, kicking up a plume of sand, I couldn't help but feel proud: she was really going for it.
Then it was my turn. I geared up my courage and kicked down hard, realising just what "pedal to the metal" meant. It felt awesome conquering those dunes like we were in some kind of fanciful roller coaster, and though some cars did get stuck, they were quickly pulled out by – you guessed it – other Bentaygas. It seems that in this environment, the car can only do so much. It's up to driver to do the rest.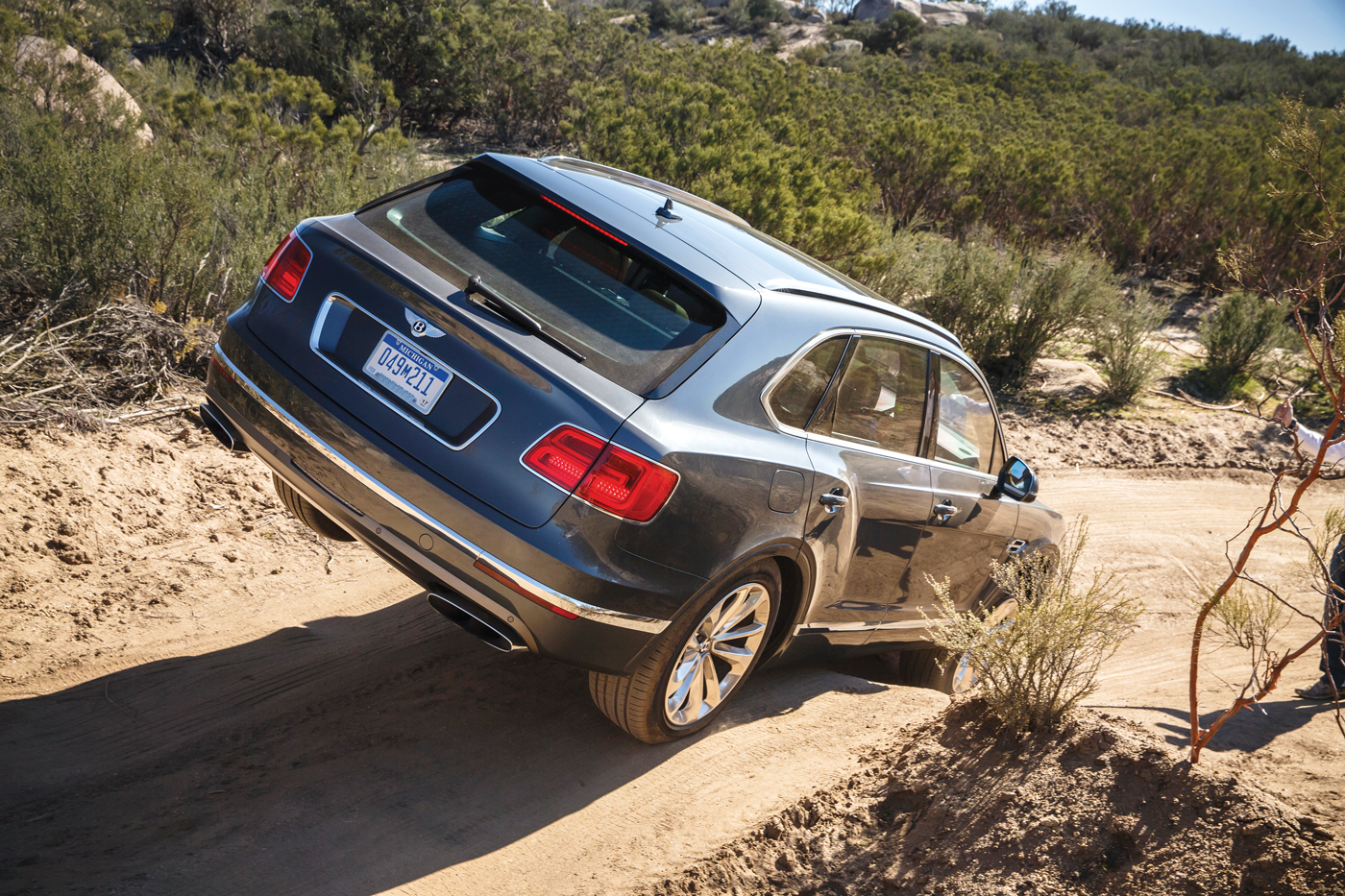 Bringing it Home
Given that the Bentayga has been pegged as "the fastest, most powerful, most luxurious and most exclusive SUV in the world", the Bentley team weren't going to let us leave without having the chance to truly feel its speed, and that's what our final day was all about. After a lovely drive through Box Canyons, a colourful ravine through the Mecca Hills at the east end of the Coachella Valley, we arrived at Chuckwalla Valley Raceway. It was here that we got to experience the high speed thrill of the Bentayga at full force.
It turns out this ultra-premium SUV is actually absurdly fast. It'll outrun a Porsche 911 Carrera S to 100km/h (in just 4.1 seconds) and it does so thanks to a stomping twin-turbo 6.0-litre W12 engine (which, as a benchmark, Bentley also says has the power to light 7,456 bulbs). But sadly, all good things come to an end, and our Bentley experience ended within a short walk of an adjoining runway, from where we were jetted back to LAX.
Officially, Bentley plans to make just 5,500 Bentaygas a year with deliveries having started in April. So, as a final note, here's a cheat sheet for why you should be one of those lucky few.
Smart Buy Just like a pair of rock-stud Valentino flats, which can take you from the meeting room to an action-packed afternoon running after the kids, the Bentayga can take you wherever you need to go in major style and comfort.
Safety First The Bentayga offers you peace of mind with a range of advanced safety features, including blind-spot warning, lane-keep assist, night-vision and city pedestrian detection with auto-braking. It can even make use of its adaptive cruise control and lane-keeping function to drive semi-autonomously for short stints of hands-off driving.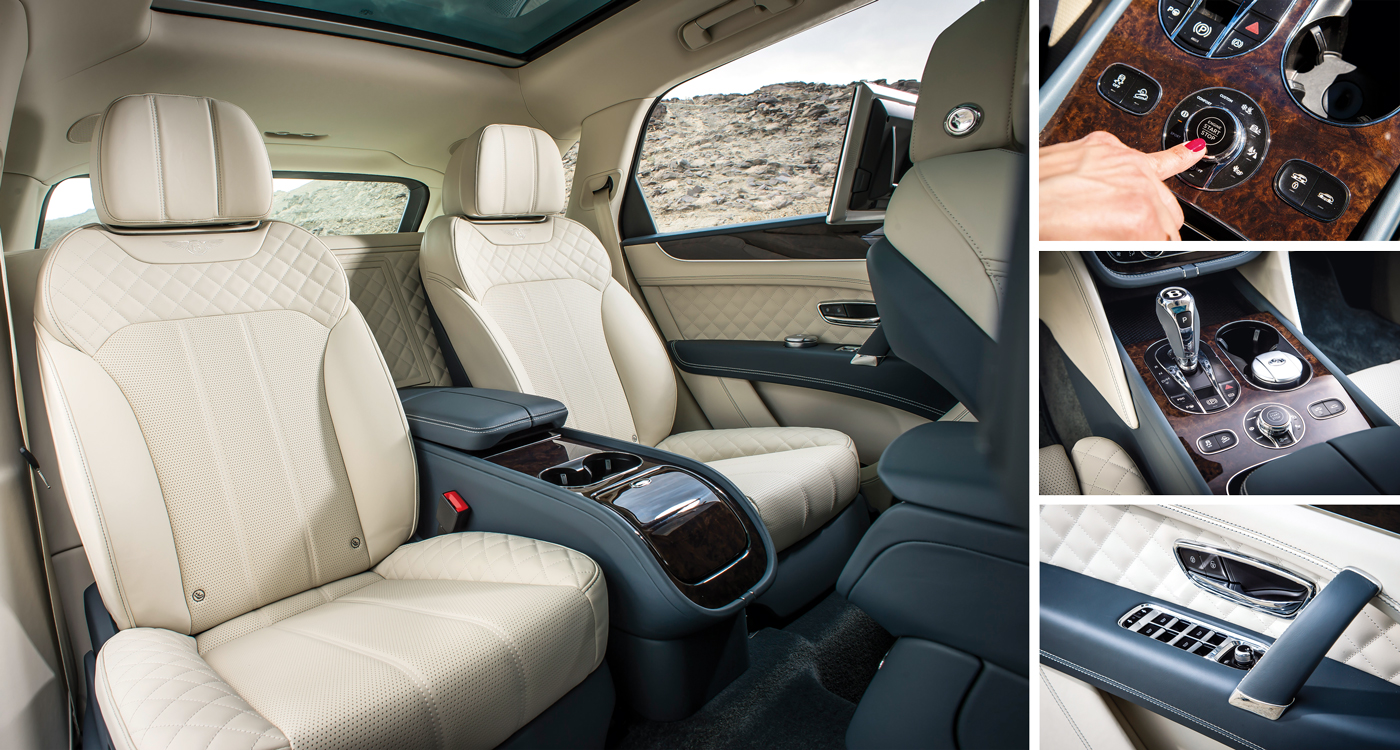 Personalisation With 17 standard paint colours (which can be extended to 90 exterior hues or even a custom made paint job just for you), 15 interior hide colours and seven exquisite woods, not to mention bespoke Mulliner customisations like picnic hampers and other such, you'd be hard pressed to find another car like yours.
No Extra Costs Don't agonise over the options list because even the standard car will make you feel like royalty. But if you do want to go for the full monty, might we suggest the most expensive vehicle option in the history of the automobile: the 160,000 USD self-winding mechanical Mulliner Tourbillon clock by Breitling comes in either rose or white gold, with a dial of mother-of-pearl or black ebony and eight diamond indexes.
Part of the Family No need to worry about a growing family or too many belongings, the standard three-person rear bench splits and folds as usual, and a soon-to-be-revealed optional third row expands passenger capacity from five to seven. Alternatively, if you want the most luxurious configuration then make yours a 4-seater, as it ditches the rearmost rows for two 22-way power-adjustable seats similar to the front buckets, as well as a fixed rear partition.