April 18, 2017 Nicolas Shammas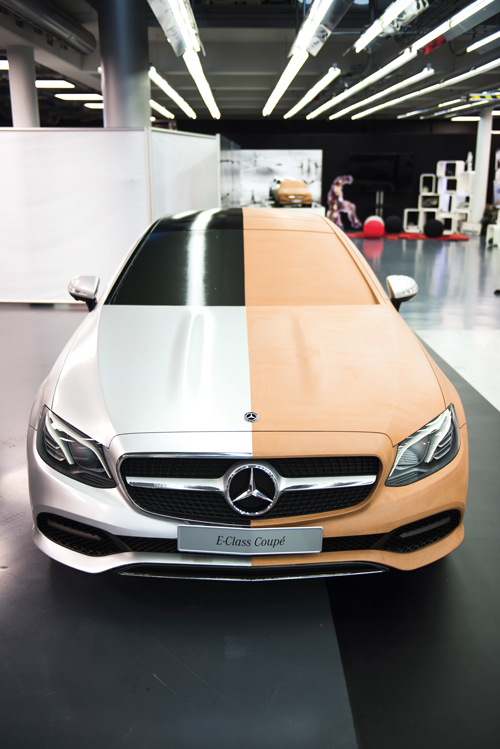 At the beginning of this year something rather remarkable happened in the automotive world: Mercedes-Benz overtook BMW to become the world's number one luxury car brand. Though the two motoring rivals have seemingly always been embroiled in a sales war, BMW has held the upper hand since 2005. But the tide has now turned and heads are already rolling at the dethroned automaker, with Karim Habib, BMW's 46-year-old Lebanese-born BMW chief designer, the first casualty of an internal purge at the family-owned Bavarian company.
How did Mercedes-Benz do it? A recent tour by Bespoke of Mercedes-Benz' off-limits design studios in Sindelfingen near Stuttgart pointed to one possible answer: a brave new ethos. Despite the fact – or perhaps even because of the fact – that Mercedes-Benz' designers no longer steer just the direction of their own automobiles but now function as a design consultancy in the realms of furniture, bikes, yachts, aircraft and even architecture, they combine the many facets of their work under a single new philosophy that they call Sensual Purity. Credit has to go to their (rather American looking and sounding yet somehow thoroughly) German Chief Designer Officer, Gorden Wagener, who has helped usher in one of the best looking line-up of cars since Bruno Sacco's golden era, which lasted from the mid-1970s until the late 90s.
"When I started in 2008, we were a traditional automotive manufacturer, now we are a modern luxury company," proclaimed Wagener to the group of select global journalists being given the tour of the facility. "All the best luxury labels are able to reinvent themselves and that's exactly what we have done. Luxury for Mercedes-Benz is more than an automotive statement, it is a lifestyle, and where every model used to have an individual character, our first major task was to create a coherent design language."
WHEN I STARTED IN 2008, WE WERE A TRADITIONAL AUTOMOTIVE MANUFACTURER, NOW WE ARE A MODERN LUXURY COMPANY. ALL THE BEST LUXURY LABELS ARE ABLE TO REINVENT THEMSELVES AND THAT'S EXACTLY WHAT WE HAVE DONE.
The intricacies of that language involved reprioritising the role of proportion and form and how to apply it so that, within a few years, every Merc in the company range had been reborn with a new look, characterised by taut, well-defined flanks and feature lines that developed from the headlamps and extended over the whole vehicle length.
Mercedes' renaissance cannot however be reduced to just complex surfacing alone. The marque was also pushing the envelope in terms of original thought; pioneering technologies like electric drive and autonomous cars, and recent concepts have gone further than most in speculating what a true hands-free future might look like. Furthermore, it must be said that original surfacing has evolved to the point that, just when you thought you knew what the Wagener aesthetic was all about, he's kept you guessing.
We were granted a glimpse of where the firm is heading next when they unexpectedly pulled the covers off the brand-new E-Class cabriolet, a month or two before it was given its global unveiling in Geneva. Wagener and Robert Lesnik, the head of exterior design, explained that the name of the game now at Mercedes is to cut character lines to the limit – even the brand's signature feature line has disappeared, replaced by a shoulder area that is a play of light and shade. There's still complexity though, especially in the sculptural reverse curve that can be found in the lower region of the doors and in the bumper. Wagener commented that car design is much like architecture in that the closer you get to absolute minimalism, the more faultless the form and proportions have to be, because "there are no longer any gimmicks to camouflage defects".
"We are not changing our philosophy but entering the next stage", explained Lesnik. "As we say, the time of creases is over. It means we will work more with pure sensual surfaces. In a bigger car such extreme solutions, like a completely clean body-style, might look heavy. But in a car like our new E-Class Coupé [or Cabriolet], with its balanced proportions, narrow greenhouse and wide track and wheel arches, it was possible to take every crease-line out of the shoulder area and concentrate on the pure surfaces."
For the Mercedes designers, good design has to be beautiful and intelligent, or – in their words – "hot and cool". Their belief is that Mercedes-Benz's new products are easy to fall in love with "because they are hot". This certainly sits well with the board, as it harks back to the preeminent early racing cars built by Gottlieb Wilhelm Daimler. On the other hand, the second half of the marque's hyphenated name relating to Carl Friedrich Benz and which continues to stand for the "rationale, reduction and technic" is also still very much at the heart of the Merc line-up thanks to avant-garde technology and beautiful engineering.
"With our design philosophy of Sensual Purity we have restyled the product range with great success", Wagener concludes while introducing us to a rather abstract extruded block of silicone that betrays the key design hallmarks of the brand's next generation of compact car. "In applying this design philosophy to our current A-Class, launched in 2012, we have actually sparked a transformation in design. The upcoming compact class generation marks the dawn of an even more rigorous implementation of the design idiom of Sensual Purity." What the final manifestation of that will look like we don't know, but clearly Wagener's ethos still has plenty of legs. BMW won't be happy.