June 6, 2017 Nadia Michel
There are so many talented designers coming out of the Middle East these days, fashion design is practically a regional specialty, kind of like what hockey is to Canada or football is to Brazil. As a matter of fact, red carpets all over the world are routinely graced with the sultry gowns and glittering gems of our homegrown talent and as a result, the crop of inspired emerging designers is growing exponentially.
But amid the fray of young talents are a few standouts – those who have truly honed the savoir-faire their predecessors are known for, and are taking it forward. One such person came to our attention recently via a respected stylist, a man who makes a living with his razor-sharp eye for fashion. He has seen the industry up close (on numerous fashion shoots throughout the Middle East and Europe), felt countless fabrics on his fingertips and obsessively observed how gowns, blouses and skirts drape the bodies of the women he has dressed. That qualified judge, when prompted, whispered this name to us: Sandra Mansour.
Mansour, it turns out, has been artfully and steadily infiltrating the global realm of couture for the last seven years. Her designs are on regular rotation at awards ceremonies (in Cannes at the time of our interview), featured in magazine editorials around the world and endorsed by some of the hottest bloggers. Moreover, she's no flash in the pan: the 32-year old Lebanese designer's collections are extensive (there are 48 looks in the Autumn-Winter 2017/18 collection), executed with the skill of a seasoned couturier and flawlessly marketed by a PR firm in Paris. In fact, sitting in her atelier, set in an old house on a bustling street in the Gemmayze neighbourhood of Beirut, it is clear Sandra Mansour's machine is very well-oiled.
"I'm not just a designer in a couture house, I'm a CEO as well. You have to be careful with your employees, your cash flow, but as long as I can create, I'm happy," she muses.
The airy atelier that serves as her brand's mission control is also where Sandra and her team meet with clients and present them with current collections on an iPad. Orders can be customised based on the client's preferences and measurements. "We adapt a lot to the region. Sometimes we add sleeves or higher necklines because of the local cultures, for example, but it's not a problem for us, because we have our own production team in-house," she explains, pointing to the area behind the atelier, where talented seamstresses are carefully sewing and embroidering Mansour's creations. "We are very flexible because we control everything."
But despite her firm grip on the business side of things, Mansour also infuses the collections with plenty of artistic whimsy. And that's unsurprising, considering she had planned on being a painter before she shifted towards fashion design. "I was in school, and when I was painting I felt like there was something missing," she shares, "so I did an internship with Elie Saab."
Fortuitously, the timing couldn't have been better: Saab was opening his first boutique in Paris and exploding onto the scene, so Mansour got the learning opportunity of a lifetime and got a front row seat in Saab's frenzied fashion empire-in-the making.
"I would draw in the morning and in the afternoon I would do patterns and stitching. Other days, I worked upstairs in the marketing department and then I would go to the haute couture fittings with Elie Saab. I travelled with them to fashion shows and model castings. Now, I think their internships are more specialized," she reflects, fully conscious of how much she was able to absorb and apply in her own eventual venture.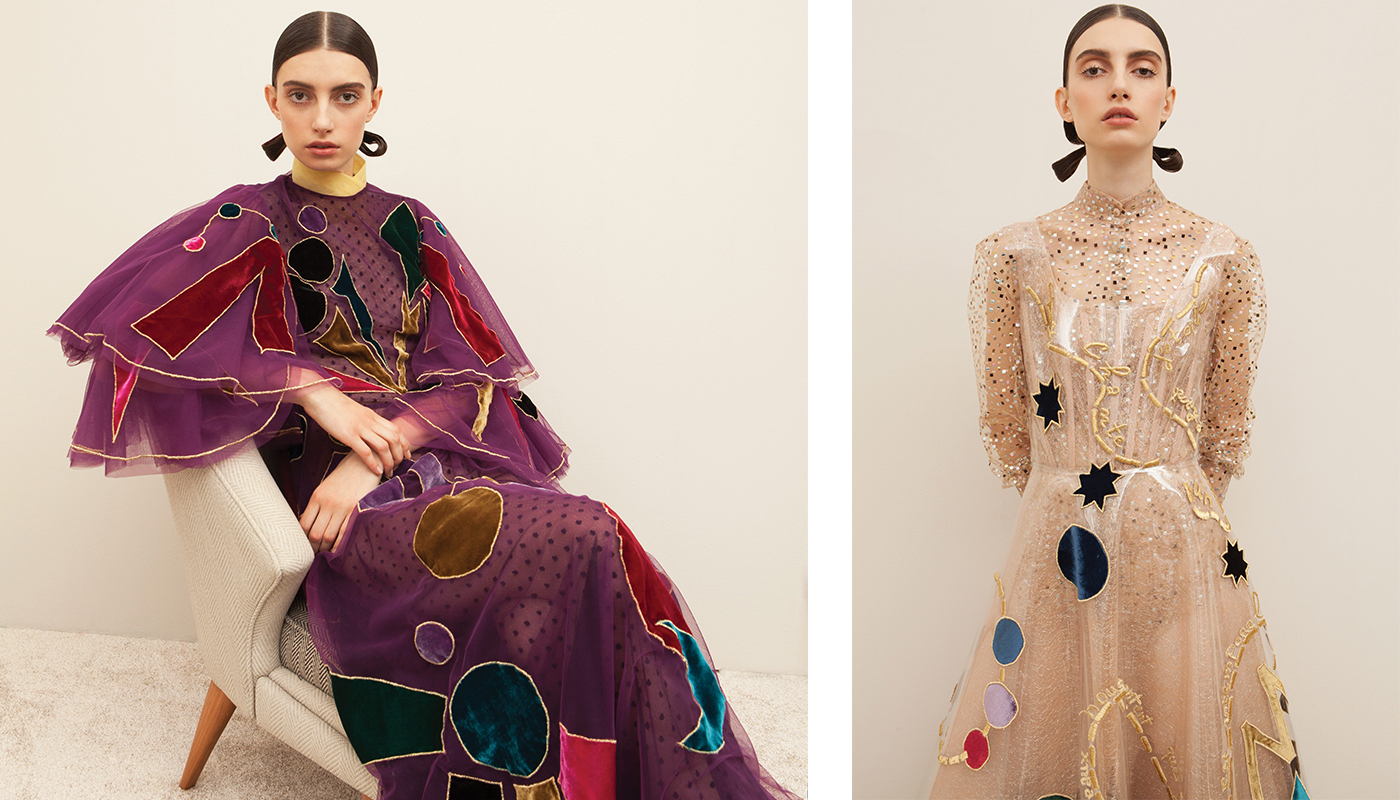 Back then, Mansour was still a novice, yet exceptionally driven. Equipped with the practical knowledge she was acquiring at Elie Saab, she simultaneously enrolled at Istituto Marangoni in Paris where she completed an intensive fashion design program. "They taught me the technical parts, the patterns and how to build a collection," she recalls. After that, she hit the ground running.
Today, Mansour's fondness for art remains central to her collections, as in the Autumn/Winter collection, Doux Rêve. Inspired by the geometric elements in the works of artist Rudolf Bauer, the designer brings a distorted interpretation of the shapes to life on her exquisite hand-embroidered fabrics. As the name of the collection suggests, Mansour manifests her dreams and fantasies through her couture. "You know when you start dreaming and your subconscious becomes incontrollable, this is what I try doing in our patterns," she explains.
Over tea, Mansour reveals her tremendous appreciation for cats (she's had up to nine at one time), her current obsession with all things Versailles and her upcoming plan to head to the Venice Biennale to source inspiration for her next collection (which will undoubtedly be glamorous, without ostentation). Our take is that Sandra Mansour is in fact an artist who just happens to create clothes.