November 20, 2018 Nadia Michel
You might call it a real coming of age, or maybe even a renaissance of sorts but when Breitling held a summit in London in October, there was a definite sense of resurrection. Breitling's latest rallying call is being led by CEO Georges Kern, who joined Breitling last year after fifteen years at the helm of IWC Schaffhausen. In a push to reinvigorate the brand after CVC Capital Partners bought a majority stake for over 870 million USD, Kern has come up with a plan that has progressed at a dizzying speed over the last year.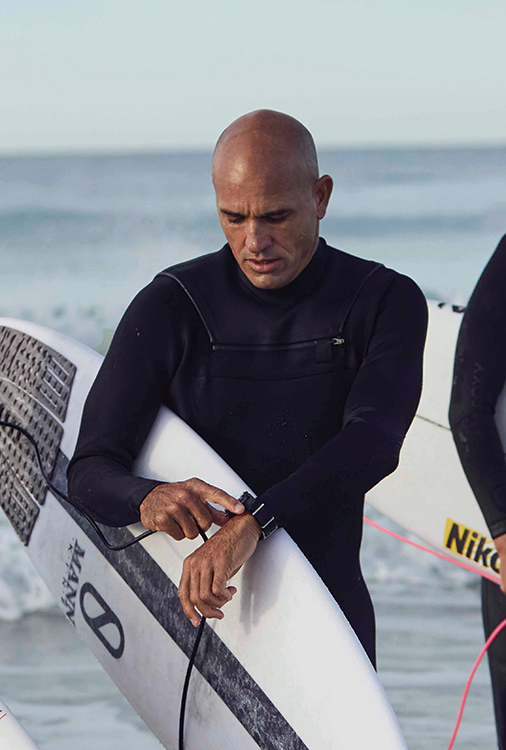 Centred on an air, land and sea premise, Breitling's new strategy encompasses exciting new products and creative ad campaigns that eschew single spokesmodels in favour of squads, featuring the likes of Brad Pitt, Charlize Theron and professional American surfer Kelly Slater, among others. Their common thread? Breilting says, "They are the best at what they do, whatever that is."
To really drive that point home, the watchmaker is developing innovative products that embody the aspirations of a new generation while still maintaining the brand's DNA – which dates back to 1884. The new Superocean Héritage Chronograph 44 Outerknown, for example, developed in collaboration with Slater's sustainable apparel brand Outerknown, features a bracelet crafted from Econyl yarn, a material created from nylon waste that includes fishing nets found at the bottom of oceans around the world. It's part of the brand's message and commitment to sustainability.
"You want to talk to cool, relaxed young people. The people not looking after the environment must become uncool," says Kern. "Our generation totally failed, and it's a drama what we are leaving as a legacy."
As part of this global approach and to further establish the brand's identity, Breitling has also enlisted an Explorers Squad that includes Bertrand Picard, a clean technology pioneer known for having circumnavigated the globe in an airplane powered only by the sun.
Sitting in a leather chair inside London's Spring Studios, a hip studio space that's commonly used by some of the world's top photographers and brands to create engaging content and events, Kern is on a mission to reframe Breitling's story and deconstruct the narrative that's been their creative over the last few years, namely that it's claim to fame is a macho pilot's watch. That watch, it's worth noting, has been redesigned under Kern's watchful eye as the noticeably quieter Navitimer 1 B03 Rattrapante 45 Boutique Edition.
"We don't want to be a formal brand," he explains. "We want to be a relaxed, informal and cool brand. That's why we chose this location. In a way we're a big startup with a long history."
The project he's talking about is no exaggeration, either. This London Summit is in fact part of a world tour that will ultimately put Breitling squarely into the Chinese market. After some preliminary work that included buying all of their agents in order to put together their own subsidiaries, Kern has set his sights on a country that represents over 50 per cent of the world's market. "Millenials in China are looking for new brands. They don't want to wear the brands of their parents. And with the digitalization of communication, it's much easier to reach out to these people than 10 to 15 years ago. I think we are coming into that market at the right time."
That's something that should make Breitling's new owners very happy. Kern, who has penned a book entitled 'Evolving Business Models: How CEOs Transform Traditional Companies', is engineering a strategy that he hopes will make Breitling a thriving watch brand in the most challenging of times. We're betting he will succeed.